Black Interior Doors; Here are 25 interior black doors that really add a bold touch to the home. Everything from farmhouse black interior doors to modern interior doors!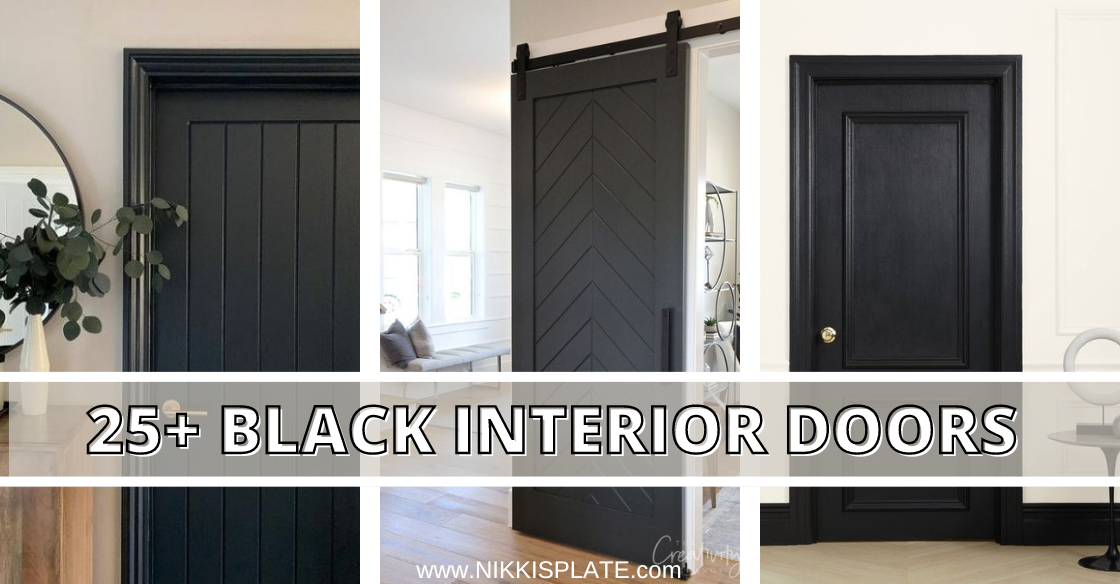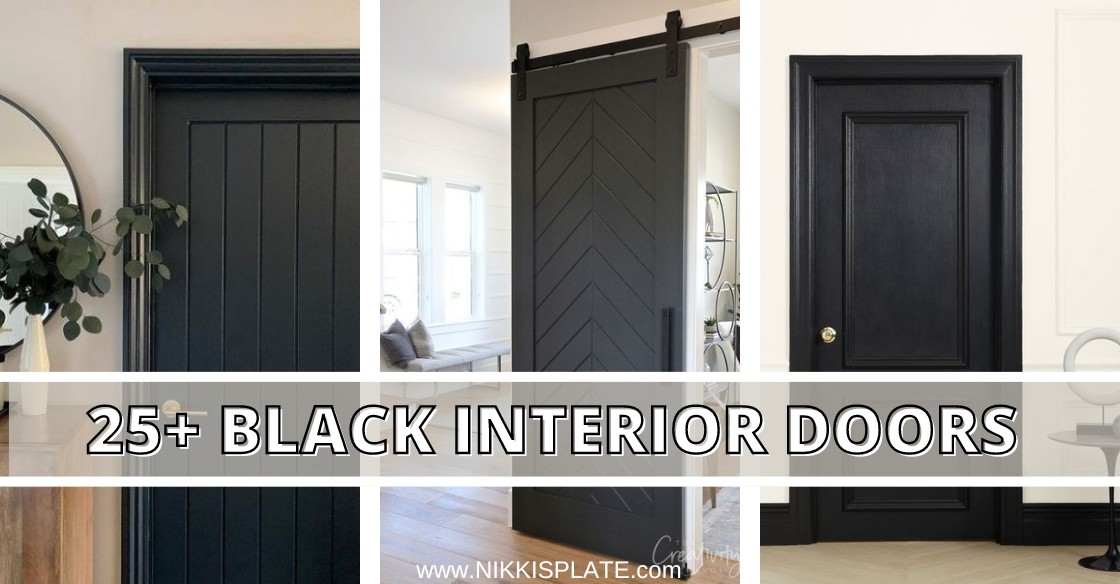 Hi beauties! Coming at you with some beautiful black interior doors ideas and inspiration! Time to switch to the dark side by painting those white doors with a beautiful black paint!
Black is the new black. And yes, I'm referring to interior doors. In recent years, interiors have been moving toward darker shades for a sleeker look that works well in modern homes. And who doesn't love dramatic contrasts?
These doors are a great way to add drama and style to your home while also giving it some added privacy if that's what you need. Black is also an easy choice that complements many different architectural styles and can be used as either a subtle accent or as the main focus of your room's design elements.
Black interior doors are great for hiding dirt, imperfections and brush marks. There are several different types of paint you can use such as high-gloss, flat sheen and semi gloss, but we will jump into more about that later!
Beautiful Black Interior Door Ideas:
If you're looking for a dramatic look for your interior, black doors are sure to do the trick. Black interior doors are a dramatic way to add some flair and elegance to your home. Because black is such a bold color, it can be used in many different ways in the home. In addition, black exterior doors give your home an edgy look, which is perfect for someone looking to stand out from the crowd.
Sliding Chevron Black Door
I'm starting this post with this beautiful sliding chevron black door. It adds such a statement in this space. The best part about sliding doors is that they don't take up a lot of room and they resemble a hanging art piece. So why not choice a beautiful design like this chevron for your black interior door!
Black Door with Pale Walls
There's something boldly dramatic about contrasting a dark door against pale walls. Contrasting a dark door against pale walls is a bold choice. It's dramatic, modern and elegant—a combination that's perfect for rooms with high ceilings and large windows. When you have enough light coming in from the outside to make your space feel bright, this look can be especially effective because it makes your room feel more open and airy by drawing attention to the floor-to-ceiling expanse of wall space.
Black Interior Door with White Trim
It can complement many different architectural styles and be used in mass or as a statement piece. Black interior doors can be used with many different architectural styles, from traditional to modern. As a statement piece it will add an eye-catching touch to any room you choose, and as part of a mass in your home it will blend seamlessly into any existing design scheme.
Black Door with Black Hardware
One thing to consider before installing black interior doors is that they may cost more than other options due to their complexity and higher level of quality needed for these types of materials. This means that if you aren't sure how much you like this idea or if you're unsure about its durability (especially since most black interior doors are designed specifically for high traffic areas), then try something else first!
Black French Doors
The French door is another popular choice when using black doors and windows. Black doors allow for more attention to the glass without taking away from their design details on the non-glass surfaces. You can use black doors in many different ways. Black doors are versatile and can be used in many different styles of homes. They can create a dramatic effect, provide privacy and elegance, or simply blend in with your home décor.
Traditional Panel Black Interior Doors
Black can be seen in even more traditional designs as well, such as interior paneled doors with glass inserts or just painted panels, adding elegance and sophistication to any home.
Hallway of Black Doors
Black interior doors are bold and dramatic. These doors can be used in many different styles of homes—from classic to modern, rustic to modern, new construction or remodel. Black doors are also not just for the outside of a house; they work well indoors as well. Consider keeping consistency throughout the home or at least in a hallway.
Black Builder Grade Doors
If updating your doors to black isnt in the budget, I highly recommend painting them instead of replacing them! Choose a beautiful neutral black paint color such as Iron Ore by Sherwin Williams or Cheating Heart by Benjamin Moore!
Sherwin Williams Peppercorn Door Color
This this super dark gray color by Sherwin Williams. In a satin paint finish, this best black paint color for small spaces! The black undertones really give a warming vibe to this area. The white walls give this door its glory moment!
Matching Black Door and Window Trim
Matching the interior doors with the trim black is a perfect way to pull everything together. This matte black (almost extremely dark gray) finish really reflects the light in this entry way perfectly. Makes the room look bright in airy with a dark dramatic graphite statement piece.
Black Interior Door with Gold Door Handle
Having a little pop of color on the door hardware really makes the black doors stand out. It brings a piece of interest to a dark door by adding a door knob that is attractive to the eye. Consider gold or a polished chrome!
Sherwin Williams Tricorn Black
Sherwin Williams Tricorn Black is a great choice for interior doors. It's a deep, dark shade of black that will give the room a little bit of mystery. If you're looking to add some sophistication and intrigue to your interior door color scheme, this is the one for you! This dark color will give your rooms a modern, sophisticated look without being too dark.
One Black Door in a White Hallway
This dramatic look is achieved by the black interior door, which is framed by the white hallway wall and white paint on the outside of the door. The black door pops against the white wall, making it stand out even more than it would have otherwise.
Modern Interior Black Doors
Modern interior black doors are not just a matter of style, but also a sign of modernity. They are the perfect combination of beauty and functionality. The new interior design trend is characterized by its minimalistic style and sophisticated simplicity. This style is often associated with dark colors such as black, grey or brown, so choosing an interior black door for your house will definitely be a perfect choice.
Black Double Doors to Laundry Room
These sliding double doors to the laundry room are a great option to hide the mess but let so much light into the space. The black double doors really help to make the space feel clean and organized. Also, the symmetry look of the parallel doors truly has my heart!!
Black Closet Doors
Including black interior doors inside your rooms is a great way to carry the best color scheme throughout the house! Black interior doors will help carry the black bold look from room to room, and they'll also help create a sense of cohesiveness within each room. Just make sure you are using the same type of paint throughout the home such as this semi-gloss paint finish here.
Mixing White and Black Doors
No one said you need to paint ALL your doors black in your house! Why not paint a few? Just make sure your other doors are a neutral color like this white one. Also if you have different style doors throughout the house, consider sticking them with the same color as well.
Tall Black Interior Door
Black interior doors are a great choice for modern designed homes. They have a sleek and elegant look that will give your home the style it needs to match its modern design. If you're looking for a way to add some style and sophistication to your home, black interior doors are the perfect solution. With their sleek look, they will give your room an added touch of elegance and class without overpowering any other design elements in the room.
Black Door Cohesion
Black interior doors are a great choice for modern designed homes because they have the ability to make your space feel larger than it actually is. This is because black doesn't reflect light, which means that even though it's darker than other colors, it can still provide ample illumination throughout your home.
Black Interior Doors with Black Trim
Black interior doors also work well with any color hardwood floors and other furnishings. Black is considered a neutral color so you can pair it with ANYTHING you want! They help give your room an elegant look without being too overwhelming or flashy. Another benefit of black interior doors is that they aren't as likely to show dirt or wear as other colors would be over time. This makes them a good choice if you're looking for something that will last longer than other options on the market today.
Pairing Black Doors With Black Accents
Black is an elegant color that can be used both in classic and contemporary homes. It pairs well with white walls, but can also be used to add contrast to other colors. Black is easy to work with because it doesn't clash with most colors and has a soft, warm feel. It's a good choice for those who want their room to look sleek and modern without being too overwhelming.
Small Closet Black Interior Doors
Closet black interior doors are a great choice for interior designed homes. They can be used in any room of the house and will make your home look more elegant and glamorous. They are available in different types of wood grains and finishes to match your other furniture pieces. You can use these doors as a focal point in your bedroom, living room, kitchen or dining room.
Closet black interior doors are also perfect for renters who don't want to make any permanent changes to their rental property. They can be painted over with little effort and won't leave any permanent damage behind when you move out.
Shiplap Black Interior Door
This dark shiplap style of these doors adds a touch of country charm to any room. They can be used on an entryway, closet door or even a bathroom vanity. Shiplap Black Interior Doors are available in different sizes and styles. The modern twist on a classic design gives you the best of both worlds: the look and feel of an old-fashioned wooden door with the durability and ease of modern materials.
Pretty Black Door
The black interior door design can be made with a variety of materials, including wood or metal. The metal version of this type of door is typically made from steel or iron. Metal doors are typically more expensive than wooden doors, but they tend to be more durable and last longer than wooden doors do when exposed to moisture over time.
Sliding Black Doors
Black doors are also beautiful choices for interior barn-style doors when used with sliding hardware. They look great with modern and rustic homes alike, and they provide privacy when needed. Black barn doors are a great way to add style to a space. They look great with modern and rustic homes alike, and they provide privacy when needed.
If you have an open floor plan, you can use black barn doors to hide the kitchen from the living room. This can give your kitchen a more elegant feel while still keeping it accessible to guests who may want to pop in for some snacks or drinks. If you do have an open floor plan but have a large family, this will also help cut down on the noise so that everyone has peace and quiet!
Black interior doors are a great way to add drama to your home. Whether you choose an all-black door or one with glass panels, there's something elegant about black on white that will make any room more beautiful. I hope this article has given you some ideas for how you might use them!
Until next time,
More Black Interior Design Posts: