15 Beautiful Black Kitchens That Will Make You Want to Move to the Dark Side; Dark and moody kitchen designs, black kitchen cabinets, dark countertops and black kitchen design inspiration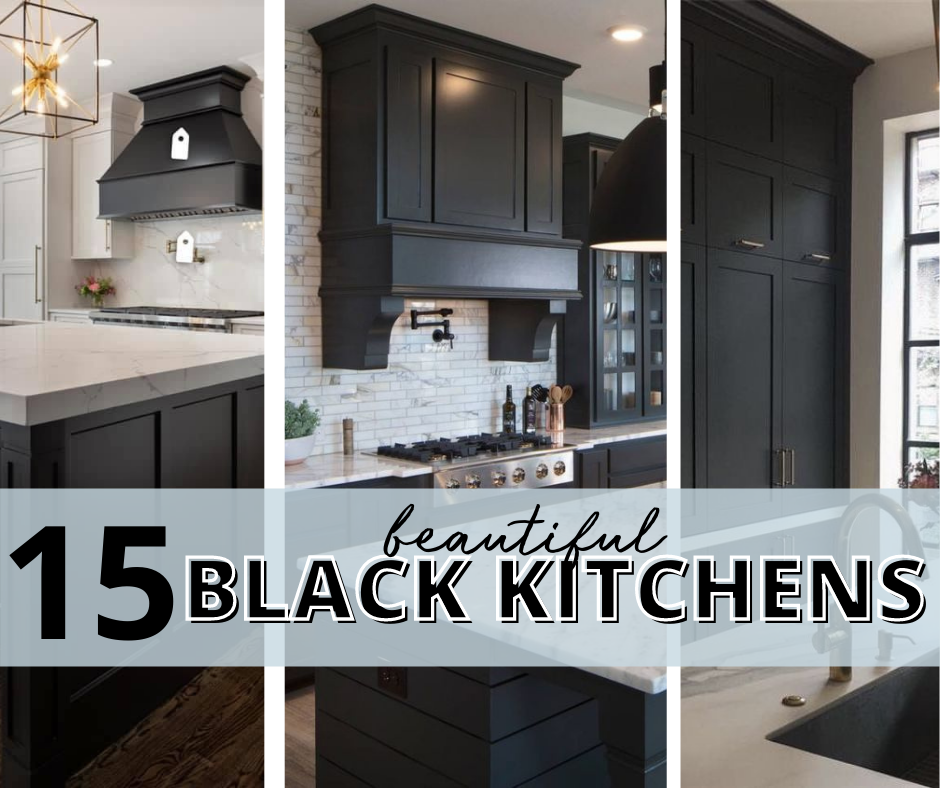 Hi Beauties!
Coming at you with a post on everything dark and moody. You asked for it so I am delivering beautiful black kitchens - design and inspiration photos! And let me tell you.. it seems that BLACK IS THE NEW WHITE when it comes to these kitchens! Dark colors are in right now!
There is something about a dark kitchen that definitely catches my eye. It is a break in the white kitchen trend, it adds warmth and depth to any home and also can give you that modern feel that makes you want to move to the dark side!
It also hides dirt and finger prints way better! I mean, if you have little kids running around, you may really appreciate having dark cabinets for a change! Less stress in keeping everything spotless thats for sure!
Why Are Black Kitchens On Trend!
The black kitchen trend started in the United Kingdom but has come to the United States with a vengeance! Kitchens in shades of charcoal and black are among the most dramatic around. Black is classy, timeless and has a sophisticated feel. There's no wonder why black kitchens are one of the hottest trends today.
People are looking for alternatives to the classic white kitchens. They want dark and moody black cabinets. We are seeing a huge rise in the number of black cabinets, countertops, black appliances and accents being ordered!
Time to ditch the white cabinets, white marble, and white subway tiles, for a more modern black look. In this post you will find 15 black kitchens that will definitely spark some inspiration. So lets dive in!
Here are 15 Beautiful Black Kitchens:
<< DISCLAIMER: None of these photos belong to me. Please follow links or click on the photo to be redirected to the owners >>
This is a very dramatic black kitchen and I am loving it. The glossy block black backsplash is a bold focal point here with the beautiful tile. They truly blacked out this kitchen with black walls and ceiling! Cabinet color is Iron Hook by Stoffer Home Cabinetry.
I included this black kitchen because I loved the soapstone countertop! We don't see a lot of this type of countertop because it is more expensive and a little more difficult to care for but it truly adds to the beauty of these gloss black cabinets.
Although this photo really puts emphasis on those stunning barstools, I needed to share it in this post. They kept the stainless steel appliances to save on money here. The gloss backsplash compliments the matte black cabinets.
On the more modern side of black kitchen ideas here. This is a complete black out kitchen, black appliances, black fixtures, black countertop, black marble, even the light fixture is black! I am glad they kept the walls white or it would have been too much here.
A lot of wood warmth in this kitchen. Loving the black stove, blends in nice with the cabinets, and how can you not love the wood floors. Open shelving is also a great option for saving on cabinet costs and adding some decor. Although this kitchen may be more on the charcoal side for color, I really wanted to add it to this post anyways because it is just too beautiful!
The shiplap in this kitchen mixed with that beautiful subway tile backsplash really add to the matte-black cabinetry in this kitchen. The grain found in the countertop and backsplash really ties in the cabinet color perfectly.
The mirror details in this black island is very sleek looking, what a great kitchen idea! It almost makes the island look see through in those areas. The range hood is definitely a show stopper here! Just so much elegance and sophistication in this kitchen... and a whole lot of glam!
Just wow. This kitchen is stunning. We haven't really seen black cabinets paired with black hardware too much but I definitely like the simplicity of it. The accessories in this kitchen are gorgeous. The Interior designers knew what they were doing in this kitchen thats for sure!