Rustic Fire Pit Ideas for Your Backyard; rustic backyard fire pit ideas to create your outdoor paradise this summer! All the rustic outdoor fire pit ideas you need in one spot!
Hi beauties! Coming at you with the BEST rustic fire pit ideas for your backyard paradise!
Rustic fire pits are one of the most popular backyard entertaining ideas right now. With the right materials, a fire pit can be a focal point of your outdoor living area! You can entertain friends, relax with your family and enjoy gorgeous views of the stars at night.
There's nothing more comforting than enjoying a fire at the end of a cold day. And what a better way to enjoy a fire than beside your own rustic fire pit in your deck or backyard? Here are 25 rustic fire pit ideas for your backyard!
What is a Rustic Fire Pit?
Rustic fire pits are a great addition to any backyard or patio, and they can be used for a variety of purposes. They can be used for cooking, as a place to gather around and share stories, or just for lighting up the night with dancing flames. A rustic fire pit is a small pit that you can build yourself, or buy pre-made. It's designed for burning wood and can be used for cooking and heating as well.
The most important thing about rustic fire pits is that they look good: their natural materials and simple design make them attractive without being overbearing. They're also functional—they'll last for years without needing any maintenance beyond cleaning out the ashes after use.
Rustic Fire Pit Ideas for Your Backyard:
The first thing to think about is what you want the fire pit to look like. Do you want something that will blend into the background? Or do you want something that will stand out? If you're going for the latter option, consider using materials that are more colorful or vibrant, such as tiles or glass. You can also use stones and other natural elements to create an interesting design.
Next, consider how much space you have available for the fire pit itself. If it's too small, then it won't be able to hold as large of a flame—and if it's too big, then it may become overwhelming and take away from the rest of your yard or garden area.
Finally, think about how much time and energy you want to put into building this DIY project yourself versus hiring someone else to do it for you. If you don't have much experience in construction projects or with tools like hammers and saws, then hiring someone else might be better suited for your needs since they'll have more expertise!
Small Fire Pit
If you want a fire pit, but don't have a lot of space or money to spend on one, then this is the option for you. Small fire pits are great for small spaces and can be used indoors when weather conditions aren't favorable. If you prefer to build your own small fire pit from scratch, there are plenty of kits available online that will give you all the materials necessary for assembly. If not, there are also plenty of pre-made options available at local hardware stores or online retailers such as Amazon - just make sure to buy one with a grate!
Wood-Burning Fire Pits
Whether you are putting in an in-ground fire pit or a fire pit table, I assume you will be burning wood at some point. All I recommend here is that you keep it safe. A sunken fire pit would be the safest option for pets and children. Make sure your seating area is far enough away so your cushions or clothing don't catch fire but keep it intimate for the right ambiance.
Rock Fire Pit
Rock fire pits are a great way to create a cozy feel, and they're also very easy to build. The rocks will hold the heat of the fire, reflect it back at you, and make it easier for you to sit down by creating a nice bench. If you like this idea but don't want to use rocks in your backyard (or if you have kids who might accidentally knock over their rock fire pit), consider using bricks instead!
Stone Fire Pit
If you're looking for a fire pit that will last for years and years, then stone is the way to go. Stone fire pits are incredibly durable and can withstand even the harshest of climates. They're also easy to install, which makes them an ideal choice for any backyard or patio area. Stone is a great material because it can be used with or without grills; depending on what type of cooking surface you want in your backyard, there are many different types of stones available at various prices!
Garden Style Fire Pits
A garden style fire pit is an excellent way to create a focal point in your garden. With several styles available, including wood burning and gas, you can find the perfect option for your home. It's a great way to add some extra space to your garden, while also making it easier for friends and family to come together.
The first step in designing a fire pit is deciding where it will go. You'll want to find a spot that's big enough for people to gather around comfortably, as well as one that makes sense with the rest of your yard's layout. For example, if you have an existing patio or deck, this might be a good place for the fire pit—but if there are other features in the yard (like trees), they might block your view of the sky while sitting down by the fire!
Mixed Material Fire Pit
If you're looking for something a little more unique, consider incorporating multiple materials into your fire pit. For example, a combination of stone and metal can create an interesting contrast that's sure to catch people's eyes.
A lot of people love using gravel around their fireplace to keep it clean looking. You can also try pavers to have a more put together look while your roasting those marshmallows!
You can also use different materials to create a focal point in your yard. A fire pit with large stones at its base will draw attention and make it stand out from other parts of the landscape--even if they don't actually serve any functional purpose!
Cinder blocks, concrete blocks or bricks are simple and easy to find, but they can be surprisingly versatile when it comes to design. You can use them to create the foundation of a small fire pit or build up a larger structure to house a grill or even an outdoor kitchen. So if you are looking for DIY fire pit ideas, try that out first! Just make sure you have adirondack chairs to sit and soak up that warmth next to that fire bowl fit pit area!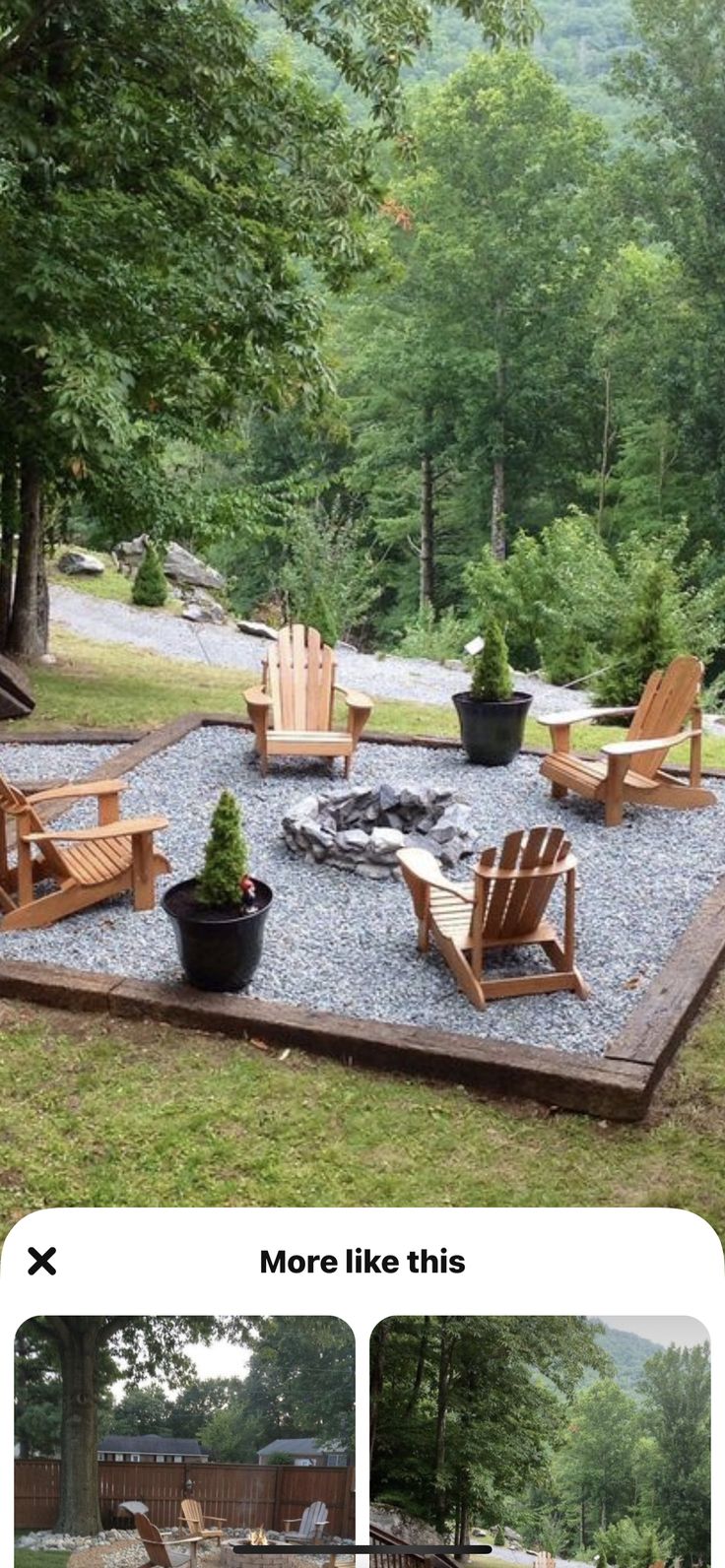 Choose Your Location Wisely: Before you start building anything in your backyard, remember that fire pits need ventilation and space around them so that they don't pose a safety hazard. Make sure there's enough space between trees where smoke can escape safely if necessary; also keep any flammable materials away from the area where people will be standing when using a fire pit to avoid any potential accidents or injuries from flying sparks or embers (which can cause serious burns).
Metal Drum Rustic Fire Pit Ideas
A metal drum fire pit is a great addition to any backyard. They are inexpensive and easy to build, making them a great option for those who are on a budget or don't have much experience with building projects. There are many different things you can do with these metal drums, including creating an outdoor fireplace or even using them as tables in your backyard!
A fire pit is an excellent way to make use of your backyard space and provide a focal point for entertaining. It's also a great way to enjoy nature or warm up on cooler evenings with friends or family. Use these rustic fire pit ideas for inspiration, and create a welcoming gathering place for you and your guests.
More Backyard Posts:
I hope you've enjoyed this roundup of rustic fire pit ideas. If you're looking for something more traditional, there are plenty of others out there! But if you want something unique that will stand out in any backyard setting, then these 25 options should definitely be on your shortlist!!
Until next time,