30 Bunk Room Ideas for Adults; Wondering what to do with that empty room? Here are 30 fun bunk room ideas for adults that are perfect for guests or parties!
Hi Beauties!
Today's post is all about bunk room ideas for adults. Yes adults can have bunk rooms too! Bunk rooms are the place for gathering with friends and family!
Bunk rooms are for kids, right? Actually, no—bunk rooms are great for adults who love to have company or even just want to create a sleep oasis of their own. If you're not sure how to go about designing a bunk room, here are some ideas that will hopefully spark your imagination.
Once you're an adult, there are no more bunk beds or bunks. At least not in most cases. But don't let that stop you from having a fun and creative room. Claim your top bunk now! We have lots of ideas.
So lets jump into these bunk room ideas for adults and see what inspiration you can find for your next DIY project!
Bunk Room Ideas for Adults:
Add some rustic or modern charm
Whatever your decorating style, there are plenty of ways to incorporate rustic or modern charm into a bunk room and sleeping area.
Rustic: Wood-paneled walls and door frames add an air of cabin-like comfort, while dried mosses and ferns or other plants may give off an outdoorsy vibe.
Modern: Metal is an industrial material that can make a room feel clean and sharp (especially when paired with white walls), but it also has its own organic qualities when paired with concrete floors or raw wooden furniture pieces. For example: metal bed frames paired with natural wood dressers, desks, or chairs for a streamlined look!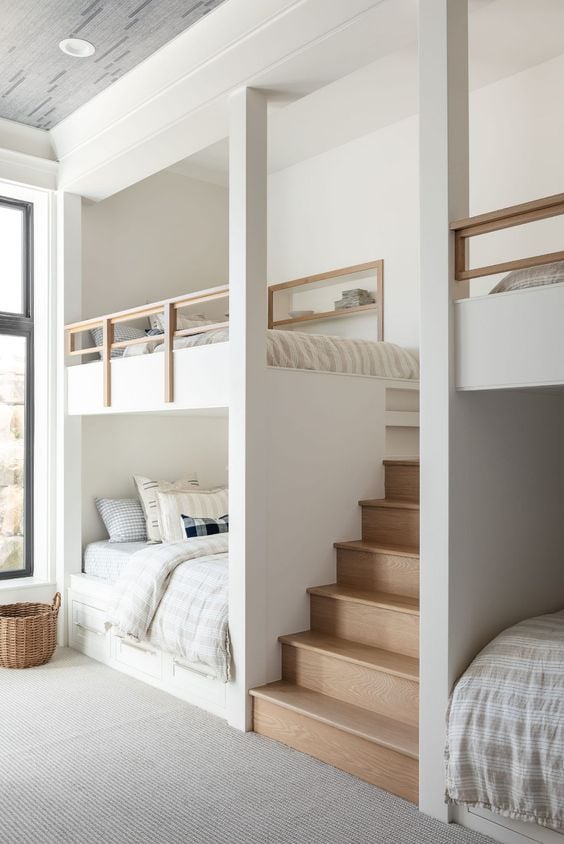 Keep it simple
The most important thing is that your guests feel comfortable in your adult bunk room, so keep the room simple and clean. Go for a style that's sophisticated but not too fancy, and make sure there are plenty of places to unwind. Don't go overboard with the decorations—it can be intimidating!
If you want go a little overboard, I completely understand. But maybe avoid adding in a slide.. you don't want your guests to never leave your bunk room! Then again.. it could be a little vacation for some folks!
If you have the room, consider adding in built in stairs instead of a ladder for those adults with problems climbing! You want your guest room to be practical yet sophisticated so opt for that staircase if you can!
Have fun with shapes
Now that you're settled on the decor theme, it's time to start decorating.
You can use different shapes all over the room, whether it be in the bedding, wall hangings or even the accessories like lamps and rugs. Try combining different kinds of squares or rectangles with other shapes - triangles or diamonds are particularly good for this as they give a sense of fun without being too childlike. You'll understand more in these inspiration photos below.
You should also think about using different colours for each aspect of your decorating scheme: for example browns and reds would work well together in this case since both colours pop out against each other nicely.
If you're concerned about sticking out too much from everyone else at home (or simply don't want to spend any more money than necessary), try using black or white as a base colour before adding colour through accessories such as throw cushions and lampshades instead! Keep reading for more color details!
Mix it up with different colors
One of the best ways to make your room feel more like a home is by mixing it up with different colors. Whether you're decorating for a friend or yourself, don't be afraid to mix it up!
Don't be afraid to use bold colors. A bright red couch will bring life into an otherwise drab room, while an orange accent wall can add some energy and warmth when other rooms feel cold in winter months.
Don't be afraid to use different shades of the same color. Picking out many shades of blue will create depth and texture in any space—and show off your style!
Don't be afraid to use more than one color at once! You can mix up two or three tones in one room without going overboard on busyness; this is especially true if you choose complementary hues (colors that sit opposite each other on the color wheel).
Dont be afraid to go moody or just keep it bright/light. Choose either a moody or bright color scheme. Whatever makes you more comfortable and goes with the rest of your home.
Go big or go home
Whether you're looking to create a bunk room in your basement, loft or guest bedroom, it is important to make use of the space in the most efficient way possible. It also helps if you have a sense of humor about it! This means that you need to go big or go home with your design.
If you have enough money and space available, try using an oversized piece of furniture as your defining feature in the room. For example:
A king-sized bed frame or two twin beds placed end-to-end can help define a room and make it feel larger than it really is. Use these bedframes as the base of your adult bunk beds.
An extra large dresser could provide storage space for clothes while adding visual interest at the same time (just be sure not to put anything heavy on top).
A large entertainment system like could serve double duty by providing both entertainment and storage for DVDs/BluRays etc.
Add in shelves and other built ins to add a more custom feel with lots of drawers and extra storage.
Don't forget the window treatments
There are so many things to consider when choosing window treatments for your room. Do you want something simple and inexpensive? Or do you want something elaborate and expensive? Do you want a certain color scheme, or do you just want to add some personality to your space with a fun pattern or design. Are there any special functions that need to be met by the window treatment: like privacy or energy efficiency? The options are endless!
Once again, making a plan before starting this project will help keep things organized along the way. You can make sure everything goes together well and keeps within budget by planning each step of the process—like measuring windows first, then buying material based on those measurements and cutting out fabric pieces accordingly before putting them all together into finished curtains...
For a grown-up bunk room, make it cozy
Choose a rustic or modern theme.
Choose a neutral color scheme.
Use cozy colors, such as browns, blues, grays and greens.
Use warm colors like reds, yellows and oranges.
Use vibrant hues that reflect your personality or hobbies (for example: pink for an avid baker hehe).
Also you want the actual beds to be cozy and comfy. Think hotel vibes. Choose comfortable mattresses, soft bedding, decorative pillows and lots of extra linen as needed. Your visitors will thank you for it!
The right lighting can make all the difference.
Light is a critical component of any bedroom, but it's even more important in a adult bunk bed room. You want yourself or your guests to feel comfortable and at ease during the day, and at night when they're trying to fall asleep or wake up for the day in the morning... so lighting should be carefully considered. If you turn on the lights too much or have them lit 24/7, that may not be ideal.
Remember that adults usually have established their sleep patterns, so you don't want to throw them off by forcing them to sleep in complete brightness. Must adults are used to sleeping in the dark so make sure you give this room options for complete darkness.
The best way around this issue is installing adjustable dimmers throughout the adult bunk room. These will allow you to control how bright or dark it gets inside based on where everyone is coming from. For example: if your guests regularly wakes up before sunrise due to some kind of internal clock malfunction they might suffer from (we won't judge), then turning down all those lights should help return things back into balance without messing up anyone else's schedule too badly.
Bunk room ideas needn't be limited to kids.
Bunk rooms are fun for adults too!
Bunk rooms are a great way to add space and extra sleeping options to a small room.
They're also a great option if you want your guests to be able to share with multiple family member.
If you need extra sleep options, maybe consider including in some trundle beds to your bunkroom
By incorporating some of these ideas into your own bunk room design, you will have a fun and functional space for adults who want to retreat from the world. And if you're feeling inspired, why not try out some other design tips that are unique to bunk rooms? Like building one yourself or working with an architect on an addition. Let your inner DIY self fly!!
I hope you enjoyed this adult bunk room inspo post! Whether your guests want the top bunk or bottom bunk, hopefully they cant wait to sleepover either way!