Tired of feeling stuck with a growing list of to-dos? Here are 30 success hacks to help you be more successful and productive in your day. Time to kick procrastination to the curb!
Disclaimer: this post may contain affiliate links, and every purchase made through these links will give me a small commission (at absolutely no extra cost for you!) AS AN AMAZON ASSOCIATE AND REWARDSTYLE MEMBER, I EARN FROM QUALIFYING PURCHASES. See Privacy Policy for additional info.
Hi Beauties!
Today's post is all about being productive.. mostly because I really needed it! I find myself struggling to get out of the holiday vibes and back into the old grind. There are so many things on my to-do lists that I am feeling a little over whelmed...
So last night I hit the internet in search of ways to be more productive in my days and found 30 success hacks that I think will really do the trick! And OH BOY am I ever excited to put these into action!
Lets just jump into it shall we?
Here are 30 Success Hacks to Sky Rocket Your Daily Productivity!
Plan Your Week on Sunday Night
Now when saying this, this doesn't mean you need to write out your full week hour by hour.. instead try spending a few minutes on Sunday organizing what you want to accomplish this week. It is also a great idea meal planning on Sunday. This way you spend less time trying to figure out what to have for dinner and more time getting other things checked off your to-do lists.
Prep Everything
Mornings can be sluggish for some and stressful for others. Prepping before you go to bed works wonders for your mornings. This can be as simple as laying out your clothes the night before, putting your workbag at the front door, or packing your lunch. You will start your days happier which in return will make you more successful that day.
Move Your Alarm Clock Away From Your Bed
You have probably heard this one before, but I think it is great. When you hear that alarm go off in the morning, the first thing you do is hit snooze right? You think that those extra 10 minutes of sleep will really make a difference right? Well you are actually wrong! You are actually resetting yourself to the beginning of your sleep cycle which actually means your even MORE tired when you finally get out of bed. SO that being said.. move your alarm clock to the other side of the room so you HAVE to get out of bed to turn off that awful beeping. In return, you will actually feel more awake and have more time to get ready in the morning!
Drink Water in the Morning
This is actually something I just started doing. I always aim to drink 2-3L of water a day, but some days are more difficult to hit my goal then others. I find that if I am super busy, I always for get to drink water. One way to achieve this goal is drinking 500ml of water (or one big glass) in the morning with your breakfast. That way you are hydrated from your 6-8 hrs of sleep with no drinking and your more likely to hit that goal! You will feel refreshed and get your day off to a way better start!
Eat Healthy Breakfast
Breakfast is one of the most important meals of the day, everyone says it and its true. Be good to your body and fuel it to start your morning off strong and not sluggish. Boast your metabolism and give your body the energy to get things done!
Morning Exercise
I find this one an amazing hack. If you have ever exercised in the morning right after you wake up you'll know what I mean. Exercising in the morning gets your blood pumping again and wakes up your brain. Also, you don't have time to procrastinate the workout if you do it before your brain has time to realize what your doing! It doesn't have to be something strenuous either. It can be as simple as taking the dog for a walk, or doing some morning stretches.
Wake Up Earlier
Earlier mornings give you more time to do things.. and more time to accomplish your goals. But sometimes getting out of bed early is easier said then done. Try sleeping with your curtains open, or adjusting the thermostat to warmer so its easier to leave your cozy bed. I wrote a entire post on becoming a morning person!
Go To Bed Earlier
This one somewhat goes with the hack above. Going to bed earlier, or at least starting to unwind earlier makes such a huge difference in your neck day. No one ever has a "great day" if they are super tired. Getting more sleep and going to bed earlier will set you up for a next day of success.
Create 5 Goals Each Day
You are probably thinking 5 goals is outrageous right? Well it is really not. Goals can also be things your have to do, but I find that if you call them goals rather then "things you need to get done", you are more likely to complete them. The goals can be anything from getting your workout done in the morning, to complete that work project that has been lingering over your head. The idea here is to give yourself a vision of what you hope to accomplish so you can better steer your daily schedule to achieve these mini goals.
Break Down Your Big Goals
Breaking down your goals into more actionable steps gives you better guidance for completing them. For example if your goal is to "create one new recipe post for your blog" then your smaller tasks would look something like this "research and write down recipe ideas", "gather ingredients", "bake recipe", "take recipe photos", "write post".. basically this way you have more actionable steps rather then one large goal.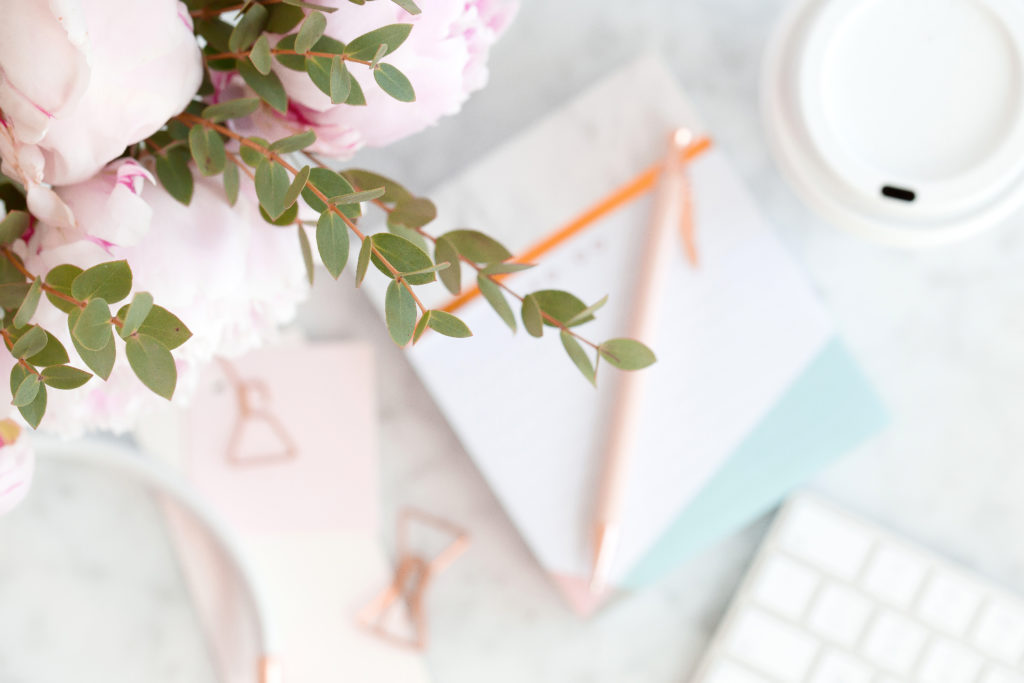 Reduce Yearly Goals to Monthly Goals
Having a yearly goal is great, don't get me wrong.. But a year is a LONG time. So many things can change in one year. Its better to set more timely goals that you are more likely to achieve in a shorter time frame. For example if your goal is to loose 30 pounds this year.. why not try setting monthly goals. This month I want to lose 5 pounds, or every week I want to lose 1 pound. These goals are more attainable in the short distance and you won't forget about them.
Give Each day a Theme
This seems strange but actually works. When each day has its own theme, its easier to create your weekly schedule. For example; Saturday may be your cleaning day, Sunday may be your prep and organize day, Monday may be your catching up on emails day. Give each day a broad theme and then add your goals in under those themes.
Leave your car keys with Things you don't want to forget
This is a super helpful hack for those who have a hard time remembering to bring things with them. Always have your car keys on top of the things you don't want to forget to bring that day. That way when you go to grab your keys to leave the house, you will see it and remember to bring it.
Set your bills on autopay
A lot of bills have auto pay now which is super handy. I have my cellphone bill set up to autopay every month. It just comes right off my MasterCard. I do always double check it to make sure it is the right amount of course. But having bills set to autopay really helps you stay on top and not get dinged with late charges. Just one less thing you have to stress about.
Eat Right
Yes I know, this is a boring one that you hear all the time. But you need to do it. Eating right works magic for your mind and your body. Nutritious meals give you the fuel you need to be successful, so just do it!
Write Down your Accomplishments
This is a huge one. Get a notebook and write down everything you accomplish as it happens. By the end of the week you will have a long list of accomplishments to celebrate. These reminders of your productivity can be the motivation boast you need to keep up with your goals!
Group your Errands based on Location
I have basically mastered this hack because I live out in the country. It is a 20ish minute drive into town, so I make sure to group everything I need to do into this ONE trip in to town. If you already live in a city, you can group things into smaller locations.. while your dropping off your dry cleaning, stop at the pharmacy next door to pick up the toiletries you are running out of. This habit cuts down the time you spend getting things done and your overall time spent completing tasks.
Let Your Calendar do The Reminding
Its so hard to remember everything. Whenever a task comes up that you need to complete, write it out on your calendar. This way you don't have to worry about "forgetting" to do it. For tasks that don't really have a specific date, set the date to the day you want to have it accomplished by. I always set reminders in my phone calendar. That way it alerts me before you need to get it done.
Get Organized
Getting organized works wonders for your productivity. Having a place for everything is one of the best ways to save time. When you spend less time looking for things, you have more time for the other things on your to do list.
Keep Your House tidy and Clean
This goes along with the hack above. If you keep your house clean and tidy, then you don't have to spend a huge portion of one of your free days cleaning.. you can work on other things you need to get done around your house. This happens to me ALL THE TIME. I spend so much time cleaning and organizing that I don't have time to do the things I need to get done.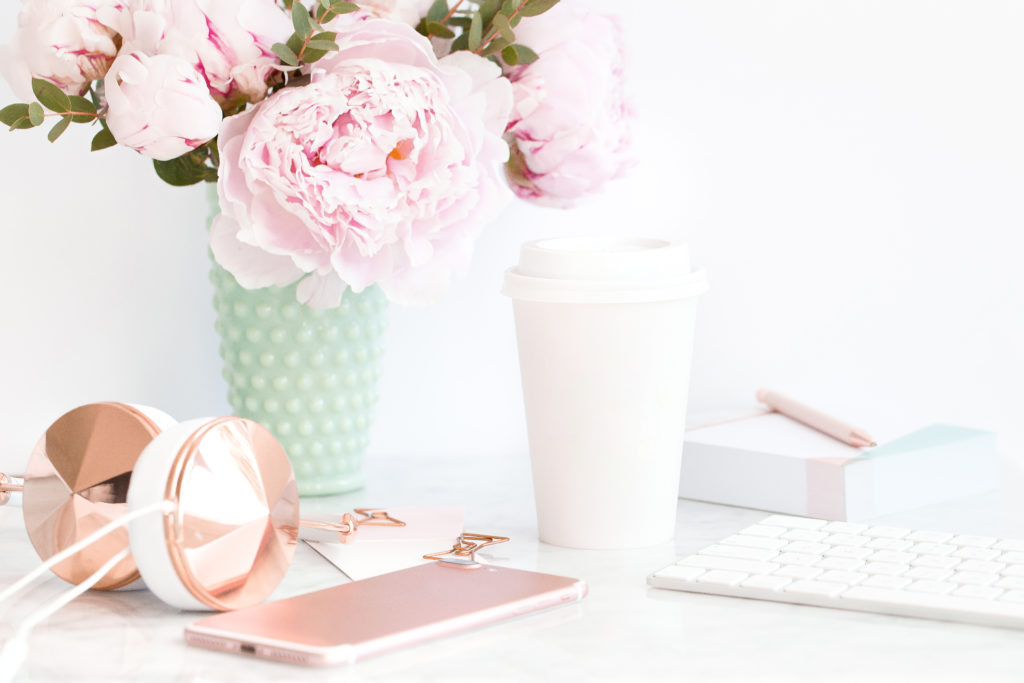 Create a Shared Grocery List With Your Family
There are a few ways you can do this.. one way is to have your grocery list pinned somewhere that is accessible to your family. That way they can add things to the list. Another way is to create a shared list on your notepad on your phone (which I just learned how to do with my husband - super handy!). Having a shared grocery list reduces the time spent running back to the grocery store for something you forgot or something someone else wanted.
Being Competitive is Healthy
A little competition can go a long way. Make a point to surround yourself with people who challenge you and make you want to strive to be better. This friendly competition really helps give you that extra push you need sometimes.
Communicate with Your Family
Make sure you take to your family. Sometimes life gets the better of us and we forget to connect. Planning out your week with your family is important so nothing is missed. This can be as simple as making sure your kids have a ride home after basketball practice or making sure everyone remembers your family vacation the next week. Staying on top of things keeps everyone organized and on the same page.
Autoship Items You Use Regularly
We just recently set this up for our coffee machine. For my husbands birthday this past year, I bought him a Nespresso machine. You can order the little coffee pods off their website and they are delivered within two business days (or even 24 hours sometimes!). Recently I set it to Autoship so I never have to go back in a reorder them. They just auto ship a month supply at the end of each month now. How amazing right!?
File Paperwork Right Away
Paper work sure does pile up sometimes. One way to stay organized is to file it away RIGHT AWAY. That way its out of sight and out of mind. You can spend this extra time doing things on your to do list
Just Do the Tasks as They Come Up
Don't let things get piled up. If you are putting off tasks, find a way to tack them right away or pass them to someone else. This way your growing list of to dos stops growing!
Create an Evening Routine
Having a routine allows you to get through them on auto pilot and gives you an exact timeframe. Having a nighttime routine keeps you on tract with tasks and helps your body wind down. The more you stick to your night time routine the easier it will become
Learn Your Grocery Store
Learning your grocery store saves you SO MUCH TIME. Knowing where everything is and having you grocery list cuts the time down spent in the store and in return gives you more time for other things.
Don't be a multitasker
Instead of doing two or more things at a time, do one thing and move on to the next. When you multitask, there is a more likely chance you will make an error or miss something. So just complete one thing and move on to the next.
Take Your Time
Working quickly doesn't necessarily make it any better. When you move too fast you often miss things or do it wrong. So take your time and get things down properly. Slow down on important tasks that you can really give the attention they deserve. This way you know the job is done well the first time and you don't have to redo it!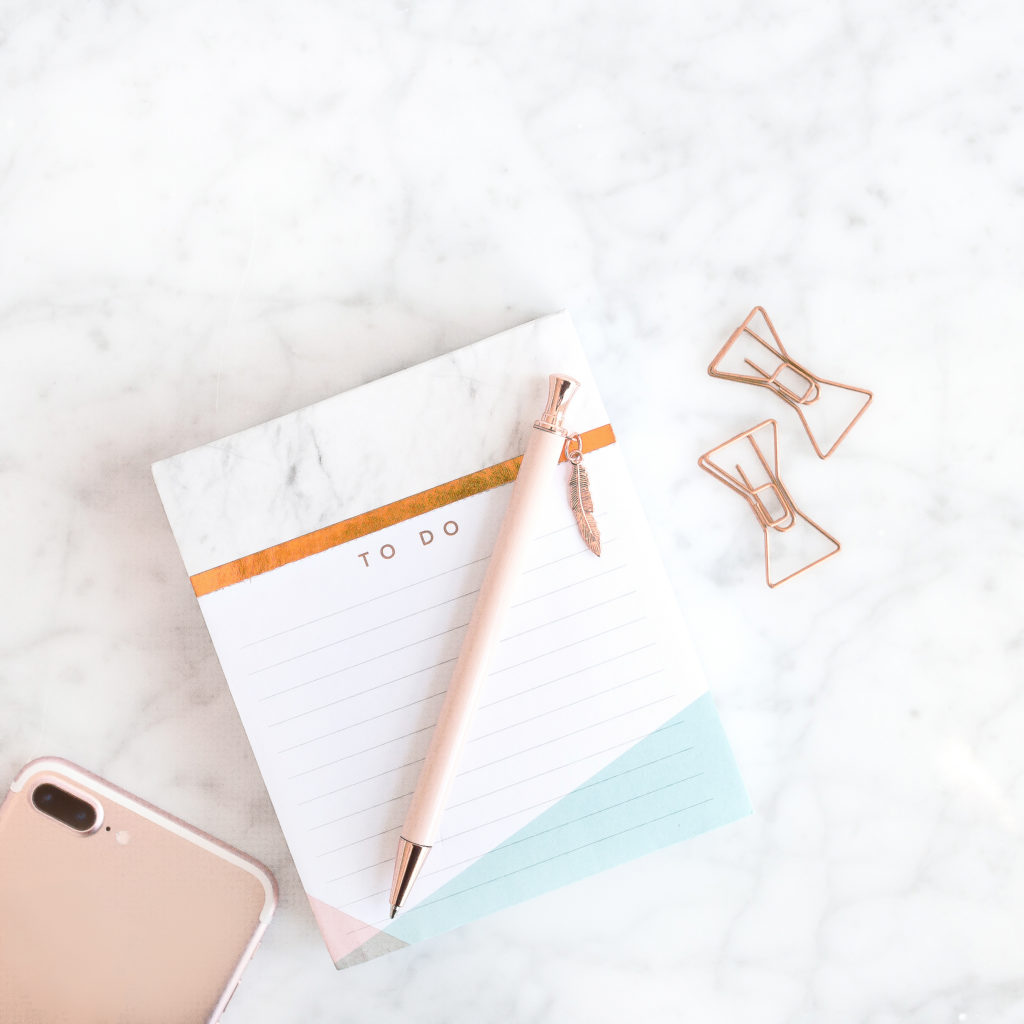 There you have it! 30 success hacks to help you be more successful and productive in your day!
Comment below which hacks work best for you or if you have any additional ones that I may have left out 🙂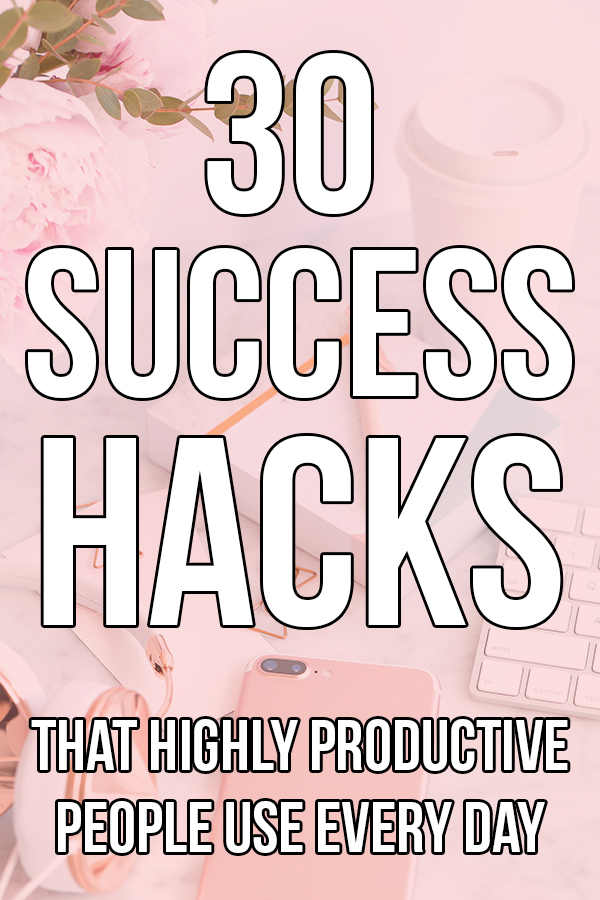 BEST SELLERS