Fireplace Ideas With TV Above; Enjoy the warmth next to a burning fire
while watching your favorite movie or show with these living room ideas!
Disclaimer: this post may contain affiliate links, and every purchase made through these links will give me a small commission (at absolutely no extra cost for you!) AS AN AMAZON ASSOCIATE AND REWARDSTYLE MEMBER, I EARN FROM QUALIFYING PURCHASES. See Privacy Policy for additional info.
Hi beauties! Today's post is all about Fireplace Ideas With TV mounted above.
The fireplace is one of the best features in a home. It's not only a great focal point for your living room, but it also provides warmth and ambiance that you can't get anywhere else. But what if you want to make your fireplace even better? One way to do that is by adding a TV above it.
The result is an entertainment center with some extra charm and warmth! This is a great way to make the most of your fireplace. You'll have a cozy place for everyone to gather around and enjoy quality time together.
The good news is that it's easy to add a TV above your fireplace if you have the proper setup. All you need is an entertainment center, a flat-screen TV, and some tools. Let's look at some inspiration for Fireplace Ideas With TV Mounted Above!
Fireplace Ideas With TV Above
The fireplace is a focal point in the room, and so is the TV. They're both used for entertainment purposes, but they serve different functions: one provides warmth and ambiance, while the other projects images onto a screen. But what if you put them together to make a super focal point in your living room?
TV Above Stone Fireplace
This fireplace is a great way to add a rustic feel to your living room. The TV above the fireplace is sure to be the focal point of your living room.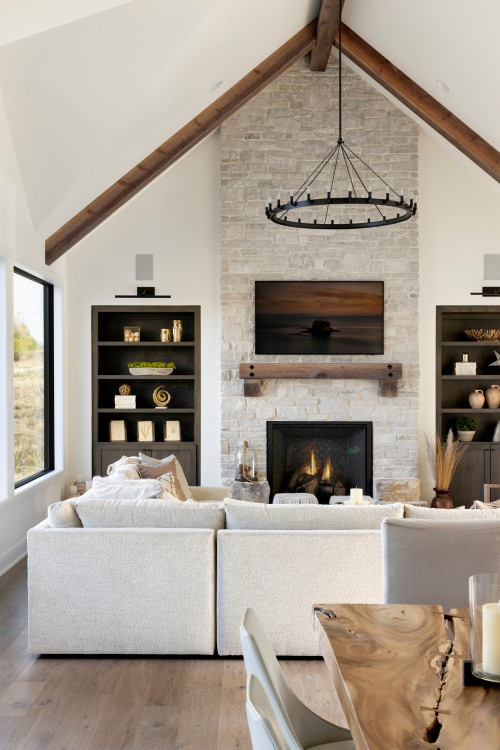 Simple Slit Stone Fireplace with TV
This is a simple slit stone fireplace with a TV mounted on the mantle. The mantel is made of dark wood, which contrasts nicely with the white walls and surrounding built-ins.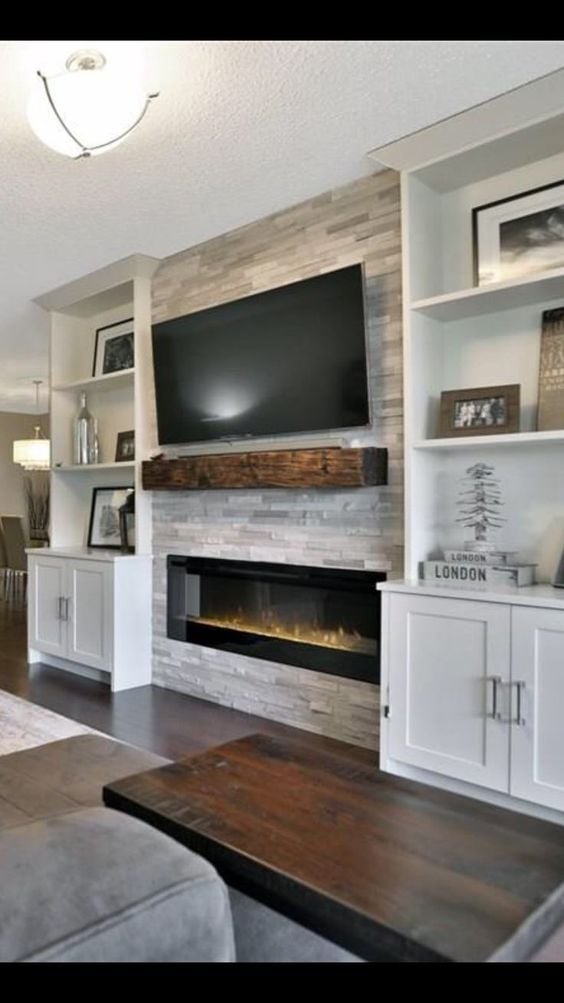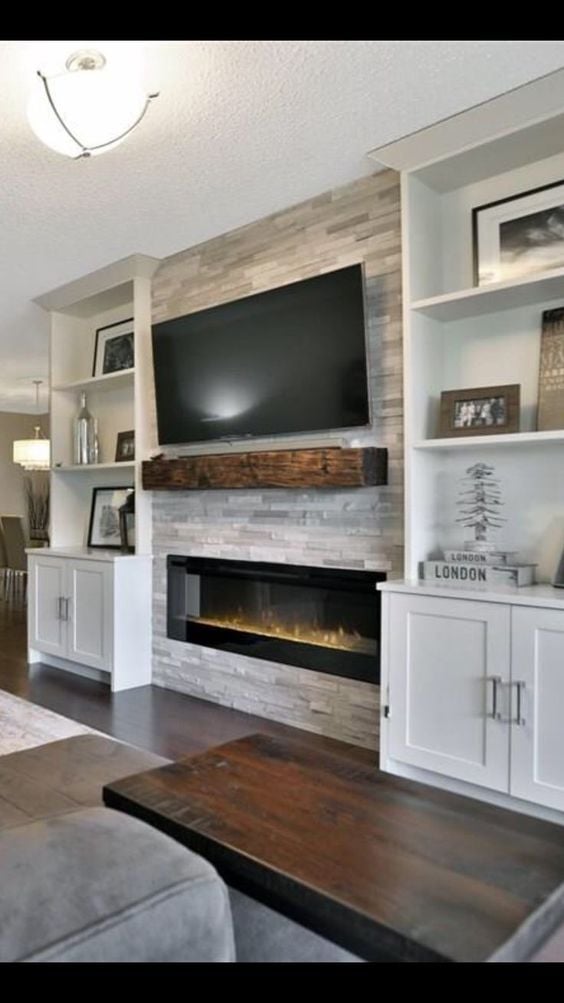 Fireplace with Built-In Shelves
A fireplace with built-in shelves is a great way to add extra storage space to your living room, den, or family room. Just imagine it: you're curled up on the couch with a good book, and there's nothing between you and your favorite reading spot but some books and magazines.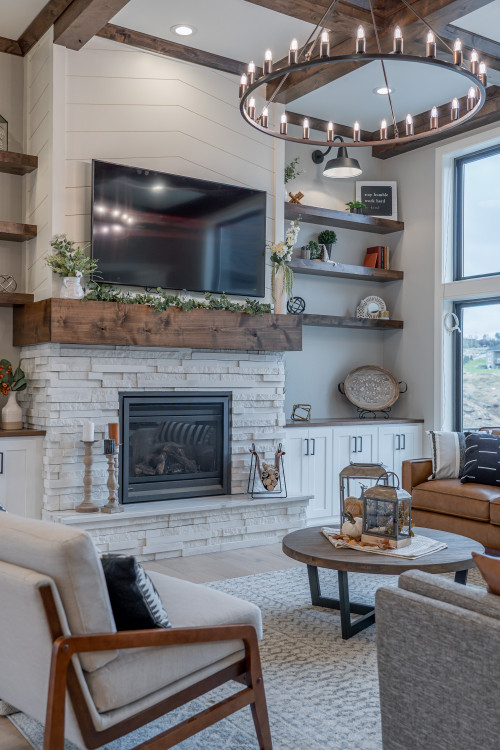 Extra Decor Surroundings
When choosing what to put around your fireplace, you want to think about things that can help you achieve the look and feel you're going for. For example, if you're going for an old-fashioned and rustic feel, then maybe you should choose something like an old wagon wheel or a stack of books with an old leather bound book on top. If you're going for a more modern look, then perhaps something like a giant mirror would be better suited for the area.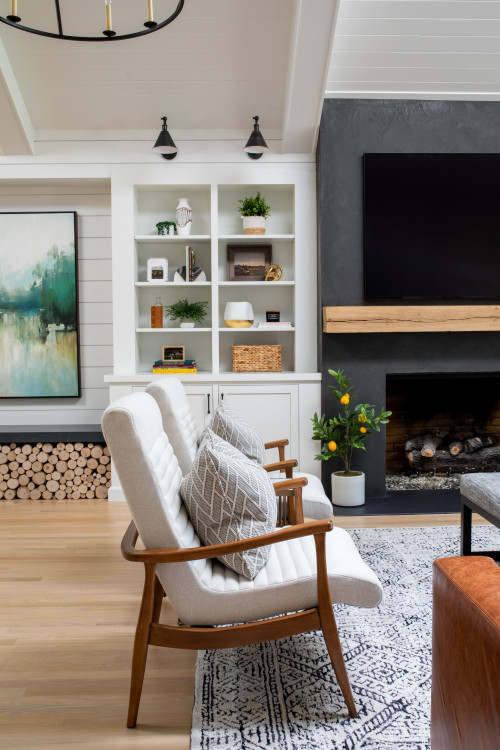 Asymmetrical Mentel Fireplaces with TV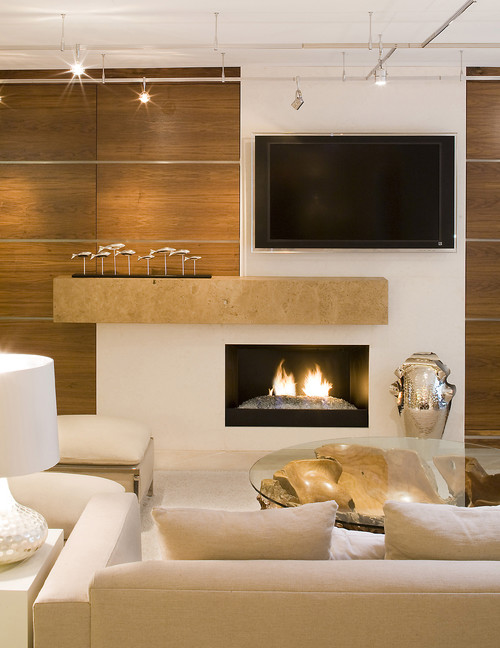 Stone Fireplace With Built-In TV
A traditional stone fireplace with built-in TV is the perfect way to add a touch of rustic warmth and charm to your living room. The stone is beautifully textured, and the TV can be seen from anywhere in the room.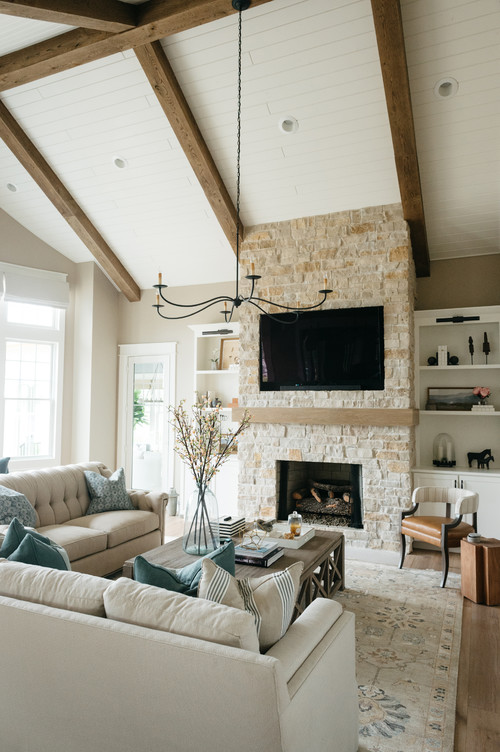 Traditional Stone Fireplace with TV
This traditional stone fireplace has been designed to give you the warmest, most welcoming feeling. The natural, earthy tones of stone create a warm and inviting atmosphere, while the open design allows you to enjoy your home's décor and to add a TV or other entertainment center.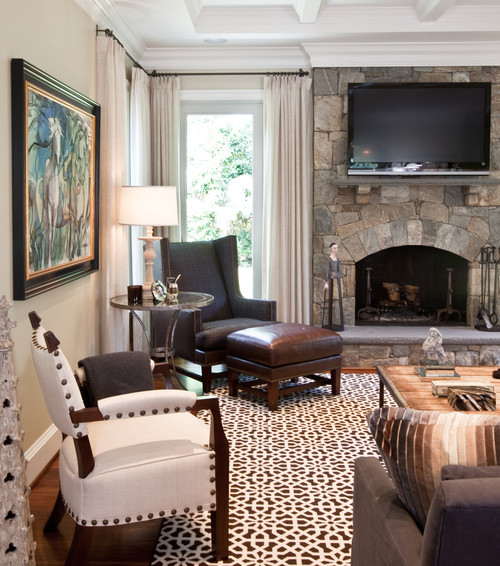 Modern Electrical Fireplace with TV
Modern, sleek and stylish.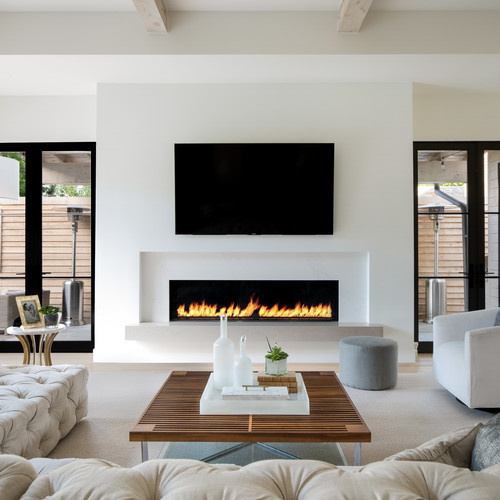 Above Eye Level TV in Family Room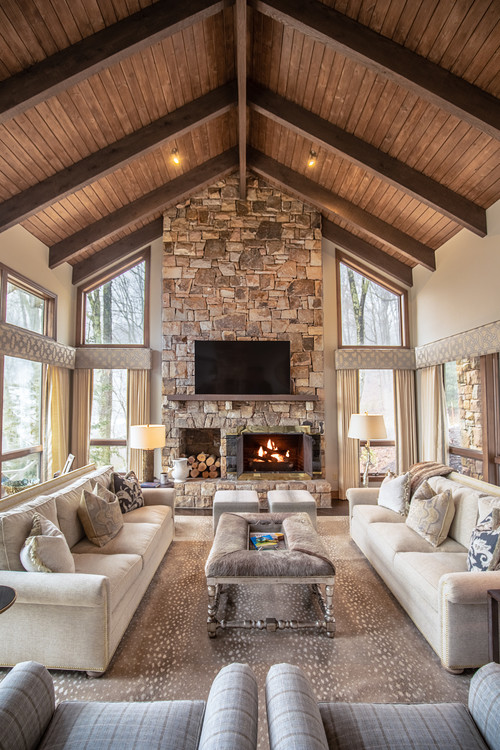 TV and Mantel Fireplaces
When you're ready to relax after a long day at work, there's nothing better than snuggling up next to your spouse or significant other in front of a warm fire. But sometimes, that means having to choose between watching TV or enjoying the warmth of your fireplace. Not in this design!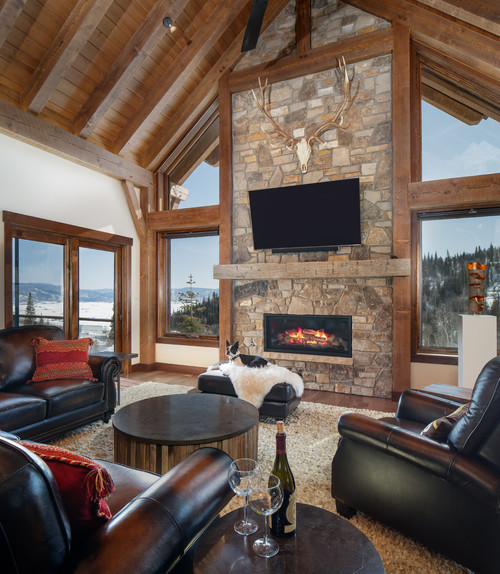 Outdoor Fireplace with TV
This outdoor fireplace is perfect for your backyard. It's got everything you need to create the perfect outdoor fire experience: a TV, a cozy couch, and lots of room for guests!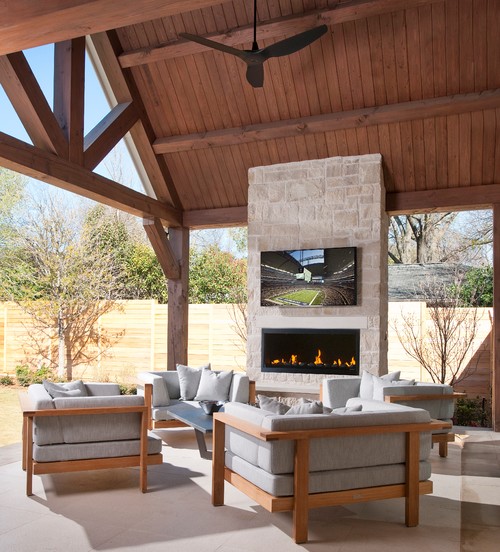 Contemporary Fireplace with TV
This contemporary fireplace with TV is perfect for those who want to add a touch of modern elegance to their living room. The rectangular shape and sleek lines of the unit will enhance any interior design.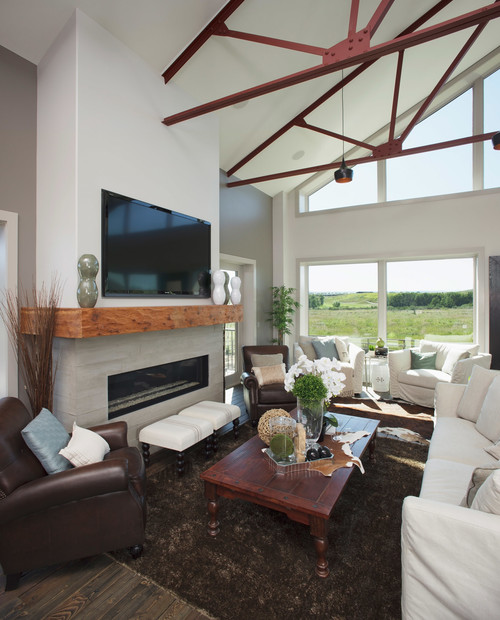 Black Linear Fireplace with Symmetry
This beautiful Black Linear Fireplace with Symmetry will add a touch of elegance to your living room. The subtle symmetry of the design makes it easy to place on a wall or mantel, while the sleek design will complement any modern decor.
Modern With Contemporary Styles
This fireplace style is all about clean lines and sleek design. It's perfect for modern homes or any room where you want something sleek and contemporary.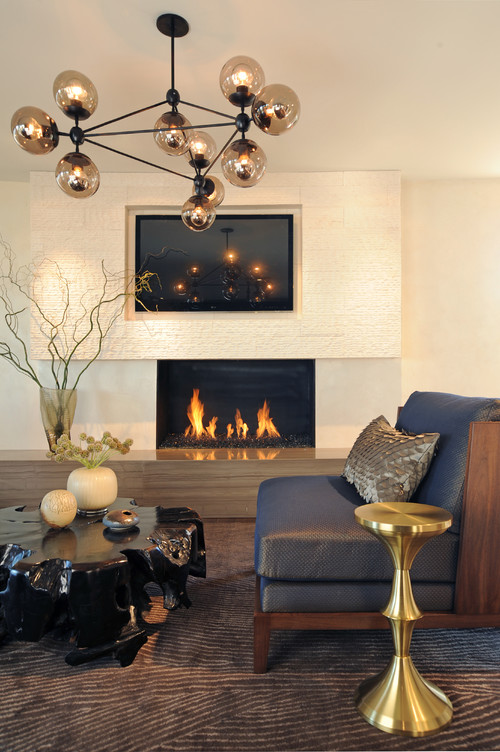 Rustic Wood Mantel Fireplace
The most popular types of fireplaces are brick and stone models. They are more expensive than other types of fireplaces, but they look great in any home. If you want to save money on your new fireplace, there are several ways to do this. One would be this example below, doing a bit of both!!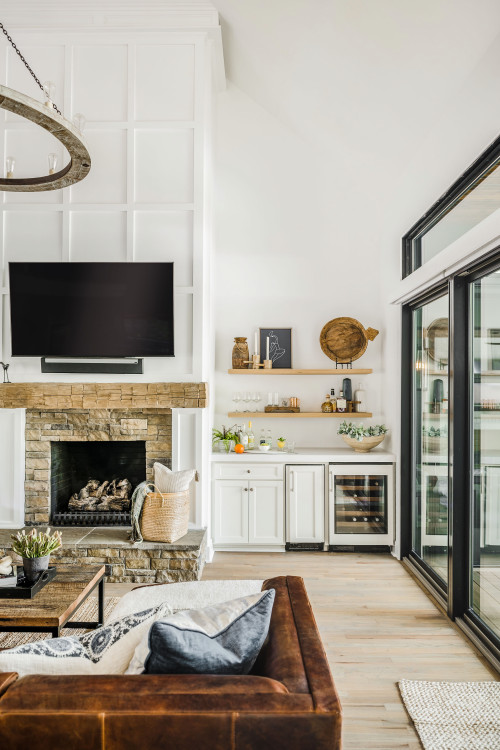 Warm Ambiance Fireplace with TV
Stone fireplaces are very popular because they offer a classic look that can be used in almost any room of your house—from the kitchen to the living room! They come in many different shapes and sizes so there's sure to be something that fits your needs perfectly.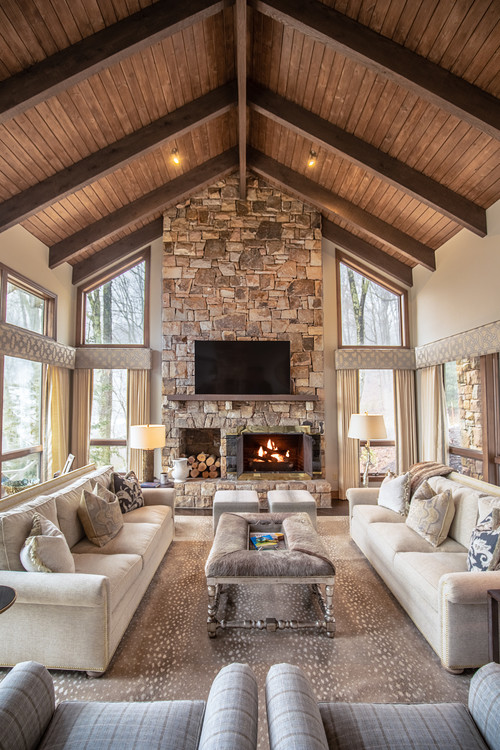 Masonry Fireplace with TV
Adding a TV to an area that's already been designed to be a focal point of the room will give it an added layer of visual interest, and can help make your living room feel more like an entertainment hub. One of my favorite things about this design option is that it adds visual interest and makes the room feel more spacious.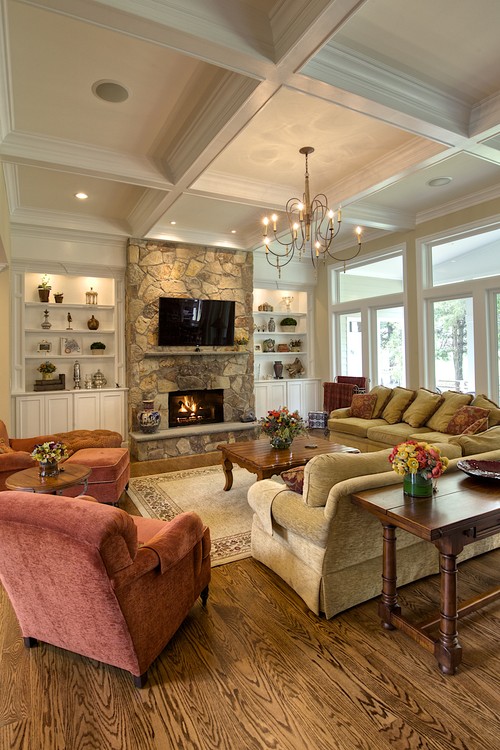 Frame TV on Ceiling Height Fireplace
Stone fireplaces are very popular because they offer a classic look that can be used in almost any room of your house—from the kitchen to the living room! They come in many different shapes and sizes so there's sure to be something that fits your needs perfectly.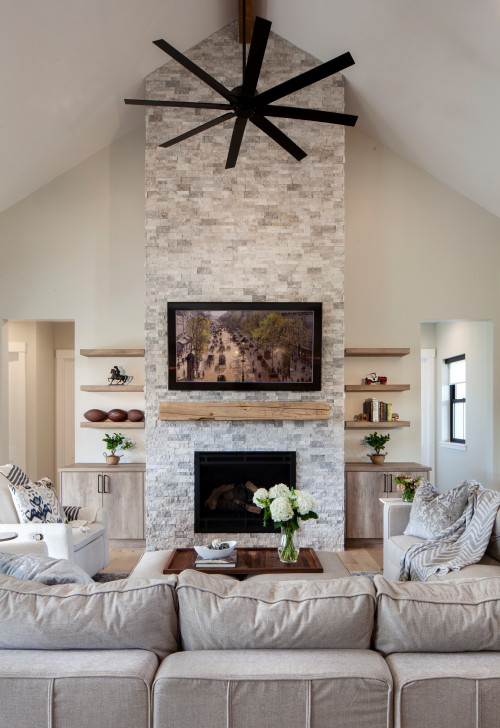 Slanted Fireplace with Flat Screen Television
A TV above the fireplace is an excellent way to make the most of space in your living room. It's a great option for small spaces, or if you're trying to create a cozy vibe on a budget. It also makes it easy for everyone in the room to see what's happening on screen, and it can help create a focal point for your decorating scheme.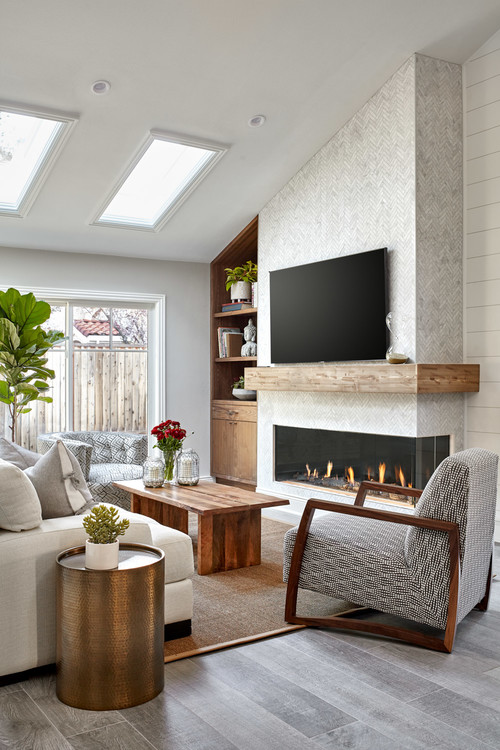 Brick Fireplace Design Ideas
Brick fireplaces are classic and timeless, so if you're looking for a design that will stand the test of time and look good in any decorating style, then the brick is your best bet.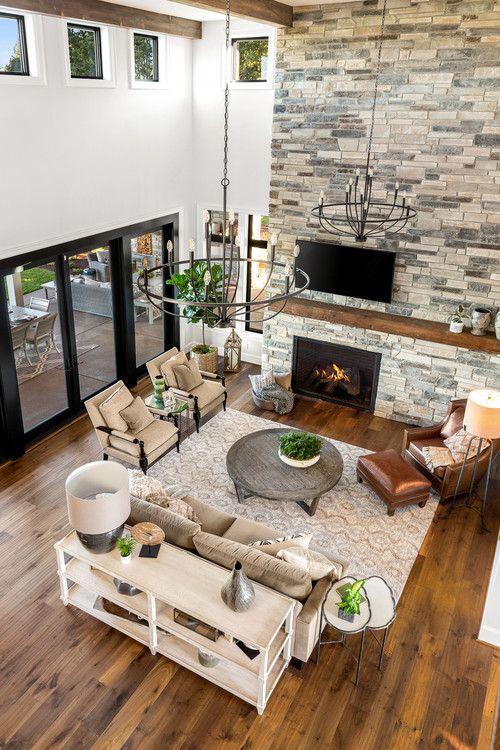 Framed Wall-Mounted TV above Wood-Burning Fireplace
This is a great space for entertaining with classic vibes. The living room is filled with classic touches like a fireplace, hardwood floors, and a vaulted ceiling that give it a welcoming feel.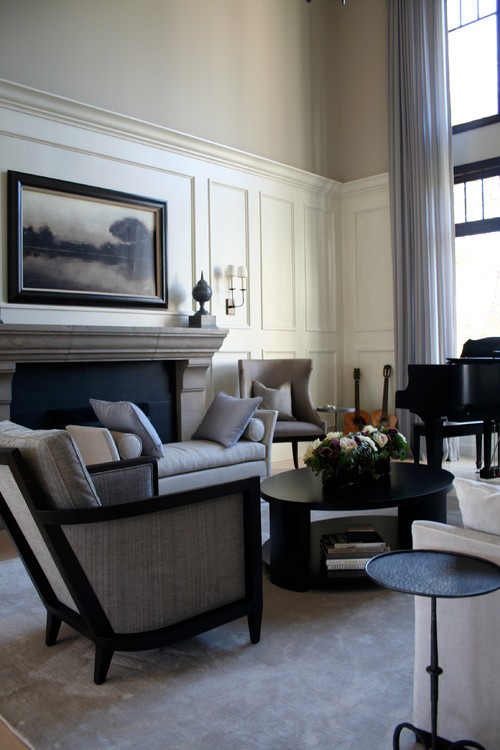 Dual Purpose Entertainment Center
If you love rustic-style decor, a rustic fireplace is a great way to add warmth and charm to your home. The warm colors and natural materials in this style make it perfect for any room.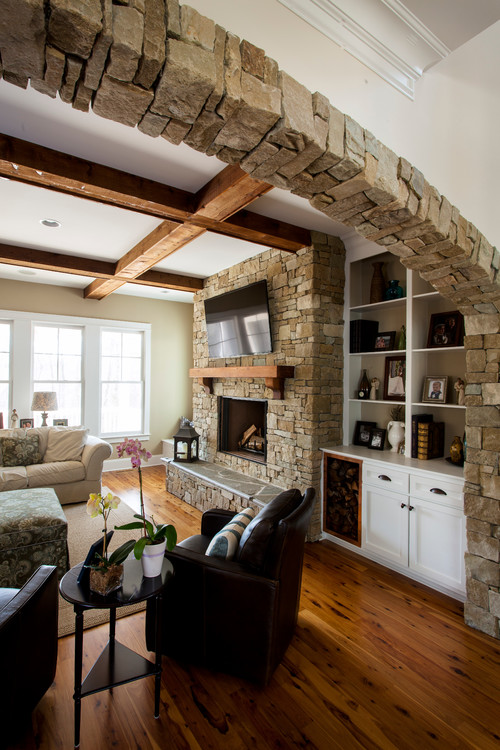 Built-In Electric Fireplace Shiplap wall Design
The shiplap wall design is a popular interior design choice for many homeowners. It can be used to create a rustic aesthetic, or it can be paired with more modern furnishings to create a unique look.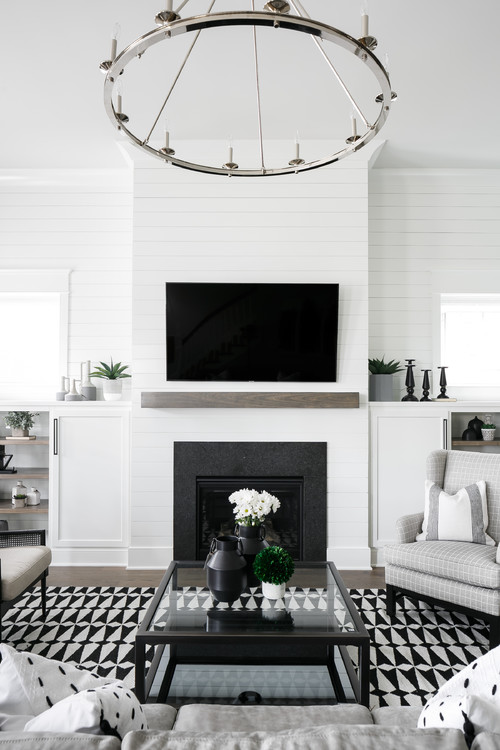 Grand Modern Electric Fireplace
This rustic yet modern, sleek design of this fireplace will complement any office space and bring a touch of elegance and warmth to your work environment.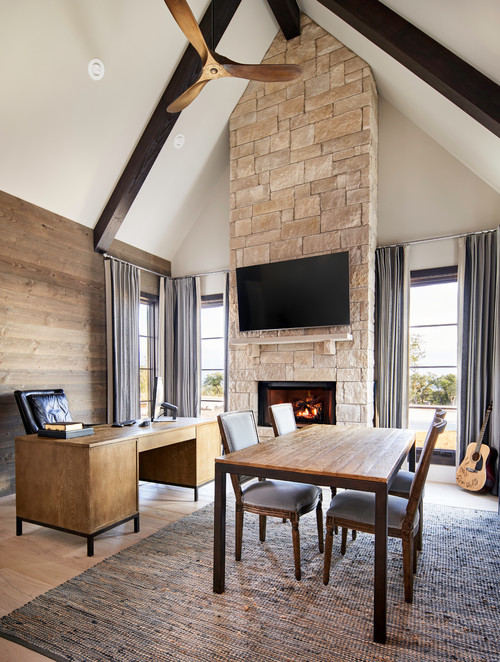 TV Fireplace in Ultimate Living Area
Next level cozy fireplace with TV above completes this living space.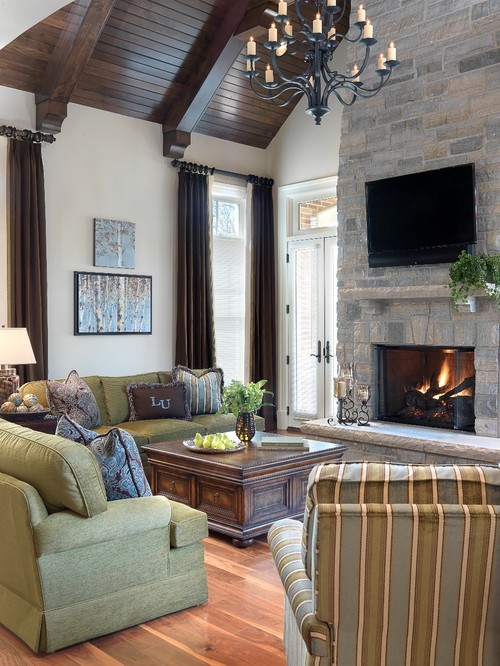 Tv with Comfortable Viewing Height
A simple, streamlined look is always beautiful. If you're looking for a fireplace mantel that's both elegant and understated, this one is it! Use a simple color palette and minimal furniture to create a cohesive space. One of the best ways to do this is by using one dominant hue throughout the room--in this case, white on all surfaces except the dark wood mantel itself. This creates an open feel while still allowing plenty of light into your living room or dining room (which should be adjacent).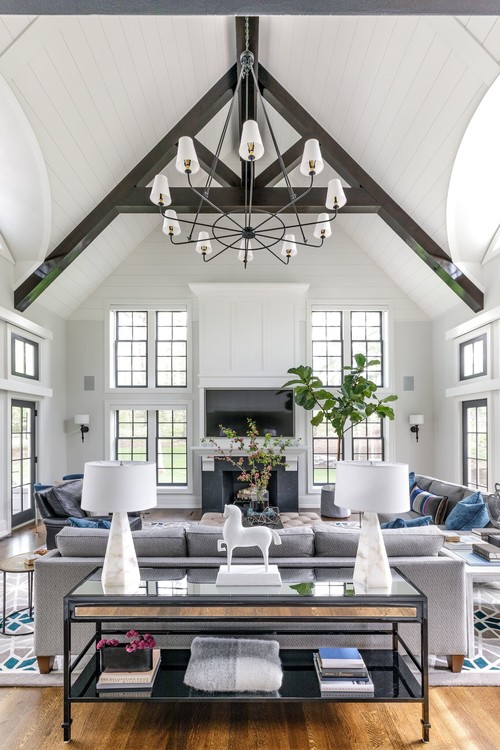 Perfect Spot and Room Layout Fireplace
A wood mantel is a popular choice for many homeowners because it adds a rustic look to the room. You can choose from many different types of wood and stain or paint it to match your decor. If you are looking for something more modern, consider using stone as your material instead.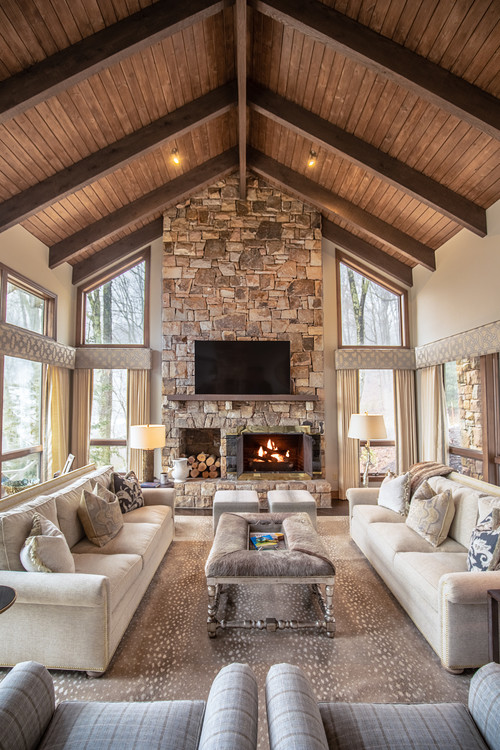 Contemporary Type of Fireplace with TV
Warm wood tones are softer and more inviting than stark white walls or gray paint jobs. They're also a great way to add warmth and texture to any room. If you're looking for a sophisticated look, try pairing your TV mount with warm woods like walnut or oak that work well with most color palettes.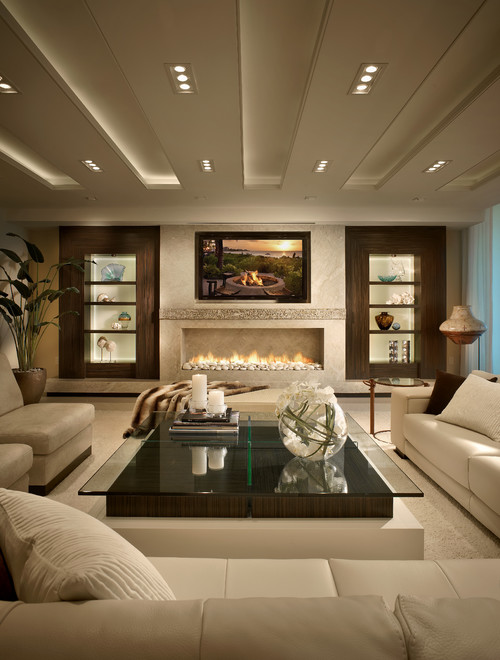 TV-hearth Combination
There are many ways to decorate a room around your fireplace that will make it look great. The fireplace is the focal point of the room and should be decorated in such a way that it stands out as well.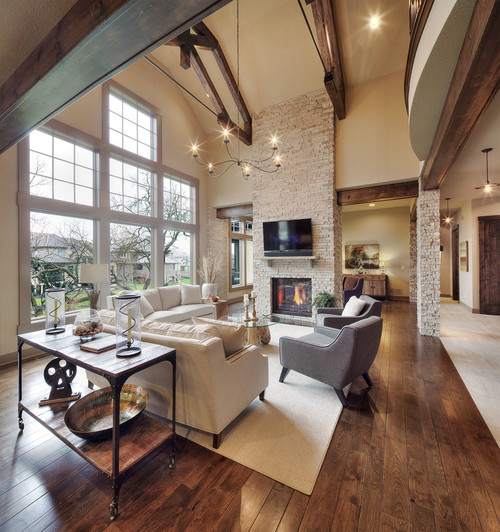 Modern Home Fireplace with TV Ideas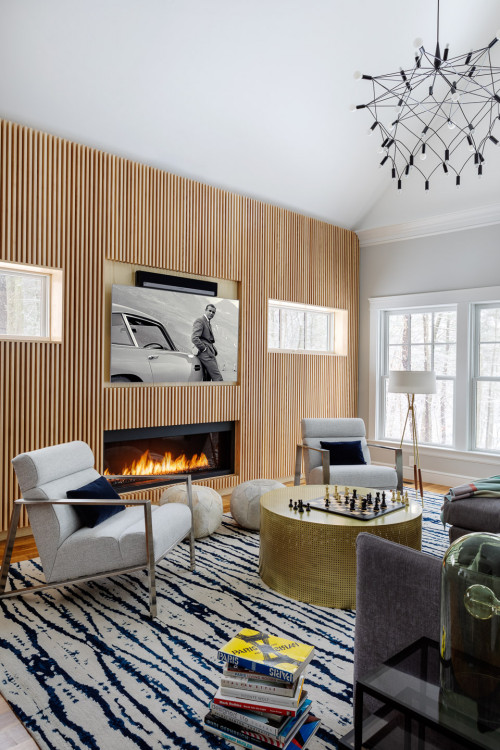 Fireplace with the Best Viewing Angle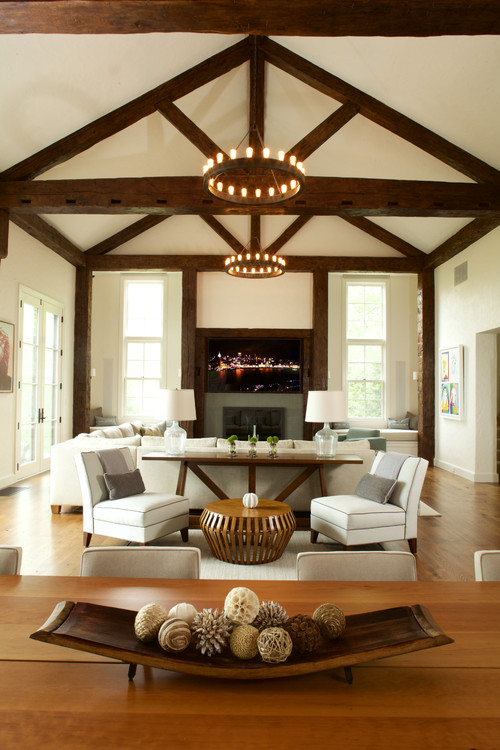 Fireplace Scones on SIde of the Fireplace
Perfect Fireplace with TV
The best way to mount your TV above the fireplace is by using brackets that attach directly onto the wall above your mantelpiece or hearthstone (the stone plate at floor level), as this will ensure maximum stability while keeping cables hidden away behind closed doors rather than being visible from all angles (which may detract from its aesthetic appeal).
Ideal TV and Fireplace Combo
Brick Fireplace With White Mantel and TV
Brick is a great choice for a fireplace. It's durable and has been used in home interiors for centuries, so you know it will last.
When you're designing a living room, it's easy to get caught up in all the elements that need to be included. But when it comes down to it, there's one thing that will make or break your design: the fireplace. There are many ways to incorporate a TV into your fireplace. The options are endless and all depend on your personal preference, but here are my favorites!
TV above the hearth: This is one of my favorite ideas because it's so simple. You can hang an inexpensive flat screen television (or even a smaller one) above your mantel with brackets or hooks and simply plug it in without having to worry about cords showing through the brickwork behind it. This works especially well if you want something low-key for background noise while you're cooking dinner or hosting guests; just make sure there's enough space between where people will be sitting down and where your screen is set up so no one accidentally kicks it off its perch!
TV above the mantel: Another option for hanging TVs around fireplaces is mounting them directly onto either side of a mantlepiece without any kind of bracketing system involved whatsoever--just stick 'em up there! This method works especially well when paired with other decorative items like vases full of flowers or candles that can serve as visual separators between each side (and keep things looking balanced). If these aren't available then try placing large artwork nearby instead - either way works great though so play around until something feels right before committing fully 🙂
The fireplace is the focal point of the room, which makes it important to choose a design that fits your style. While some people may not want a television in front of their fireplace, others will find this to be a great solution. If you have an unusual TV screen or cabinet that doesn't fit in another area of your home, this idea could be perfect for you.
More Living Room Posts:
Until next time,
BEST SELLERS