Ways to Style a Console Table; tips to style a console table the right way and make it an accent piece of your entryway, hallway or living room.
Disclaimer: this post may contain affiliate links, and every purchase made through these links will give me a small commission (at absolutely no extra cost for you!) AS AN AMAZON ASSOCIATE AND REWARDSTYLE MEMBER, I EARN FROM QUALIFYING PURCHASES. See Privacy Policy for additional info.
Console tables are pieces of furniture that can make a space pop. Console tables can work as accent pieces or as standalone furniture. They can be placed in hallways, bedrooms, and in between rooms to fill any empty spaces.
When walking into your home, a console table is usually the focal point making it the first impression. Styling a console table the right way can add value and interest to your entryway or living room.
But how do you style them to achieve the look you want? Read on for some tips and inspiration to style a console table the right way and make it an accent piece of your hallway.
This post is all about ways to style a console table
<< Please Note: none of these photos belong to me, please click photo or source provided to be redirected to the owners >>
How To Style a Console Table?
Here are 9 easy console table ideas you can implement right away:
Keep Natural and Minimal
So you want to style your console table, eh? Well, there are a few things you'll need to keep in mind if you want to achieve that perfect balance of form and function. First, keep it minimal.
A console table is typically a small piece of furniture, so you don't want to overdo it with too many knick-knacks and tchotchkes. Keep the decor simple. Second, keep it natural. Look for items made from natural materials like wood, stone, or ceramic. And lastly, don't be afraid to mix and match. Maybe add a rustic antique piece mixed with a neutral bowl or tray.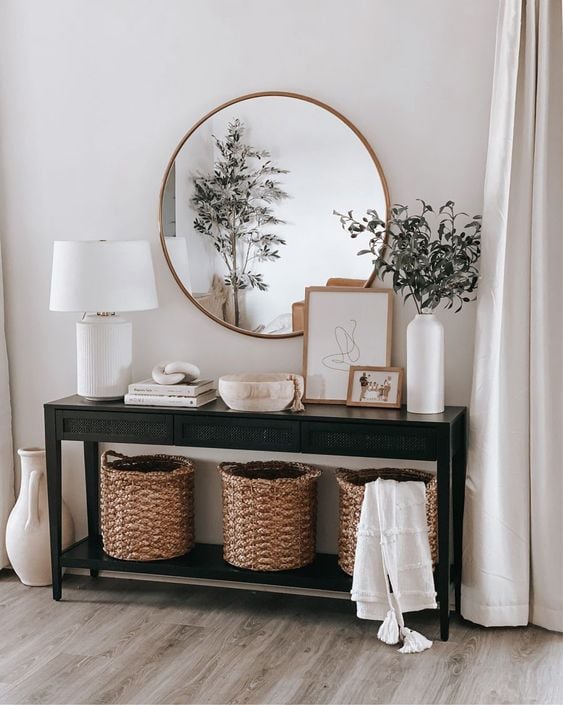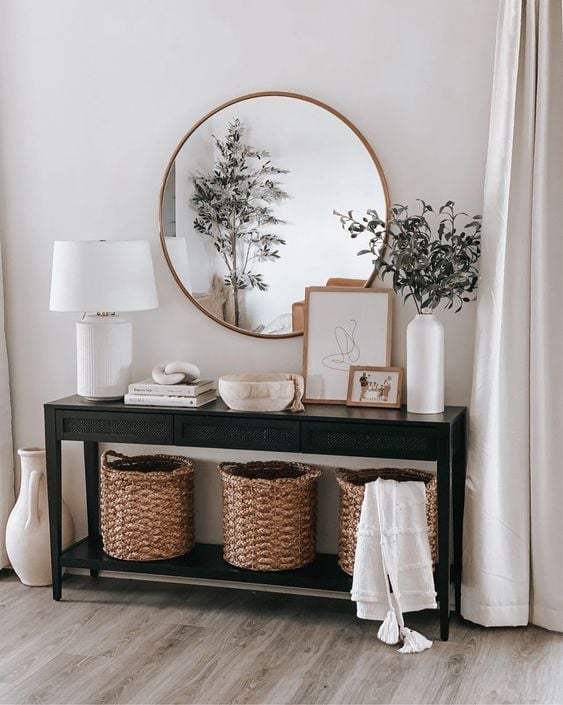 Black Console Table // Lamp // Baskets // Curtains // Vase // Greenery
Incorporate Console Table Accessories
If you're looking to style your console table, you'll need some nice accessories. Here are a few ideas to get you started:
Get a stylish vase or two and fill them with fresh flowers to add a touch of elegance to your console table. A floral arrangement makes a stunning statement piece!
Find a couple of cute photo frames and use them to display your favorite pictures. This is a great way to personalize your console table.
Pick up a few scented candles and arrange them on your console table to create a warm and inviting atmosphere in your home.
Add baskets under the table for additional storage.
Incorporate an ottoman for seating while getting ready to leave! Bonus if you find an ottoman with inside storage. No room under your table? Add it to the side of the console!
Get a small dish and fill it with candies or other small snacks to make your console table more inviting for guests.
Adding a beautiful stand alone sculpture, an interesting anchor piece or a piece of artwork will amplify the look making it sophisticated with an overall good first impression
Lastly, don't forget to accessorize your console table with a few coffee table books or magazines to make your place look more welcoming.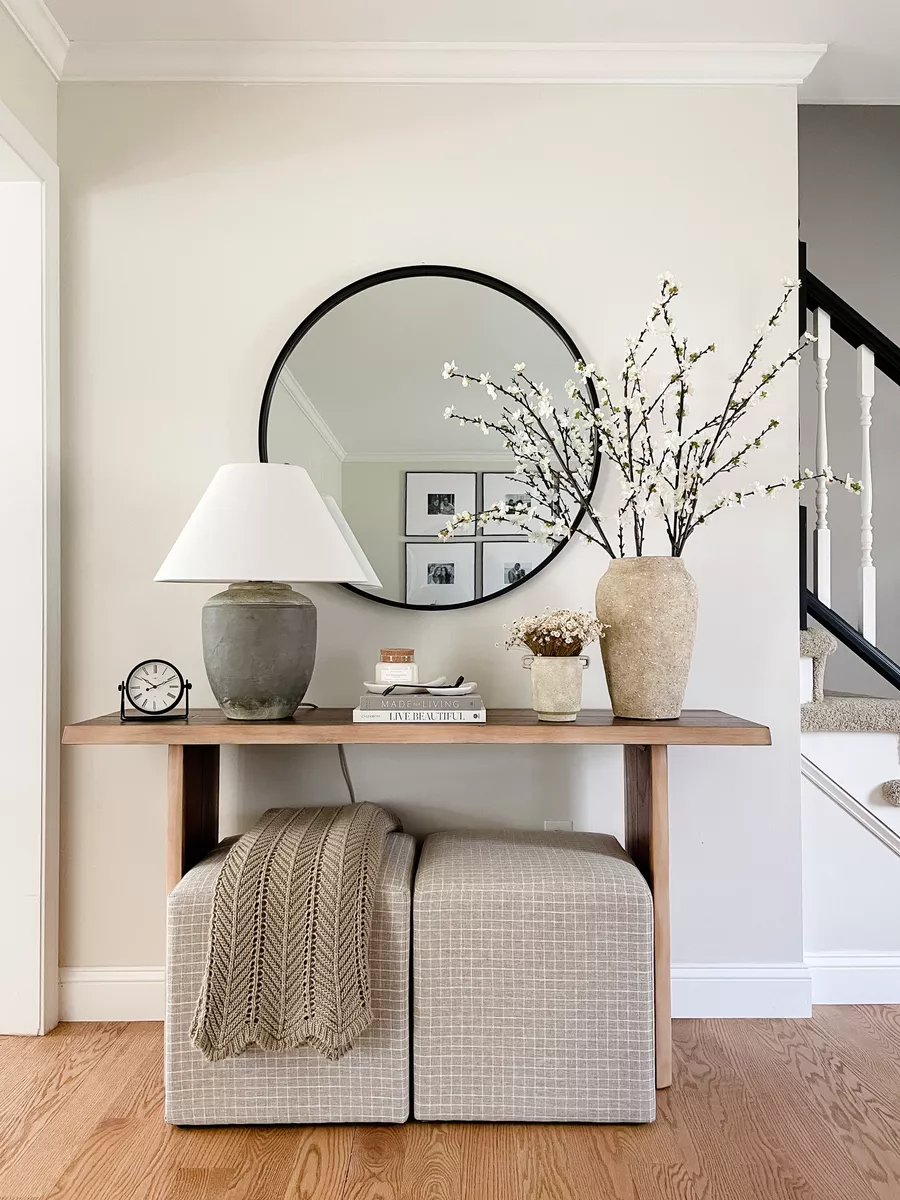 Console Table // Lamp // Ottomans // Vase // Mirror // Dried Flowers // Mini Clock
Add in Lighting
Use a table lamp that casts a warm, ambient glow to create an inviting atmosphere in the room. You can also add in some candles for a more romantic look. If you want a more modern look, try using LED lights instead. Adding some light wall sconces adds beauty and symmetry. Whatever route you decide to take, make sure that the lighting is not too harsh or bright, as this can ruin your table's overall look.
Display Artwork
If you're looking for a way to display your artwork while also styling your console table, consider using one of these creative ideas.
Use a print or painting as a centerpiece.
Hang art on the wall behind the console table.
Prop up framed artwork on the console table itself.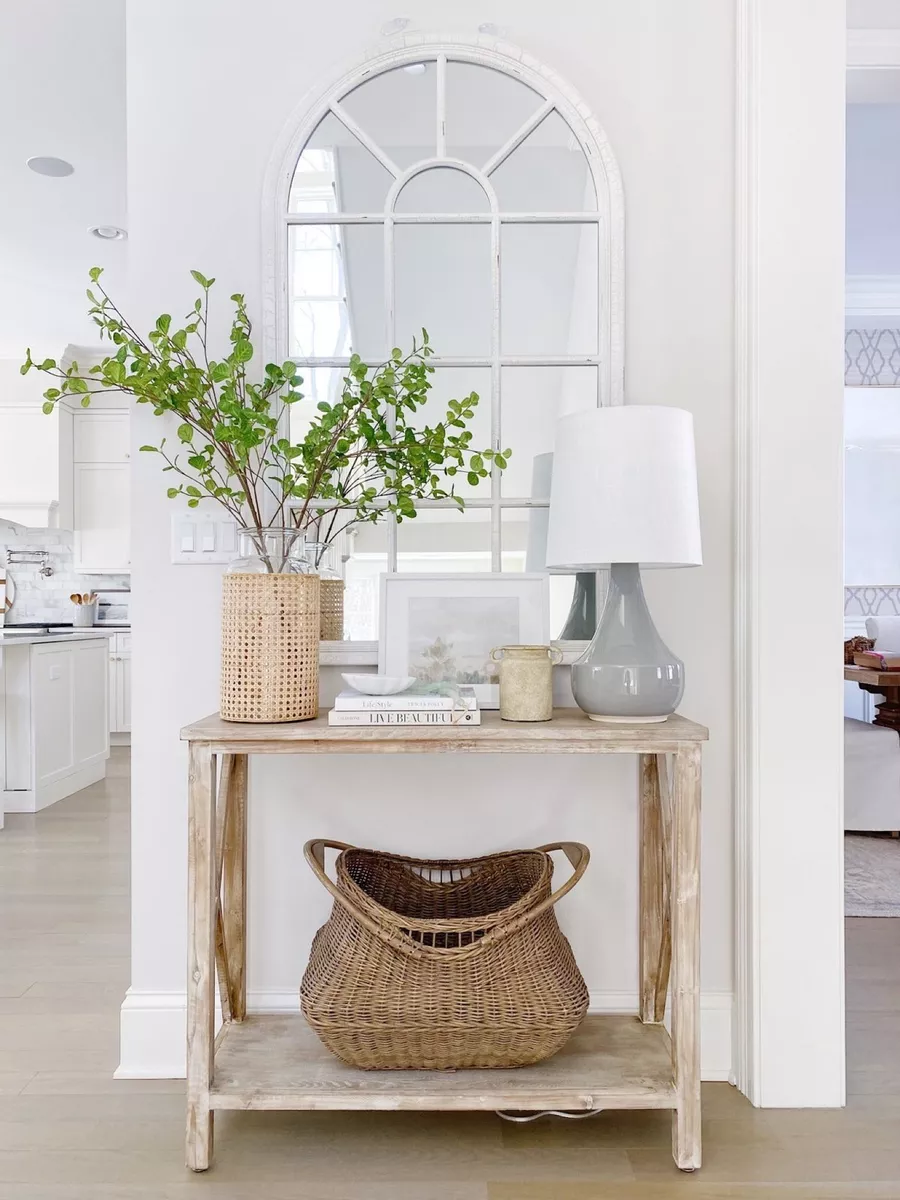 Mirror // Similar Console // Lamp
Include Extra Storage Space
Look for a console table with shelving or drawers. This way, you can store items such as coasters, remotes, and magazines while still keeping your space looking chic. Sometimes the best way to achieve balance is by pairing different console table accessories. So go ahead and experiment until you find the perfect combination for your space.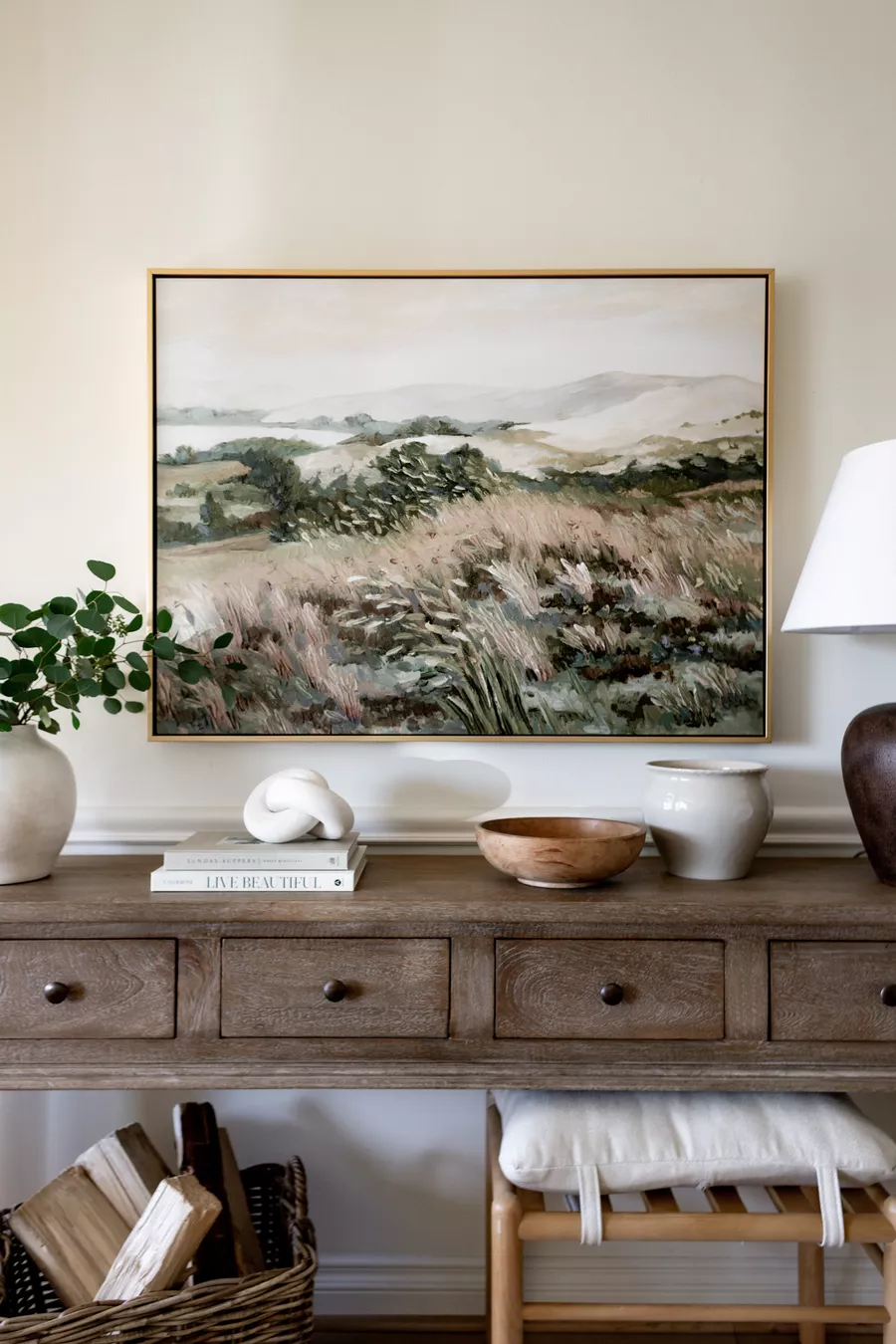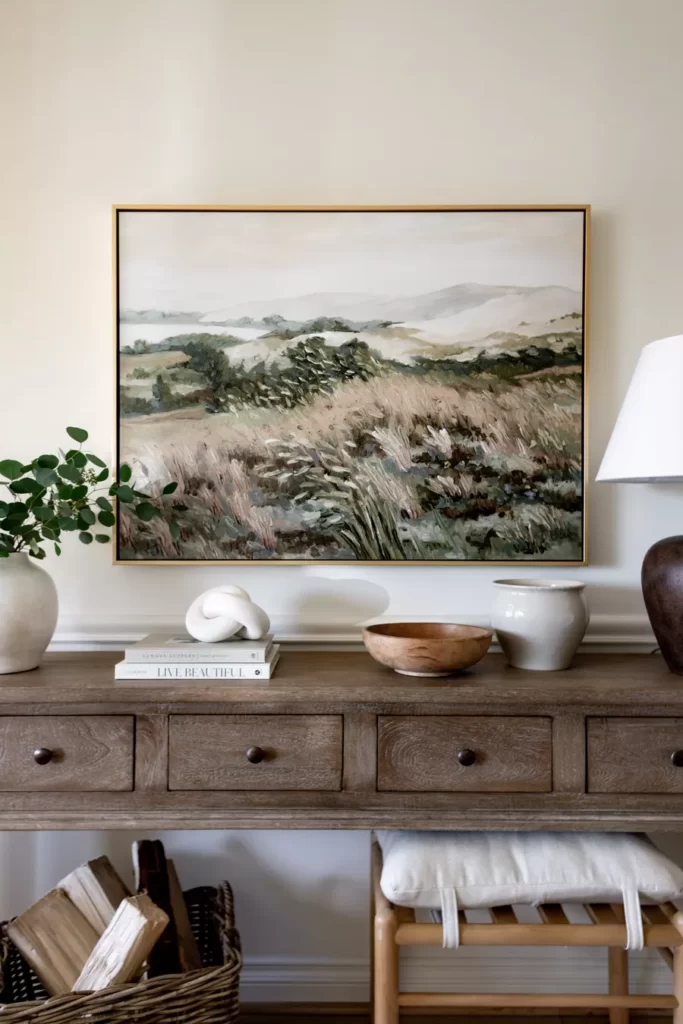 Artwork // Console Table // Ottoman // Vase // Lamp // Basket // Wood Knot Decor
Give it Some Height
This means incorporating taller pieces in your design, like a tall vase of flowers or lamp. This will help fill up that empty space on your console table while still allowing you to style it the way you want. Adding in different heights gives your console table a more grand feel. Try not to go too overboard with this though, as you don't want your console table to become overloaded.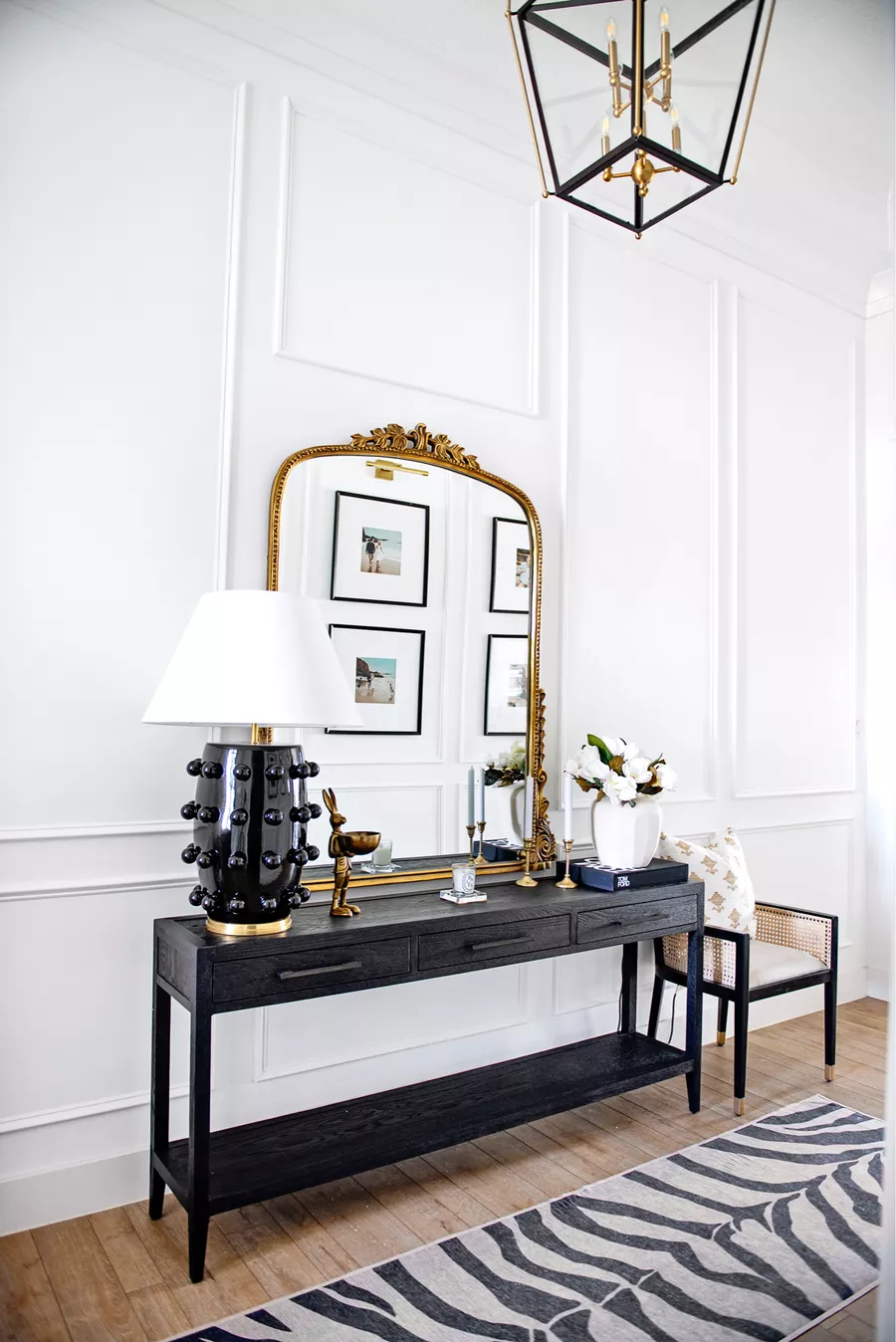 Console Table // Lamp // Rug // Chair // Pillow // Hanging Light // Mirror
Layer in Textures
Add dimension to your console by layering a mix of both large and small objects. For example, try placing a large vase on the bottom shelf with a stack of books on top. Add in some smaller items like candles or picture frames to finish the look.
You can also work in some different textures with fabrics as well, when adding in baskets with blankets or additional pillows (when in a living room setting). Add in a large mirror, a jar or metal sculptural pieces as well!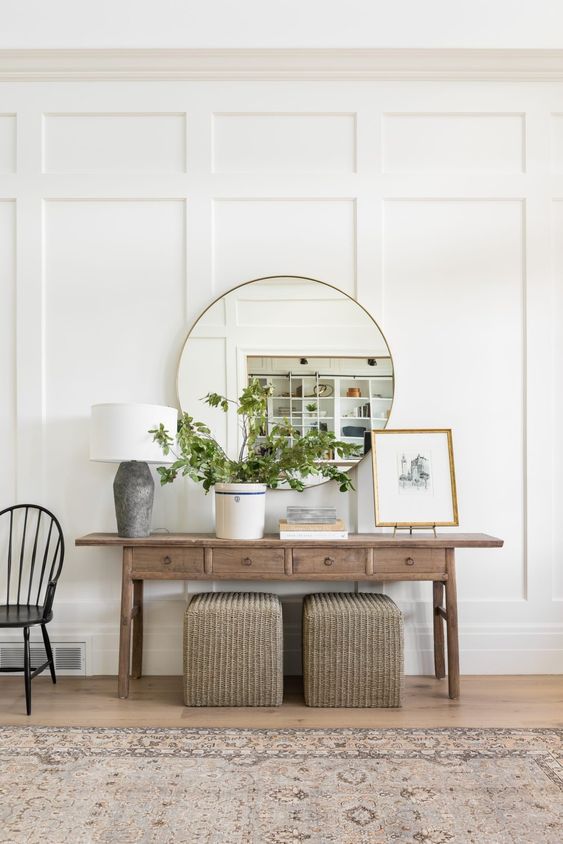 Add in Greenery
If you want a unique way to style your console table, why not try adding some greenery? This can be a great way to add a pop of color and life to your space. You can either choose to style with real plants or opt for faux options if you're not up for the maintenance. Either way, incorporating plants is an easy way to take your console table styling up a notch.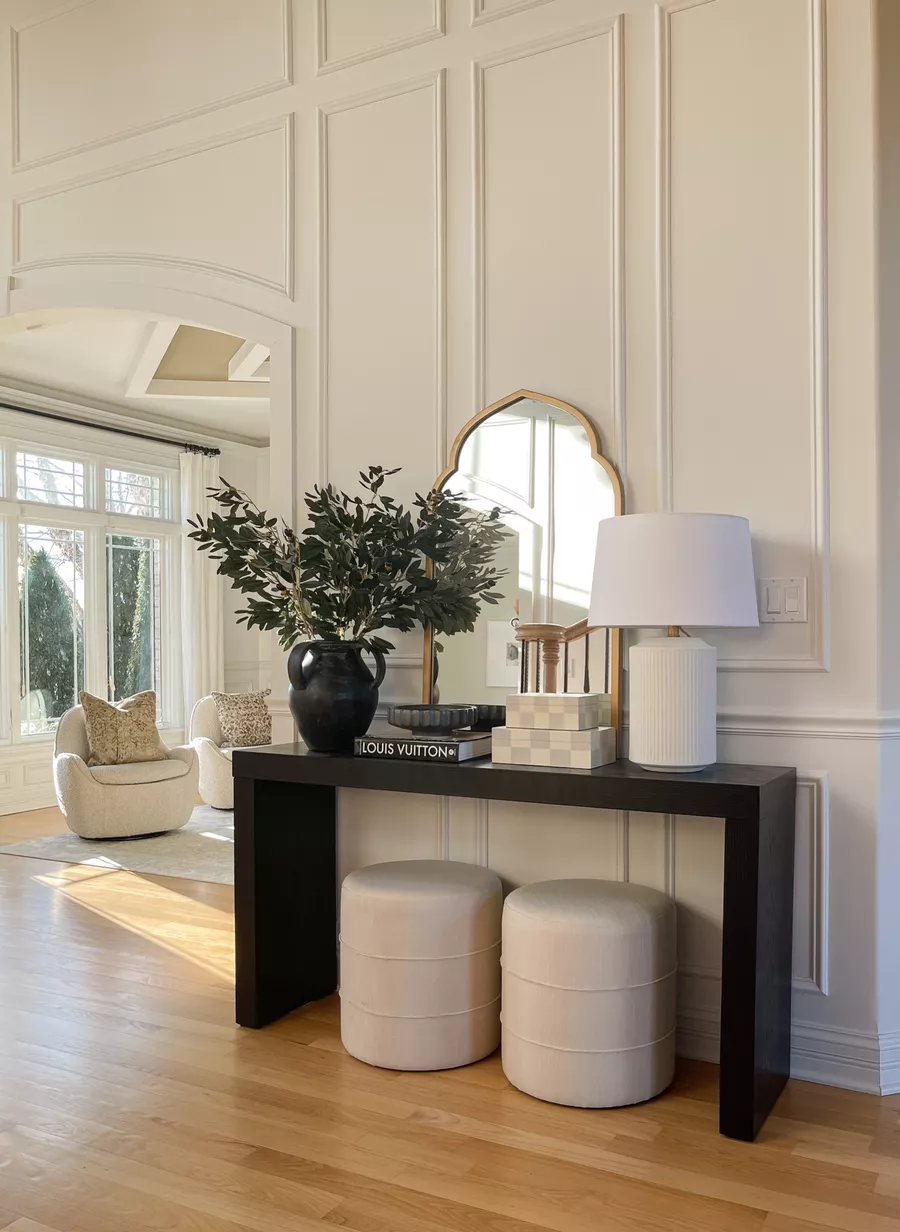 Console Table // Ottoman // Lamp // Decor Boxes // Vase // Mirror
Personalize It
If you want to add a personal touch to your console table while styling it, consider using items that represent your hobbies or interests. For example, if you love baseball, place a small baseball bat or mitt on the table. If you're an avid reader, arrange some of your favorite books on the shelves. You can also display photos of your family and friends or any other mementos special to you.
Summing Up
Your console table is the perfect place to show off your personal style. Whether you want to add a pop of color with a brightly colored lamp or stack of books or keep it simple with family photos and a vase of fresh flowers, your console table is the place to showcase your personality. So have fun following these ideas and style a console table that depicts your personality!
Here are some of my favourite console tables:

I hope you enjoyed this post all about ways to style a console table and found some inspiration for some new console table decor!
If you liked this post, check out these too!
BEST SELLERS