Baby Girl White and Pink Nursery Reveal; Pink, white and gold babygirl bedroom. Vintage and antique furniture with modern affordable finds.
Disclaimer: this post may contain affiliate links, and every purchase made through these links will give me a small commission (at absolutely no extra cost for you!) AS AN AMAZON ASSOCIATE AND REWARDSTYLE MEMBER, I EARN FROM QUALIFYING PURCHASES. See Privacy Policy for additional info.
Finally! I have finally gotten around to posting our baby girl white and pink nursery! It has been a year.. yes she is a year old now. Crazy how fast time flies by! Feels like yesterday she was born. You can read all about my labour and delivery here!
If this is your first time to my blog. Welcome! I'm Nikki. The girl behind this blog. I post everything from healthy recipes, home decor to a day in my life. I have a 1 year old daughter and am pregnant with baby number two! Follow along with my blog and my life 🙂
This post will go into detail on my daughters bedroom and everything in it! If you have any questions on this baby girl white and pink nursery reveal please leave me them in the comments below so I can answer them and update this post as I go.
Anyways lets jump into this adorable baby girl nursery shall we!?
Baby Girl White and Pink Nursery Reveal: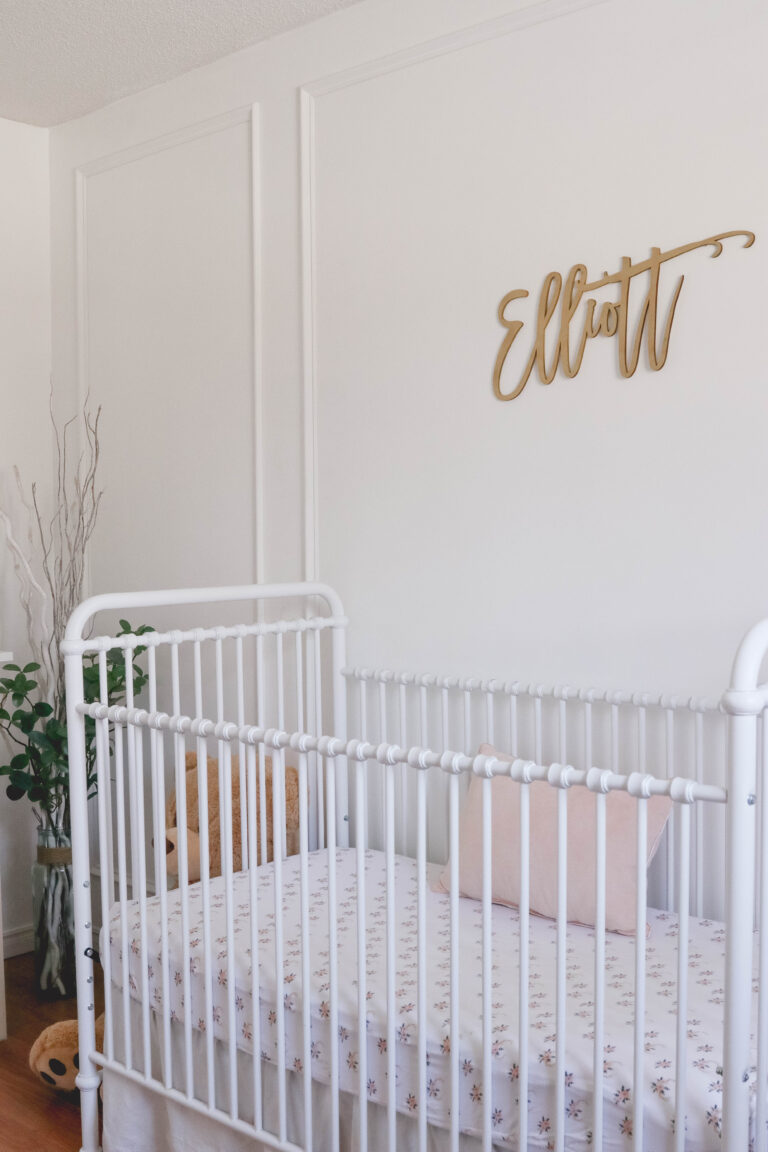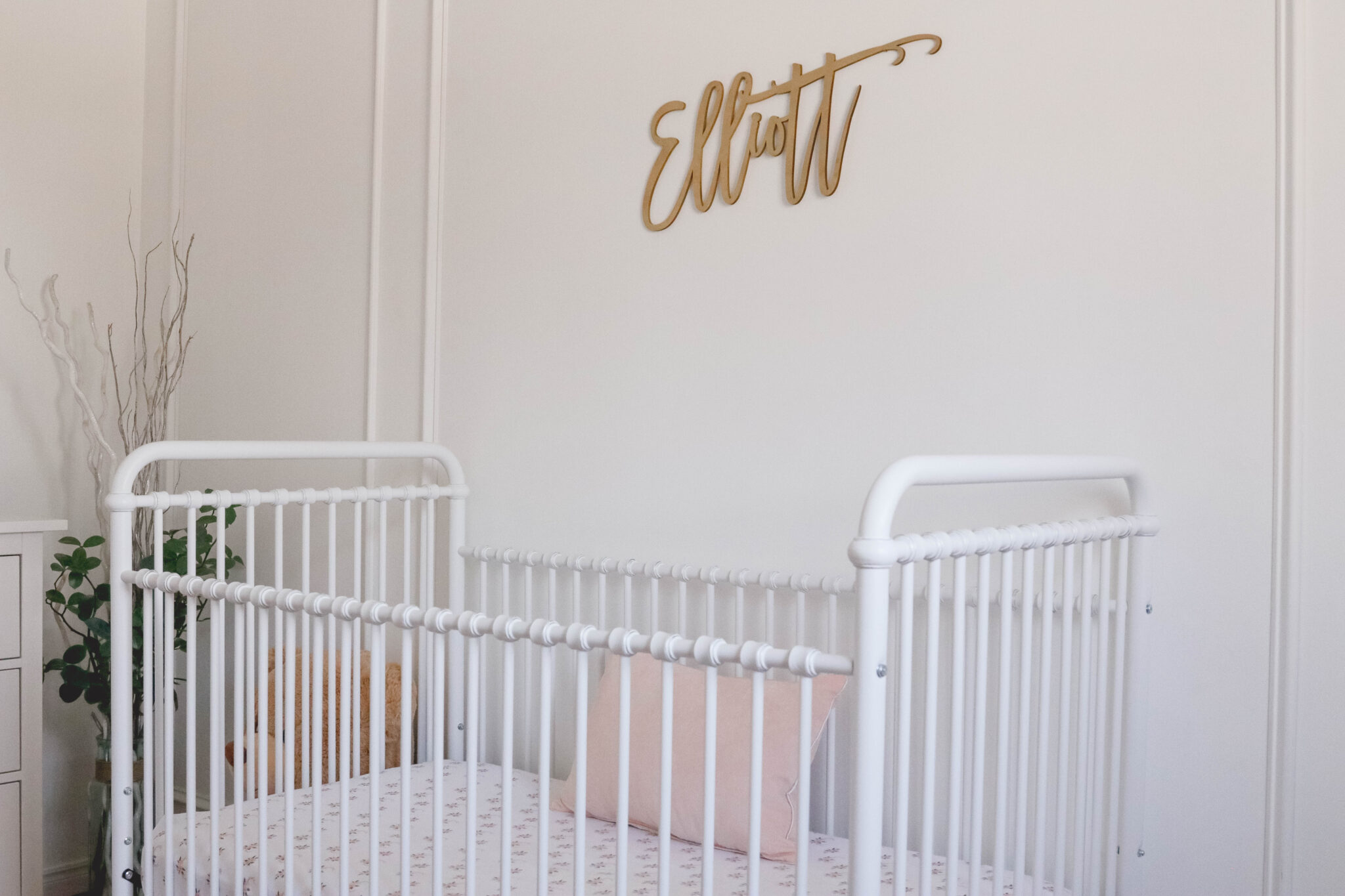 The Crib:
This is Elliott's crib! I am so obsessed with this crib. Not only is it super cute, it is also so sturdy and safe. I love when something stylish and chic is also good quality. It wasn't too expensive either. I got it from WayFair. It is the Abigail 3-in-1 Convertible Crib in white.
It is a convertible crib meaning it will grow with your baby. The mattress lowers and it can easily become a bed suited for a newborn to a toddler! I love when you are able to use one piece of baby furniture for multiple stages.
So far we have not had any cons against this crib. Everything seems to be working well and holding up. I would highly recommend this crib to anyone looking for one!
Please note she does not sleep with that pillow in the crib. It is just there for picture decor!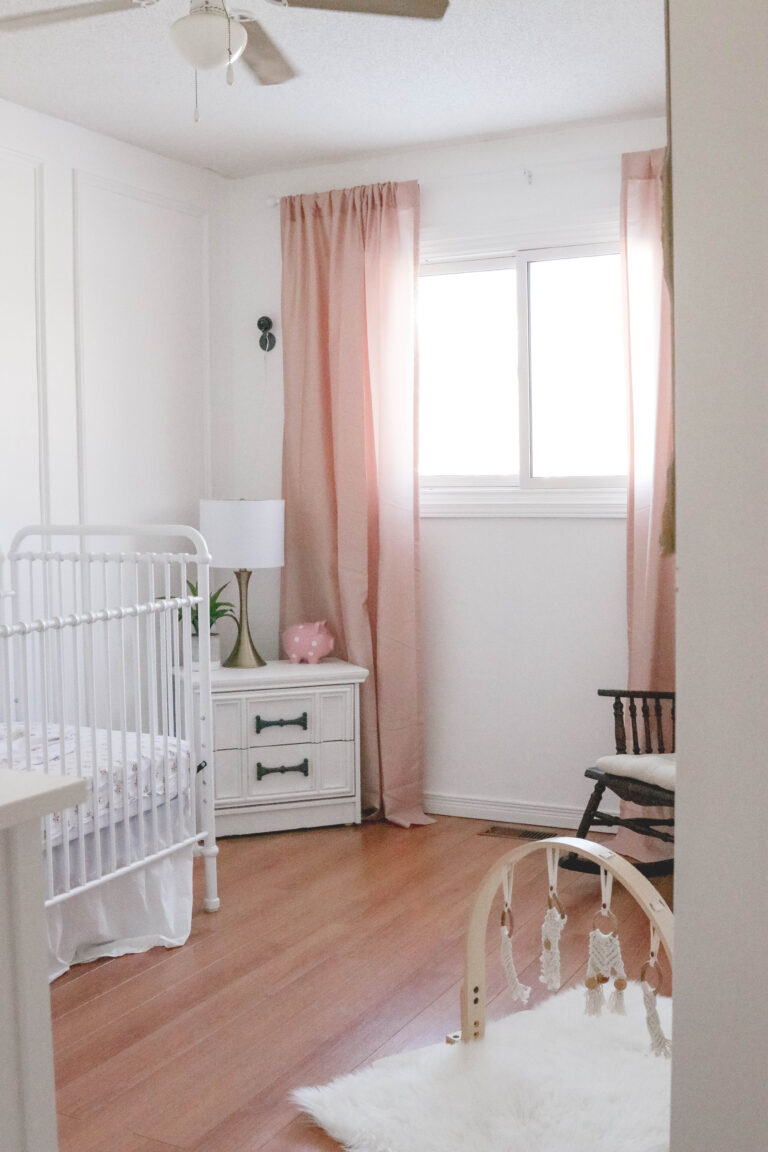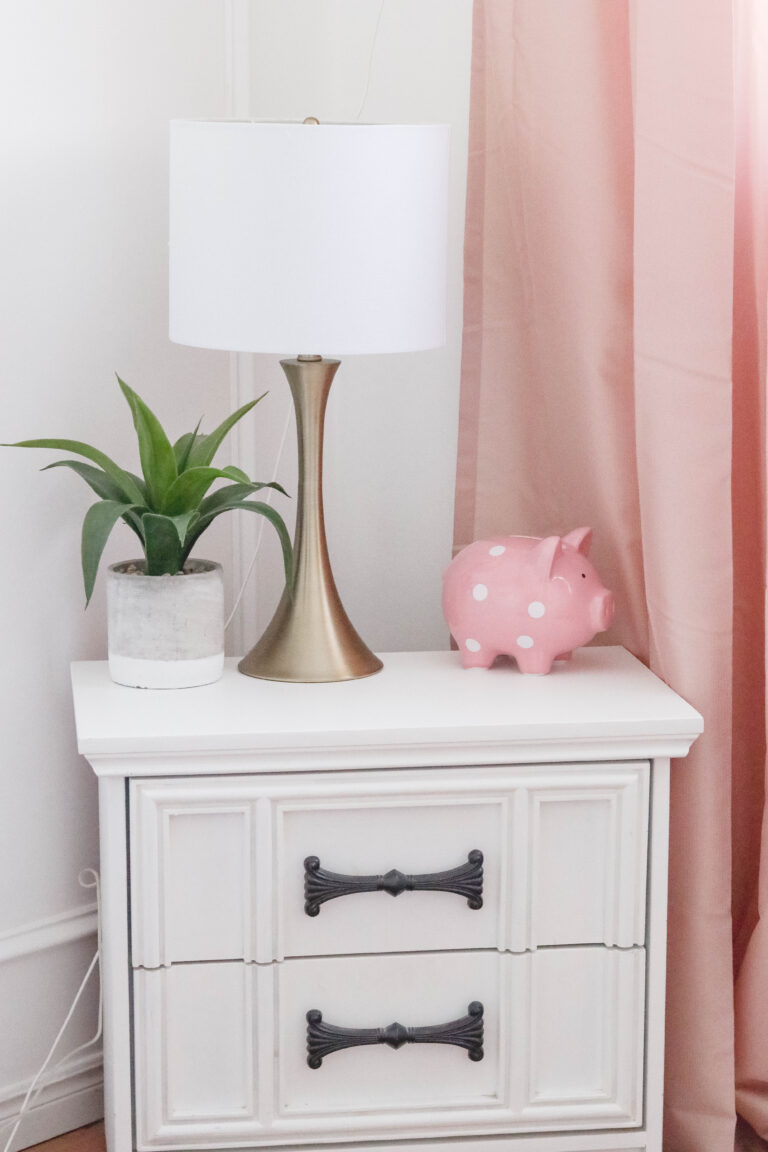 The Walls:
We did a wainscotting feature wall where the crib is. I will be doing a DIY post on how we did this! But for now I will let you know that it was fairly easy (keep in mind my husband is a carpenter so we already had all the equipment for it!). It cost around $150 Canadian.
We painted the walls white. I didn't choose a specific colour, I just used the can of paint right from the store (no colour insert). It is bright and crisp and I love it. really brightens this dark room.
Her name art on the wall is from this Etsy Shop! They were great to work with and ship super fast (if you are Canada located).
The Dresser:
The dresser we went with is just the basic Hemnes 8 Drawer Dresser from Ikea. I am still looking for some cute vintage and gold knobs to replace the ones the dresser comes with.
This dresser is cheap but works well. I have no complaints about it yet. We bought inserts for the drawers to keep everything organized. The drawers are fairly deep which is nice for extra storage.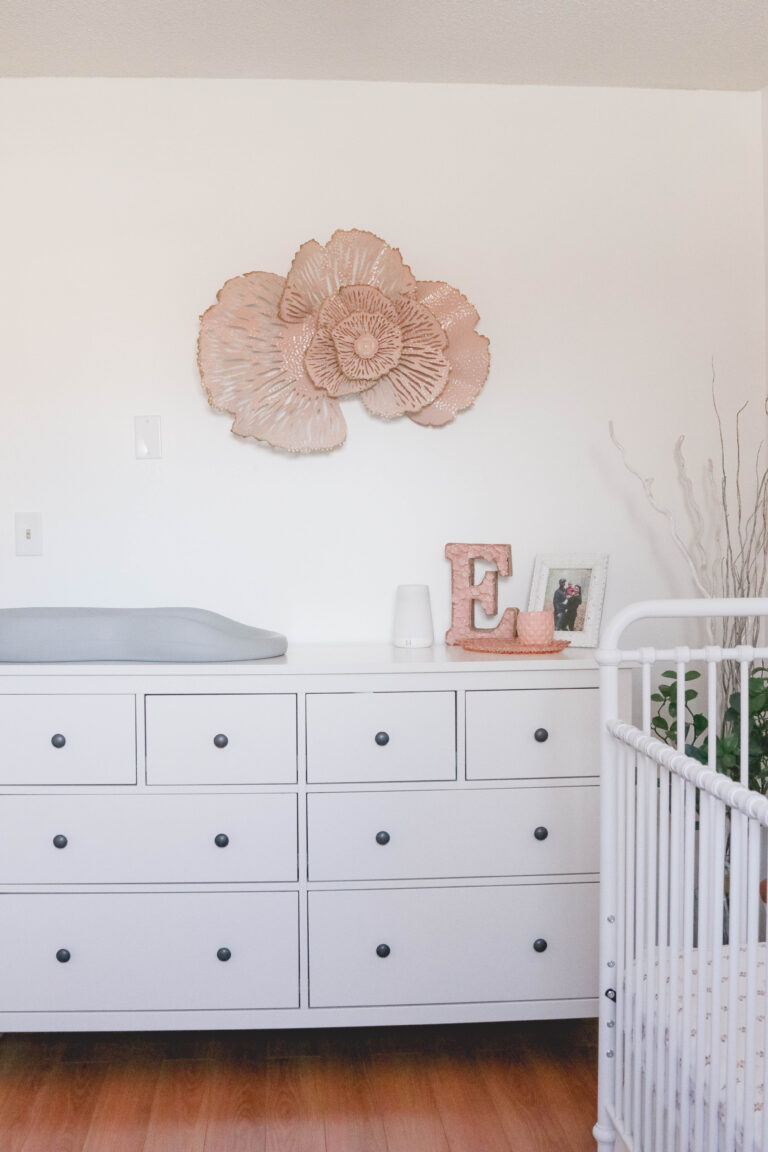 On the dresser we have some decor pieces like the letter 'E', (her name is Elliott) a tray and a candle (that is obviously never used, just there for decor!). Also on the dresser we have the Keekaroo Peanut Changing Pad. I love this changing pad but Elliott hate it.. every time we put her on it, she would scream and scream. But I don't think that has anything to do with the change pad, but just Elliott not wanting her diaper changed. My favourite thing about this changing pad is how easily it is to clean. Because it is rubber/plastic, you can easily wipe it down which is so handy for late night changes.
The other item we have on the dresser is her Hatch Baby Sound Machine. I absolutely LOVE this sound machine and will 100% be buying a second one for baby #2. It connects right to your phone so you can adjust settings from outside of the baby's room. It is also gets super loud, which if you read my Taking Cara Baby's Sleep Program Review, is a must! And my last point about this sound machine, it is another purchase that will grow with your baby. You can program the night light feature for different colours and can also change the sound from white noise to several different options like birds or running water.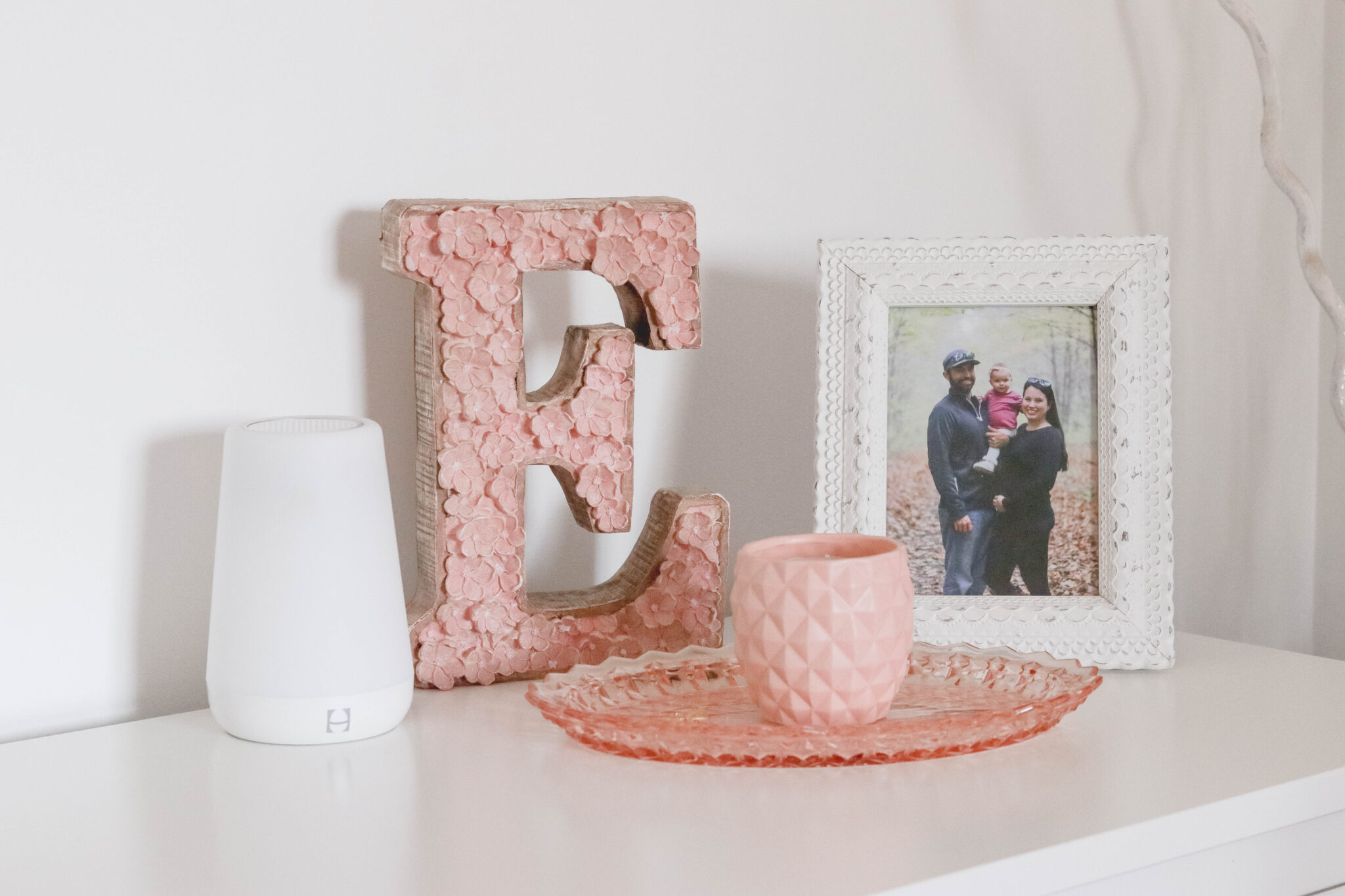 I also forgot to get a photo of it, but we have a diaper pail beside the dresser. We got the Ubbi Baby Diaper Pail and love it! A lot of people say they don't use the diaper pail but we use it all the time and it really locks in odours. The bag inserts are affordable and we have yet to buy another box of the bags which is crazy! I thought for sure we would be flying through them. We got the white one and still love it a year later!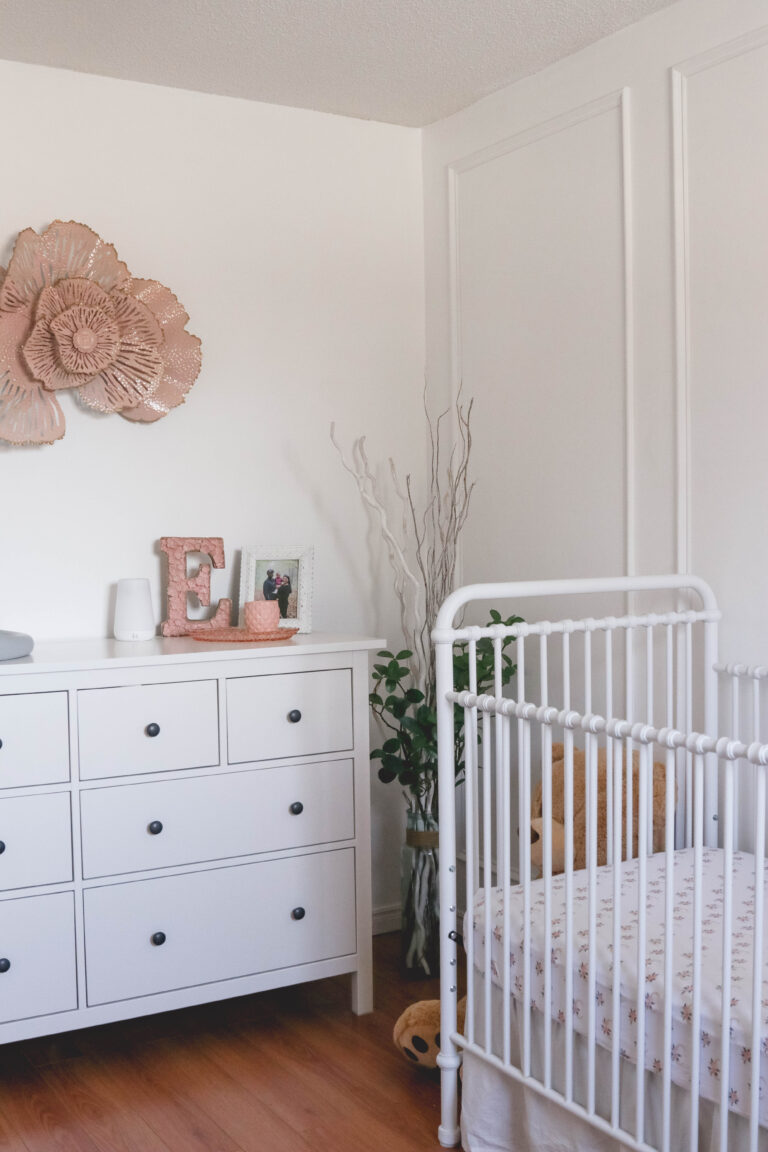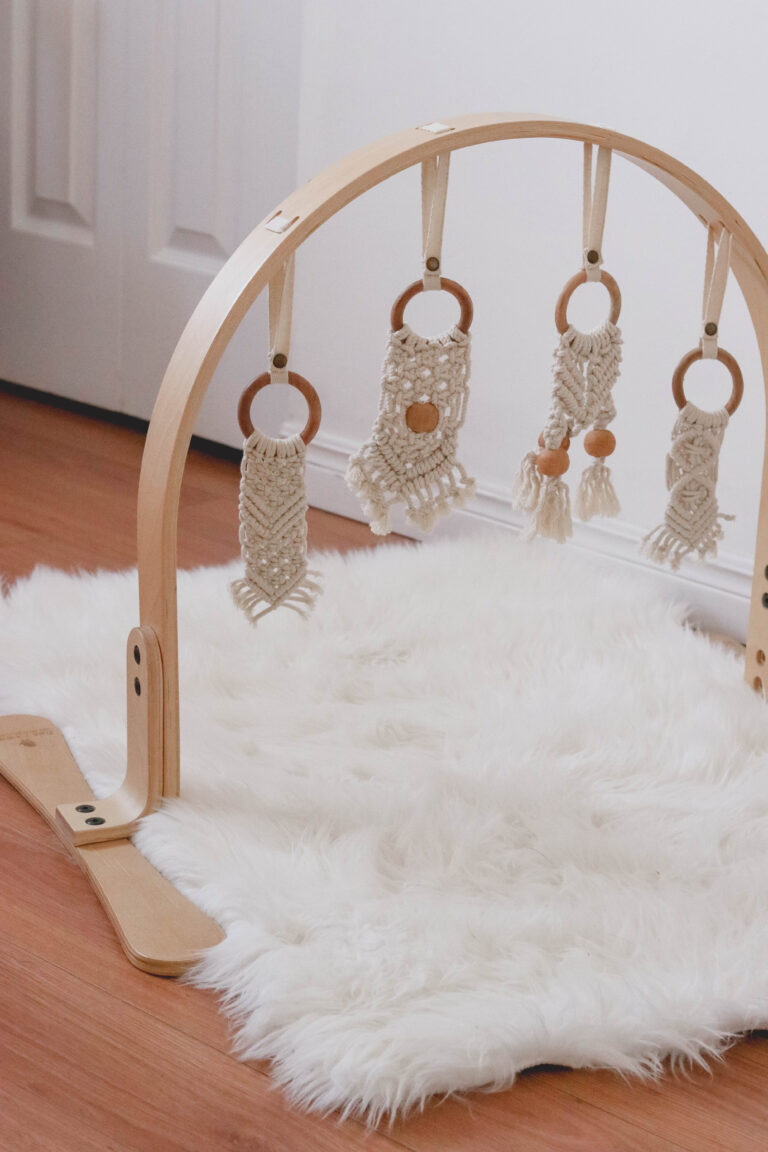 Her Macrame Play Gym is by Finn + Emma. She loves it still to this day. She loves to feel the macrame and hit them haha. But it is a hit! And I also love that it isn't crazy colours that are just an eye sore for the living room or her bedroom. I got her fur rug from Homesense but there are a few similar options from Wayfair.
And that is basically it for her nursery. Like I said earlier, please leave your questions in the comments below! I will answer every question as soon as possible!
If you liked this post you will love these too!:
- AN HONEST REVIEW OF TAKING CARA BABIES SLEEP PROGRAM
- ELLIOTT'S WHITE VINTAGE CRIB
- WHAT IS IN MY HOSPITAL BAG FOR LABOUR AND DELIVERY!
Looking forward to working on my second baby's nursery! This one will take a little bit longer because we are not finding out the gender so we won't be working on the nursery until after the baby is born!
I hope you enjoyed this Baby Girl White and Pink Nursery Reveal!
Until Next Time,

BEST SELLERS