A Pretty in Pink Baby Shower; pink and gold baby shower decorations, fun baby shower games and long pink maternity dress!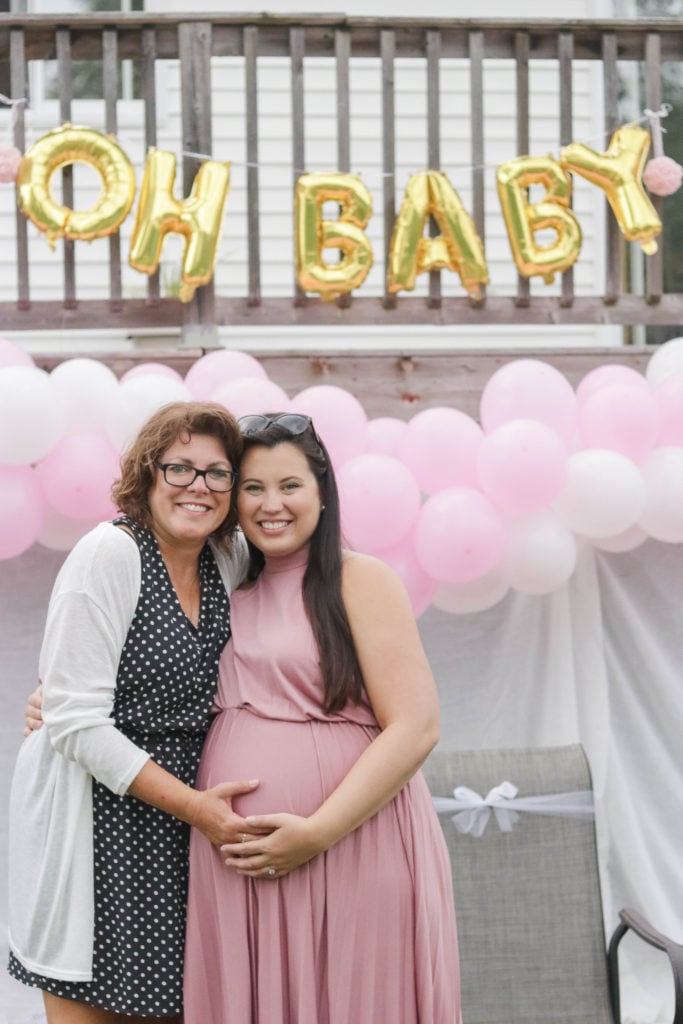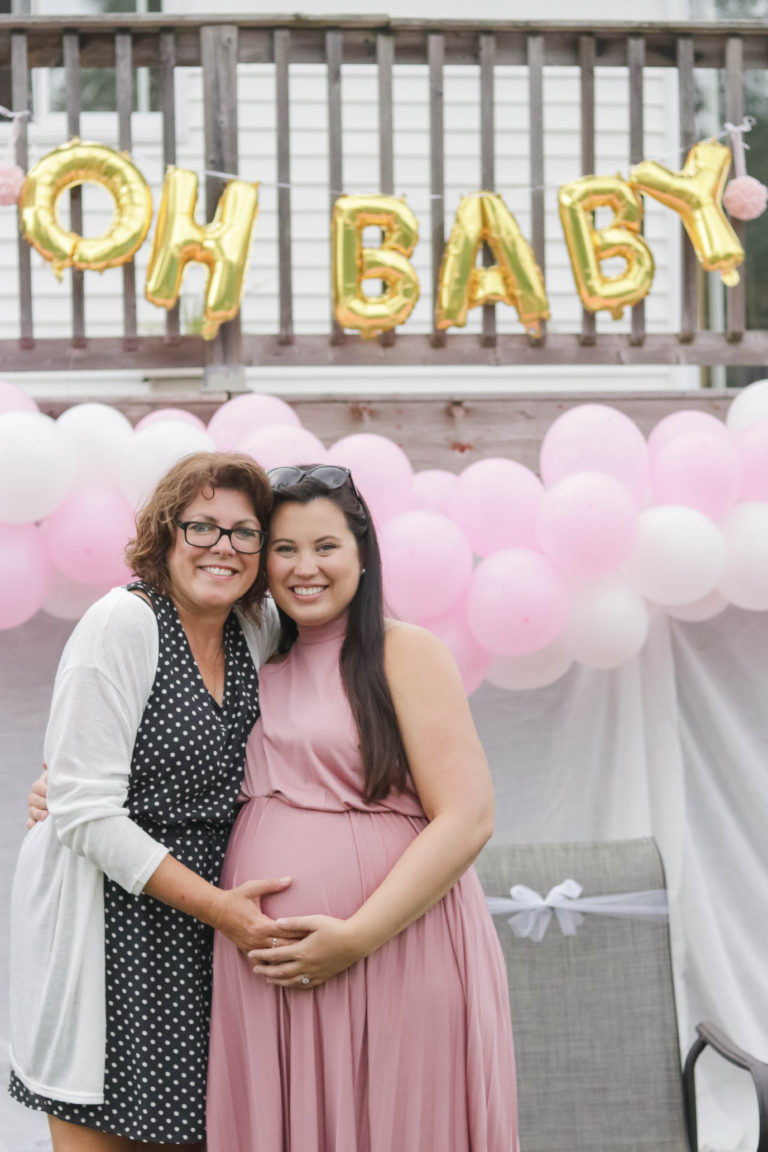 Disclaimer: this post may contain affiliate links, and every purchase made through these links will give me a small commission (at absolutely no extra cost for you!) AS AN AMAZON ASSOCIATE AND REWARDSTYLE MEMBER, I EARN FROM QUALIFYING PURCHASES. See Privacy Policy for additional info.
Hi Beauties!
Welcome to my baby girl baby shower post! I can't believe I am writing this post...for several reasons! Even though I am 34 weeks pregnant, I am still in shock that I am pregnant!
There is nothing more in this world that I wanted than to be pregnant and be a mom. It took us quite a few months to get pregnant which was such a hard time. I definitely feel for the 'trying to conceive' community on an entirely new level now. I get teary just thinking about it. Sending prayers to all those couples out there trying to make a baby. It's not an easy journey, but it is worth it.
On a brighter note, I am also so happy that we are having a girl! If you haven't seen my gender reveal post yet, you need to check it out. You can clearly see it on my face when I saw the pink balloons.
I knew I always wanted a daughter at some point in my life. It didn't need to be our first baby but I always knew I really wanted a daughter. I think it is because I see how close my mom and I are, and I want that relationship with my little girl too.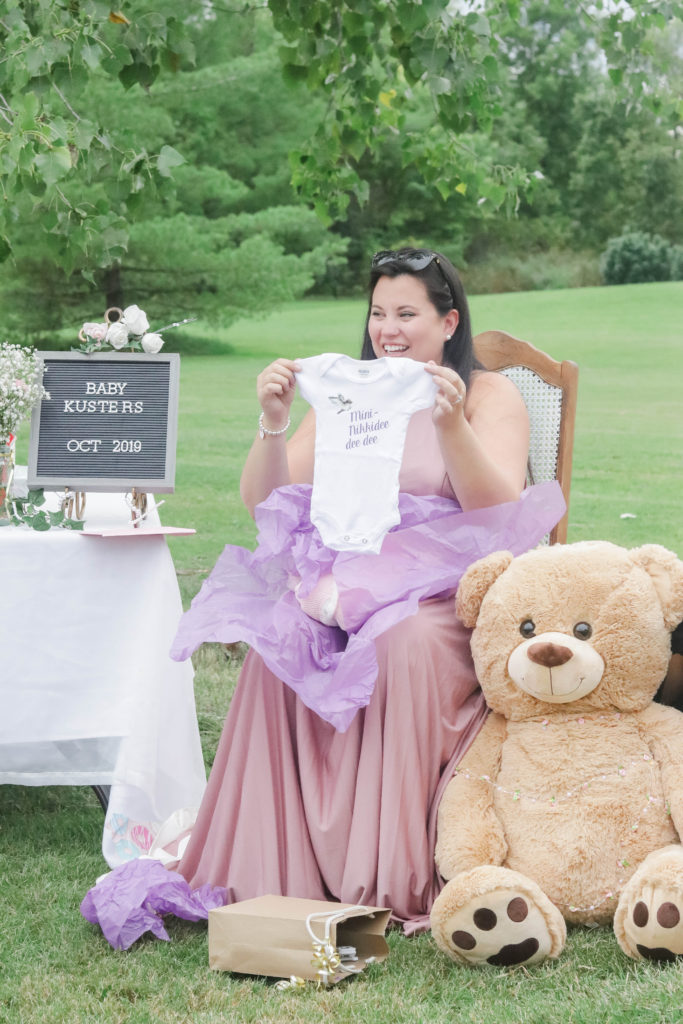 My Pretty in Pink Baby Shower Details
A lot of work went into my baby shower, and I couldn't thank my mom and friends enough for all they did! It was such a magical day for me and yes I was literally tickled pink!
So we will quickly run over a few details of my shower, because I am assuming you are here while planning a baby shower too!
Pretty in Pink Baby Shower Food
My baby shower ran from 1pm-4pm. This meant that you avoid the timings for the big meals and can stick with snack and appetizers. We did a buffet-style appetizer table. It turned out great. We had:
Pretty in Pink baby shower cookies
Pink cupcakes
classy tea time sandwiches
charcuterie board x 2
salsa dip with Tostitos
The food was a hit and was completely gone by the time the shower was over.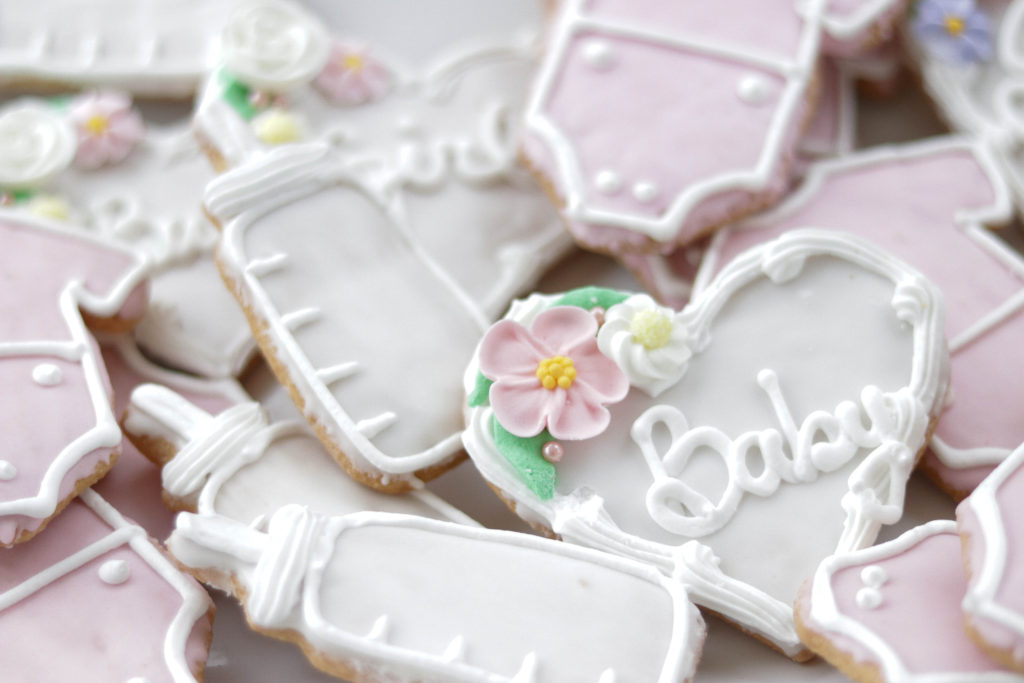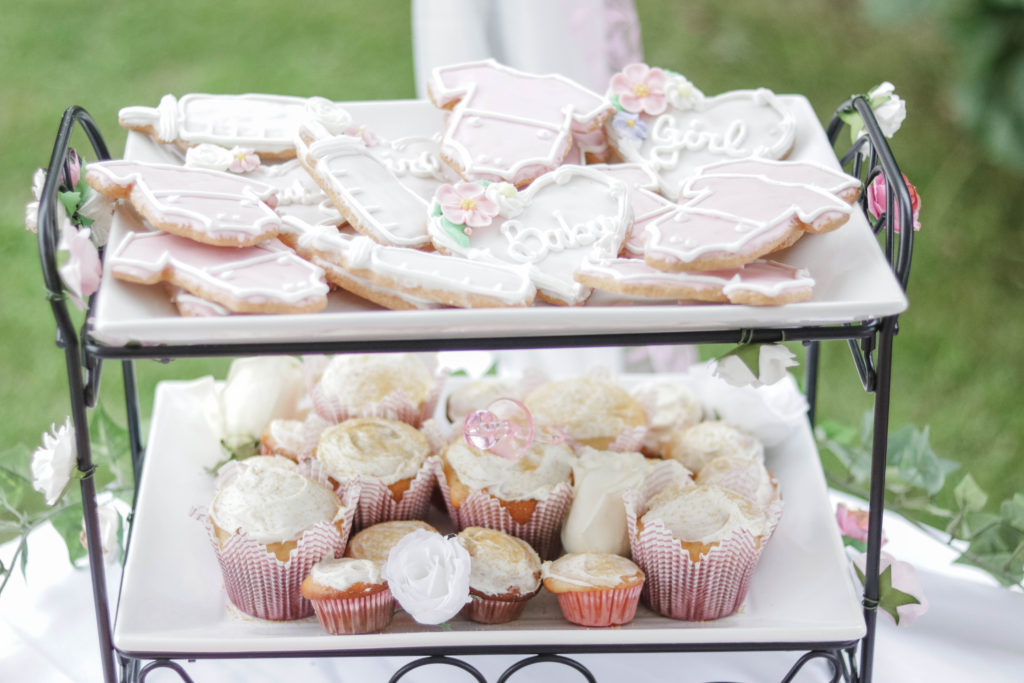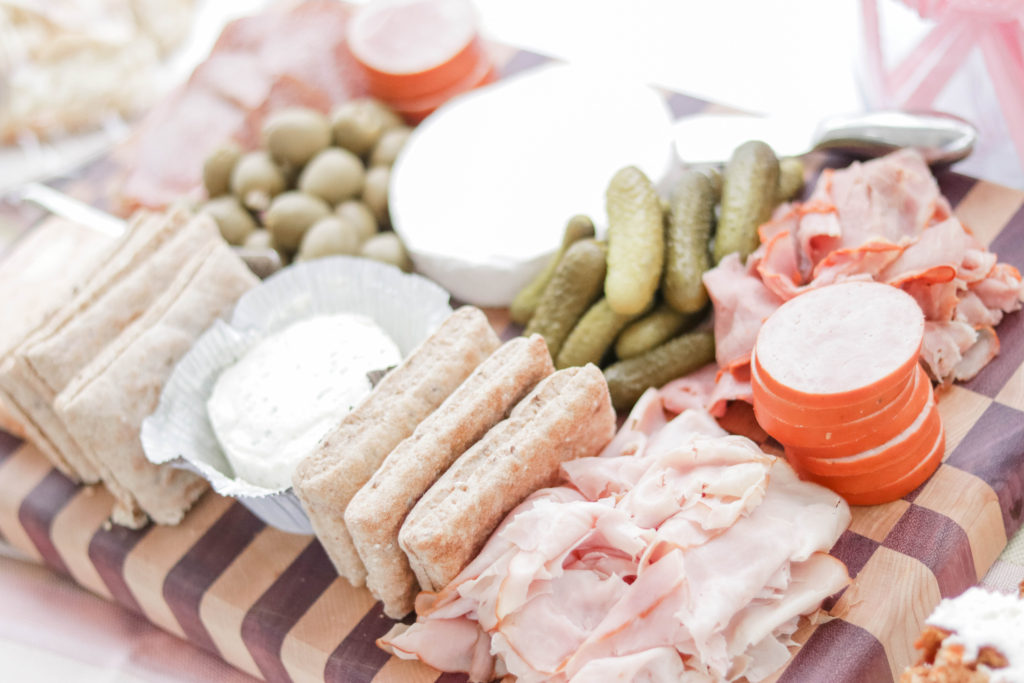 Pretty in Pink Baby Shower Decor
My baby shower decor was pretty simple yet elegant. I wanted an outdoor baby shower with lots of pink, white and gold. And that is exactly what it ended up being!
I was lucky because I saved a lot from my wedding (which had a lot of gold and blush). So we were able to easily incorporate these pieces into my baby shower. This made it so easy! We literally just had to throw everything together.
I also found a large "Oh Baby" gold balloon banner at target that we used in our gender reveal which some how stayed blown up until my baby shower! So we reused that as well.
We had lots of balloons and even made a cute little balloon arch which was SO EASY. I bought a balloon decoration strip from amazon that you attach the balloons to and it turned out perfect!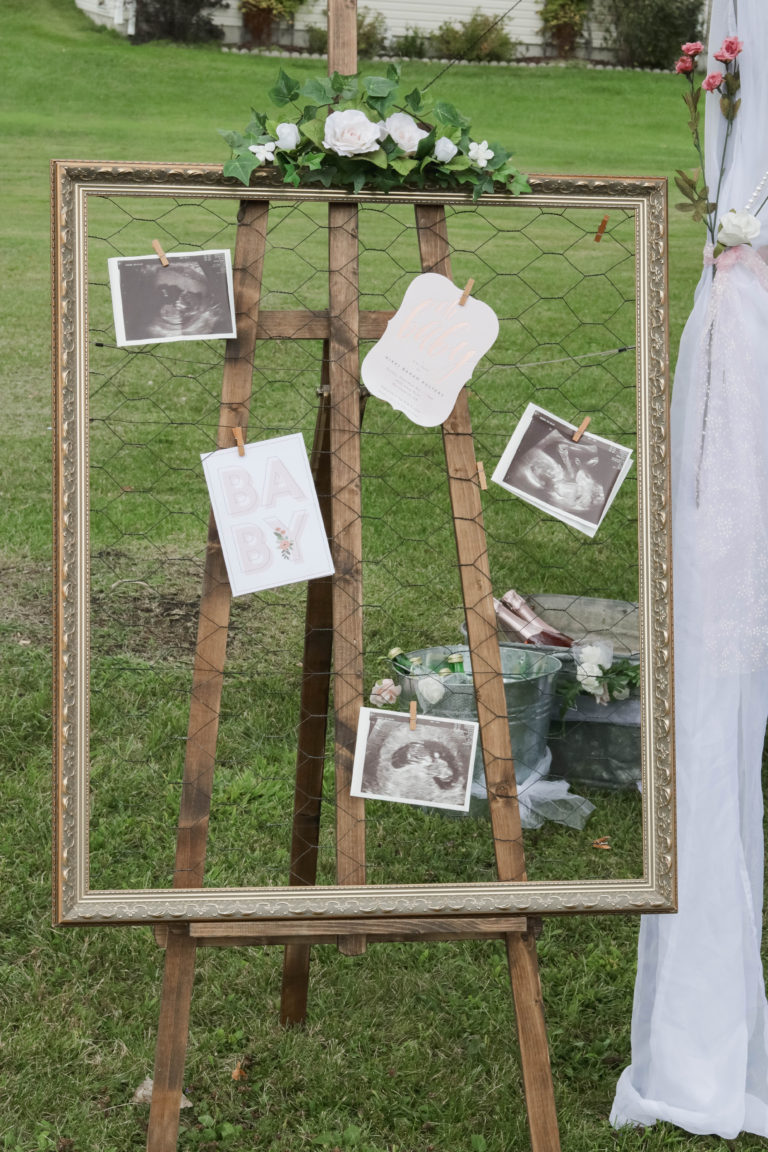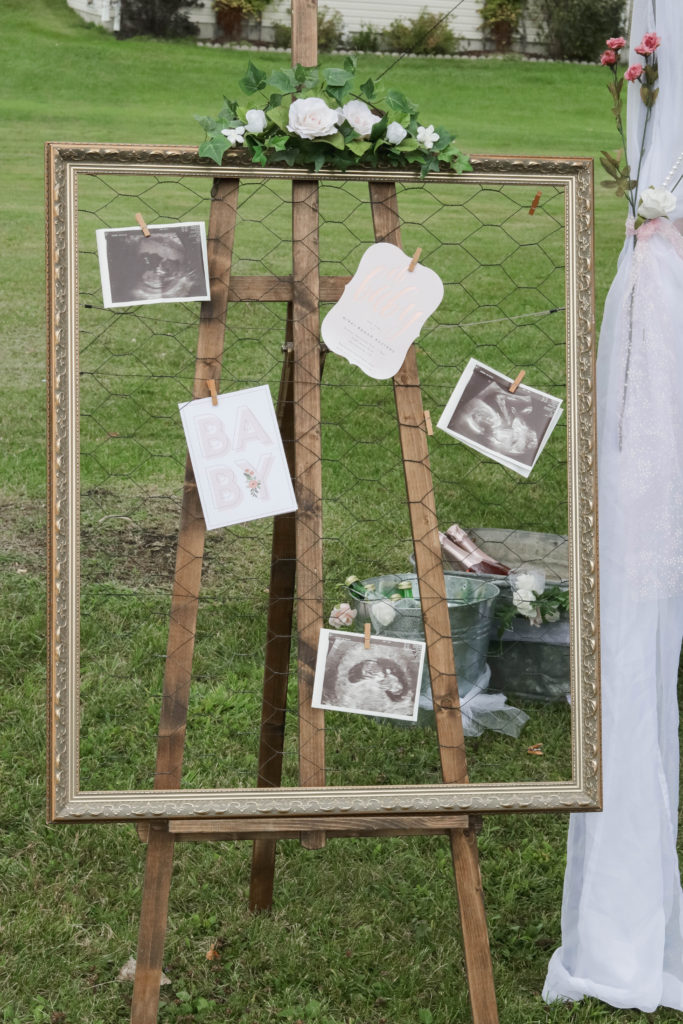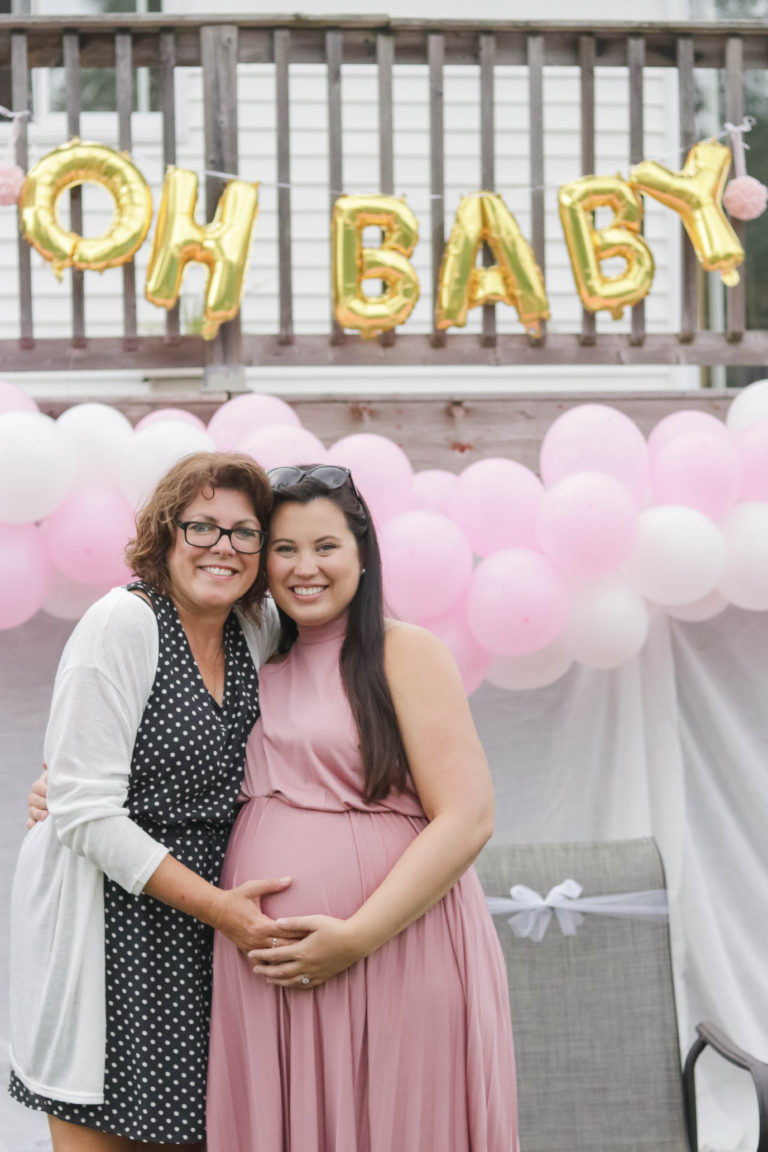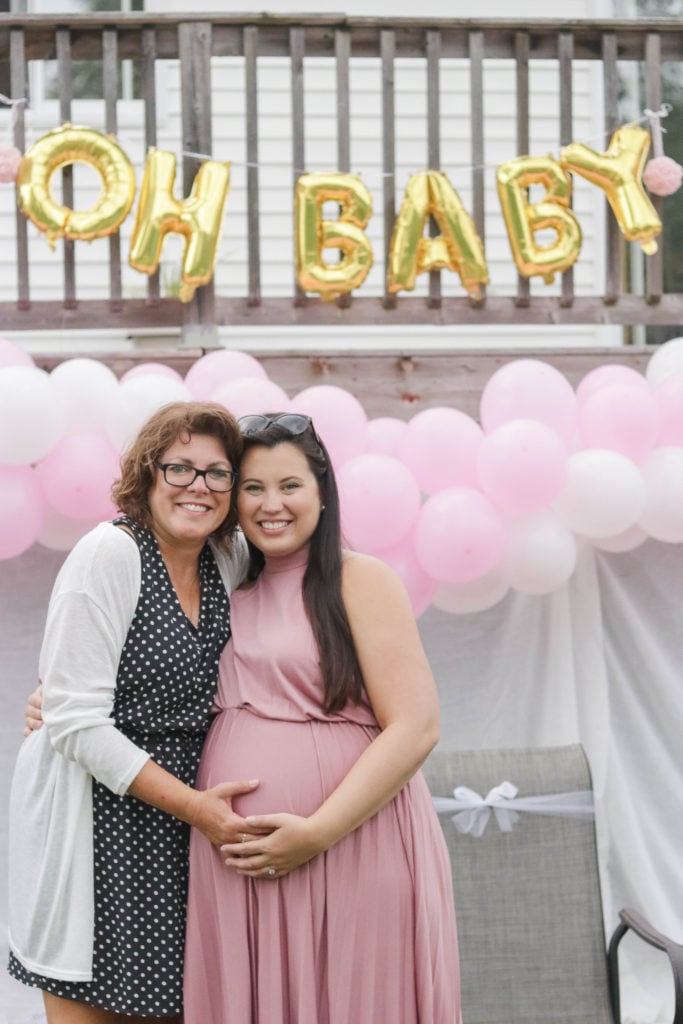 The Baby Shower Gift Table
The gift table was a simple table with white linen. I used my letter board as a decorative sign and used a gold antique stand to hold it up.
I also used the antique chair from my office (that I redid a few months ago), as my special chair to open up gifts. It was so fun and my baby girl was so spoiled. She is so loved already and it melts my heart.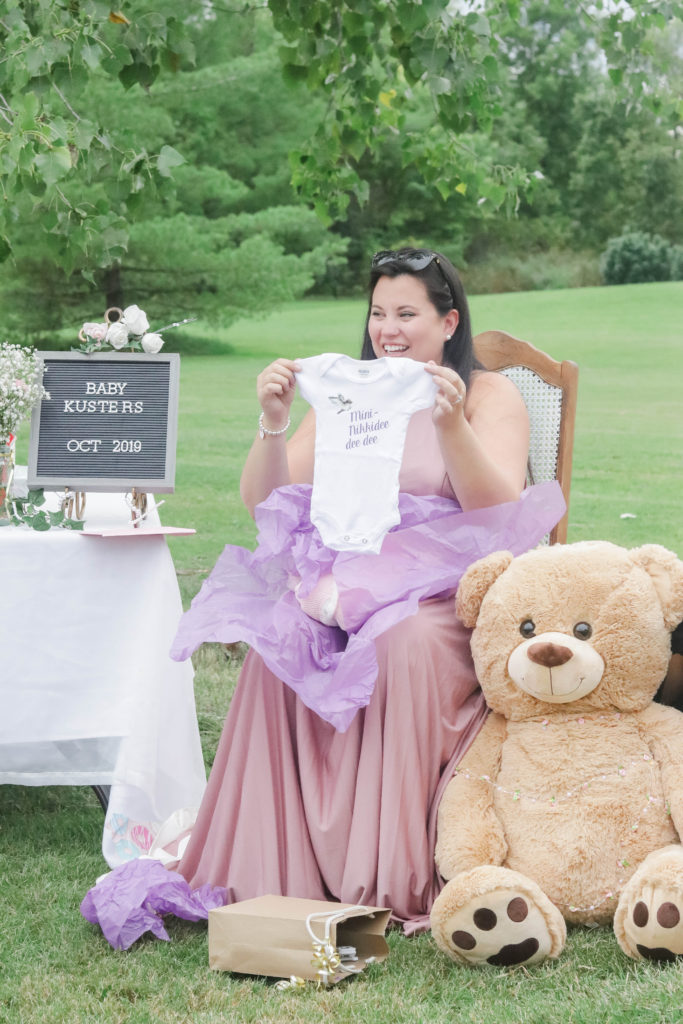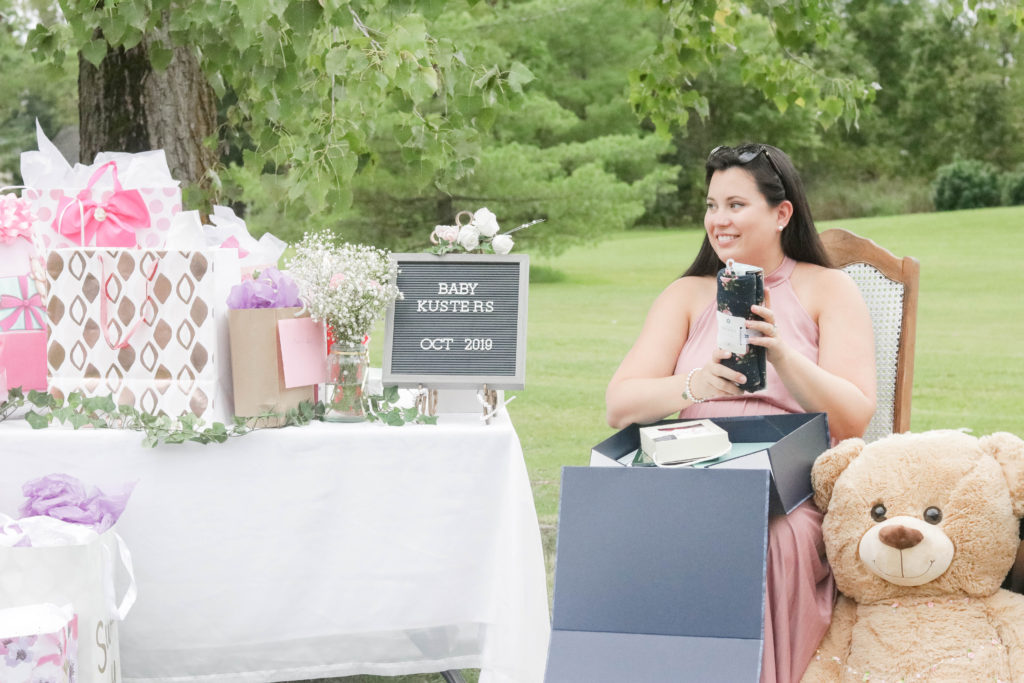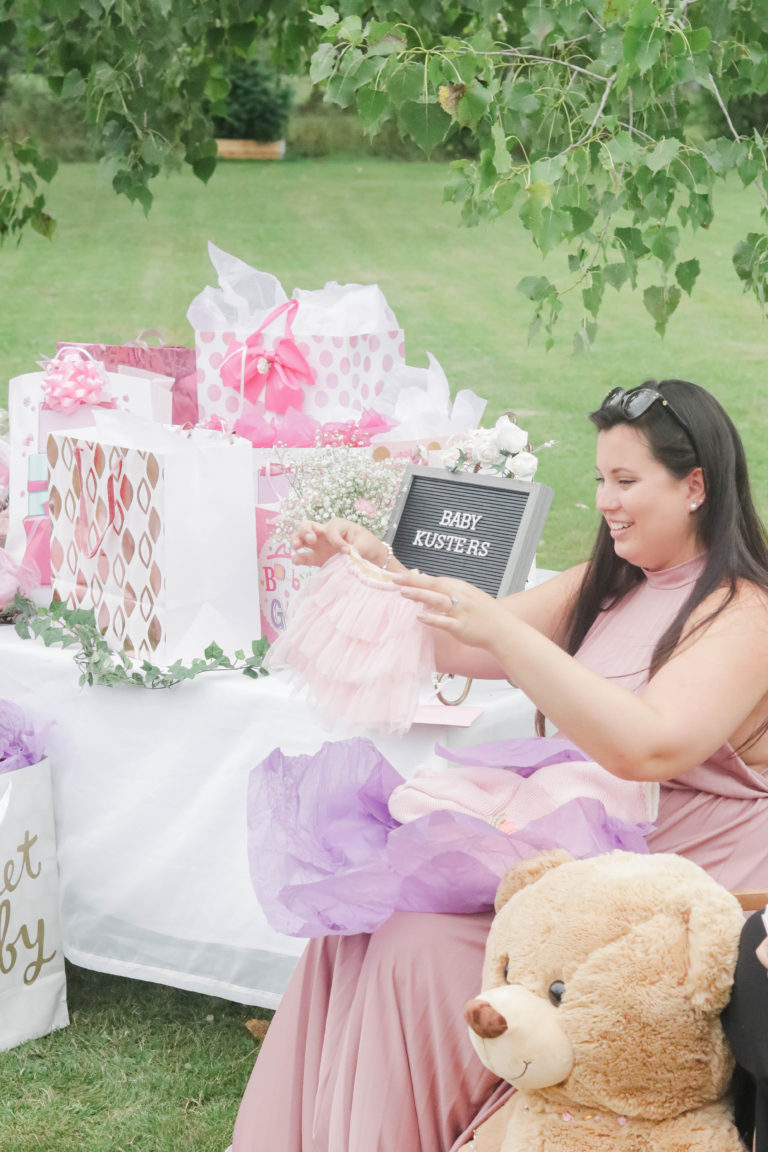 My Pretty in Pink 'Maternity' Dress
For those wondering, my dress is from ASOS! It took around 3 weeks to be delivered. It is super stretchy and flowy. The best part about this dress is that it is NOT a maternity dress! So I can wear it without my bump as well!
You can purchase this pink maxi dress now!
Baby Shower Games
We had a few games at my baby shower but we did find it to be a little difficult to organize some games with the amount of people, and the fact that it was in a very open space.
My favourite game was a ribbon game. Everyone was to cut a piece of ribbon size that they thought would fit around my belly. Needless to say, everyone thought my belly was VERY LARGE. It was quite entertaining for me to watch.
We also had did a diaper signing table, which wasn't really a game, but something for the guests to do. My mom bought a box of newborn diapers, and had them on a table for people to write little messages on with a sharpie. I am so excited to read them as we go through the first couple weeks of newborn diaper changes!
We tried to do a baby food tasting game that didn't work out. We had planned for everyone to try the baby food and guess what the flavour was. This game did not work! We ended up needing a hundred spoons and it just didn't work out. So I would suggest skipping this one unless you have a super small baby shower.
We also had planned to do a guess the due date game, where guests would write their name down on the date they thought my baby would be born... but I completely forgot to put out the calendar. OPPS.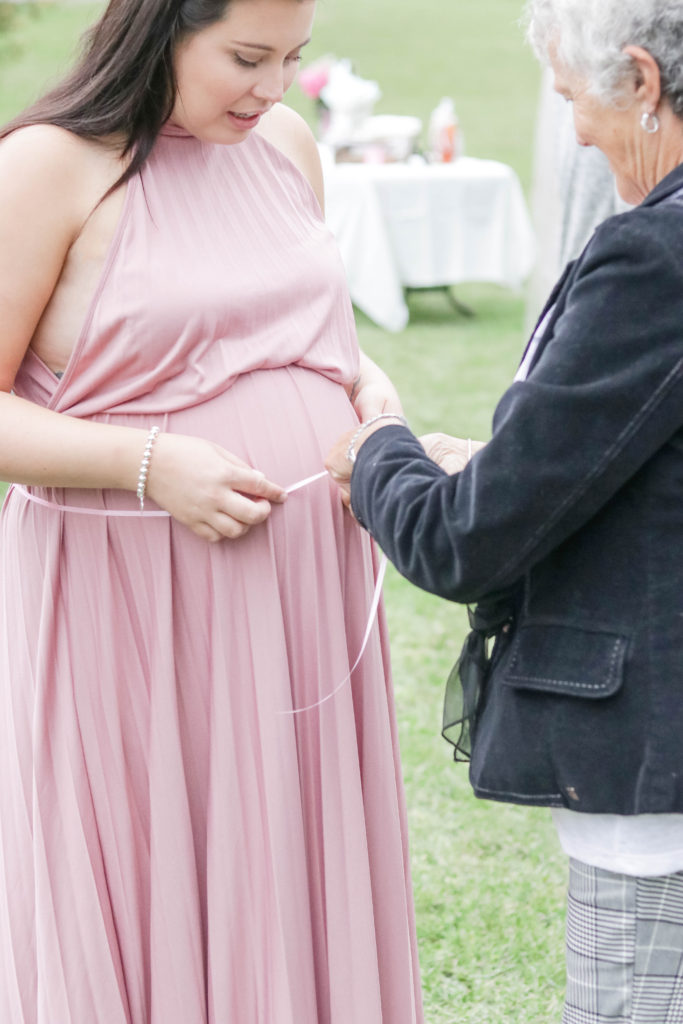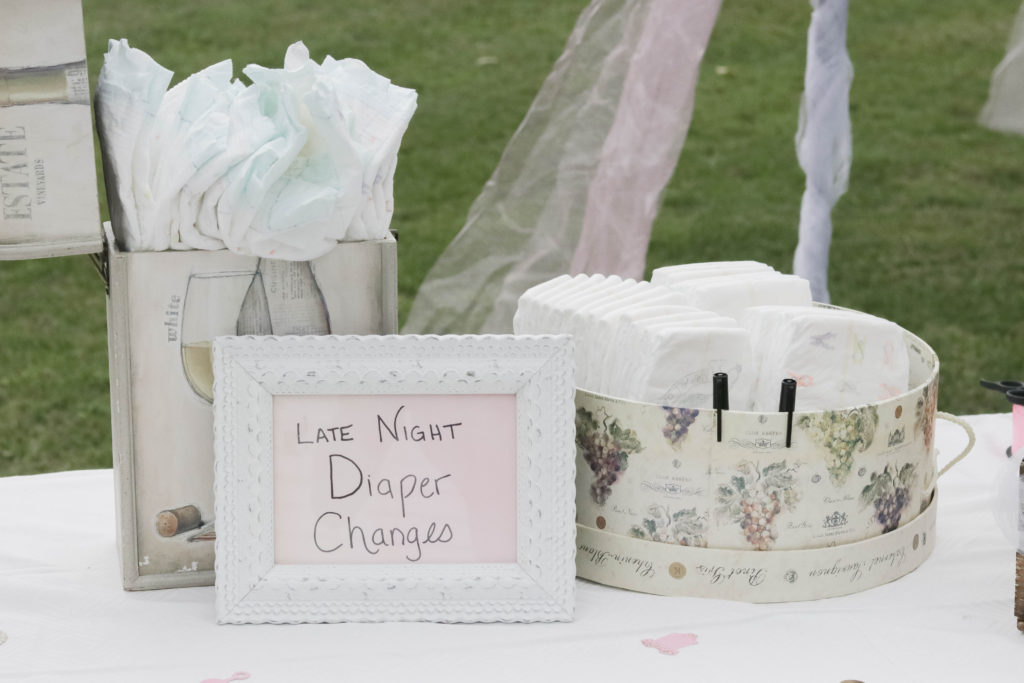 Baby Shower Invitations
Our invitations were from Minted. Minted is an online invitation company and they are AMAZING. The quality of these invitations are always high quality and the customer service is always so impressive.
We used them for our Save the Dates and our Christmas Cards last year as well. You will never go wrong with minted!
I picked out beautiful foil pressed pink baby shower invitations and they were so perfect! I am still so happy with how they turned out. I plan on having one framed for baby girls nursery hehe!
And that's about it!
Thats my full review on my baby shower. I am still on cloud nine when thinking about it. We are so blessed to have so many friends and family members in our life.
If you have an more questions, leave some in the comments below and I will do my best to get back to you on it!
Lots of love!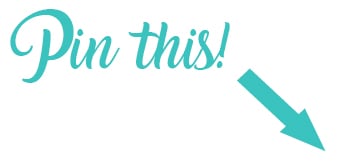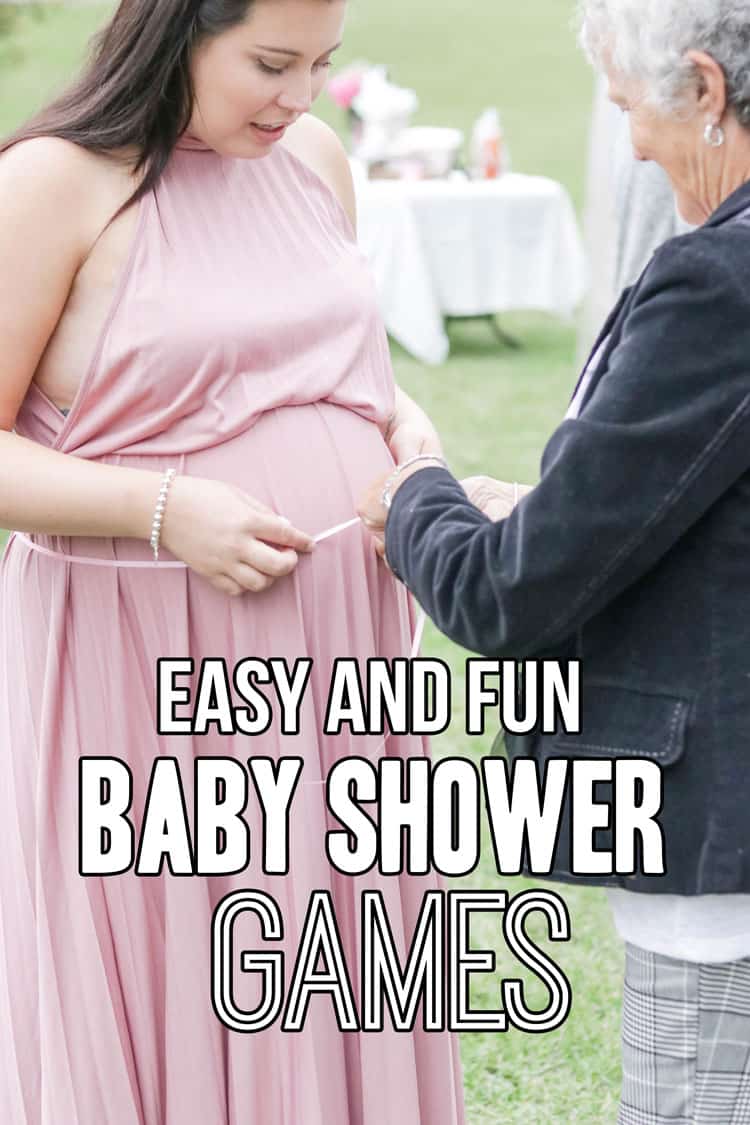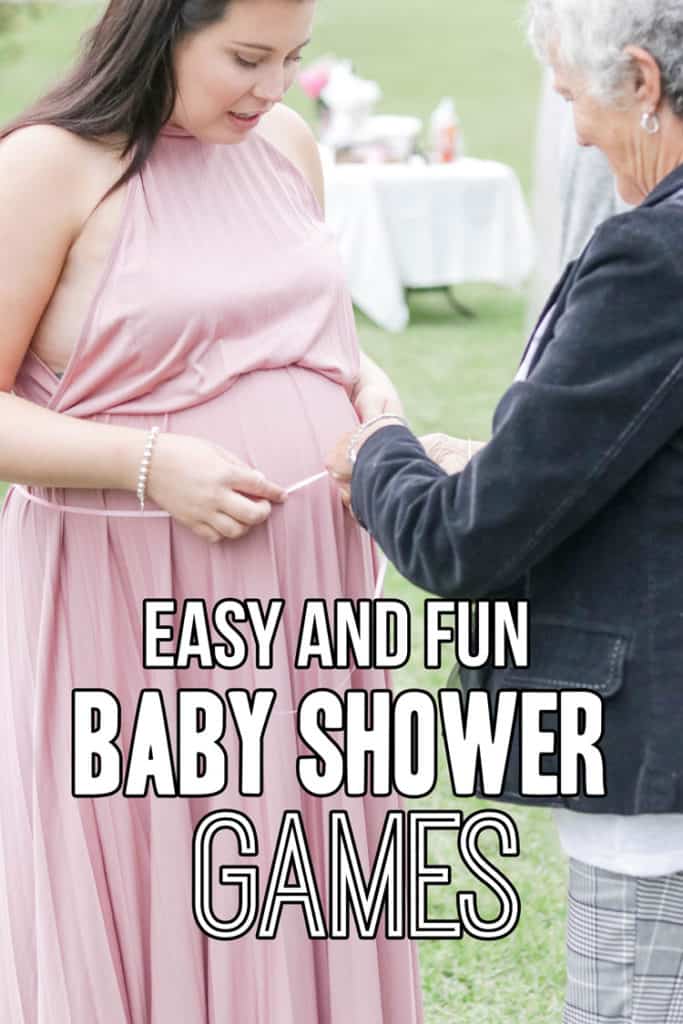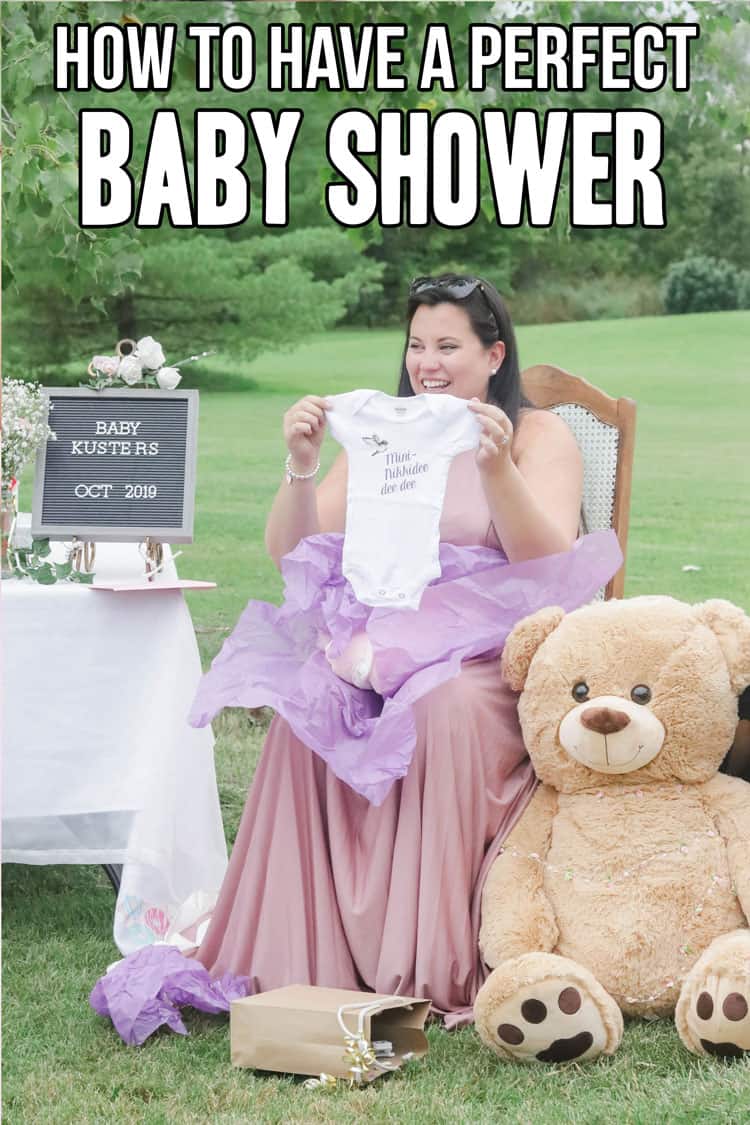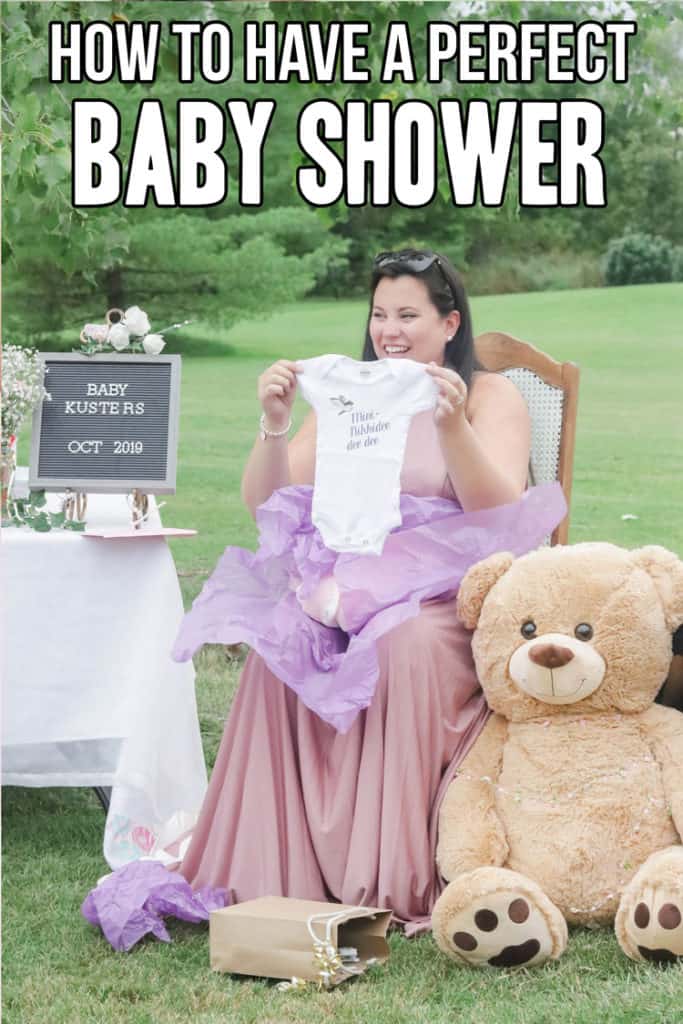 BEST SELLERS