20 Beautiful Powder Rooms with Wallpaper; here are 20 wallpaper designs and ideas for your powder room!
Powder rooms are small spaces that can be easily decorated with wallpaper. Powder rooms often have a lot of natural light, which is great for showing off subtle shades and patterns in your wallpaper decor.
They also tend to have more limited space than other rooms in the house, so it's important to choose wisely when selecting your powder room wallpaper! This guide will give you some ideas on how to pick the perfect pattern for your powder room.
Powder rooms are the perfect place to add some personality. These small spaces can be transformed with wallpaper and accent lighting, giving you a chance to show off your own taste and style.
This post is all about beautiful powder rooms with wallpaper and best powder room ideas!
Beautiful Powder Rooms with Wallpaper:
Paris Wallpaper Powder Room
The Paris Wallpaper in Powder Room is a great option for anyone who's looking to add a little bit of interest to their powder room. This wallpaper features a classic Parisian scene with a white background. The details on this antique vanity are so beautiful!
Blue Floral Power Room
Imagine a room filled with the scent of blue flowers, the air is so clean and crisp. You can feel the energy in the air. A room that makes you feel like you can take on the world... yes I get that for Beautiful chrome fixtures against this bold print wallpaper.
Blue Wallpaper with Gold Accents
If you're looking for a classic, elegant look that will bring a classic, elegant feel to any room, then this wallpaper is for you. It's designed to be used in bedrooms and living rooms alike. The gold accents add an air of sophistication and luxury that will make your guests feel like they've stepped into a palace when they enter your space.
Simple Wallpaper with Blue Vanity
This simple wallpaper with blue vanity is the perfect addition to your bathroom. This wallpaper will give you a relaxing and peaceful experience. Just so pretty!
White Floral Wallpaper in Powder Room
White floral wallpaper in the powder room is a fresh and elegant design choice. This look will make your guests feel as though they've stepped into a garden, but without all the mosquitos and bees.
The clean, crisp lines of this look give the space a modern feel that works well with the classic style of many powder rooms. Choose a neutral color palette for this design—gray or taupe are both great choices—and add pops of color in your accessories: throw pillows, vases, or even flower arrangements.
Small Geometric Wallpaper in Powder Room
Powder room walls can be so boring, but they don't have to be! If you're looking for a quick way to inject some life into your powder room, try this geometric wallpaper in a cool color.
Mosaic Wallpaper With Blue Accents
Creating a powder room that feels like a sanctuary is no easy task. The powder room is the perfect place to add a little pop of color, and this mosaic wallpaper with blue accents is the perfect way to do it. The colors are subtle enough that they won't be overwhelming, but bold enough that they'll really make a statement. The geometric patterns are also interesting and fun, so you can be sure that this accent wall will draw attention!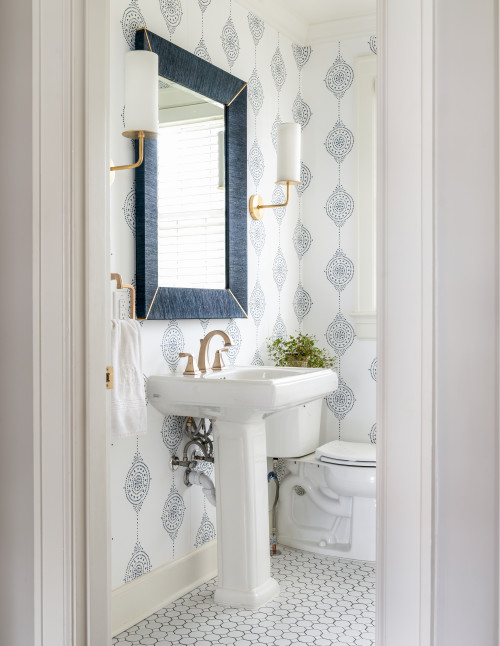 Eclectic Powder Room With Wallpaper Design
Powder room design ideas are all about keeping it simple and letting the wallpaper do the talking. This powder room has a minimalistic look, but you can't miss the wallpaper! The pop of blue color also adds so much interest. Bold hues in a cute tiny space
Murale Wallpaper in Powder Room
This is such a unique bathroom look which is why I HAD to add it to this round up! Murale wallpaper is such a statement and this one is just stunning. Murale wallpaper can also be used as an accent wall or in other rooms of your home.
Cloud Wallpaper in Minimalist Bathroom
Minimalist bathroom is a popular trend in interior design. It's all about simplicity and elegance. But sometimes your home can feel so flat that you want to add some texture and depth.
This cloud wallpaper is the perfect solution for this problem. It looks like clouds are floating around you when you look up into the sky, but it's actually just wallpaper on your walls! It gives you an illusion of a more spacious room without having to buy furniture or rearrange anything. You can even use it in any room of your house, not just in the bathroom!
Vibrant Botanical Wallpaper in Bathroom
Vibrant botanical wallpaper in the bathroom is a great way to add a burst of color and life to your space. This wallpaper does just that! You can get really creative with this one: wallpaper with flowers, vines, or leaves; wallpaper that's checkered or striped; wallpaper with geometric shapes or dots; and so on. Whatever you choose, make sure it's waterproof so you don't have to worry about it getting ruined by water splashing on the wall when you're showering!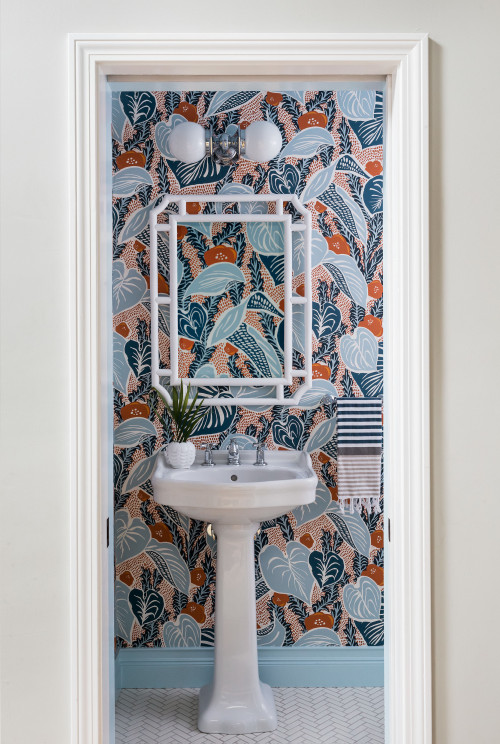 Floral Farmhouse Powder Room
This powder room is absolutely perfect for the floral farmhouse-style home. The flowers scattered here and there add a touch of softness to this otherwise rustic space. They match perfectly with the colors in the room, but they also bring some life into what could otherwise be considered a very masculine room. The tile work on this wall really breaks up the floral print and calms a busy room!
Elegant Blue Floral Wallpaper in Bathroom
If you're looking for a way to add a little bit of elegance to your bathroom, try adding an elegant blue floral wallpaper. This wallpaper is delicate and dreamy, making it the perfect choice for your bathroom.
Moody Wallpaper in Dark Powder Room
The moody wallpaper in the powder room is a perfect complement to the dark wood and black countertop. The wallpaper is also a nice break from all of the white that you typically see in bathrooms. A dark powder room can be a bit of a challenge for many people. But with the right colors, you can make your powder room feel cozy and welcoming.
Contemporary Powder Room with Wallpaper
If you're looking for a powder room that will make your guests say "wow," look no further than this bathroom. The sleek, modern design is accented by the textured wallpaper, which adds another layer of interest to this unique space.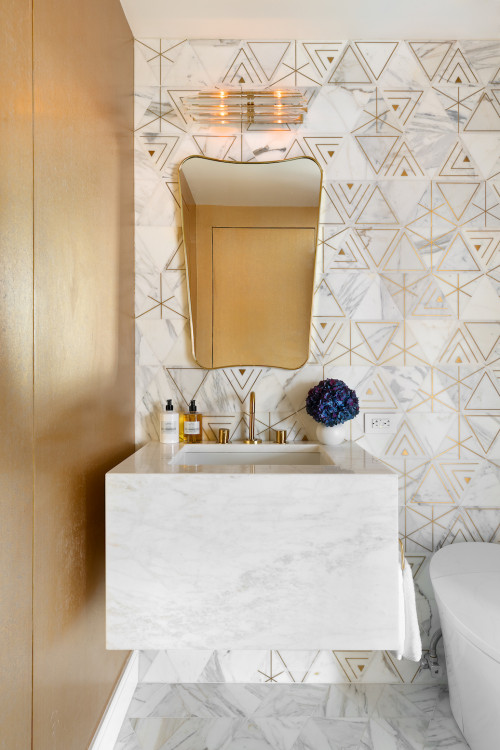 Green Transitional Powder Room
How beautiful is this bold yet serene green of this powder room! The color is just right for anyone who wants to relax, but still wants to be able to see some excitement.
Contemporary Masculine Powder Room
A powder room is a place to rest and relax, but it can also be a place to feel powerful. Take this masculine powder room for example. Hotel chic with a few home touches really makes this bathroom great.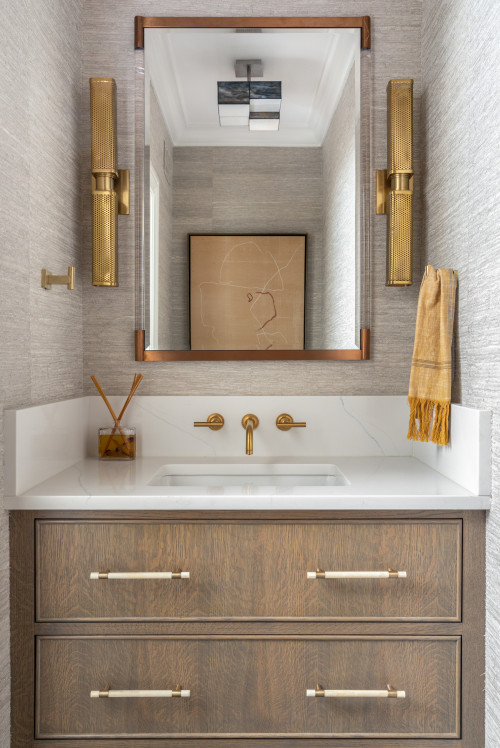 Pretty Powder Room with Wallpaper
This powder room is a great example of how you can use wallpaper to create a cohesive look in your space. It's well-designed and functional, but it's also got an elegant, modern vibe that makes it feel like something out of a magazine or home design show. The marble sink is a gorgeous touch. Such a beautiful feminine space.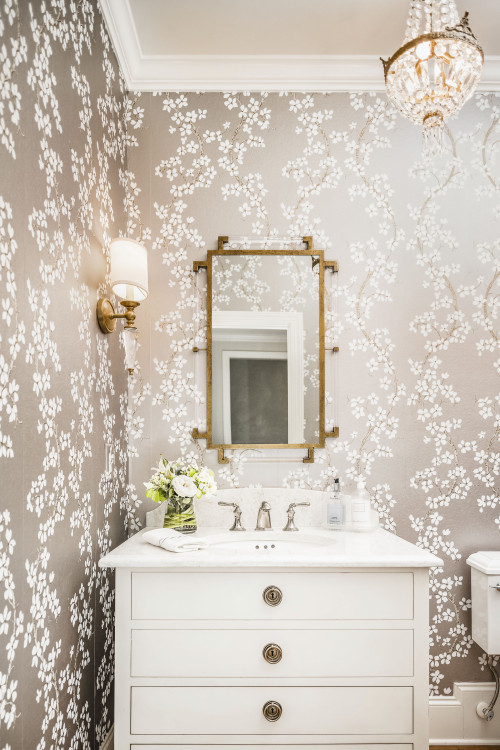 Rustic Powder Room with Wallpaper
This rustic powder room with wallpaper is a beautiful, cozy space that feels like home.This rustic powder room has a lot of charm. The wallpaper is a great way to add a bit of texture to the space, and the color scheme works well with the wood flooring. The green tones in the wallpaper help to create an overall warm feeling.
Black and White Wallpaper in Powder Room
In the powder room, you want to create a space that's relaxing and welcoming, with a touch of modern flair. To do that, I recommend using a trendy black and white wallpaper in your powder room like this one below! It'll give your bathroom a sleek look, while still feeling warm and inviting.
Dark Green Wallpaper in Powder Room
Dark green wallpaper is a fresh approach to the powder room. It works with many different styles, and it's easy to update or change the tone of your room with just a few new accessories. But seriously, how cool is this powder room!? That vanity is so stunning.
The powder room is a sanctuary, a place where you can retreat to be alone with your thoughts and enjoy peace of being alone. The powder room is also a place where you can take care of yourself, whether that means taking care of your physical needs or just taking a moment for self-care.
Wallpaper can help you create the perfect atmosphere for each of these purposes. It can make your powder room feel cozy and intimate, or spacious and bright. It can help make your space feel warm, inviting, and comfortable.
Wallpaper is also a great way to add some personality to your powder room without making too much of an investment in decorating. If you're short on time or money, wallpaper can be an easy way to give your bathroom a quick update without spending too much time or money on it—and still creating an amazing space for relaxation and rejuvenation!
I hope you enjoyed this post all about Beautiful Powder Rooms with Wallpaper! If you found powder room wallpaper ideas not included in this post that are your favorite powder room ideas, please let me know!
Until next time,