Looking for drinks to detox your liver this summer? I have you covered with these 7 best drinks to cleanse your liver and get your gut health back on track!
Disclaimer: this post may contain affiliate links, and every purchase made through these links will give me a small commission (at absolutely no extra cost for you!) AS AN AMAZON ASSOCIATE AND REWARDSTYLE MEMBER, I EARN FROM QUALIFYING PURCHASES. See Privacy Policy for additional info.
Hi Beauties!
Coming at you will a quick post on how to detox your liver by drinking these simple liquids. What are the best drinks to detox your liver? Find out in this post, plus get more hints on how to detox your liver naturally! Whether you're trying to lose weight, get healthy, or recover from a binge, we've found the best drinks to boost your liver and get your system back on track.
A healthy liver has to deal with a staggering number of toxins and chemicals on a daily basis which can affect its efficiency over time. The liver is one of the strongest organs of the human body. But it is also one of the most susceptible to diseases that can cause natural death. Therefore, it is always better to carry out periodic inspection of liver health.The liver is the body's only organ capable of filtering impurities. These 7 drinks will help you cleanse your liver naturally, boost its performance and make an amazing difference.
This is definitely the time of year when many people are drinking way more then they usually do. Summer is the number one time of the year for people to indulge in several alcoholic beverages (Christmas/New Years is second).
With the increase in consumption of alcohol, our livers take a hit for sure! So we need to make liver cleanse a priority.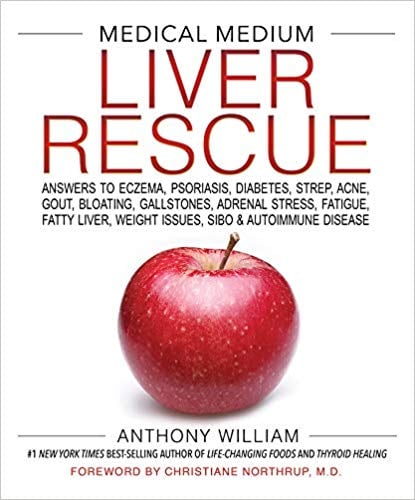 If your looking for a good read to take your liver detoxing to the next level, I highly suggest the book "Liver Rescue" by Medical Medium. Medical Medium is a #1 New York Times best-selling author and beloved healing individual. In this book he reveals how taking your liver off overload can help resolve many symptoms and conditions which in turn helps change your health for the better! So if your looking for serious help with your liver, I highly suggest picking up this book!!
If you have not experienced any symptoms but are suspecting that you might have problems with your liver, you can take a simple blood test to determine the overall health of your liver. Fibronostics is a company that offers just that — an AI-powered non-intrusive blood test that will determine the level of fibrosis or steatosis based on common biomarkers.
So with that being said, I have found 7 drinks that are said to help detox your liver and cleanse all those toxins out of your body! Lets jump into this list of drinks!
7 Best Drinks to Detox Your Liver:
Disclosure: These are not scientifically proven but after extensive research have shown to help cleanse liver in many individuals
1. Celery Juice
Celery juice is a HUGE fad right now. Everyone is talking about the benefits of drinking celery juice first thing in the morning. Medical Medium (as mentioned above) is a huge promoter of celery juice. He always talks about the healing properties of this superfood. Celery juice's minerals are said to combat so many chronic illnesses, including liver issues. Therefore it had to be number one on my list!
Celery is full of nutrients that work together to help cleanse your body, including vitamins A and C, potassium, and folic acid. It also has antioxidants that help remove toxins from your blood.
Celery is rich in antioxidants, which help to remove toxins from the body. It's also rich in vitamins A and C, which are both important to the health of your liver—and it's also rich in fiber, which helps you feel full and satisfied while providing nutrients for your body.
When you're looking for a good source for this cleansing liquid, look for organic celery that's been washed thoroughly before juicing. Celery juice should be clear and free from any dirt or sand.
2. Lemon Water
Lemon water has been around for so long, it has so many benefits and really aids in detoxification of the liver. I always start my morning drinking a large glass of water with half of a lemon squeezed into it. It is such a great liver detox drink.
Fresh lemons are better than using store bought lemon juice. Many people also like to add slices of lemon to their water bottles which works the same! Not only is it rich in vitamin C, it also fights infections and levels out the pH in your blood... all in which benefit the liver! Not only does the lemon water help detox your liver but it also aids in digestion!
3. Apple Cider Shot
Apple Cider Vinegar has been around for a long time too. It is packed with natural enzymes that assist in detoxifying your liver as well as your kidneys! Apple cider vinegar works to flush out the liver, improving it's natural blood filtration and increasing your energy levels!
Related: The Best Detox Green Juice
4. Beet Juice
Beet juice is a very powerful root juice packed with antioxidants, and blood purification properties. Beet juice helps eliminate heavy metals, which are cancer causing agents, from the body. Beets are rich in nitrates which increasing blood flow to your liver and your brain!
Beets are known for their high fiber content and their ability to help regulate blood sugar levels. They also contain a significant amount of folic acid, which is essential for the production of new cells in the body.
Beets are considered one of the best foods you can eat to support liver health, especially when they're juiced into a drink. The antioxidants found in beets help eliminate toxins from your system and keep inflammation at bay.
5. Watercress Juice
Watercress juice isn't one we hear a lot about, but has so many great benefits. It is said to aid in blood filtration and reduce the risk of inflammation... all which are super important when caring for your liver. So add this anti-inflammatory drink to your daily routine!
6. Turmeric and Ginger Shot
This is one of my favourites detox drinks. Mixing Turmeric powder and freshly juiced ginger in a shot glass each morning can work wonders for your body. You may have heard a lot about the power of turmeric and ginger.
Together they work to eliminate toxins from the body and decrease inflammation in many major organs including the liver. Improve your liver function by adding this shot to your breakfast routine every day!
Related: 15 Miracle Foods to Help You Lose Weight Fast
7. Coffee
I know you are probably shocked by this last beverage, but it is true! Coffee can help reduce the risk of liver disease by as much as 70 percent! It has even been proven to help protect against alcohol related cirrhosis. Who would have thought coffee was a detox drink!
If you want a smoothie recipe for your liver cleanse instead of these drinks, I would recommend adding in the following ingredients to really amplify your liver detox:
Mint Leaves or parsley
slice of ginger
spinach or kale
cucumber
lime or lemon or grapefruit
healthy fats: almonds, walnuts, avocados or coconut
green tea, lemon tea, or mint tea
There you have it! 7 powerful drinks to detox your liver so you can continue enjoying your summer rituals!
Which drink are you adding to your daily routine?

Looking for drinks to detox your liver this summer? I have you covered with these 7 best drinks to cleanse your liver and get your gut health back on track!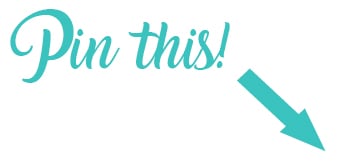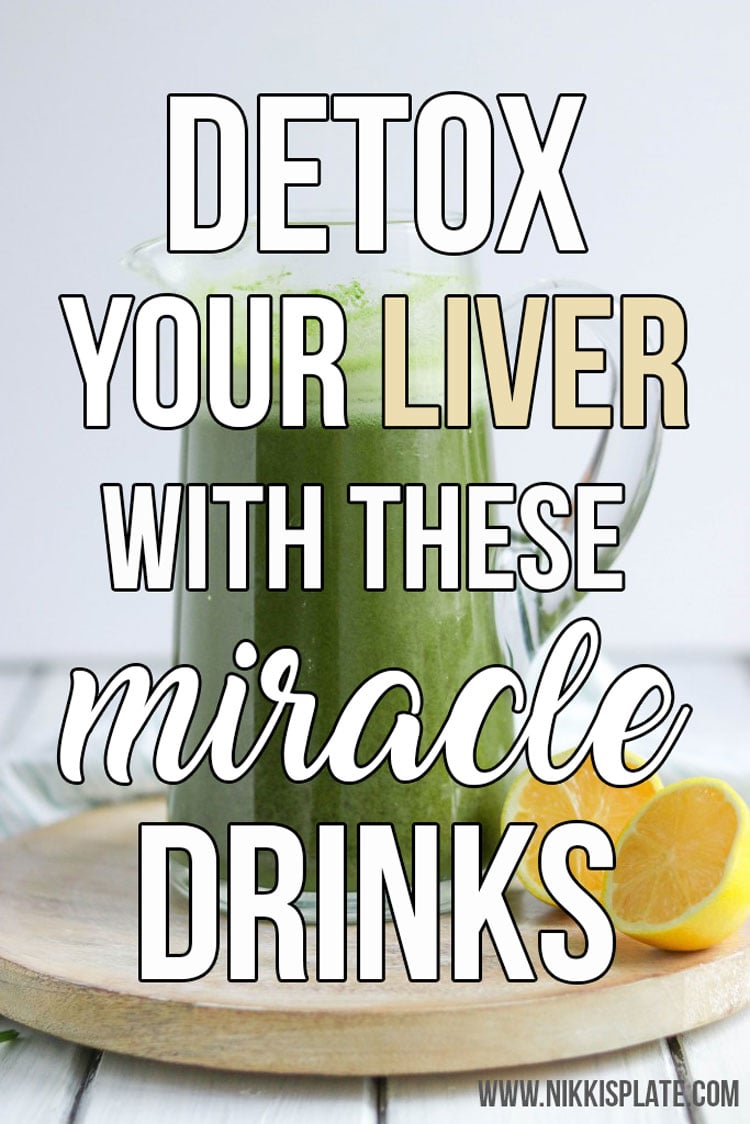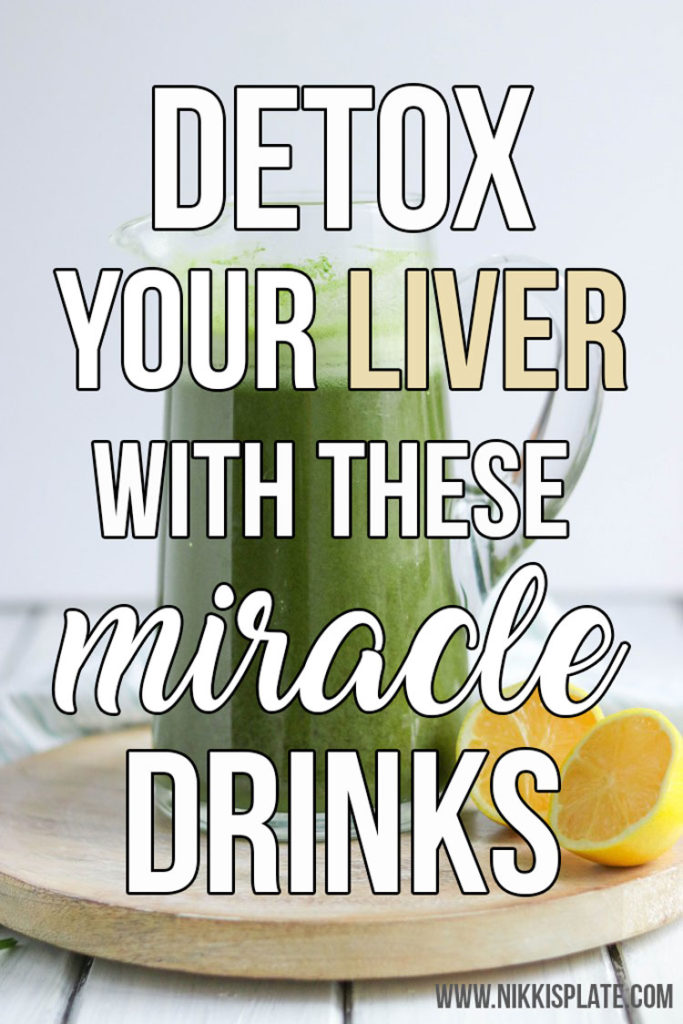 If you loved this post you will love these too:
BEST SELLERS