Ive been obsessed with this green smoothie lately and I am going to tell you exactly why. Ive recently just watched "Fat, Sick and Nearly Dead" on Netflix. This movie is an inspiring documentary about a man's personal mission to regain his health. It starts off with him explaining that doctors and conventional medicines are unable to help long-term, This man turns to the only option he has left, the body's ability to heal itself. He swaps in the junk food and hits the road with juicer, vowing only to drink fresh fruit and vegetable juice for the next 60 days. 60 DAYS! I know you shouldn't believe everything you read or watch but this inspired me to do further research on this whole juicing thing. Juicing is a great way to get those fruits and vegetables into your body. Especially if your not so big on eating them. I don't need to sit here and tell you all how important fruits and vegetables are because this information is drilled into our heads from when we were little kids in kindergarten. I believe that no man made pill or vitamin can identically produce the same nutrition and vitamins we get from our fruits and vegetables. So instead of popping a bunch a multi vitamins in the morning I decided to try drinking this green smoothie every morning. Obviously juice and smoothies are not the exact same thing because in juice, the fibre of the fruits and vegetables are removed where as in a smoothies all of it stays in the blender and therefore goes into your body. I know everyone has personal opinions when it comes to these sort of things so I just decided that it wouldn't hurt to give it a shot!
Disclaimer: this post may contain affiliate links, and every purchase made through these links will give me a small commission (at absolutely no extra cost for you!) AS AN AMAZON ASSOCIATE AND REWARDSTYLE MEMBER, I EARN FROM QUALIFYING PURCHASES. See Privacy Policy for additional info.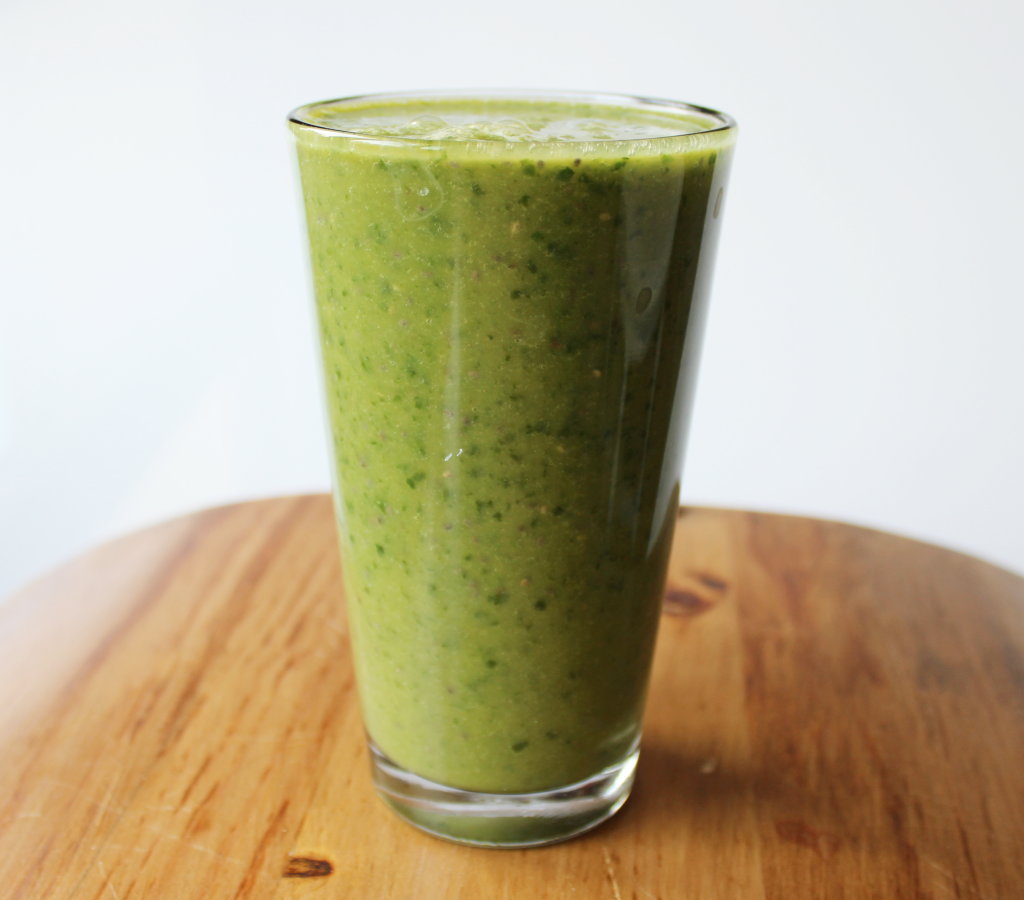 So this smoothie. I have packed so much nutritious goodness in here. I have spinach, a banana, ground chia seeds, hemp powder and aloe vera. Yes I said aloe vera! Why? Many people don't know that aloe vera is actually listed as a superfood (along with others such as chia seeds). Aloe, the clear component found on the inside of the plants stems, is the healing and therapeutic element of the plant that is a high source of polysaccharides and many other ingredients including lignins, saponins, salicylic acid, vitamins, minerals, amino acids, enzymes and fatty acids. When taking aloe vera, it aids in digestion, weight loss, boosts immune system and is an antiviral, antibacterial, analgesic, antifungal, antiparasitic and antiseptic agent. WOW. And another great thing about aloe vera is that it beautifies skin from the inside out (which got me excited)! I was really hoping adding the aloe would aid in my eczema and skin issues.
Aloe's Nutritional Content:
• Vitamin A
• Vitamin C
• Vitamin E
• Sulfur
• Calcium
• Magnesium
• Zinc
• Selenium
• Chromium
• Antioxidants
• Fiber
• Amino acids
• Enzymes
• Sterols
• Lignins
• Polysaccharides
"Aloe vera is a crucial part of any weight loss and fitness program as it has been shown that
when you ingest aloe, you can lose weight and also gain lean muscle mass."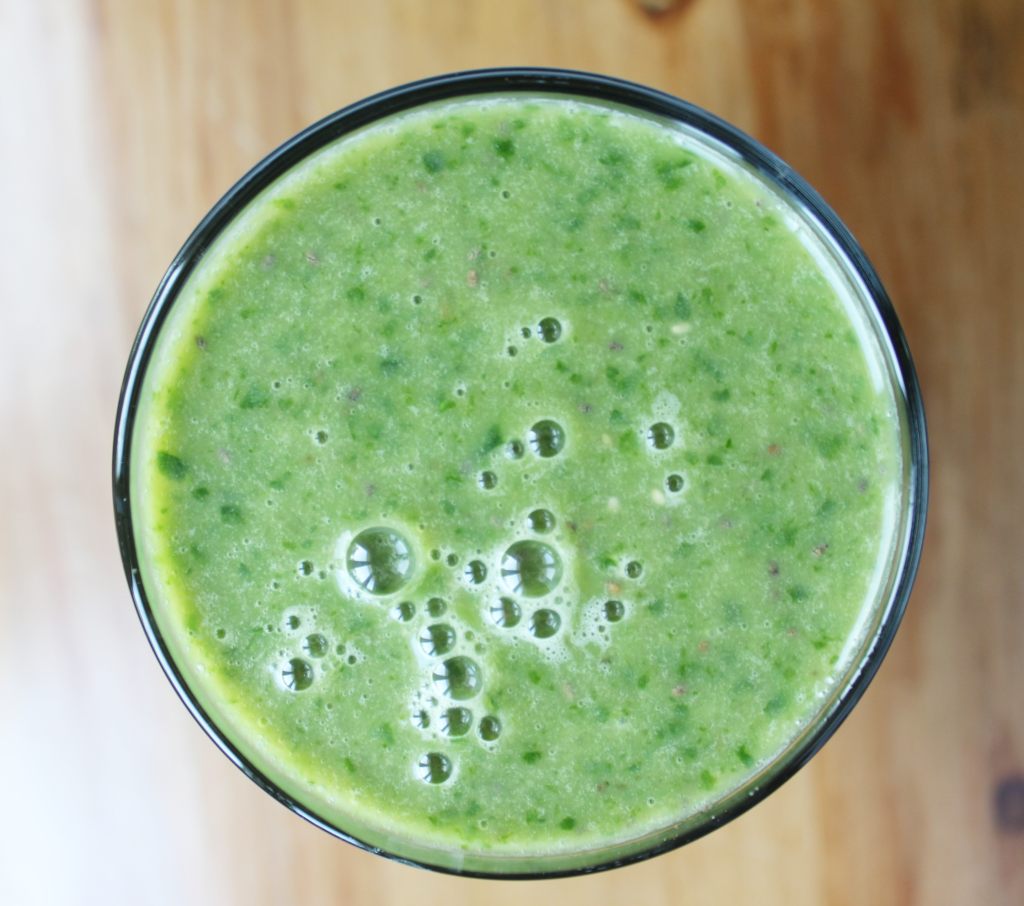 I have been drinking this smoothie every morning for two weeks now and I can not believe the out come. I have so much more energy right off the bat in the morning. I think it could be because of the tremendous amounts of vitamins and minerals this smoothie gives right away. And my favourite part is that my skin has COMPLETELY cleared. My dry skin and eczema is just.. gone! Usually in the summer my skin is a mess because of the heat. I find that sweaty skin really irritates my skin, but since I have started with this morning glorious drink it has all disappeared. I am going to continue to drink this in the morning and see what else happens. All I know is I am pretty excited about this drink!
"If you want to be beautiful all the days of your life, if you want to be flexible and limber
all the days of your life, if you want to have an immune system and nervous system that
work well for all the days of your life, aloe vera is the superfood for you."
Miracle Green Smoothie
2015-07-20 06:08:11
A miracle smoothie packed with superfoods, vitamins and minerals to start your morning off right.
Ingredients
1.5 cups of unsweetened almond milk
1 big handful of spinach
1 banana
2 tablespoon (30 ml) of ground chia seeds
2 tablespoon (30 ml) of hemp protein powder
1 tablespoon (15 ml) of ground flax seed
2 tablespoon (30 ml) aloe vera dietary additive
1 teaspoon raw agave (OPTIONAL)
Instructions
Put all ingredients in a blender. Blend until smooth.
Transfer to cup and enjoy.
Nikki's Plate https://www.nikkisplate.com/
BEST SELLERS