Creamy Cauliflower Bake with Tribelli Peppers; a vegan and gluten free warm dinner dish that is bursting with pepper colours. Comfort food for any season!
I love tribelli peppers!
I also love baked cauliflower.
Today's post is sponsored by Divine Flavor
Which is probably why this recipe tastes absolutely amazing to me! Not only does it smell incredible, it also looks super pretty. Adding these bright peppers, to a usually boring white winter dish, adds a fun pop of colour that everyone will enjoy.
The tribelli peppers make this common comfort food dish way more exciting! How could you not love these festive colours!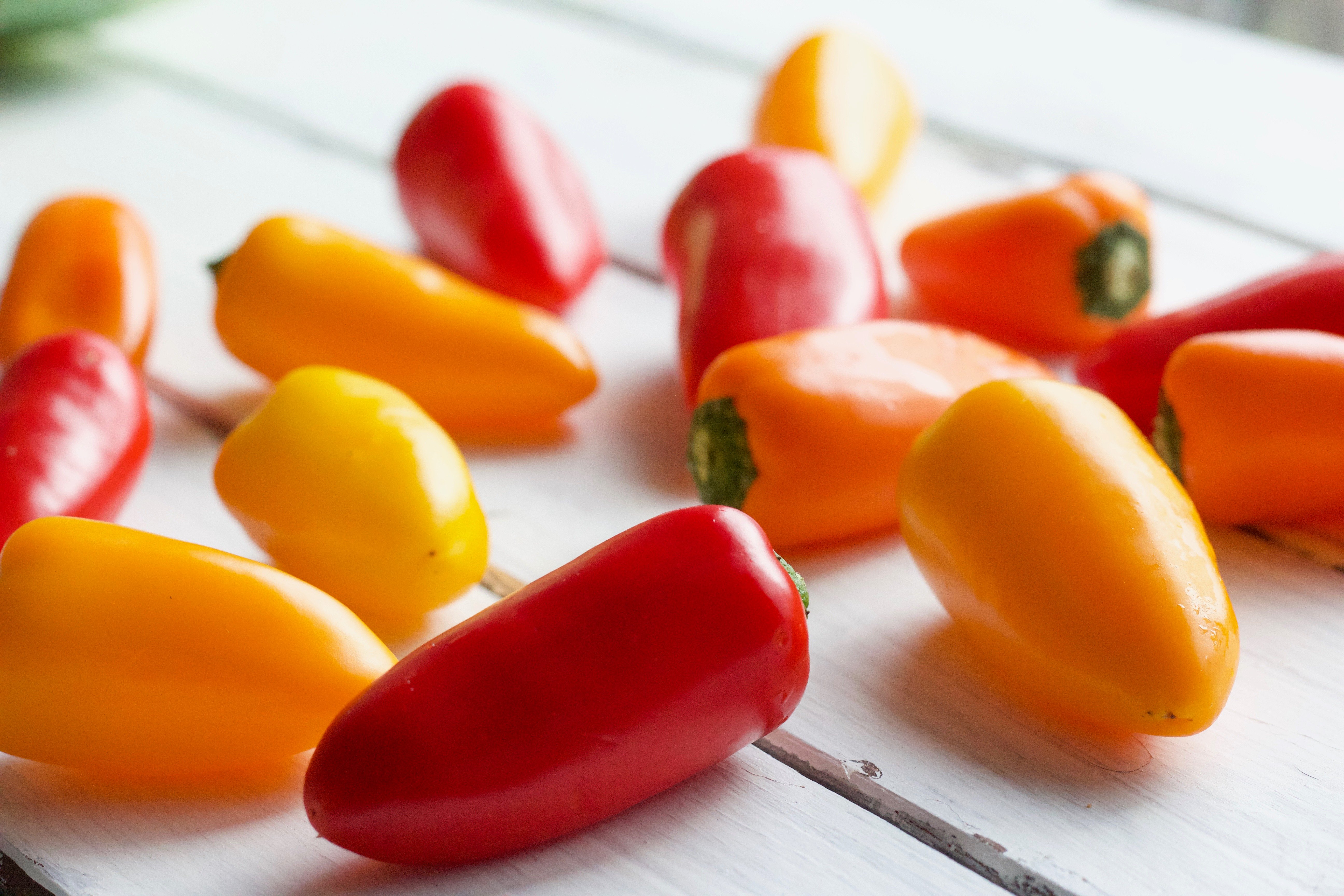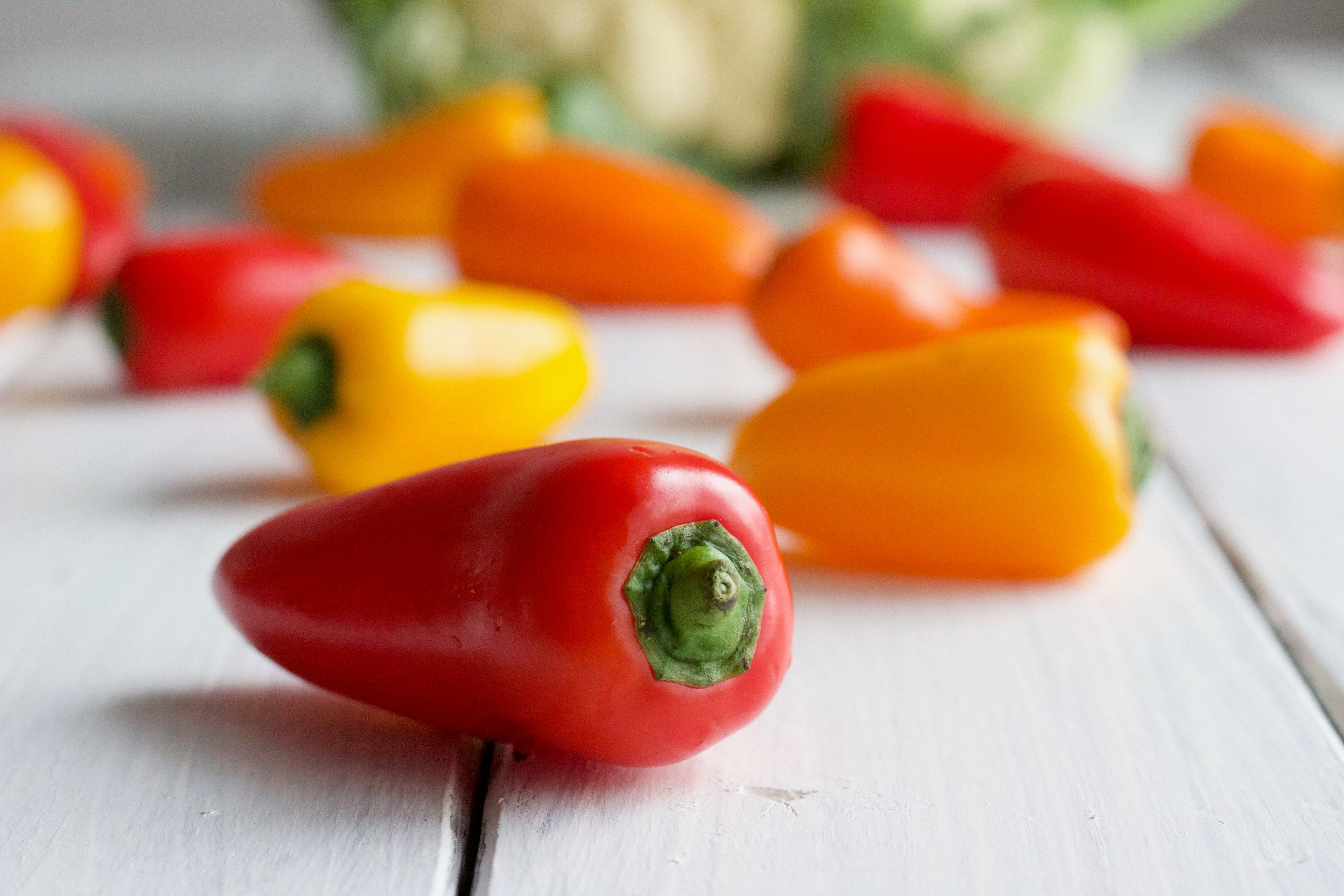 This recipe is one hundred percent gluten free and dairy free, just like
all my other recipes
. There is something about creating a common dish with a healthier spin, that makes my heart jump for joy. I love being able to enjoy a classic meal, that doesn't hurt my stomach after eating it! And no guilt - the best way to eat!
This cauliflower bake is loaded with golden cauliflower, and a creamy + garlicky + dairy free sauce.. all baked to perfection with soft and pretty tribelli peppers. What makes this recipe so creamy is the cashews! I know shocking right?! It is like a thick cashew milk.
I added in
nutritional yeast
to make it taste more "cheesy". This is an mouth watering trick I learned while attempting to go vegan last year!
Nutritional yeast
is a great additive for all former cheese lovers!
Creamy Cauliflower Bake Ingredients:
olive oil
white onion
cauliflower
tribelli peppers
cashews
oregano
green chives
minced garlic
pink salt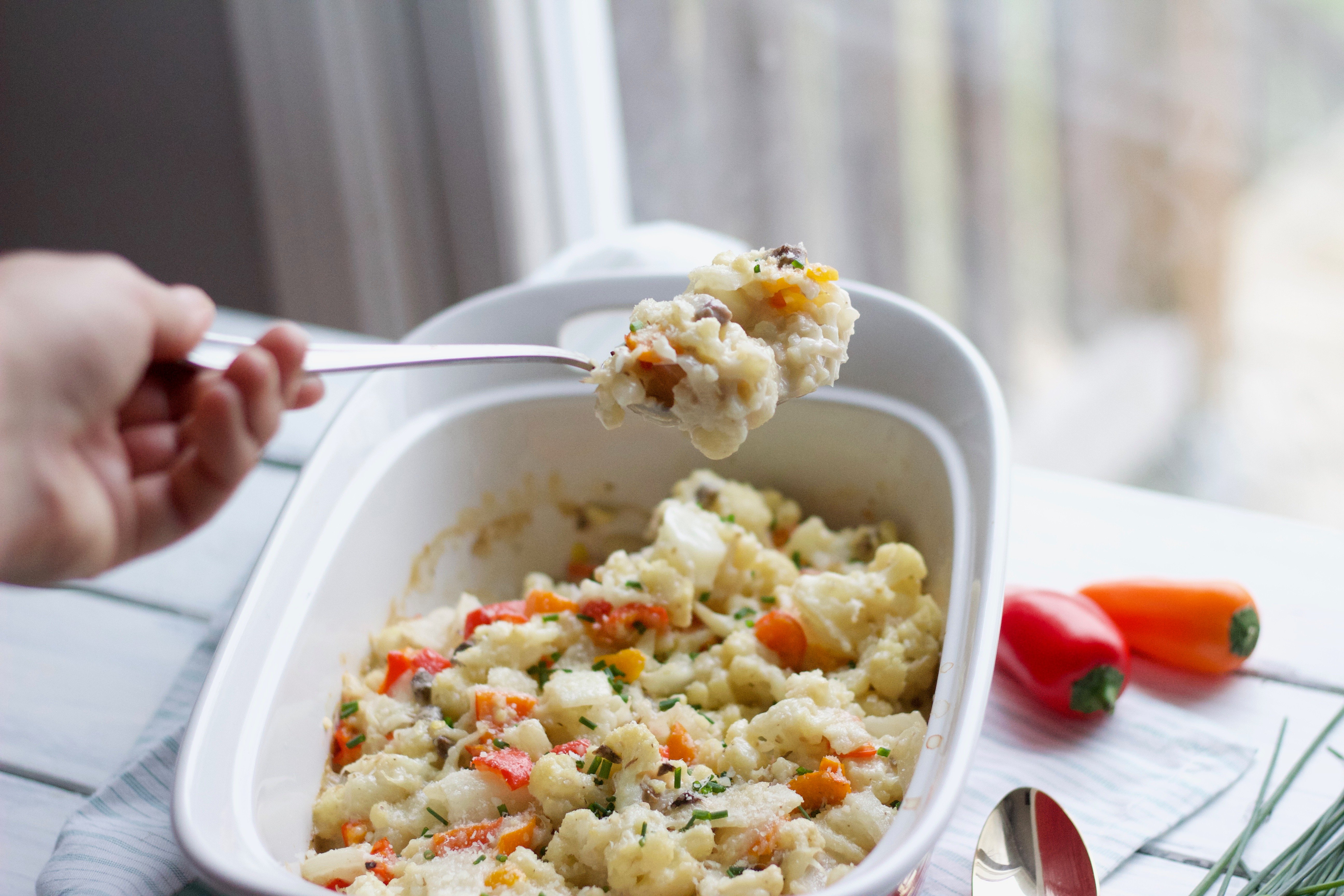 This is definitely one of those recipes you want to whip out at a family dinner to impress everyone with your healthy, yet delicious, cooking skills. It is one of those recipes you want to have a family dinner party just so you can make it..
And the best part of this recipe is you can easily make an extra large dish of it to ensure you have left overs for the next few days! I had left overs for three days that last time I made this recipe. It is the perfect side dish to so many meals!
Here are some of the great pairings I enjoyed with this recipe:
- Sweet Maple Salmon
- Thai Spring Rolls
- Quinoa Enchiladas
- Veggie Burgers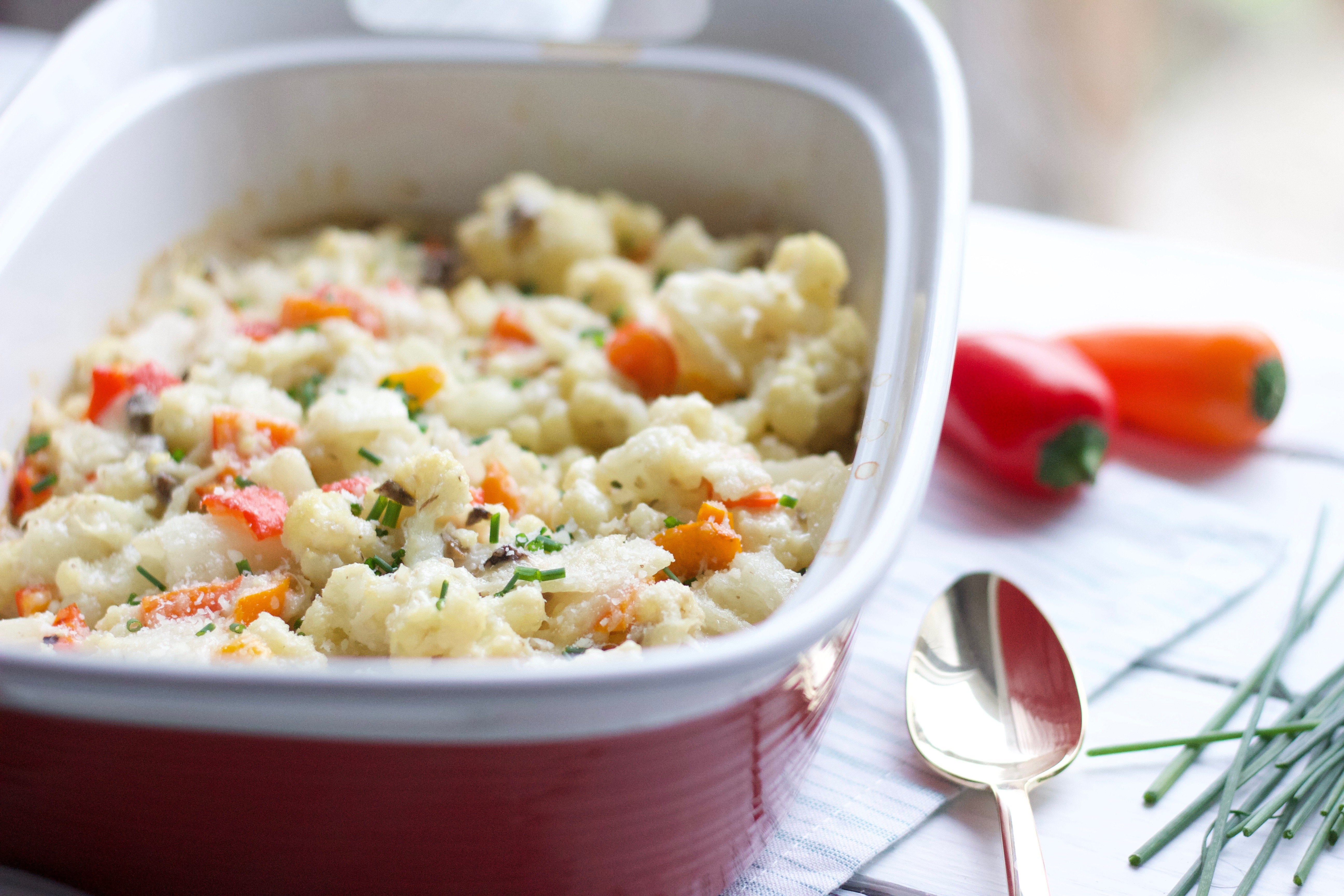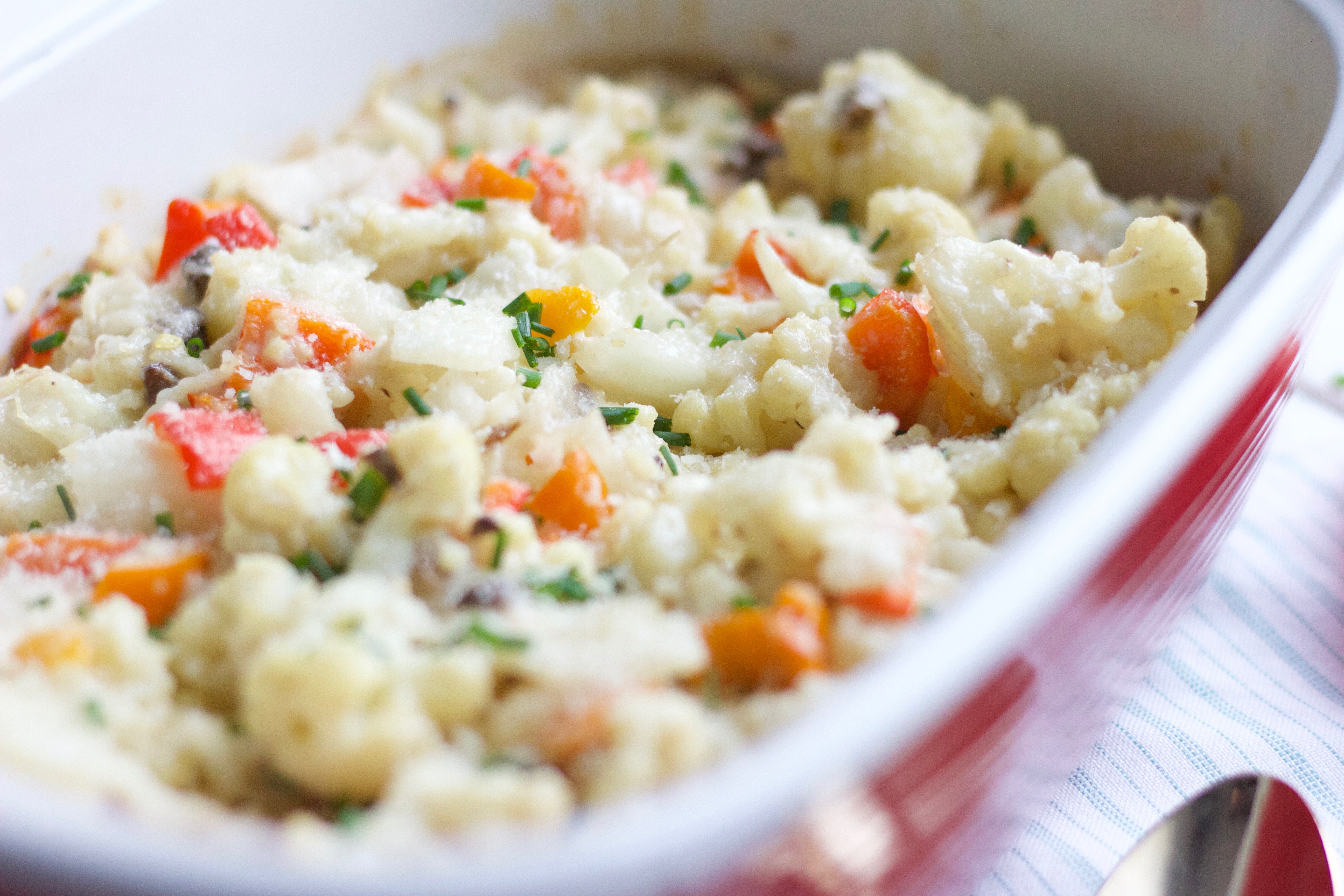 The other thing that I want to mention that makes this recipe amazing is that it is low carb! For anyone who is on a Keto diet, this recipe is one you can eat everyday!
If that's the way you want to roll! I personally like to switch up my meals but hey! I am not one to judge 😉 My mom is currently on the Keto diet so I am always looking for ways to create new and exciting recipes for her!
I hope you enjoy this creamy cauliflower bake!!
Disclaimer: this post may contain affiliate links, and every purchase made through these links will give me a small commission (at absolutely no extra cost for you!) AS AN AMAZON ASSOCIATE AND REWARDSTYLE MEMBER, I EARN FROM QUALIFYING PURCHASES. See Privacy Policy for additional info.
If you make any of my recipes please tag your photos with #nikkisplate so I can see your beautiful creations! Any feedback in the comments below is greatly appreciated. I hope you have fun!
More Homemade Cauliflower Recipes: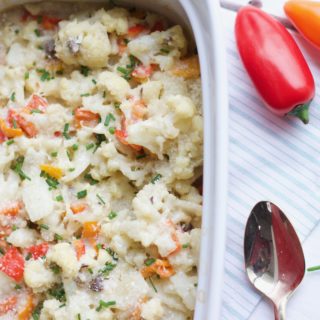 Creamy Cauliflower Bake with Tribelli Peppers
a vegan and gluten free warm dinner dish that is bursting with pepper colours. Comfort food for any season!
Ingredients
1

cup

chopped white onion

3

cups

cauliflower

1

cup

chopped tribelli peppers

1

tablespoon

chopped green chives

5

cloves

garlic

minced

¼

cup

cashews

soaked then blended with 1 cup water

⅓

cup

water

1

tablespoon

nutritional yeast

1

teaspoon

olive oil

1

teaspoon

dried oregano

1

teaspoon

pink salt
Instructions
Preheat oven to 350 degrees bake.

Heat olive oil in a large pan over medium heat. Saute onion and garlic until the onion is soft. Add the cauliflower, tribelli peppers, and the water. Cover with a lid and simmer on low for about 10 minutes (or until the cauliflower is semi softened).

Add cashew cream, pink salt, oregano, and nutritional yeast.

Remove lid and bring to a boil for 1 to 2 minutes to thicken the creamy cashew sauce.

Add mixture to a baking dish. Bake in oven for 30 minutes, or until lightly golden on surface. Remove and cool for approx 10 minutes so you don't burn yourself!

Sprinkle with chives and serve!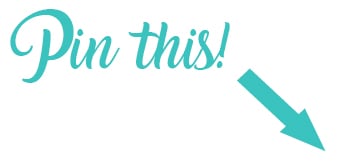 BEST SELLERS