What to Serve with Shredded BBQ Chicken; here are food + drink recipes and ideas to pair with your favourite shredded BBQ chicken!
Hi Beauties!
Coming at you with a round up post all about what to serve with shredded BBQ chicken!
When the aroma of scrumptious BBQ chicken straight off the grill fills the air, your mouth starts watering in anticipation of that first juicy bite. But wait! You can't just dive into a plate without thinking about what sides to serve with shredded BBQ chicken.
If you have cooked a batch to feed the hungry crowd, you probably wonder what sides to serve. After all, the side dishes can make or break a meal. There are so many delicious options when it comes to pairing with shredded BBQ chicken.
So whether you are eating the BBQ chicken as a sandwich or just straight out of a bowl, I have you covered for what to serve along side it!
Check out all the delicious recipes below that all go with shredded chicken and BBQ pulled chicken. Lets jump into the meat of this post now shall we?!
The post is all about what to serve with shredded BBQ chicken recipes
<<Disclaimer, none of these photos or recipes belong to me. Please click photo or link provided to be redirected to owners >>
Here's What to Serve with Shredded BBQ Chicken:
There are no true limits to the number of sides you can create with a chicken dish. And when it's something as versatile as shredded BBQ chicken, you have more wiggle room to play around. There is nothing better then chicken breasts + barbecues.
There are chances you have a lover of all things spicy in your friend group. So, for them, you could make a simple slaw with a vinegar-based dressing and some diced jalapeños or green chilies. If you want to keep it light, a tossed salad with ranch dressing goes perfectly well.
But what about all the rest of them? You can't stir your pot of chili and hope that it will satisfy everyone's cravings. Therefore, we've highlighted a list of some crowd-cheering sides.
Either with skinless chicken thighs or boneless skinless chicken breasts, shred the chicken with forks once thoroughly cooked and tender. Add BBQ sauce, salt and pepper or whatever additional ingredients you like!
Before we start though, let me share my favorite shredded BBQ chicken recipe first. This one by Natasha's Kitchen is the best! Make it in the slow cooker, crockpot or instant pot and eat once it is ready. Full of delicious flavor and ingredients!
If you dont have a slow cooker or instant pot, then try this recipe below by Dinner then Dessert. It is just as tasty just not as easily prepped as the previous option.
There are also so many ways you can eat shredded BBQ chicken. Some of my favorite ways are as BBQ chicken sandwiches, BBQ chicken nachos or shredded chicken lettuce wraps!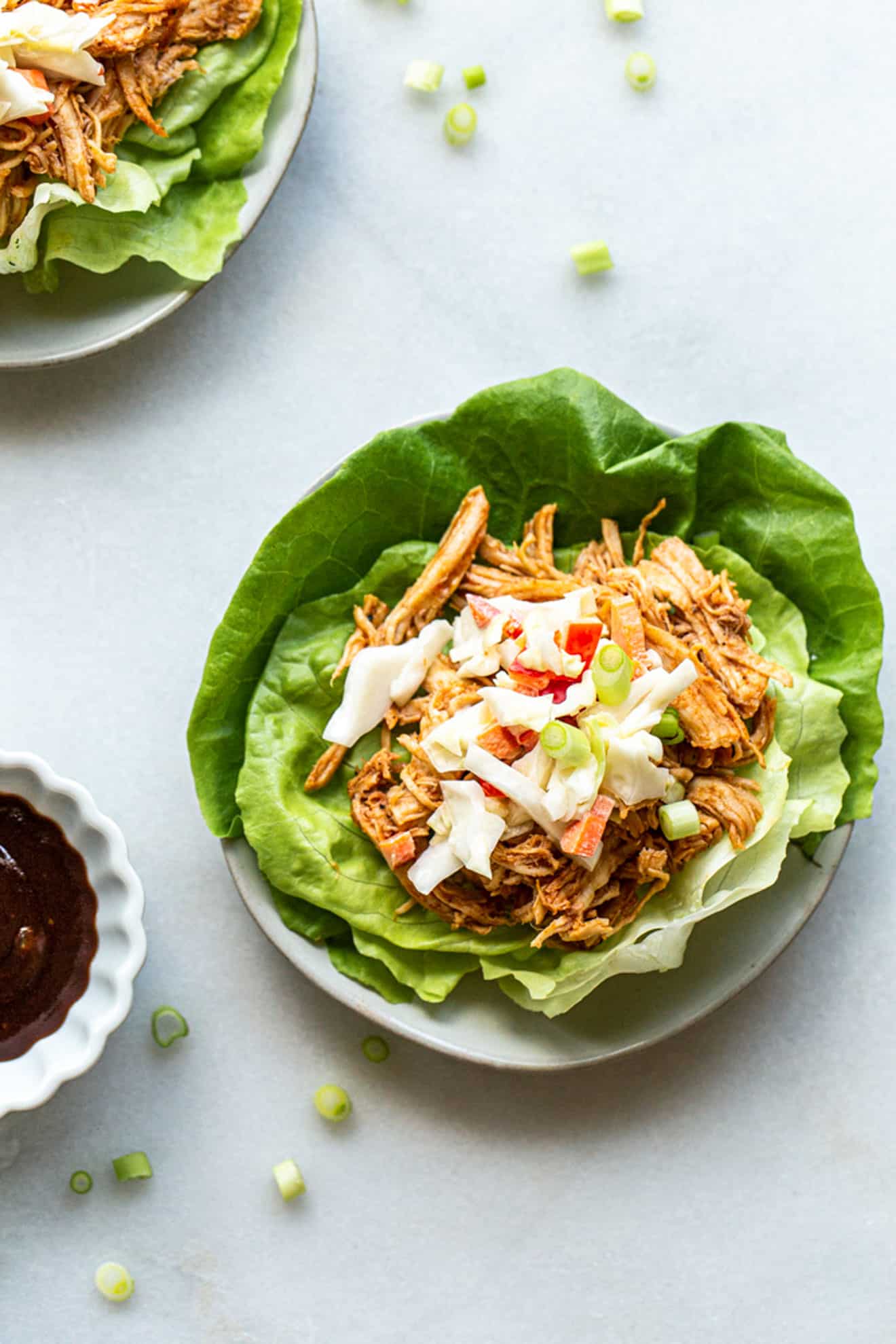 Side Dishes for Shredded BBQ Chicken:
Side dishes are a must-have for any party or family dinner. These little folks guarantee that everything is better.
Mashed potatoes, corn on the cob, sweet potatoes, baked beans, grilled veggies, and macaroni and cheese. These are some of the best side dishes for shredded bbq chicken to make your meal complete. So, the next time you host a chicken-on-the-grill party or a simple family dinner at your place and wonder what to serve with shredded BBQ chicken, just pick any of these.
Here are some delicious recipes you can pair with your pulled chicken recipe below!
However, we understand there are certain specifics that you can't just go without at a BBQ party. Let's put some light on those as well.
Salads as Side Dishes for Shredded BBQ Chicken:
Welcome your diet connoisseurs with a big green salad. You could go for a Caesar salad, Cobb salad, Greek salad, or even a watermelon and feta salad. Also don't forget potato salad and pasta salads that are always a hit!
But if you want to steer clear of the salad drama, then a simple coleslaw or cucumber salad would suffice. Just make sure to keep the dressing light if you want to make it a healthier option!
Condiments to Serve with Shredded BBQ Chicken:
What's a BBQ chicken without some delectable sauces? You could go for a barbecue sauce, ketchup, hot sauce, sour cream or homemade ranch dressing.
But if you want to get a little creative, try out a peach salsa recipe. This perfect fusion of sweet and savory takes less than 15 minutes.
Check out some of these easy homemade condiments and sauces to add to your shredded BBQ chicken!
Easy Louisiana Style Hot Pepper Sauce Recipe:
Drinks to Serve with Shredded BBQ Chicken:
No matter what the occasion is, drinks are a must. And when it comes to BBQ chicken, nothing beats an ice-cold beer.
If you want to serve non-alcoholic, then go for some iced tea or lemonade. But if you're looking for something a little fancier, then a Moscow mule would be perfect.
Margarita Recipe:
Homemade Lemonade Recipe:
Conclusion:
So, there you have it. These are some of the best things to serve with shredded BBQ chicken. So, the next time you're wondering what to make for dinner, just remember this list. And if you're ever in a pinch, these side dishes for shredded bbq chicken will save the day.
Also, shredded BBQ chicken makes great leftovers and the options for new meals are really endless!
If you have any questions about these recipes, leave it in the comment section below and I'll make sure to get back to you on it! Or I will do my best to find the answer for you!
If you make any of my personal recipes please tag your photos with #nikkisplate so I can see your beautiful creations! Any feedback in the comments below is greatly appreciated. I hope you have fun making these delicious shredded BBQ chicken sides and recipes! 
Share these delicious recipes with the rest of Pinterest world! Also make sure to follow my account to see when I post new recipes or home inspired content at Nikki's Plate.
Until next time,
If you liked this round up post on BBQ Chicken, check out these too: