The role of comfortable and ergonomic study is hard to overestimate. With approximately 3.5 million students taking online courses in the United States, a lot of experience has already been accumulated in organizing study space to meet educational goals most efficiently.
Disclaimer: this post may contain affiliate links, and every purchase made through these links will give me a small commission (at absolutely no extra cost for you!) AS AN AMAZON ASSOCIATE AND REWARDSTYLE MEMBER, I EARN FROM QUALIFYING PURCHASES. See Privacy Policy for additional info.
A lot of it has to do with how you set up a dedicated study space, how you go about organizing and optimizing the selected space, the type of furniture you choose, and the type of decor and accessories you get. Check out my tips and tricks that will save you a lot of time on research, giving you quick and easy solutions to turn your workspace into a great learning environment.
How to Create a Study Space:
Set up dedicated study space
First things first. You need to identify a dedicated workspace that meets several criteria. It must be a quiet place with minimal distractions and noise levels. When you have to focus on tough assignments, you don't have the luxury of being distracted or disrupted. Make sure you get lots of sunlight because that helps your eyesight and mood. Avoid turning your bedroom into a study space.
Remember that if you need to write an essay quickly, you might wonder, 'Where can I find a good writer who can GrabMyEssay by a tight deadline?' Go through expert reviews to assess the pros and cons of different writing services. Only hire those who pass muster for top academic quality and on-time delivery.
Get the right furniture
This is another big consideration. You absolutely need ergonomic furniture to make the learning process a comfortable, stress-free experience. Quality furniture does not come cheap, but it is a worthwhile investment. Don't make savings at the expense of your health because you need good posture and great physical condition to deal with onerous college workloads.
Clearly, your chair is of utmost importance. You also need a quality desk with enough space to set up your equipment and keep your learning materials handy.
Get rid of junk and clutter
Make every effort to declutter your space. Get rid of everything that you don't need. Just organize one big clean-up day to throw away or give away all the items you are not using. If unsure, just box them and store them away somewhere. The more chaotic your space looks, the less likely you are to be organized and disciplined about your learning routine and process.
If you are short of time because of a busy college schedule, use the professional writing services of TopEssayWriting to complete your assignments. Provide your instructions clearly. Let qualified writers complete your essay on time, at competitive rates, and to the top academic standards.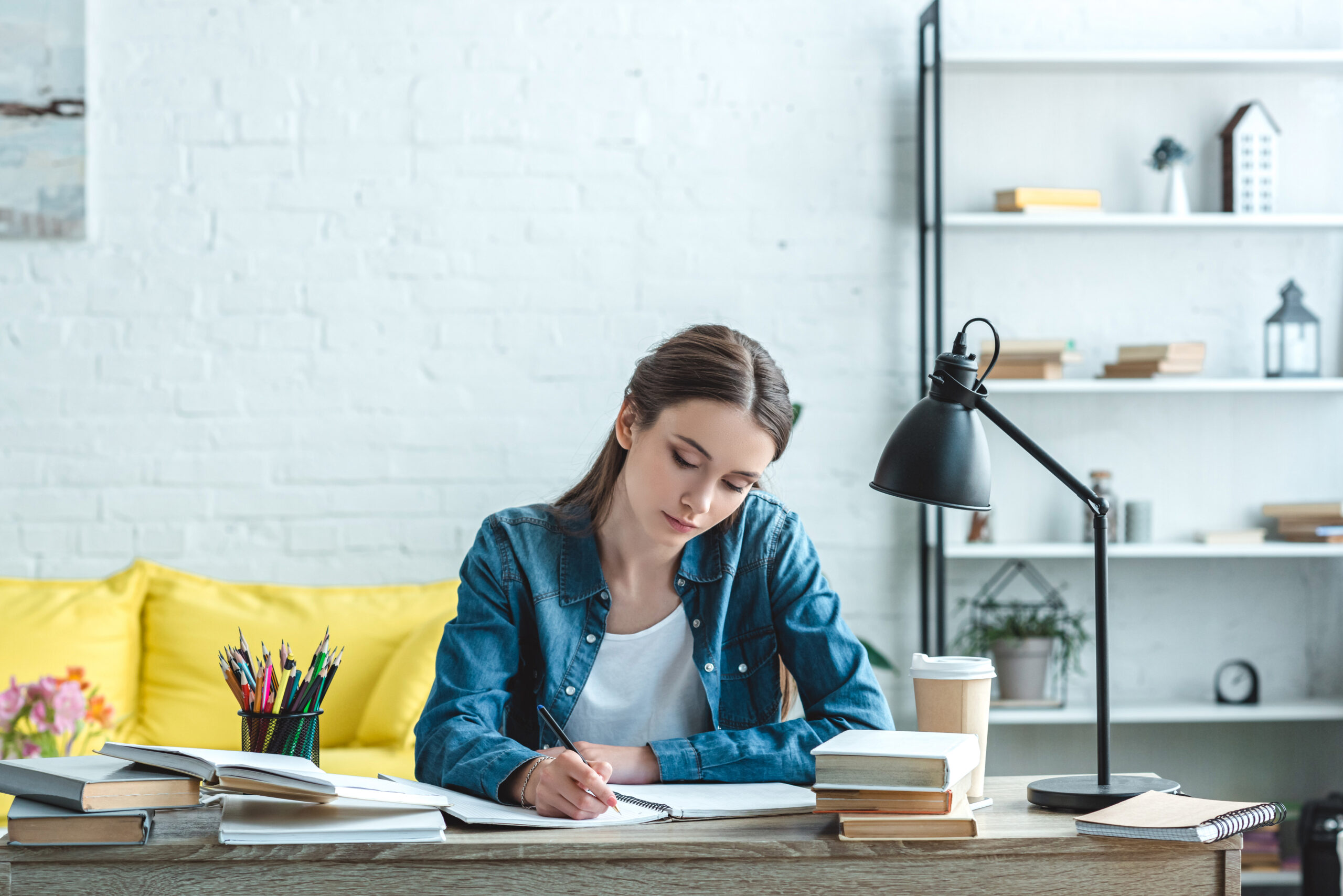 Proper decor
Choose a minimalist style when it comes to your room decor. No need to go for a flamboyant style that will keep you distracted. It might also have a negative effect on your ability to focus. Choose neutral and soothing colors that won't affect your nervous system. You need to stay calm as you embark on a lengthy and challenging learning journey.
Add flowers and accessories
Get flowers and accessories. Flowers are good for your health. They also help create an environment conducive to effective learning. For accessories, use anything that brings up pleasant memories. You can also use lots of DIY decorations students room ideas you can find online. This small trick will help freshen up your room.
These can be anything you got on your trips, gifts you received from your friends and loved ones, photos and posters, or just stylish little things and souvenirs that liven up your place. You can also put up slogans or quotes by your favorite authors that will keep you going every day.
Get the right equipment
Make sure you have the proper equipment to enjoy a seamless experience without unnecessary disruptions. Of course, you need a proper laptop or desktop, a reliable internet connection, and any other equipment depending on your field of study.
Bottom Line
You must make every effort to organize your study space in a way that makes it effective and comfortable. Finding the right space is your first step. Investing in ergonomic furniture is always a good idea because of its multiple benefits on physical health and academic performance.
Don't overdo your decor choices, interior design, or flamboyant accessories. Opt for a minimalist design and only keep those things you need or bring up great memories and inspire you to succeed.
---
Elaine Bailey is an accomplished writer and experienced academic advisor. She has been working with thousands of students on the improvement of their learning styles, organization of study spaces, and finding the right study-life balance. Elaine loves making her expert advice and views accessible to a broad range of students around the world.
BEST SELLERS