How I Made $5867 Blogging in October 2020; Details on how I made money blogging including tips and goals for the next month!
Disclaimer: this post may contain affiliate links, and every purchase made through these links will give me a small commission (at absolutely no extra cost for you!) AS AN AMAZON ASSOCIATE AND REWARDSTYLE MEMBER, I EARN FROM QUALIFYING PURCHASES. See Privacy Policy for additional info.
Hi Beauties! Coming at you with another income and traffic report!
I know I know, I haven't had the best track record when in comes to posting income reports. I just get so busy that I forget to post! I would love to be able to post monthly but It just seems to be a little out of reach for me right now. Someday I'll have more time to post these for all my blogger friends out there!
If you missed my last income and traffic report make sure you check it out here: How I Made $7,047 Blogging in May 2020
October 2020 was a decent month on the blog. Made great income but my traffic seemed to tank a little bit. I remember last year having the same issue.. I would get all excited for Quarter 4 and then my traffic would take a dive.
I think it is because a lot of people are not looking for healthy recipes for the Holiday season.. and they are not looking for home decor advice because they are focusing on Christmas and Thanksgiving decorations. Which is completely understandable! I do have seasonal posts but the majority of my content is "evergreen content" meaning that it is content that is suitable for all year round. This is just the way I've blogged in the past and what I will keep doing.
I am still a blogger for passion and not for business. Not that there is anything wrong blogging for the business/income side. Some day I will start focusing on growing my blog for business and income but for now it is still my hobby and passion. I use my blog for a creative outlet for myself and a place to come to for my current interests... which is why I haven't "Niched Down".. meaning I haven't picked one topic to focus on this blog. I blog about what is going on in my life. I blogged a lot about my wedding, I blogged about my pregnancy and my baby. What ever is going on in my life, you will see on this blog!
Also, I guess I should mention for anyone who is new here.. I do not full-time blog, I am a Registered Nurse at our local hospital in the Intensive Care Unit.
Why I Share My Traffic and Income Reports:
I want to share these reports for several reasons:
Blogging is freaking AWESOME. I want to inspire others to start blogs. I am hoping that sharing these numbers with others with encourage passionate people to make the leap to start their own blog. I have NEVER regretted starting my blog and I love every minute I get to spend on it.
Educational Information for other Bloggers. I want these reports to also be informative and educational for other bloggers looking for additional new tips to help grow their blogs and make money with their blogs. Blogging is a continual learning process. I love reading other bloggers tips and advice for growing my own blog, and want to contribute to the blogging community with my learning experiences.
A way for me to keep track of my blog statistics. I will have to say that when I looked up my income and traffic reports from 2017, I was extremely happy to see how far I have come. Sometimes when you get discouraged with your progress, it is nice to look back and see actual numbers to show you are actually improving. Therefore, these income and traffic reports are just as much for me as they are for all you!
I love reading other income and traffic reports. I cannot express how grateful I am for all the blogging income and traffic reports out there! I find so much value in reading other blogger's reports and always take away something from each one. What better blog post to write then one you love reading!?
Is Blogging For You?
If you have a passion that you want to share with the world then YES. Blogging is such a great outlet for sharing what you love in a welcoming online community.
If you want more financial freedom than blogging is also for you! Blogging allows me to pick up less shifts at the hospital and helped me pay off my student loans. I love having an extra income from a hobby that I truly LOVE.
Blogging gives you the opportunity to:
Work from home
Stop living pay check to pay check
Spend more time with family and friends
Get out of debt and pay off those loans
Travel whenever you want
Be your own boss!
If your ready to start blogging then follow my step by step start up guide here!
To be honest though, blogging is a lot of work.. and it took me a long time to get to where I am now in the blogging world. I know a lot of bloggers advertise things like "How I made this much money in my 3rd month of blogging!!".. but they are all false (for the most part). Many of these bloggers spend along time preparing for their initial blog launch or have blogger connections to skyrocket traffic, which usually they fail to mention in these blog posts…
I just wanted to make this clear because I am not the kind of person to lead anyone a stray! I want to be honest with all my readers and tell you that yes blogging is an amazing adventure, but yes it is a lot of work and can take you a long time to start seeing results. 
Blogging is not a get rich quick option (I blogged for 4 years before I started seeing some steady income)! So make sure it's something you're passionate about because you may be working on it for a while before you start making any income.
If you are looking to start your own blog, I HIGHLY recommend Bluehost to start. I LOVED working with them at the beginning. They not only have amazing customer service, but their hosting fees are super affordable! For those who don't know what BlueHost is.. it is a web hosting service so you can have your own domain (website), mine is 'www.nikkisplate.com'. I had to move to BigScoots once my page views increased because it was slowing down my website (BigScoots is obviously a lot more money per month but I had to do it). So if you are just starting a blog, go with Bluehost!!
Anyway, with that being said, lets just jump into the numbers shall we?
NIKKI'S PLATE TRAFFIC AND INCOME REPORT:
October 2020 Blog Traffic:
Like I said earlier October was a rough month for my traffic. But I know this happens every year so I am not stressing too much about it. The problem with most bloggers is they get super discouraged when they see traffic tank. I use to be one of those bloggers for sure. But because I have been blogging for so long, I know that traffic has trends throughout the year and almost always recovers!
So hang in there with me through the ups and downs of blogging!
Pageviews: 167,245
Sessions: 122,037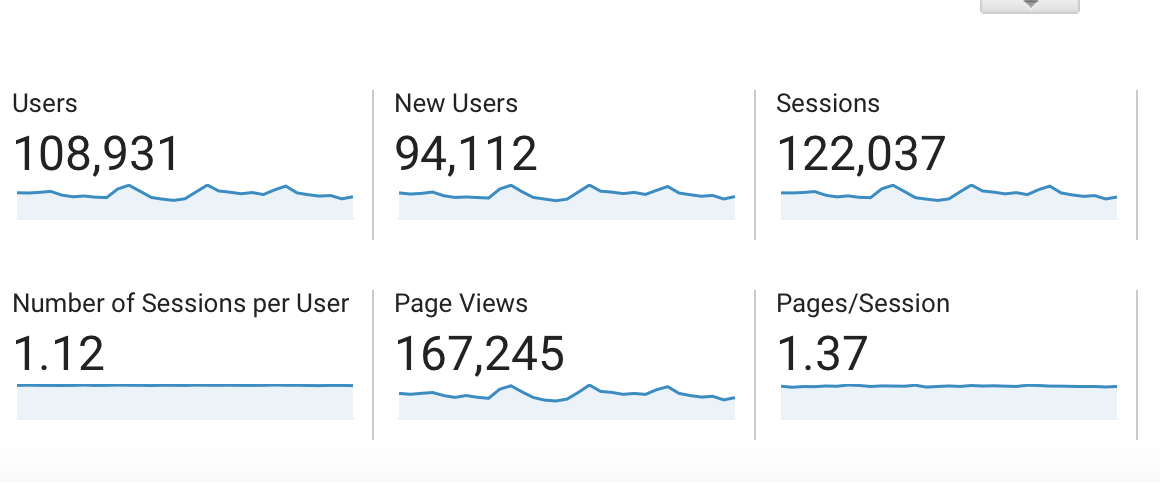 On the bright side... my SEO efforts are starting to show! My organic search is starting to improve (not by much but its better then nothing!)

So as you can see in this next picture, I have doubled my organic search traffic since my May income/traffic report. Pretty amazing right? Not great numbers but it feels so good seeing improvement! If you are curious about what I have been doing to improve my SEO and organic search, leave me a comment below and I will write a full post on it soon.

Pinterest is a huge traffic driver for my blog. It is the majority of my social traffic to be honest. I do use Tailwind for Pinterest now. I didn't at the beginning but once my blog started to make a little bit of money, I put all my earnings back into the blog to improve it. And honestly Tailwind has been AMAZING for growing my Pinterest account and driving blog traffic. I would be lost without it now.
October 2020 Blog Income:
Now for the income! Bring on the numbers!
Adthrive: $5192
RewardStyle: $482
Amazon: $189
ShareASale: $4

TOTAL: $5867
So as you can see, my main source of income is from my Ads. I would love to step up my affiliate income soon and also really focus on sponsored posts as well. Someday I would love to be able to put more time into my blog (switch to full-time) and really watch these numbers grow.
Now I should also mention, that this income isn't 100% all mine to keep! I have quite a few expenses with blogging such as my BigScoots hosting service, site security, speed plugins, and email service. Let me know in this comments below if you'd like me to start including a "expense" section on my blog as well.
OH and I have to save 40% of this income for taxes at the end of the year. The Canadian government loves to take their cut as well! haha
NEXT MONTH GOALS:
But that's all I have for you guys today. Like I keep saying, if you have any questions on comments, feel free to leave one down below! Or you can shoot me an email here!
Until next time,

Don't forget to pin this image below! Share this income/traffic report with the rest of the Pinterest world! Also make sure to follow my account to see when I post new recipes or home inspired content at Nikki's Plate.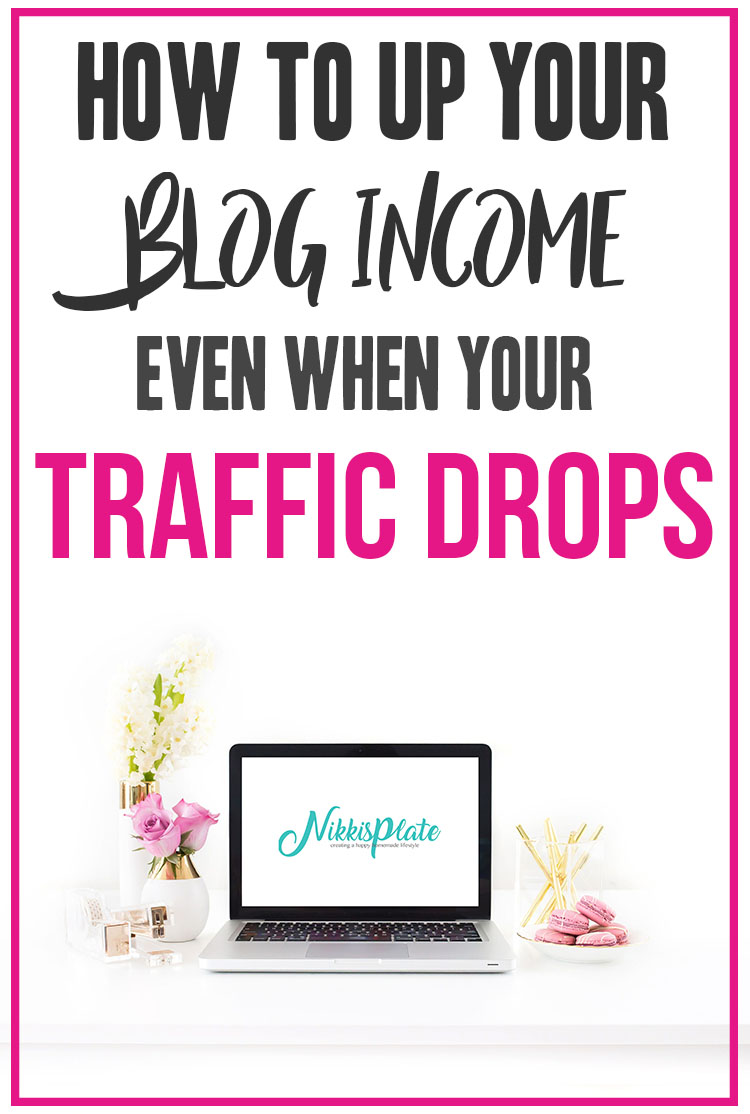 How I Made $5867 Blogging in October 2020; Details on how I made money blogging including tips and goals for the next month!
BEST SELLERS