How to Reduce Anxiety During House Renovations; We all know that renovating your house can be stressful. So much so that it may be causing you anxiety! If you're feeling stressed about your renovation, here are some tips for reducing anxiety.
Disclaimer: this post may contain affiliate links, and every purchase made through these links will give me a small commission (at absolutely no extra cost for you!) AS AN AMAZON ASSOCIATE AND REWARDSTYLE MEMBER, I EARN FROM QUALIFYING PURCHASES. See Privacy Policy for additional info.
If you're like me, you've always wanted to renovate your home. Maybe it's been a dream of yours for years, or perhaps you just became inspired after seeing a friend's renovation project go off without a hitch.
Either way, renovations are often seen as exciting and fun—until they start making you anxious. Whether you're renovating an old house that's falling apart or just getting started with your first home remodel, there's no doubt that getting into this type of work can bring out some anxiety.
But when it comes down to it: Is anxiety really worth stalling the process? Lets jump into this post to find out what will help you get through those stressful and anxious moments!
Reduce Anxiety During House Renovations:
Talk to people.
Talking to people is a great way to reduce the anxiety of going through renovations.
Talk to friends and family who have been through it. Ask them what it was like, and how they dealt with it.
Talk to people who have been through something similar but not exactly what you're going through (e.g., if you are remodelling a kitchen, ask someone who renovated their bathroom).
Talk to people who have been through something different from what you're experiencing now (e.g., if you are renovating a bathroom, ask someone who renovated their garage). Talking about what you're going through with someone who has experienced something similar can be helpful because they'll understand your frustrations without having lived them themselves - which means that their advice will be more grounded in reality than that of someone whose only experience is of working on their own house!
Don't do it alone.
The more you talk about your renovation, the more likely you are to get a committed contractor. If you don't have someone who can help you with this process, find someone who will lend an ear and give constructive advice. If necessary, ask them to refer contractors in their city that they know or trust personally.
You'll want to be sure that whoever you choose as your contractor is someone with whom you feel comfortable—someone who will listen carefully and answer any questions honestly (without overselling). Don't let any potential problems slip through the cracks because of poor communication skills or lack of personal rapport between yourself and your contractor; it's worth spending time getting things right before starting work on your project than having problems crop up later on down the road when things may become much harder and more costly to fix later on down the road
Decide what's important to you.
Next, you should decide what's important to you. Instead of making a list of all the things you could do, consider what is most important to you. Are there items that have been on your To-Do list for years? Is it time to get rid of some clothes that don't fit anymore? Or maybe it's time to organize the bookshelf in the living room.
Perhaps this is not even a question for yourself—maybe it's more about getting your house ready for those coming home after college; or maybe it means finding a way to make sure everything will fit when the baby arrives later in the year.
In order to ensure that we aren't spending hours working on projects that aren't really important (or just plain doing things wrong), sometimes we need help deciding what really matters when renovating or redecorating our homes.
If you can't decide on anything else at this point, take a look at how other people are approaching renovations and try applying their advice/processes/steps as possible solutions for whatever issue might be plaguing your life right now!
Create a budget and stick to it.
When you're planning a renovation, it's important to create a budget and stick to it. If you don't have enough money in your bank account or credit card limit, then stop spending until the project is complete. Otherwise, you could find yourself in debt for longer than necessary because of unforeseen costs and unexpected expenses.
Plan ahead.
When you're planning a renovation, remember that the more you plan ahead, the less stressful it will be on yourself and your family. Planning ahead can help you avoid problems and delays in the future. For example:
It's easier to get contractors if they are booked up months ahead of time, so we recommend booking them early.
If you order materials online or through catalogues, it may take several weeks for them to arrive—so make sure not to wait until the last minute!
Make sure all your tools are in good condition before starting work on a project—and don't forget gloves too!
Let the process inspire you.
The process of renovating is a great opportunity to make your home more energy efficient, environmentally friendly and beautiful. The way you approach the renovation process can be just as important as the end result.
Be patient—your house will be transformed into something better and more beautiful in time. If you're having trouble waiting, start small by looking for ways to cut down on waste from renovations (like used paint).
Look at your budget with care: do you need to replace that old plumbing system? Can you tweak it instead? A little TLC goes a long way here.* Learn about sustainable living: find out what's possible by researching how other people have lived sustainably in their homes.* Make changes that don't involve major construction work: consider using non-toxic paint or installing low-flow shower heads.
Designate a space for yourself.
Making sure you have a space that is yours can help to reduce anxiety during renovations. If you don't already have a designated office or work space, now is the time to create one. You should also make sure that there are areas for the children in your family so they can do their homework and activities without disturbing you.
It's important to have personal space because it will allow you to focus on what matters most and prevent distractions from taking over your life. Having some control over how much is going on around you will help reduce anxiety as well, since it gives things some order and structure instead of just being chaotic all day long.
Do something fun every day.
It can be easy to forget that you need to take care of yourself during a renovation. You're busy with all the tasks involved with making your house yours, and it can be hard to find time for anything else. But taking time out every day to do something fun is important—it helps keep your mind off the stress of renovations and gives you an outlet for all the energy they bring out in you.
Here are some ideas:
Go on a hike or jog in the woods (or around your neighborhood)
Take up painting or sketching as a new hobby
Organize a potluck dinner with friends who live nearby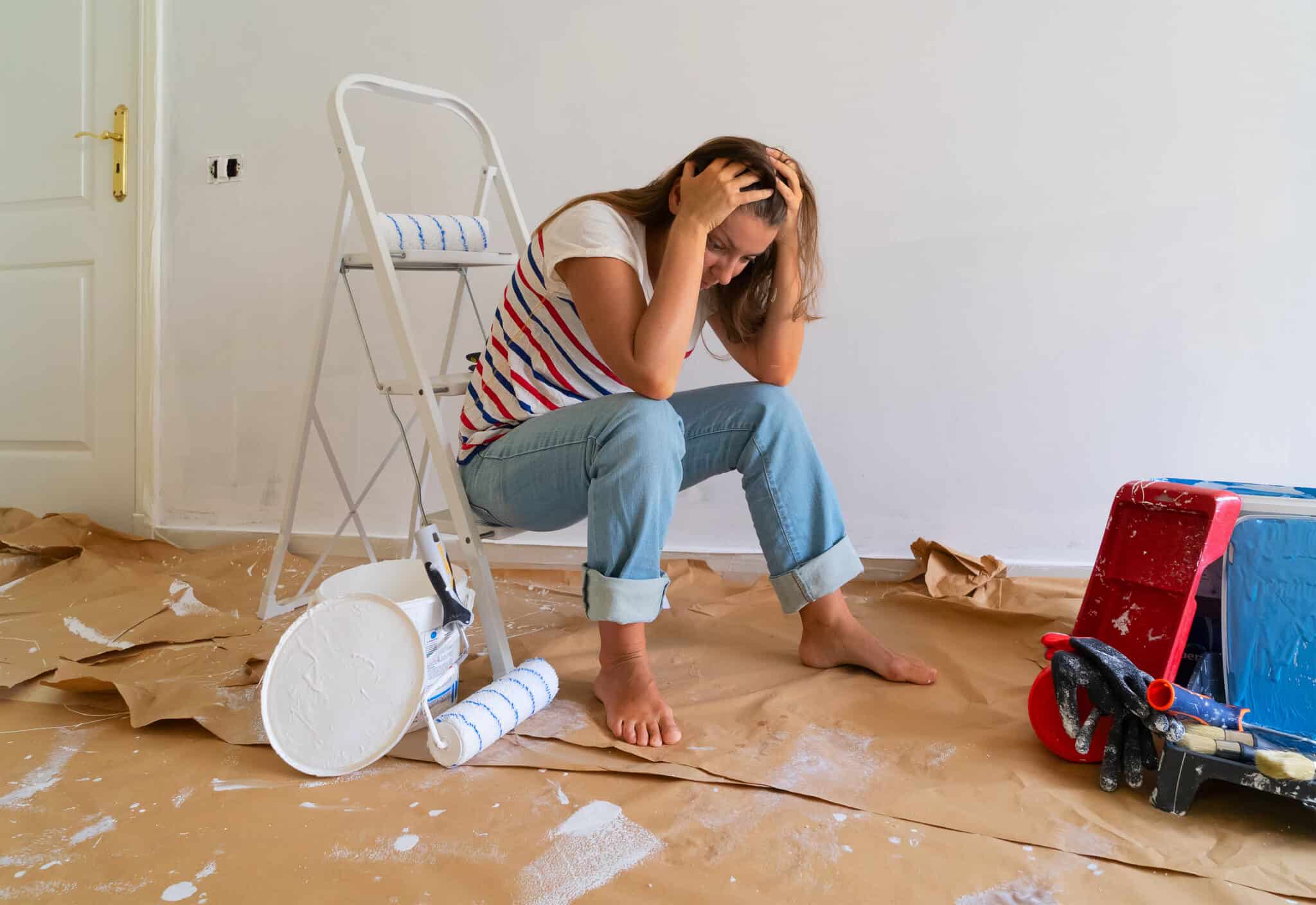 Anxiety doesn't mean you shouldn't renovate your home, but it does mean you'll need a little extra planning and support to get through it.
While anxiety doesn't mean that renovating your home is a bad idea, it does mean that you'll need a little extra planning and support to get through it. A huge part of managing your anxiety during renovations is simply acknowledging that you're feeling anxious, so don't be ashamed if you feel like this all the time.
You might also want to take some time for yourself when working out how much time you'll have left in the house before moving out and whether there are any other ways you can make life easier on yourself (like hiring someone else). This will help keep things from getting worse than they need to be!
With these tips, you'll be able to make your home renovation as comfortable and enjoyable as possible. Remember that it's okay to ask for help, and don't forget to enjoy yourself along the way!
Until next time,
How to Reduce Anxiety During House Renovations; We all know that renovating your house can be stressful. So much so that it may be causing you anxiety! If you're feeling stressed about your renovation, here are some tips for reducing anxiety.
BEST SELLERS