Discover how to throw the perfect Christmas party with my comprehensive guide. Learn how to select your guest list, pick a theme, decorate your venue, plan your menu, and engage your guests with fun activities. Make this holiday season unforgettable with these straightforward and creative tips.
Disclaimer: this post may contain affiliate links, and every purchase made through these links will give me a small commission (at absolutely no extra cost for you!) AS AN AMAZON ASSOCIATE AND REWARDSTYLE MEMBER, I EARN FROM QUALIFYING PURCHASES. See Privacy Policy for additional info.
As the year draws to a close and the joyous holiday season beckons, it's time to relish the festive tidings that Christmas brings. With carols echoing, vibrant decorations, unforgettable feasts, and the exhilarating aroma of gingerbread lingering in the air, Christmas is more than just a holiday, it's an experience.
As the mirthful laughter and merry cheers get louder, the anticipation for the highlights of the festive season—Christmas parties—also grows. Whether you're new to party planning or a seasoned host, we know the pressure of throwing the perfect Christmas party.
This blog post is designed to guide you through the steps of orchestrating a memorable Christmas soiree, one that enthralls your guests and creates unforgettable memories. From choosing a fun theme to crafting the perfect playlist, I've got you covered! So put on your Santa hat, brace yourself, and let's dive into the magical realm of Christmas parties!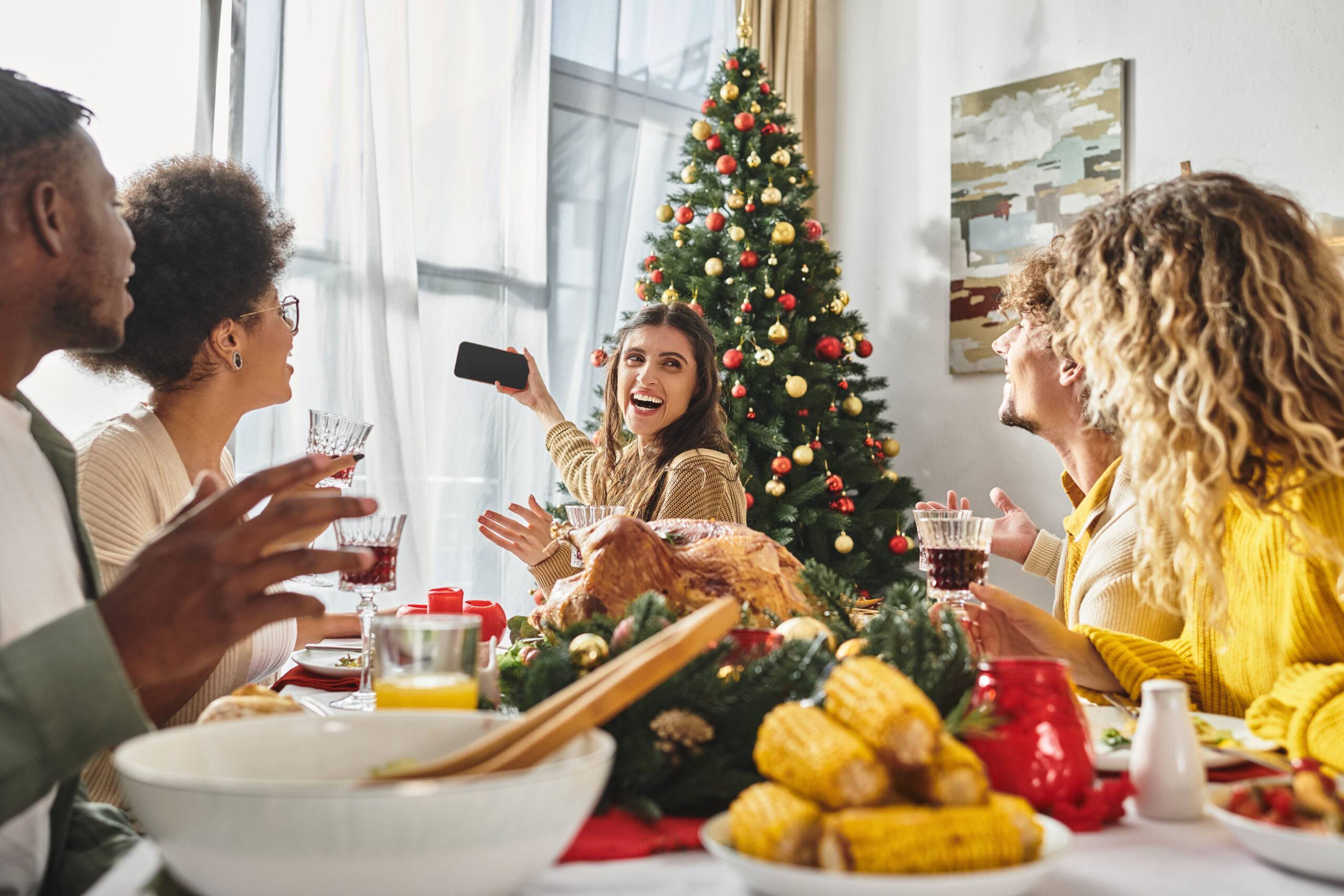 How to Throw the Perfect Christmas Party:
December, with its festive charm, brings a certain level of excitement and anticipation in the air. This is the time when houses are lit up, decorations adorn the streets, and Christmas carols fill the air. One of the most anticipated events of the season is the much-needed Christmas party. Let's dive in and learn how to throw the perfect Christmas party.
1. Determine Your Guests and Party Type
Start by considering who you want to invite. Your guest list should consist of close friends, family, colleagues or neighbors. Figuring out your guest size will help you to determine the type of party. Are you aiming for an intimate dinner, a lively cocktail party or a fun-filled family gathering?
2. Pick a Date
Choosing the right date is crucial. Avoid Christmas Eve or Christmas Day as many people have their family traditions on these days. A weekend before Christmas often works best, allowing guests time to relax and enjoy the party. Remember to send out invitations well in advance for your guests to plan their schedule.
3. Choose a Theme
Once you've determined the type of party and date, decide on a fun theme. Themes add a unique touch to any party and make it more memorable. It could be something traditional like a 'White Christmas' or more creative like a 'Christmas Pajama Party'. Remember, your theme should reflect in every aspect of your party, from the decorations to the dress code.
4. Decorate for Christmas
Deck your halls with the festive spirit! This is the fun part where you get to adorn your home with a Christmas tree, sparkling lights and all things festive. Choose decorations that match your chosen theme. If you're going for the 'Christmas Pajama Party', for instance, think cozy – soft lights, plush cushions, and warm throws.
5. Plan Your Menu
Food is undoubtedly an essential aspect of any fantastic party. When planning your menu, consider your guests' preferences, dietary restrictions, and the theme of your party. A blend of traditional Christmas dishes like roast turkey or ham and some creative finger foods make for a fulfilling meal. Remember to include a variety of beverages for both adults and kids to be the best dinner party host!
6. Organize Entertaining Activities
Engage your guests with a variety of fun activities. A Christmas movie marathon, a gift exchange, or a karaoke session featuring popular Christmas carols are always great options. Consider your audience while planning these activities.
7. The Perfect Playlist
Curate a playlist that sets the overall mood for the night. Mix traditional carols with universally loved holiday songs to keep the festive spirit going. A good mix will ensure that everyone has at least one song they can sing along to or tap their feet.
8. Party Favors
Send your guests home with a little something to remember the night by. Party favors don't need to be grand; a simple ornament, candle, homemade cookies, or a small plant make for thoughtful parting gifts.
9. Prepare for the Unexpected
Lastly, always be prepared for unexpected situations. Extra food for unanticipated guests, a spare room for kids to rest, or addressing a sudden spill, always have a plan B in place.
10. Enjoy The Party
After all, the party is for you too. Make sure to relax, enjoy, mingle with your guests, and soak in the Christmas cheer.
In the end, it's not just about throwing a perfect Christmas party; it's also about creating unforgettable memories, and spreading joy and laughter, which, after all, is the true spirit of this season. Merry Christmas and Happy Planning!
Until next time,
BEST SELLERS