Patio lights string ideas; Transform your outdoor area into an entertaining hub with these 27 light string patio ideas.
Hi beauties!
Coming at you with some more beautiful backyard inspiration with these 27 patio light string ideas that will truly complete your backyard oasis escape!
String lights are one of the most charming outdoor lighting accessories you can use to add a fun and festive element to your outdoor space. Some of the most common places to hang patio lights string versions are on poles, covered patio, umbrellas, tree branches, along a fence or garden wall, deck railings and balconies! Below you will find inspiration for all these outdoor lighting ideas.
Don't overlook patio lighting when creating your backyard oasis. Backyard lighting helps create a relaxing mood and can extend the season for entertaining into the night by adding the perfect glow and illumination
Outdoor string lighting adds to the ambiance of a party or gathering as well as signals to family members that they need to get off the patio and into the house haha Outdoor patio lights make your backyard glamorous, with the right fixture or string lights.
The best way to create a glamorous look in your backyard is not through an expensive piece of furniture but by using outdoor patio lights. These are the perfect decorative item to help you create an ambiance that can be enjoyed by everyone. If you don't have any yet, then consider purchasing some today!
Here are 27 patio light ideas for adding the perfect touch of light to your patio or deck.
This post is all about Patio Lights String Ideas
<< Please Note: None of these photos belong to me, please click phots or the link provided to be redirected to owners>>
Patio Lights String Ideas:
Covered Porch String Lights
Covered porch string lights is probably one of the most common places to add outdoor lighting. It is definitely an easy way to DIY strands of lights around this covered outdoor space.
Covered porches are great places to hang string lights, but you'll want the right kind of hooks. Porch ceilings are often low, so it's best to use a heavy-duty hook that can accommodate the weight of your lights and their power cord. These hooks are the best!
Depending on how many strands of light you want to hang, you should use anywhere from 8-10 light sets! Each strand usually has 25 lights on it, so if you're looking for dramatic coverage over your entire porch area (and not just around the door), then this is what you need!
For safety reasons, make sure that all exposed wires on your string lights are covered with electrical tape or another protective material before hanging them up in any way shape or form.
Check out these beautiful photos of covered porch string lights!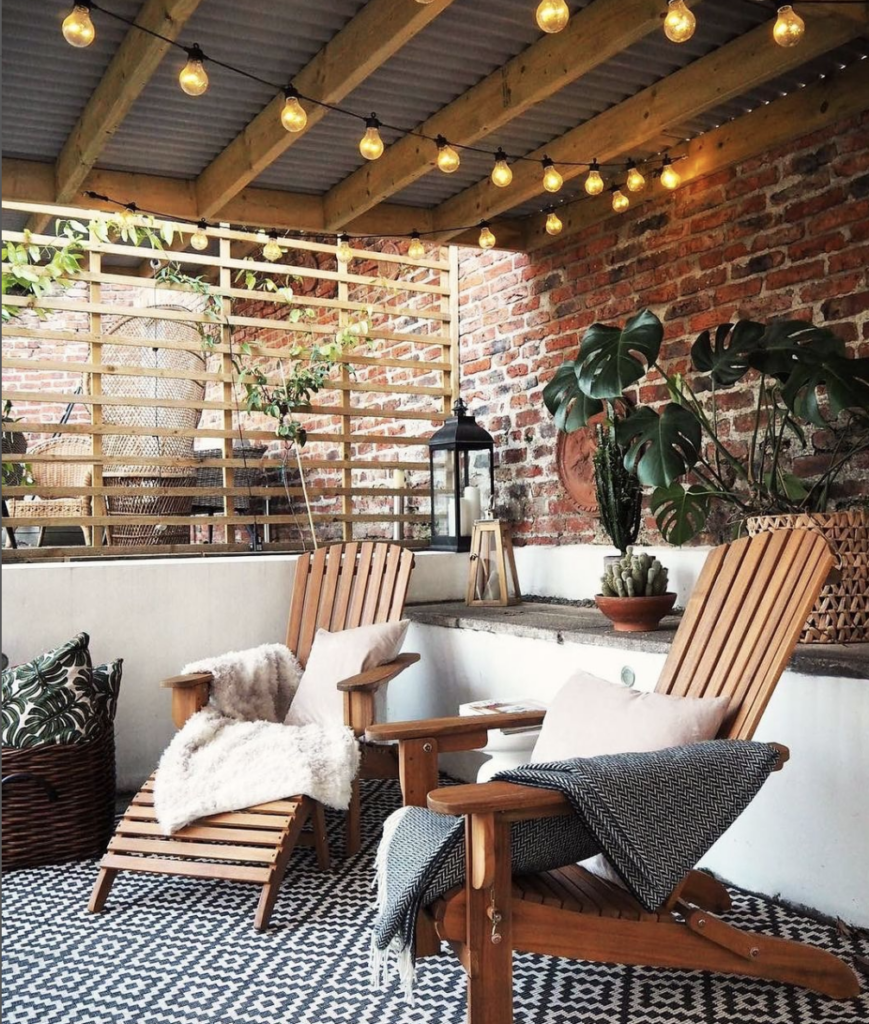 Related: 15 DECK MUST HAVES FOR SUMMER ENTERTAINING
Hang Lights from an Umbrella
Another fun way to add some light to your patio is by hanging the lights from a patio umbrella. This is a great option for those who don't want to drill holes in their outdoor furniture and have some extra cash laying around to buy a new umbrella that has sockets built into it. You can also go with a solar-powered umbrella which will eliminate the need for any electricity at all!
The only thing you will need to make sure of is that the lights you choose are waterproof so they don't get damaged if they get wet during rain or snow (and yes, even if you live in Florida, there can be snow)! If you choose not to use electricity instead opting for solar powered lights then make sure they are rated for outdoor use so they won't break down easily when exposed outside all day long every day during summer months).
Check out these beautiful photos of hanging lights from an umbrella!
Related: 15 GENIUS LANDSCAPING IDEAS FOR FRONT OF HOUSE
Hang Lights from a Canopy
If your backyard patio has a canopy, hanging lights from it is a perfect way to add some ambiance and decoration. You'll need:
A string of lights
Hooks
Nails (optional)
If you don't have hooks already installed on your canopy, make sure to buy them along with the lights. If there are already hooks, simply attach them to the canopy. Once they are attached, hang the lights in any way that works best for you.
It's always good to use nails or screws when hanging anything heavier than paper or plastic lanterns because they won't tear through the fabric of your canopy as easily as string would. If you don't have access or tools that can accomplish this task by yourself, enlist someone else's help!
Check out these beautiful photos of hanging lights from a canopy!
Related: 9 GORGEOUS LUXURY SWIMMING POOLS
Wind Them Around Your Stair Railings
For this project, you'll need to find a template of where to zip tie the lights. Once you have this, use zip ties to secure the lights in place. This can be tricky and may take more than one person, depending on how many strings of lights you're working with.
For example, if there are only two strings of LED patio lights (about 150 bulbs), then it should be easy enough for one person to do. If there are six strands (about 600 bulbs) or more, though? Then it might require another pair of hands!
You can also try using icicle lights or string lighting for this project as well as rope lighting; solar powered globe lamps; Edison style bistro pendant lamps; traditional Edison bulb wall sconces; LED battery powered lanterns and chandeliers — anything that emits light!
Check out these beautiful photos of winding sting lights around stair railings!
Related: 9 TIPS FOR STYLING YOUR DECK THIS SUMMER
String Lights on a Gazebo or Pergola
If you have a gazebo in your yard, this is an ideal place to hang string lights. Gazebos are all about creating focal points and adding architectural interest, so they're already set up for holiday decorating. Plus, hanging lights from the top of your gazebo means that people can see them from far away—so even if you don't have much space for decorations, it should still be easy to make an impression!
You'll want to hang your lights from the very top of the structure (if possible). Then drape them down in an arc shape—this will create a natural-looking effect without too much work on your part. If possible, consider using LED string lights that come with small bulbs instead of traditional Christmas light sets; these will give off less heat and won't require any extra wiring for power sources or extension cords!
Check out these beautiful photos of string lights on a gazebo!
Related: TOP OUTDOOR SPACES BY JOANNA GAINES
Hang Lights on a Fence or Railing
If you have a fence in your backyard or on the side of your house, string lights can be draped over it. You could even go so far as to attach the lights to the top of the fence with a nail gun or staple gun (if you want to take it down at some point). The great thing about this is that it's an easy way to add light to any area without having to worry about hanging anything inside.
Check out these beautiful photos of hanging lights along a fence or railing!
There you have it folks! 27 patio lights string ideas to complete your backyard! I hope you enjoyed this post! What are your favorite outdoor string lighting ideas!?
Until next time,
If you liked this post on backyard decorating, check out these too!: