Simple Christmas Front Porch Decor Ideas You Need to Try This Year!; Here are some easy and simple front door decorations that will instantly put you in the festive mood!
Hi Beauties!!
I am overly excited to be writing my first Christmas post of the year! I am hoping to pump out a TON of content for you all this Christmas season so make sure you are constantly checking back for the latest Christmas posts and updates!
This post is all about Simple Christmas Front Porch Decor Ideas. Why? Because everyone needs a beautifully festive front door to come home to at the end of the day.
All of these simple Christmas front porch decor ideas where found on Pinterest, so make sure you click the photo or the credit link provided to go check out the owners work!
These Christmas front door ideas are so trendy and so cute, I am still struggling to decide which one I want to copy this year! Anyways lets jump into the post now so you can start deciding which one you are going to try this Christmas!
Simple Christmas Front Porch Decor Ideas:
Classic Christmas Front Porch Decor:
Love the Christmas tree on the front porch! You never see that and I think it is such a cute idea to really bring Christmas out to your front door! And of course the lanterns add such a warm cozy touch!
Obsessed with this cute yet simple Scandinavian Christmas front porch. Adding garland around your front door is a must and I am living for this one! Also, those black boots, intentional or not, really bring that overall winter feel to this front porch!
Usually I am the kind of person who really needs to have things even and symmetrical.. but I am actually really loving the asymmetrical vibes of this Christmas front porch. It works in this small space! This front proch decor idea is simple and can probably be kept up all winter long!
Related: EASY RUSTIC DIY CHRISTMAS WRAPPING
Definitely a little more red on this front door then the previous ones but still LOVING it! Red screams Christmas so adding a little red to your front door for Christmas is such a cute idea! Also loving that red mat!
Farmhouse Christmas Front Porch Decor:
Not sure if this is a true farmhouse front porch but it was too pretty not to share so here you have it! Living for all the greenery and classic wicker baskets. Everything goes together so well and you can just tell that there was a lot of effort put into this beautiful front porch!
This front door.. just beautiful. I came across this one on Pinterest and knew instantly I needed to share it in this roundup post. LOVE everything about this. So many farmhouse decor trends here but with a Christmas flare. Also side note, those lanterns are also so gorgeous.
Related: 10 EASY HOMEMADE CHRISTMAS GIFTS EVERYONE WILL LOVE
This adorable farmhouse front porch is just that, farmhouse decor at its' finest. So many antiques and unique additions to this Christmas decor. I like the fact that it doesn't necessarily scream Christmas decor so it can stay up all winter!
Home sweet home, How sweet is this front porch! Love how rustic and chic this entire look is. Loving the plaid larger rug under the main door rug. That is a huge trend we have been seeing lately!
Colorful Christmas Front Porch Decor:
Talk about a pop of color with this front porch Christmas decor! This is such a fun entry way, I can only imagine how lively the actual inside of the house really is! And lets talk about that unique light decor. LOVE IT!
If you are a pink lover, this front door decor is totally for you! Talk about wow factor with all the pink in this picture. Quite the feminine touch to this front door.
Related: FREE CHRISTMAS TAG PRINTABLES!
Wow another fun design! Loving all the color in this picture by Dimples and Tangles. So creative! I wonder what the inside of their house looks like!
And the last fun colorful Christmas front porch decor on my list! So much color in this one and I am living for it. Talk about making a statement with this front door decor. All three colors used in this photo totally go together somehow and I love it!
Unique Christmas Porch Decor:
How much fun are these unique large faux lights on the garland!? They definitely draw your eye to this house. This statement piece is made of wood and then painted. Easy DIY you could try on your house this year! SO so creative, thank you for sharing this one Sugar and Cloth!!
Related: 13 BEST UGLY CHRISTMAS SWEATERS THAT YOU HAVE EVER SEEN
Gorgeous blue and white front porch decor here! This definitely gives snow, cold and frozen vibes. If you live somewhere warm, this decor would definitely make Christmas feel more Christmas. For me? Well we have SOOOOO much snow that I am pretty sure the white decor would just blend in with the snow haha BUT I do think this is so beautiful either way!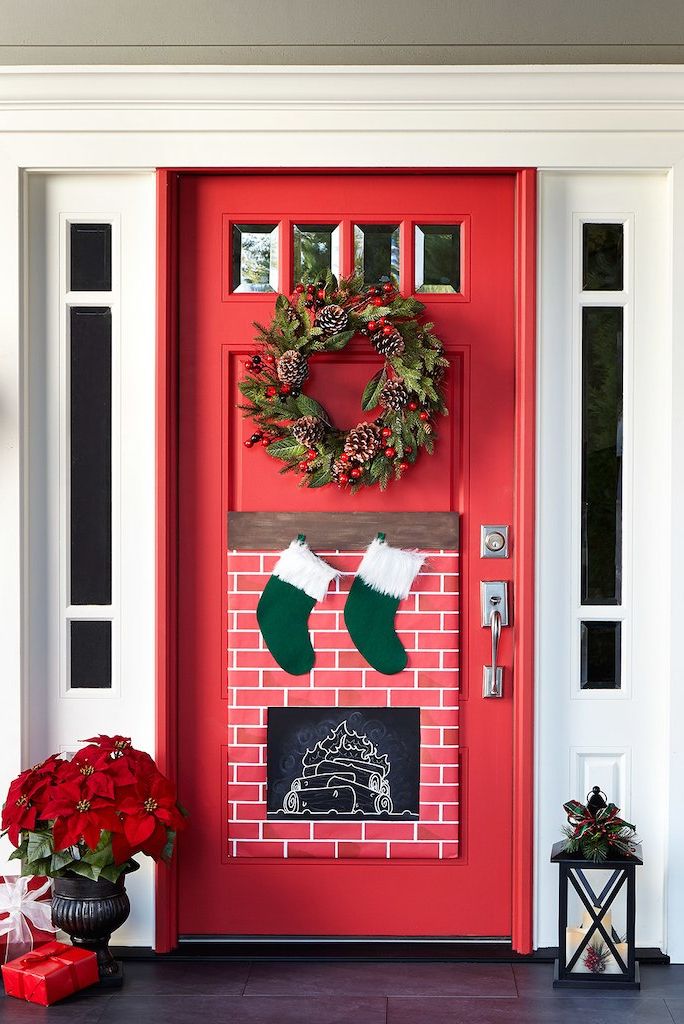 So cute and a fun way to add some DIY to your Christmas front door this year. Easy to make with this brick wall drop paper and a little bit of paint! If you have kids, this would be an easy do it yourself Christmas project for them! So cute and so unique.
There you have it folks! 15 simple Christmas front porch decor ideas! Ok maybe not THAT simple but all very beautiful!
If you liked this post, here is one very similar: 10 SIMPLE WINTER FRONT PORCH DECOR IDEAS
Simple Christmas Front Porch Decor Ideas You Need to Try This Year!; Here are some easy and simple front door decorations that will instantly put you in the festive mood!