Easy Rustic DIY Christmas Wrapping; Here are three present ideas for you to get creative with for your rustic Xmas gifting!
Disclaimer: this post may contain affiliate links, and every purchase made through these links will give me a small commission (at absolutely no extra cost for you!) AS AN AMAZON ASSOCIATE AND REWARDSTYLE MEMBER, I EARN FROM QUALIFYING PURCHASES. See Privacy Policy for additional info.
Hi beauties!
Coming at you with a Christmas gift wrapping idea! I had so much fun doing these and might make another post on my gift wrapping experiments if it is something you guys would like to see here on the blog!
I honestly didn't thing I had time to get creative with my gift wrapping this year. Having a one year old running around, working at the hospital and also being pregnant... I figured I would keep it simple and just buy a store bought wrap/bag and call it a day!
But the other day I was in the gift wrapping Christmas mood, so I got out my craft box (yes I have one hehe) and start painting some Kraft Paper! Here is what I came up with..
Easy Rustic DIY Christmas Wrapping
There are so many different unique gift wrapping ideas out there. I had so much fun hitting Pinterest for some inspiration. I decided to go with these three simple designs for now!
Christmas Wrapping Supplies:
White Dots Rustic Christmas Wrapping
This design was super easy to do. All You need to do is wrap your gift, paint your dots, let it dry and then add your string and gift tag. I found it easiest to use a super small tipped paint brush to make these little dots. And I honestly just winged it, no planning out where the dots were going to go.. Nobody has time for that, let's be real.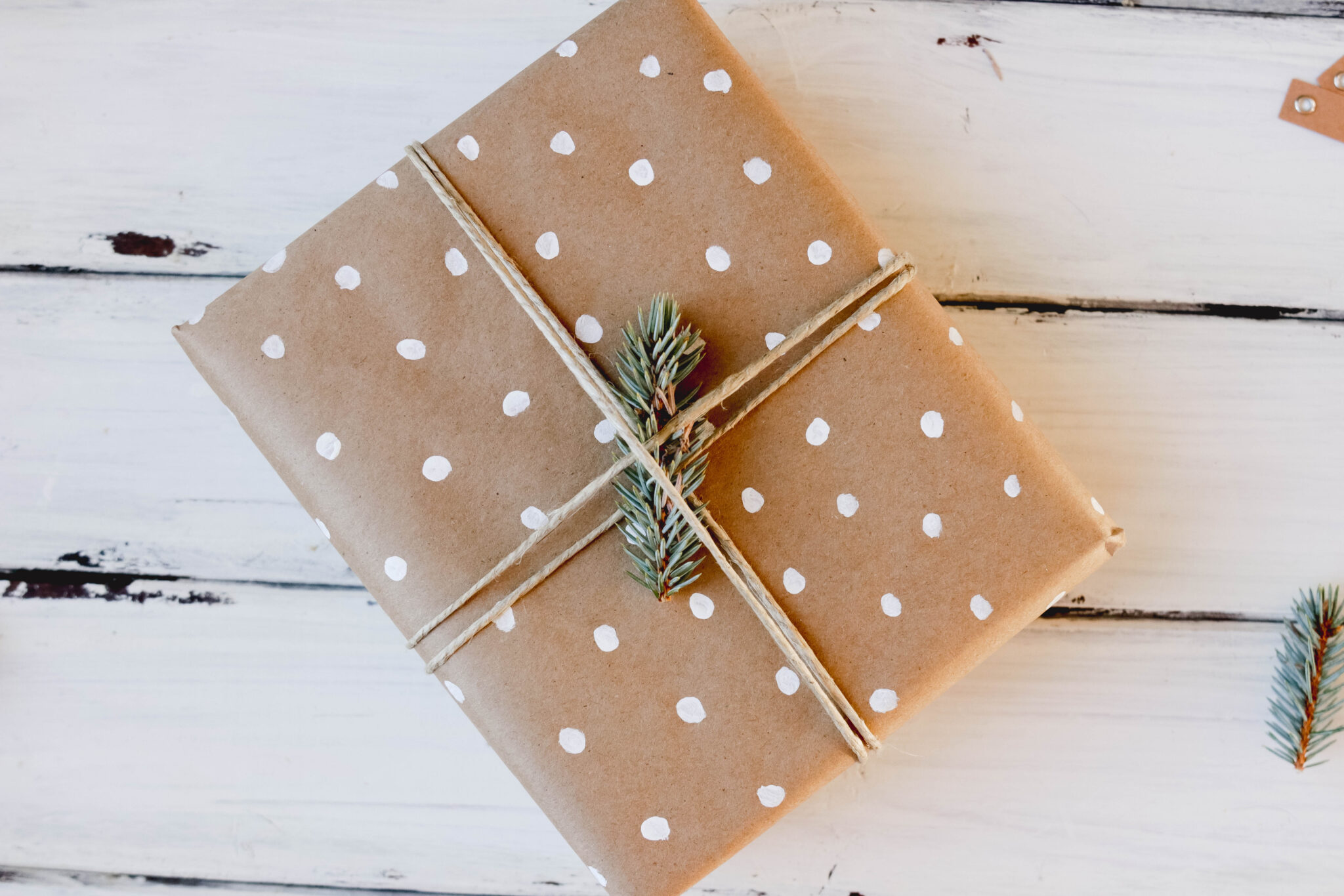 I added a piece of our Christmas tree to make it super cute! I would only recommend doing this if you are giving the person the gift that day.. or it may dry out and die before you have the chance to give your gift. Also beware that it is sticky! I didn't realize how sticky our tree was until I added this piece to the gift.. opps!
Not feeling the white dots? You could totally do red or green or what ever your festive heart desires! I saw one on Pinterest that used a black sharpie to make the dots and it turned out just as adorable! For some reason the white dots make me thing of a little fawn. TOO CUTE TO HANDLE.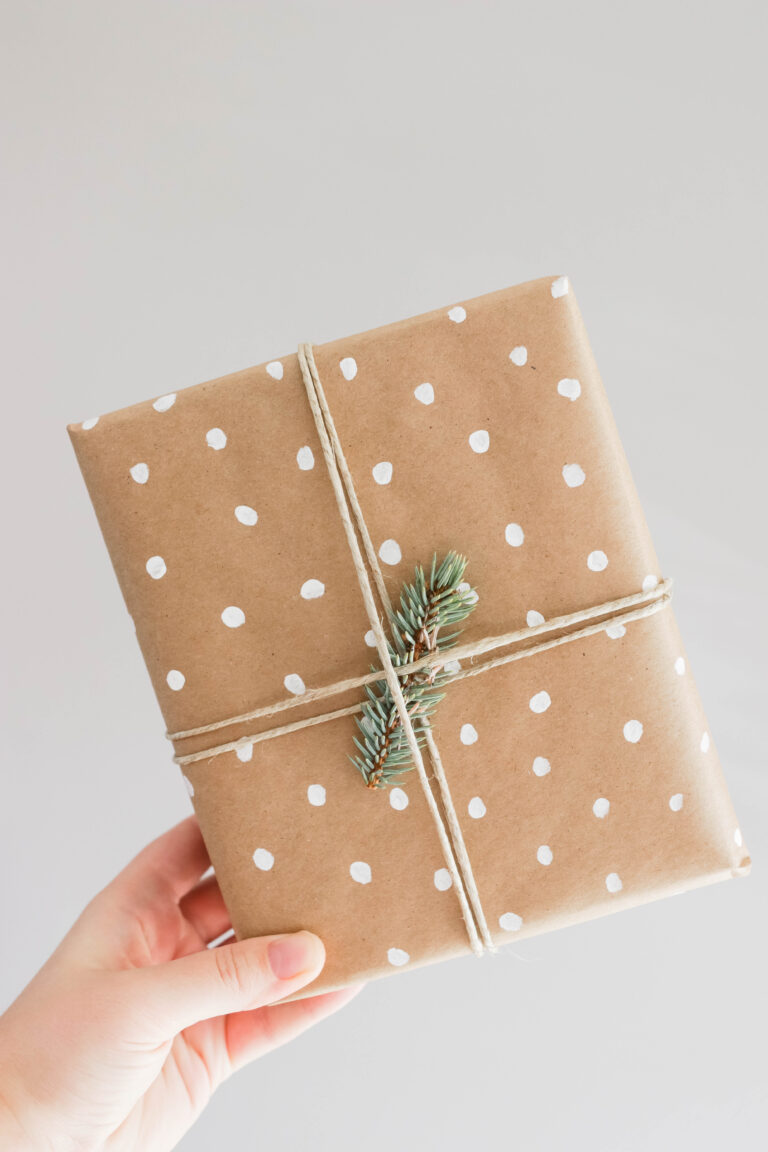 Blue Ribbon Rustic Christmas Gift Wrapping
I didn't do much here for this gift but it still turned out cute. I think adding any beautiful ribbon to a gift really brings it together. It is the ultimate finishing touch! I actually didn't fully wrap the ribbon around the gift. Instead, I just tapped the end pieces to the back of the gift. Why? Because not only does it save on ribbon, but this gift is going to be apart of a set so I am going to end up tying a bunch of gifts together.. this one will go on the top!
Once I added the blue ribbon, I went in with the twine (or hemp string) and added my cute little tag that says "Grandma". If I was to do this gift again, I probably would have gotten a bigger tag. I bought smaller ones originally for the smaller gifts but I think they ended up being a tad bit small.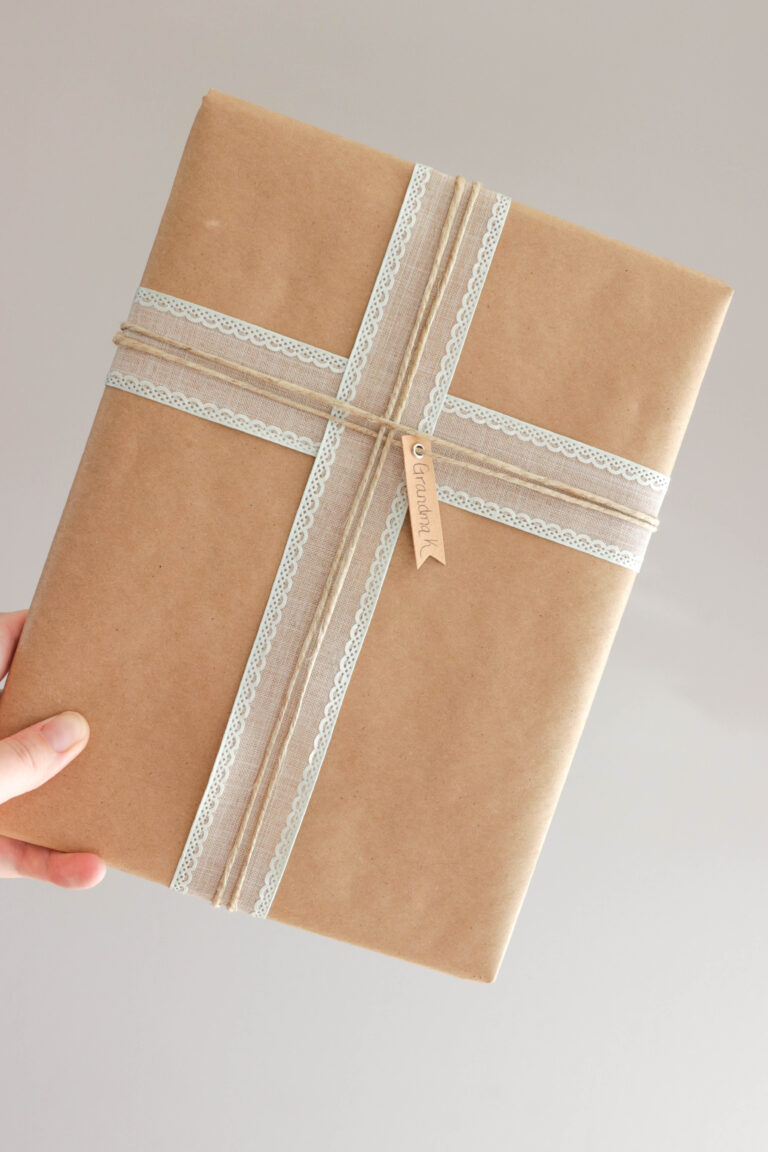 Red Ribbon Rustic Christmas Gift Wrapping
There is not anything overall special about this gift wrapping but it is so simple and screams Christmas with the red country ribbon so I felt like I needed to add it to this post! I used the EXACT same process as the previous gift.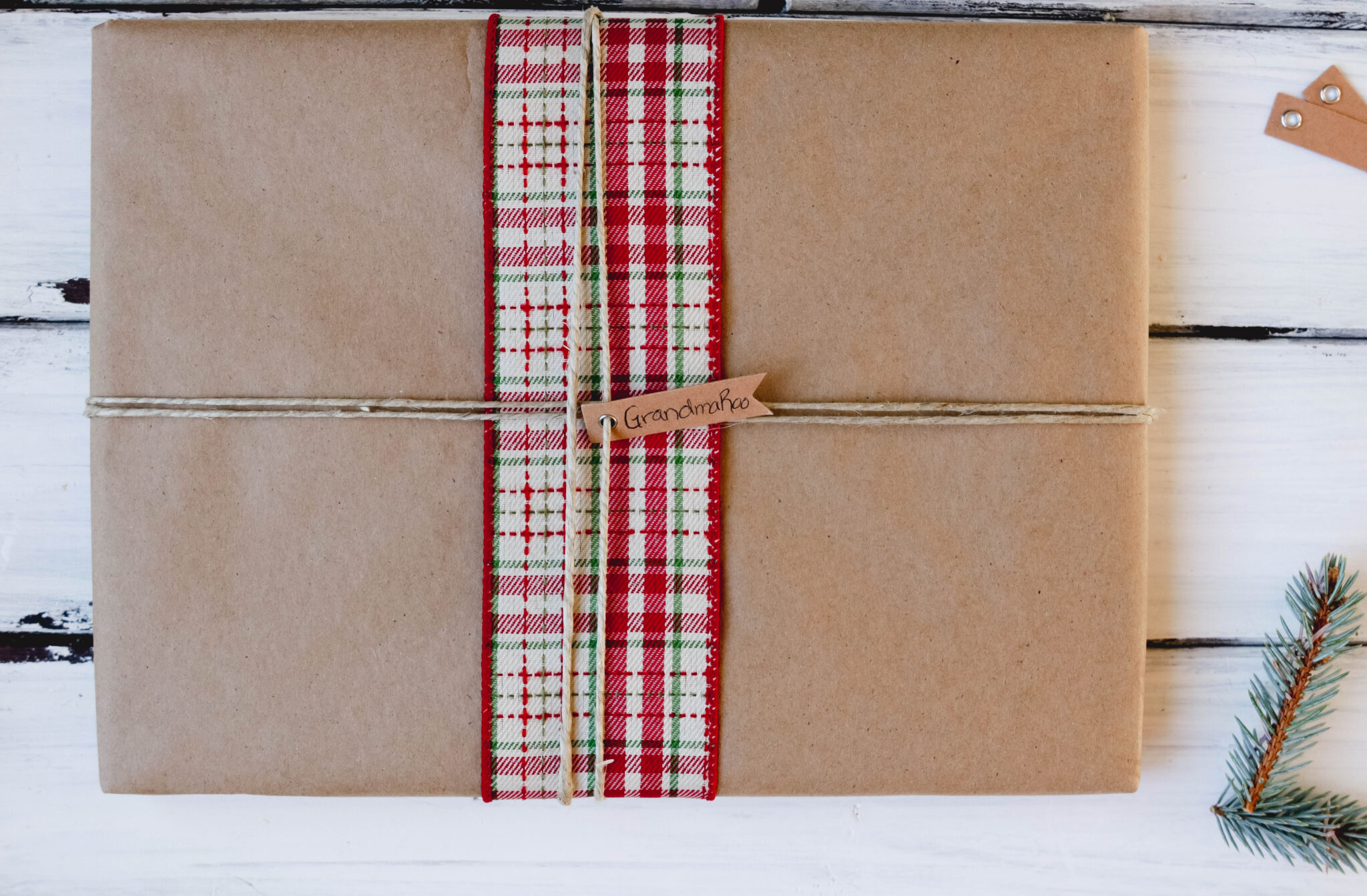 I opted to do just one bold wrap of the ribbon rather than two. I figured it would take away too much if I did two. But you should experiment with your gift wrapping and trial a few different ribbon placement options before settling with one design! It is so fun to get creative!
Anyways, that is all I have for you today with these 3 easy DIY rustic Christmas wrapping ideas. I hope you found some inspiration in this post!
If you have any questions about this Christmas DIY, leave it in the comment section below and I'll make sure to get back to you on it!
If you make any of my recipes or DIY projects please tag your photos with #nikkisplate so I can see your beautiful creations! Any feedback in the comments below is greatly appreciated. I hope you have fun!
Until next time,

If you liked this post, you will love these too!:
- FREE CHRISTMAS TAG PRINTABLES!
- 15 PRETTY GIFT WRAPPING IDEAS
- 30 CHRISTMAS MAILBOX DECORATION IDEAS
BEST SELLERS