Fall Kitchen Decor Must Haves; Get ready for fall with my list of 10 must have kitchen decor items for 2023! From seasonal tablecloths to fall kitchenware and fall-scented soaps, these items will transform your kitchen into a warm and inviting space perfect for enjoying the season.
Disclaimer: this post may contain affiliate links, and every purchase made through these links will give me a small commission (at absolutely no extra cost for you!) AS AN AMAZON ASSOCIATE AND REWARDSTYLE MEMBER, I EARN FROM QUALIFYING PURCHASES. See Privacy Policy for additional info.
Hi beauties!! As summer draws to a close, it's time to start thinking about how you can update your home decor for fall. One of the best places to start is in the heart of the home - the kitchen. With the right decor, you can transform your kitchen into a cozy and inviting space perfect for entertaining guests and creating delicious fall meals.
Fall is the perfect time to bring warmth and coziness into your home. One of the best ways to do this is by updating your kitchen decor for the season. Whether you're an avid cook or simply love to gather with loved ones around the kitchen island, creating a welcoming and festive ambiance is key. Whether you are looking to decorate for autumn or looking for Halloween decor items, I have you covered in this post!
In this blog post, we'll share 10 fall kitchen decor must haves for 2023 that will help you create a warm and festive atmosphere this season. From pumpkin centerpieces to seasonal dish towels, these items are sure to make your kitchen feel like the ultimate fall sanctuary. So, let's get started!
Here are Fall Kitchen Decor Must Haves:
In this blog post, we'll explore 10 fall kitchen decor must haves for 2023 that will help you infuse your kitchen with the sights, scents, and colors of fall. From seasonal tablecloths to pumpkin-inspired centerpieces, these decor essentials will transform your kitchen into a cozy haven where you can enjoy the delights of the season. So, get ready to bring the magic of autumn into your kitchen, and let the decorating begin!
A Fall Wreath
A simple way to add a touch of fall to your kitchen is by hanging a fall wreath on your pantry door or on your rangehood. You can make a wreath yourself using fall foliage such as leaves, branches, and even fruit. Alternatively, you can purchase one at your local craft store or online.
Seasonal Tablecloth or Table Runner
A tablecloth or table runner in fall colors and patterns can instantly transform your kitchen table. Look for fabrics featuring autumnal motifs like leaves, pumpkins, or harvest scenes. This simple addition can set the tone for your fall kitchen decor and make mealtimes feel more festive.
Fall Themed Dish Towels
Swap out your regular dish towels with ones that showcase fall colors and designs. Look for fall dish towels featuring autumn leaves, apples, or harvest-inspired patterns. These small touches can add a pop of seasonal charm to your kitchen.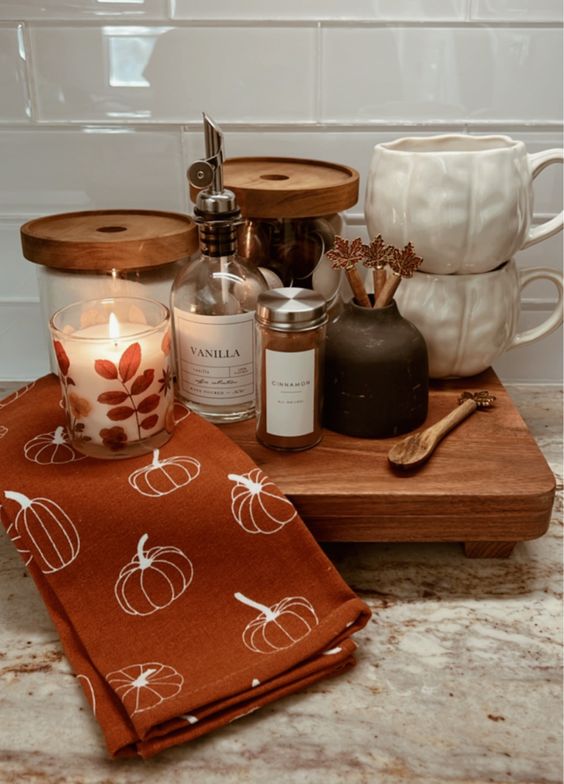 Pumpkin Centerpiece
Pumpkins are a symbol of fall and can be used in various ways to decorate your kitchen. Place a few pumpkins of different sizes and colors on your kitchen island or dining table as a centerpiece. You can also add some mini pumpkins or gourds to your countertop or open shelving to create a cozy fall display.
Fall Kitchen Decor Wall Art
Consider adding some fall-themed artwork to your kitchen walls. Look for prints or paintings featuring autumn landscapes, harvest scenes, or even kitchen-related quotes in fall colors. These can instantly transform the look and feel of your kitchen and add a touch of fall charm.
Fall Kitchen Decor with Seasonal Colors
Fall is known for its warm, earthy tones such as orange, yellow, and deep reds. You can incorporate these fall decor colors into your kitchen by adding fall-themed towels, table runners, or even utensils. You can also add some pumpkins and gourds to your kitchen to play up the autumnal color palette.
Autumn Candles
Fall Candles are a great way to create a cozy and inviting atmosphere in your kitchen. Opt for scents that are reminiscent of fall, such as pumpkin spice, cinnamon, and apple cider. They not only add warmth to the space, but they also provide a beautiful ambiance.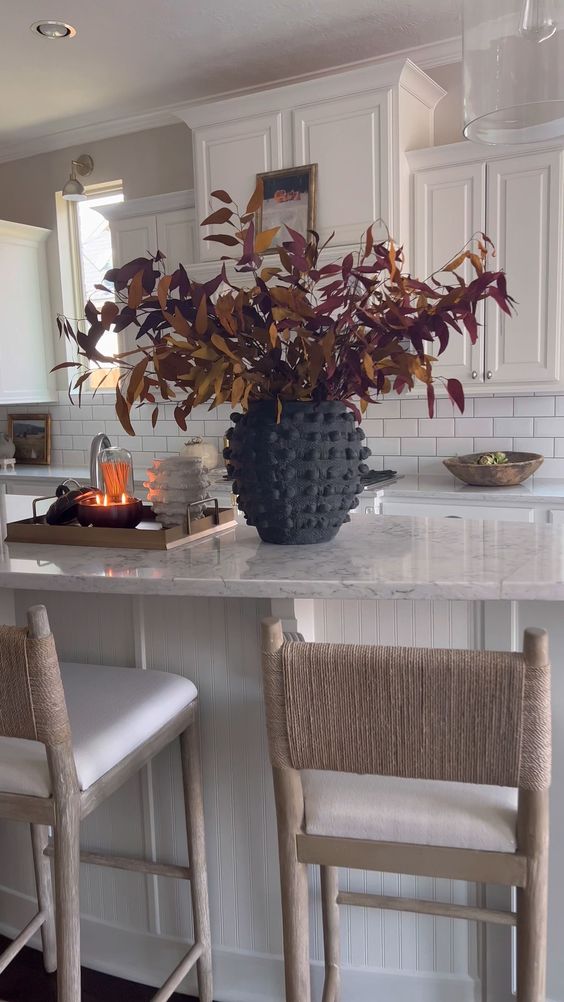 Seasonal Tableware
Switch up your usual tableware for festive fall tableware. You can use plates, bowls, and cups with fall motifs such as leaves, pumpkins, and acorns. These small details can help make family mealtime even more special.
Fall Kitchen Decor with Natural Elements
One of the easiest ways to add a touch of fall to your kitchen décor is by incorporating natural elements. For example, use baskets or trays made from woven materials to display seasonal fruits and vegetables, like apples, pumpkins, and squash. You can also use a wooden or metal bowl to fill with pinecones and acorns.
Fall Scented Soaps and Hand Lotions
Upgrade your hand soap and hand lotion to seasonal scents like pumpkin spice, apple cider, or warm vanilla. Not only will they keep your hands moisturized, but they will also fill your kitchen with delightful fall fragrances.
In conclusion, there are plenty of easy and budget-friendly ways to update your kitchen decor for fall. By incorporating seasonal colors, natural elements, and a few accents, you can create a warm and inviting atmosphere for family and friends. Happy decorating!
Until next time,
BEST SELLERS