Top 10 Kitchen Design Trends: kitchen design trends, kitchen trends, and kitchen design ideas that are becoming more popular!
Disclaimer: this post may contain affiliate links, and every purchase made through these links will give me a small commission (at absolutely no extra cost for you!) AS AN AMAZON ASSOCIATE AND REWARDSTYLE MEMBER, I EARN FROM QUALIFYING PURCHASES. See Privacy Policy for additional info.
Hi beauties! Coming at you with a post all about kitchen design trends!
The kitchen is one of the most important rooms in a home. It's where we cook, where we eat and where we gather with family and friends. We spend so much time in this room that it's only natural that people are looking for ways to make their kitchens more beautiful, functional, and unique.
There are plenty of great trends that can help bring your vision to life. From reclaimed wood to subway tile, and even industrial metals, these kitchens have kitchen design inspiration in spades. Whether it's a complete redesign or a few key upgrades, there are always new trends popping up in kitchen design. Here are ten trends that will transform your kitchen into something spectacular:
Kitchen Design Trends:
Dramatic Ceilings
It's time to add some drama to your kitchen. Ceilings are the new walls; they're at eye level, so they should be designed as carefully as any other surface. The ceiling is one of the first things people see when entering your kitchen, so it can make a statement about who you are and what you value. You can choose from a variety of heights: low (8 feet), mid-height (10 feet), or high (20 feet). Ceilings that are higher than 10 feet have become more popular in recent years due to their ability to make spaces feel bigger and brighter, but if you have low ceilings, don't be afraid to try something bold!
Two Toned Kitchen Cabinets
You can have your cake and eat it too with two-tone cabinetry. By painting, staining, or laminating your cabinets to create a contrast between the top and bottom half, you'll be able to add visual interest to your kitchen without going overboard. Two-toned kitchens add more of an elegant look while still being able to keep things casual when needed.
Two-tone cabinets are more expensive than single-tone cabinets. The cost will vary depending on whether you're doing the work yourself or hiring someone else but regardless of what route you choose, two-toned kitchen cabinet options will cost more than traditional ones unless you're willing to settle for less style and flair in order to save money on construction costs.
Retro Appliances
Retro appliances are a great way to add character to your kitchen. They can be found in many different styles, but they all have one thing in common: they're from the past. That's what makes them so cool! If you want to go for a vintage look, retro appliances are perfect for that. But if you prefer the modern vibe or just want something different, then retro is still right up your alley.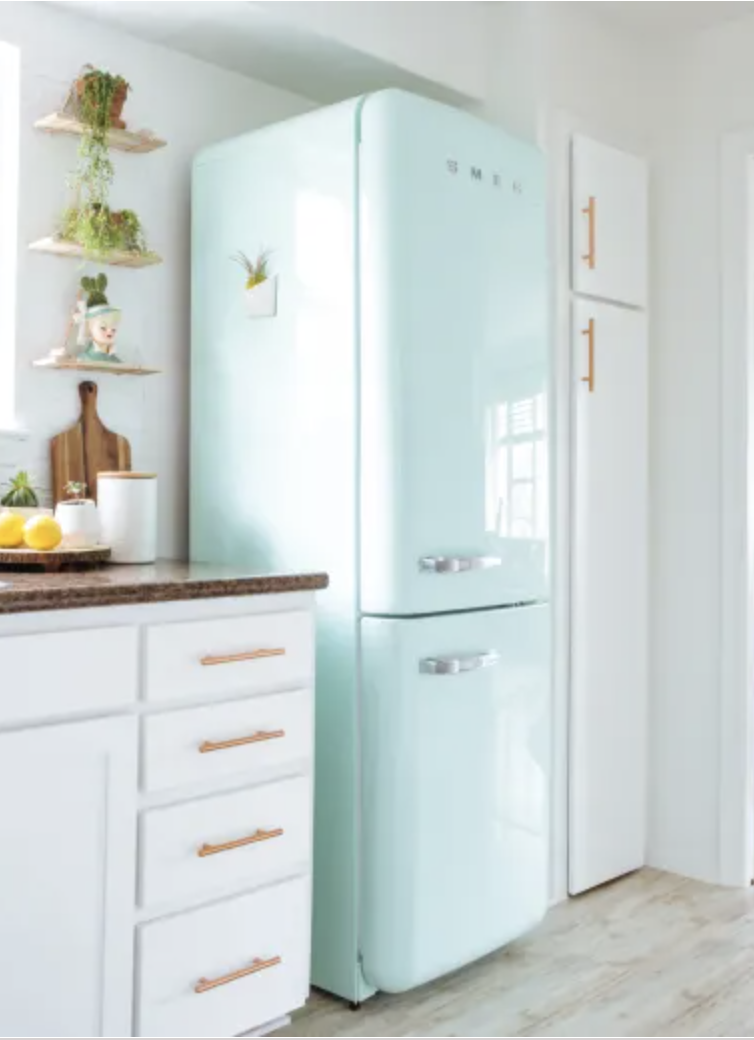 Matte Black
Matte black is a great way to make a statement in your kitchen. It's not for everyone, but it can be a good way to add drama and contrast. Matte black cabinets are popular because they give the kitchen an edgy look, especially if paired with stainless steel appliances. If you have dark wood floors and cabinets, try painting the walls matte black for added drama and contrast. The material costs will be higher than other finishes, so keep that in mind when budgeting for your project!
Smart Appliances
The next trend you should keep an eye on is smart appliances. These are connected to the internet and can be controlled remotely, programmed to do things automatically, and controlled by voice commands or your smartphone. Smartwatches also have a role in this trend as they allow you to monitor your cooking progress without having to roam around your kitchen.
A Sustainable Kitchen
When it comes to sustainable kitchen design, many people think that eco-friendly materials and appliances are the only way to go. While those things certainly help, sustainable kitchens can also save you time and money by reducing waste and improving efficiency.
Here are a few ways you can create an eco-friendly kitchen:
Replace light bulbs with energy-saving LEDs or fluorescents
Switch out your old dishwasher for one that uses less water and cycles faster (this keeps food from drying on)
Use glass jars instead of plastic bags in the freezer or fridge (you'll be surprised at how much these accumulate over time)
Integrated Storage and Organization
There are a few ways to integrate storage into your kitchen design. One option is to use built-in shelving and cabinetry, which will leave you with a more streamlined and open feel. Another option is to use freestanding pieces of furniture that blend seamlessly into the rest of the room, like beautiful wooden hutches or cabinets with glass doors.
You can also make clever use of certain elements in your space: for example, if your kitchen has an island that's large enough for additional countertop workspace (a good idea if you want more space for cooking), consider adding a sink so that you have it at hand when needed but don't have to deal with clunky plumbing pipes getting in the way every time you cook!
Bold Colors
The use of bold colors is a great way to make a statement and give your kitchen an uplifting feeling. If you have a small space, bright colors can help make it seem larger. For example, if you are renovating your kitchen and want to create a new look that will last, try adding some bold colored tiles or wallpaper.
The color can be used as a focal point on one wall to draw attention away from other areas of the room in which there may be less light. Or perhaps use it as an accent for accessories such as pots or pans hanging from hooks on the wall near your stovetop so they stand out against the rest of the room's decor.
The use of bold colors gives any area an artistic feel because it adds personality rather than blandness by following trends set by others who may not know how much fun it can be when everyone gets involved!
Unique Fixtures or Decorative Hardware
Unique fixtures or decorative hardware will make your kitchen look more expensive, even if the rest of the room is modest. Here are some examples:
A chandelier in your dining area. It's a great way to dress up the space without adding too much clutter to it.
A wall clock with an unusual shape or design (like one shaped like an owl). This is a great way to add some fun details that don't steal from other design elements in your room but instead enhance them by making them feel like they belong together as part of one unified design scheme.
An antique cabinet at the end of your island countertop where you can store dry goods and ingredients for cooking projects (think flour and sugar). These cabinets have been around forever because they're functional and stylish!
These unique fixtures or decorative hardware items come in all shapes, sizes, and styles—you just have to look around until you find what works best for each individual kitchen! And once you've found those pieces? Installation should be easy-peasy; most companies offer installation services along with purchasing options so all you need do is get excited about how fabulous your new décor will look when everything arrives on time!
Dark Wood Kitchens
Dark wood kitchens have been trending in recent years, and they look especially sleek with white or light-colored countertops. Dark wood cabinets give your kitchen a more modern look, and they're perfect for any design that calls for a bolder style.
If you want to add some sophistication to your space without going overboard, dark wood cabinets are the way to go. If you've been struggling with what color to paint your kitchen walls, one of our designers can offer helpful suggestions on how best to bring out the natural beauty of this type of cabinet finish.
Your kitchen design is about to get a whole lot fancier
Your kitchen is about to get a whole lot fancier. As the world grows, so does our need for better ways of doing things. This is especially true when it comes to food preparation, which has become increasingly complicated in recent years. As a result, your kitchen is about to get a whole lot fancier.
Fancy kitchens can be found everywhere from mansions in Beverly Hills to million-dollar condos on the Upper East Side of Manhattan. They are full of top-of-the-line appliances that make cooking easier and faster than ever before—and they'll cost you dearly if you want one installed in your home!
More Kitchen Posts:
As you can see, the kitchen of the future is full of exciting possibilities. It's a place where you can express your personality and creativity through unique designs that are both functional and beautiful. Most importantly, it's a place where people come together to share meals as well as stories from their day.
I'm excited about these trends because they represent a shift toward more sustainable lifestyles that respect our environment – plus they look really cool! If you're looking for inspiration for your own kitchen renovation or remodel, start browsing our website now.
Until next time,
BEST SELLERS