Top 10 St. Patrick's Day Dessert Recipes; St. Patrick's day recipes for desserts along with other green recipes for this Irish holiday!
Disclaimer: this post may contain affiliate links, and every purchase made through these links will give me a small commission (at absolutely no extra cost for you!) AS AN AMAZON ASSOCIATE AND REWARDSTYLE MEMBER, I EARN FROM QUALIFYING PURCHASES. See Privacy Policy for additional info.
Hi beauties! Coming at you with some fun green St. Patrick's Day Dessert Recipes!!
St. Patrick's Day is a holiday known for fun and celebrating by getting together with friends and family to have a few drinks and eat some great food too! No matter how old you are, or where you live it's always a great time to celebrate St. Patrick's Day! Whether you are a big fan of green beer, or simply enjoy the story of Saint Patrick, this holiday is all about celebrating your Irish heritage.
I've gathered some of my tastiest St. Patrick's Day dessert recipes to share with you all! Not all of them are Irish, but all are scrumptious and will bring a smile to your face on this special day when everyone is wearing green! Let's jump into 10 of my green St. Patrick's Day dessert recipes shall we!?
The Best St. Patrick's Day Dessert Recipes:
Green Clover St Patricks Day Cookies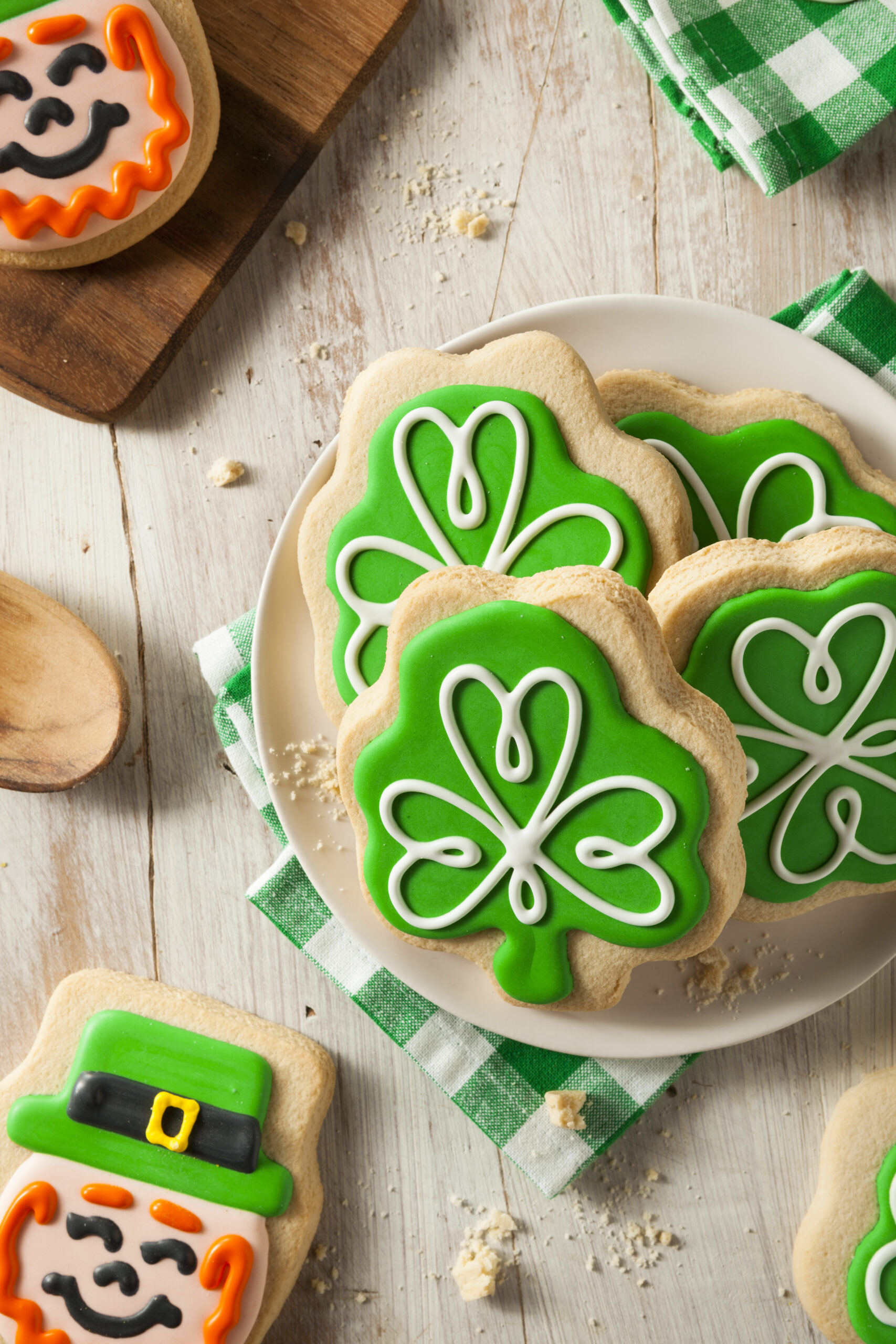 This is a pretty straightforward recipe so I won't go into too many details here. I followed a basic sugar cookie recipe and then used this shamrock cookie cutter to cut out the cookies. Once they cooled, I used colored icing to decorate. It was a lot easier to decorate when I put the icing in a piping bag before decorating!
Vanilla St. Patrick's Day Cupcake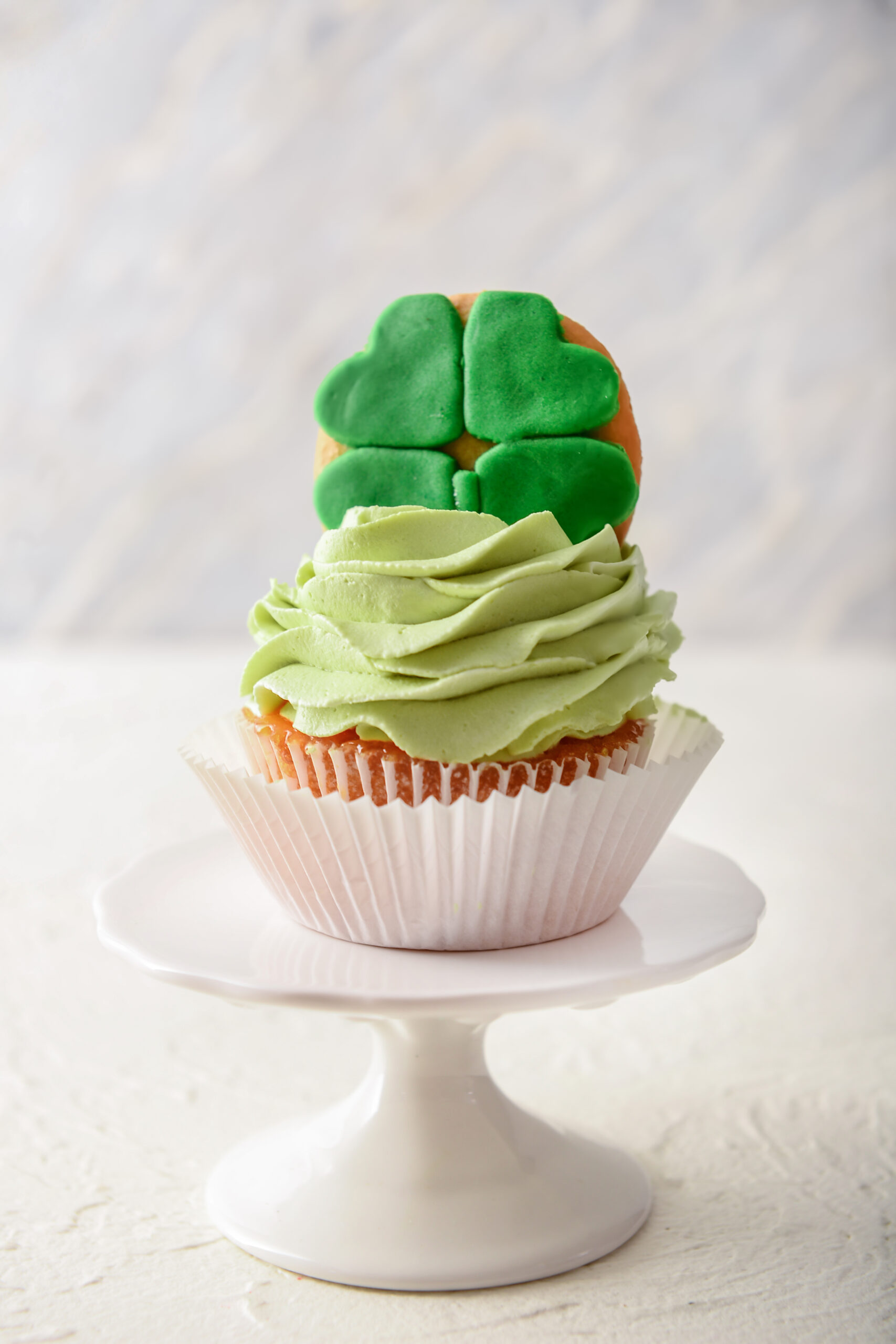 Who doesn't love a simple vanilla cupcake decorated to fit the occasion? I made a simple (but delicious) vanilla cupcake and decorated it with green buttercream frosting. I topped it off with one of the shamrock sugar cookies I had leftover! I thought this was such a cute and easy St. Patrick's Day Dessert Recipes!
St Patrick's Day Theme Candyland Cake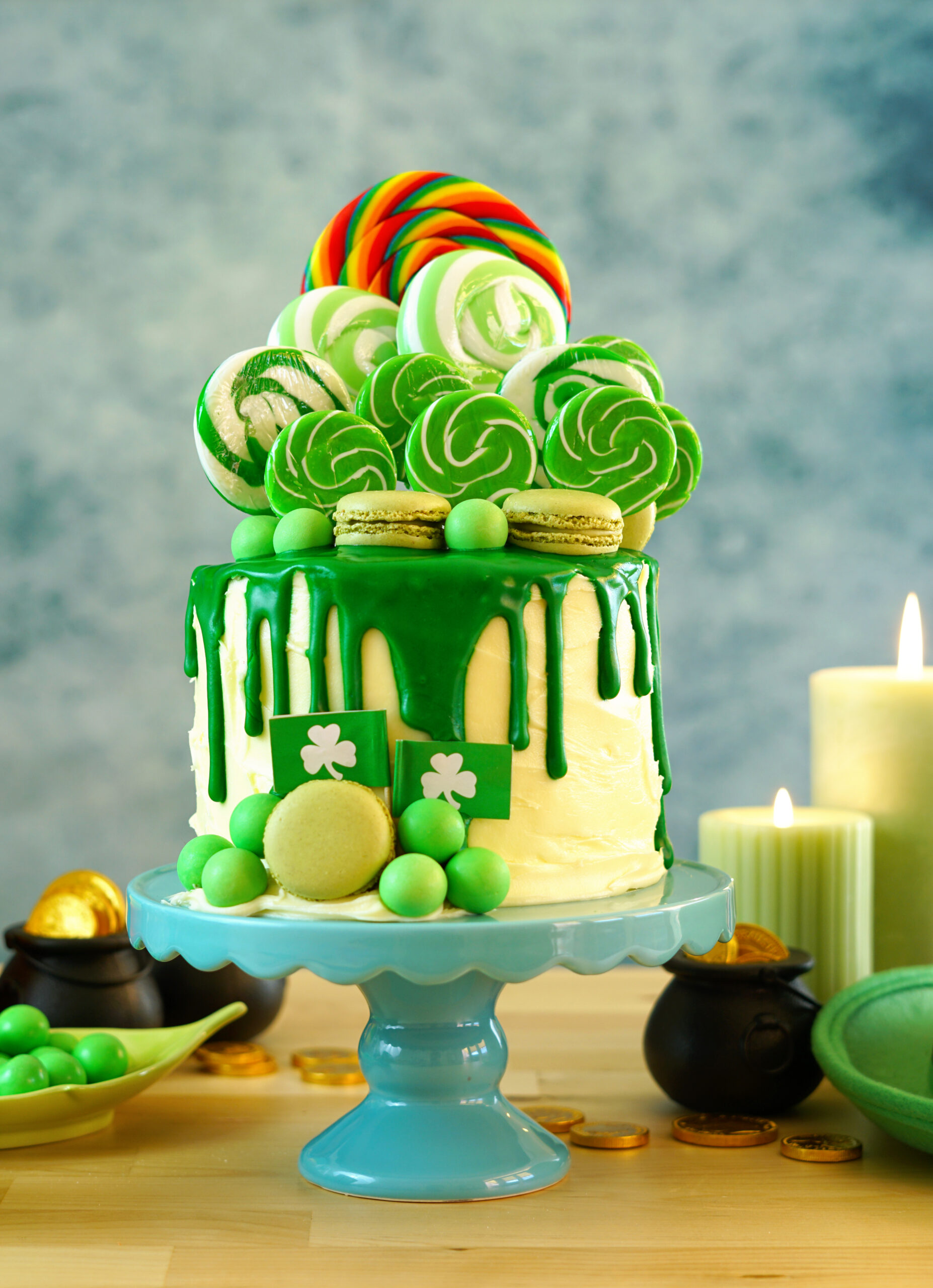 Ok, this is an all-out St. Patrick's Day Dessert Recipe! So much sugar in this simple chocolate cake, topped with vanilla buttercream frosting and drizzled with green candy melts! Just top it with all the green candy you can find! The kids will have the ultimate sugar rush after this one!
St Patrick's Day Cake Pops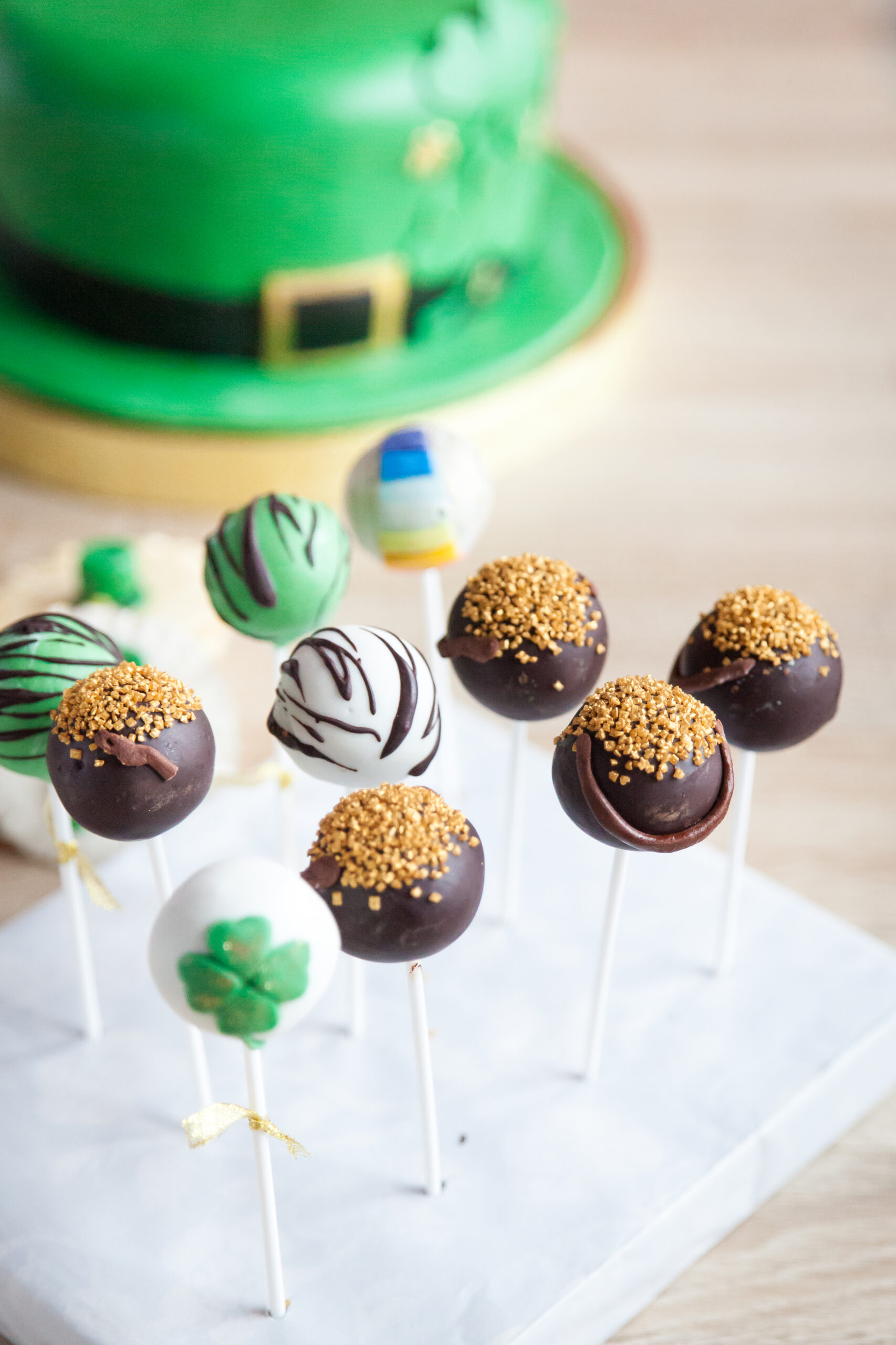 Cake pops are always a hit at any party. They are also so versatile for any occasion. If you make an easy cake pop recipe, then coat it in St Patty's Day goodness, you will have the perfect dessert for this March holiday!
Green Shamrock Cookies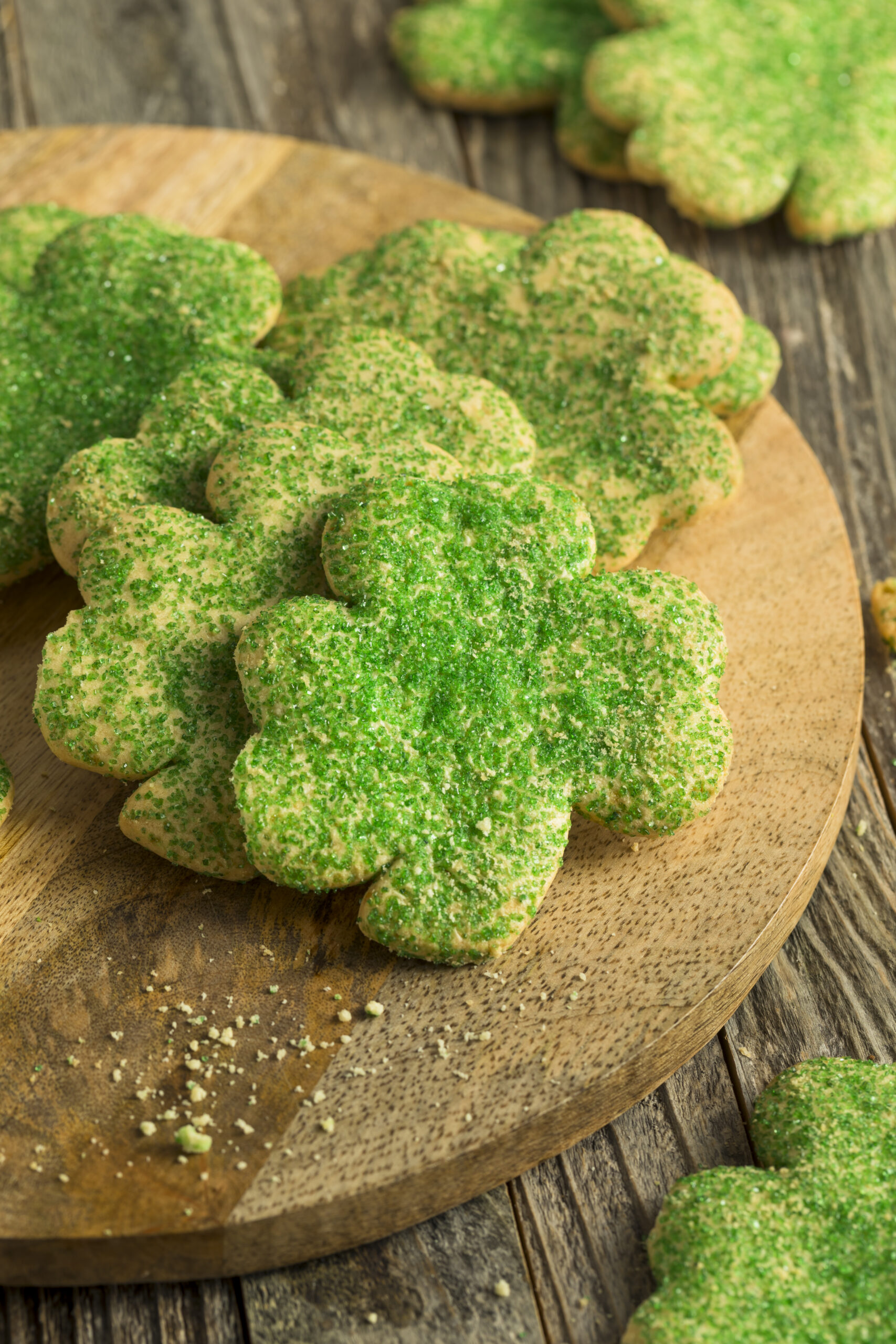 This is another sugar cookie recipe but sprinkled with green colored sugar instead of icing. Both are very festive but I did find these to be a heck of a lot messier to eat! But maybe you want to split your batch in half and do a bit of both styles of cookies for lots of options and variety!
Green Layered St Patty's Day Cake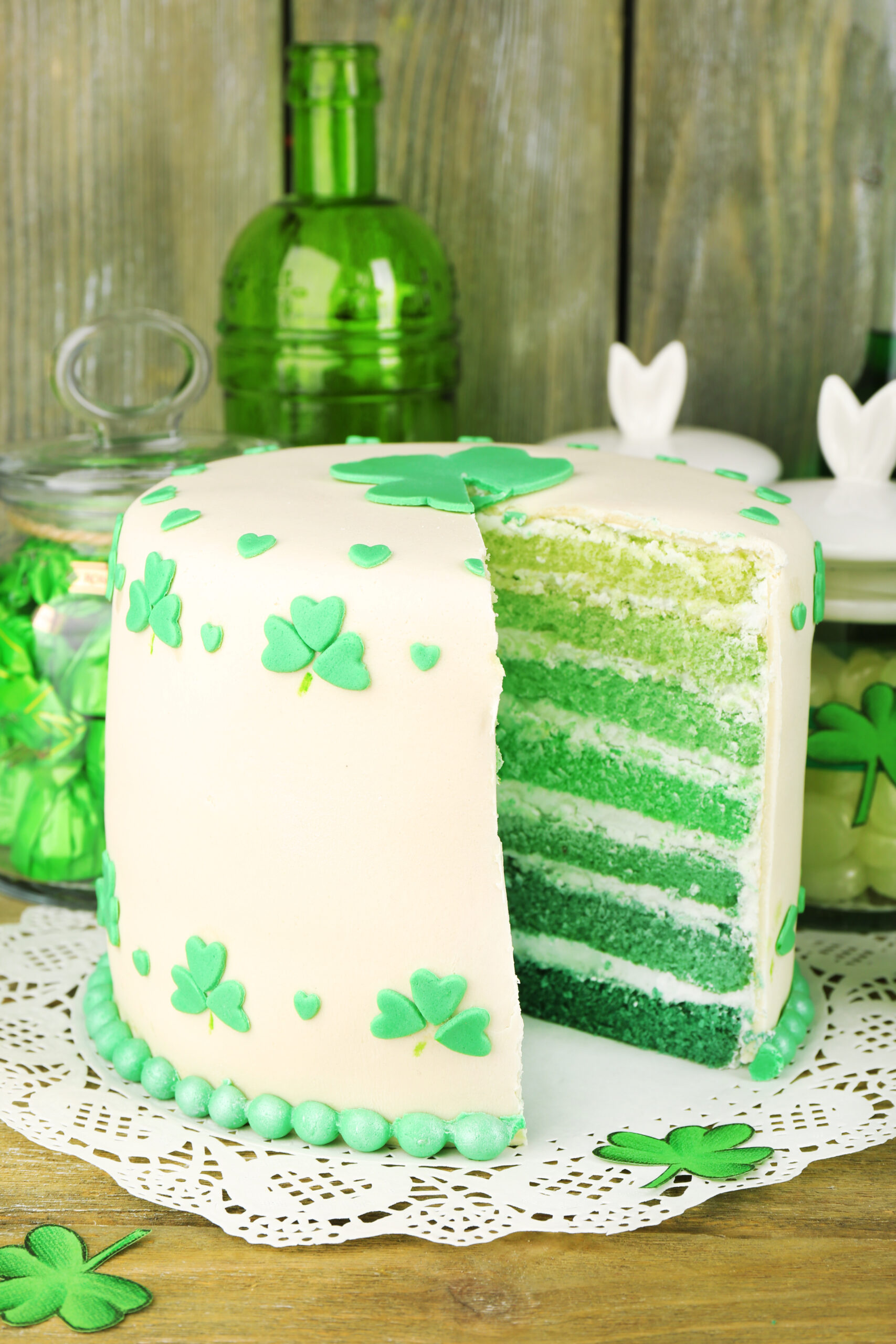 Green layered cake is the perfect cake for this holiday! Make a vanilla cake and divide the batter into 6-7 bowls. Add a little more green food coloring into each bowl as you go to create this gradient effect. Cover with fondant or just regular icing. Get creative here folks!
Saint Patrick's Day Chocolate Mint Cupcakes with Green Frosting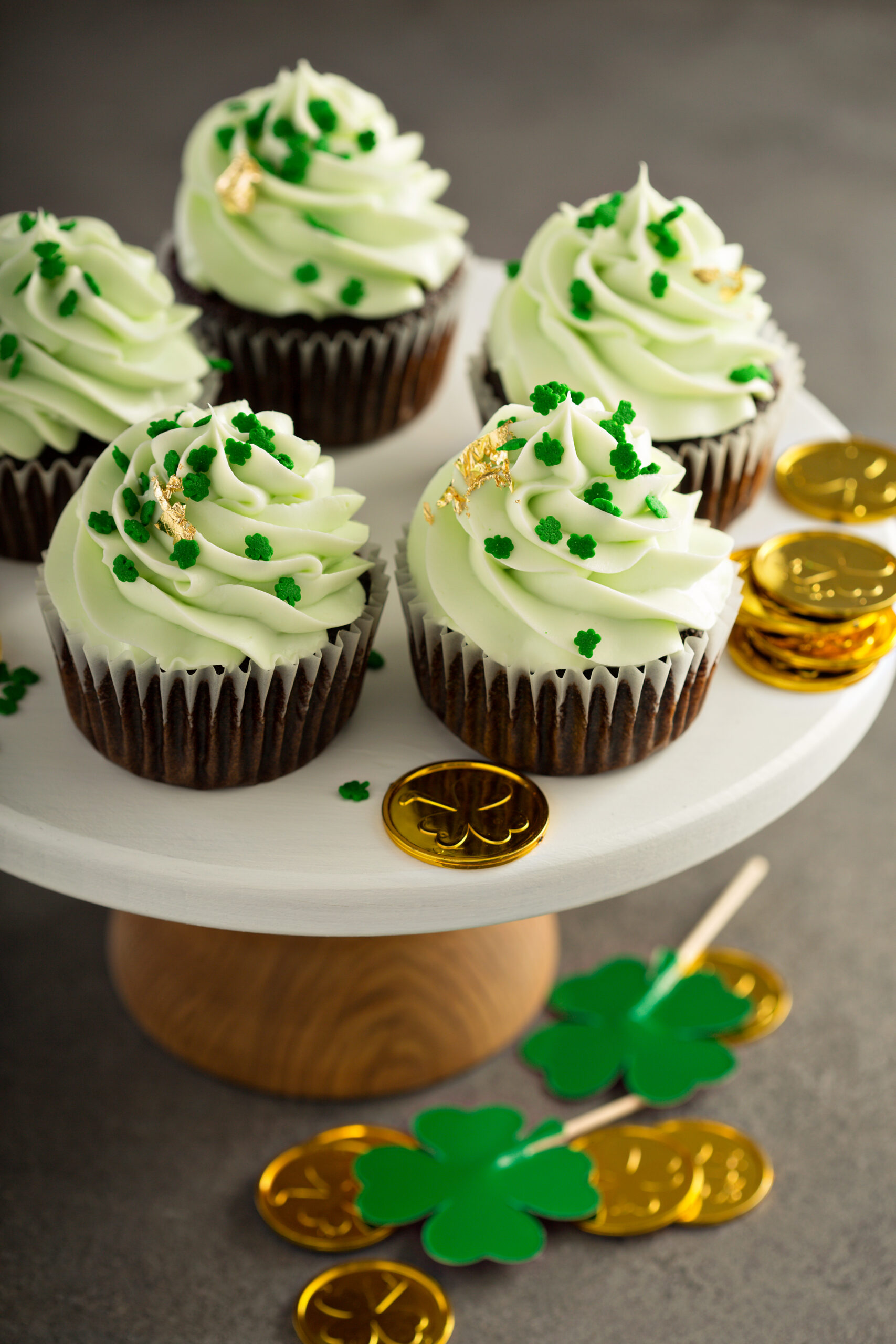 This is a super simple chocolate mint cupcake recipe topped with a mint buttercream frosting. Add some St Patty's Day sprinkles to top off these delicious cupcakes!
Irish Layered Pistachio Pudding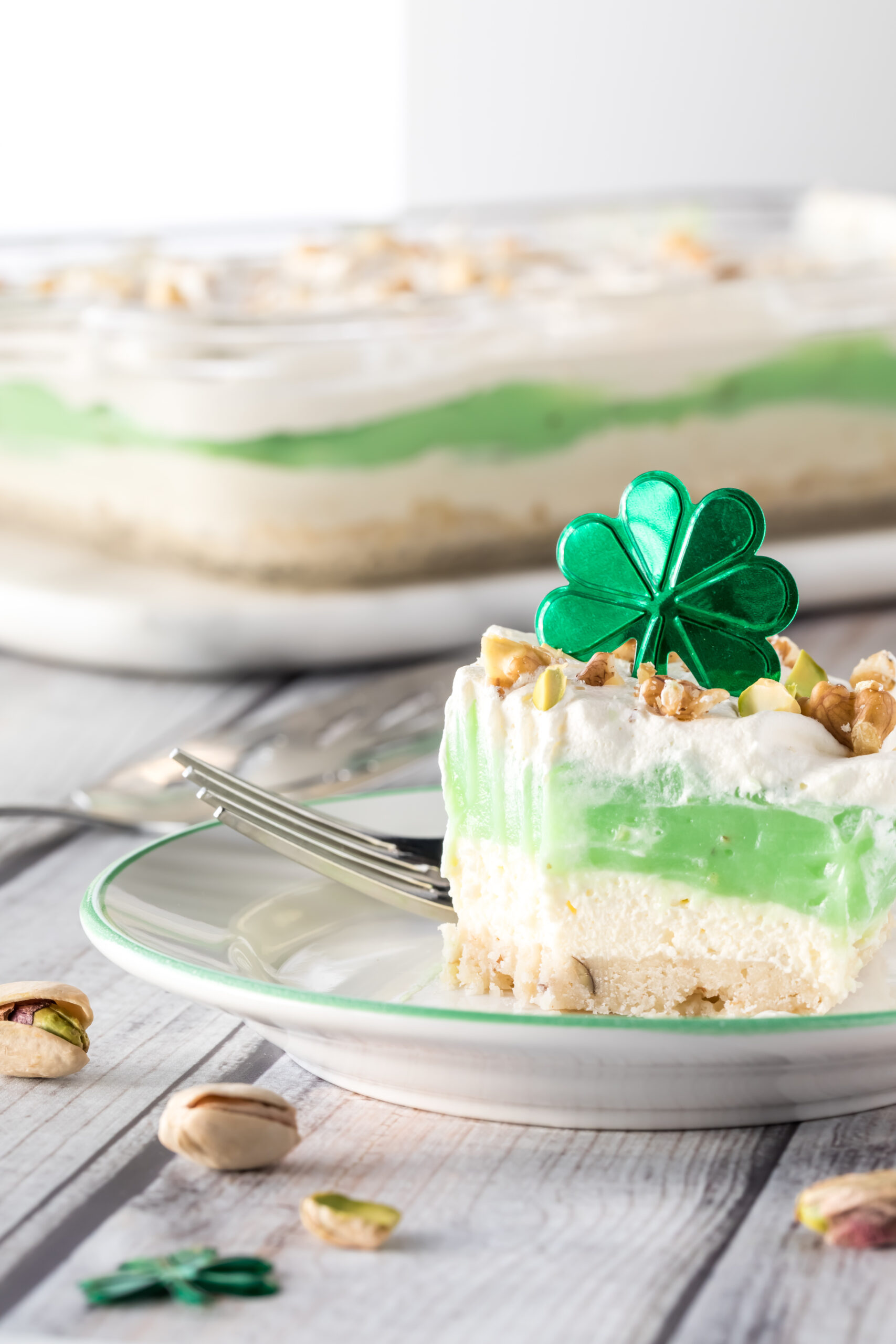 This recipe surprised me! Bursting with a nutty pistachio flavor, this creamy and cool layered pistachio pudding is delicious... and it's green! Why not add this to your St Patrick's Day Recipes round-up?!
Shamrock Milkshake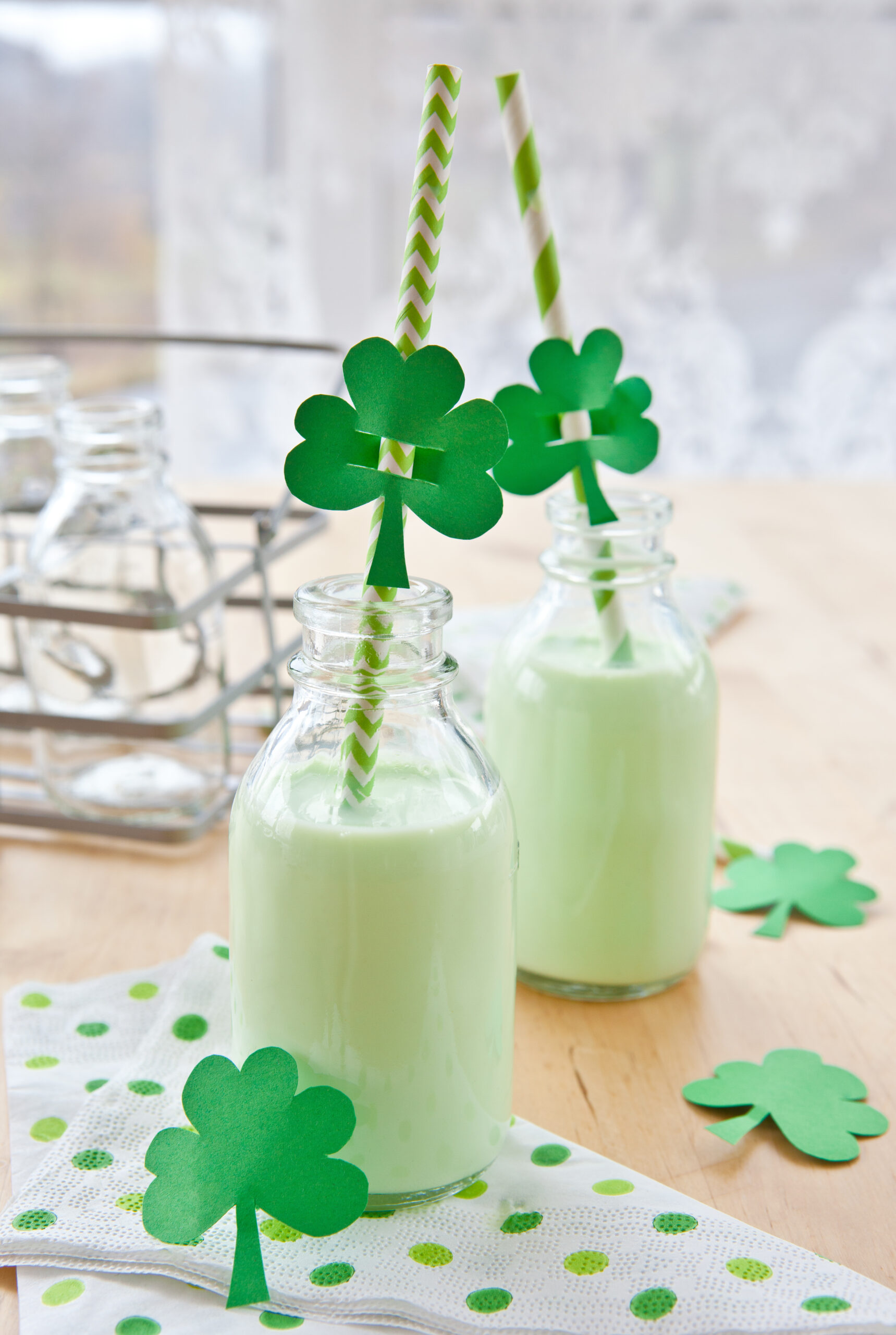 Take a classic vanilla milkshake recipe and add a little bit of green food coloring to make them a perfect shamrock inspired drink! Don't forget to add a classic green paper straw to top it all off!
Shamrock Cookies with Chocolate Glaze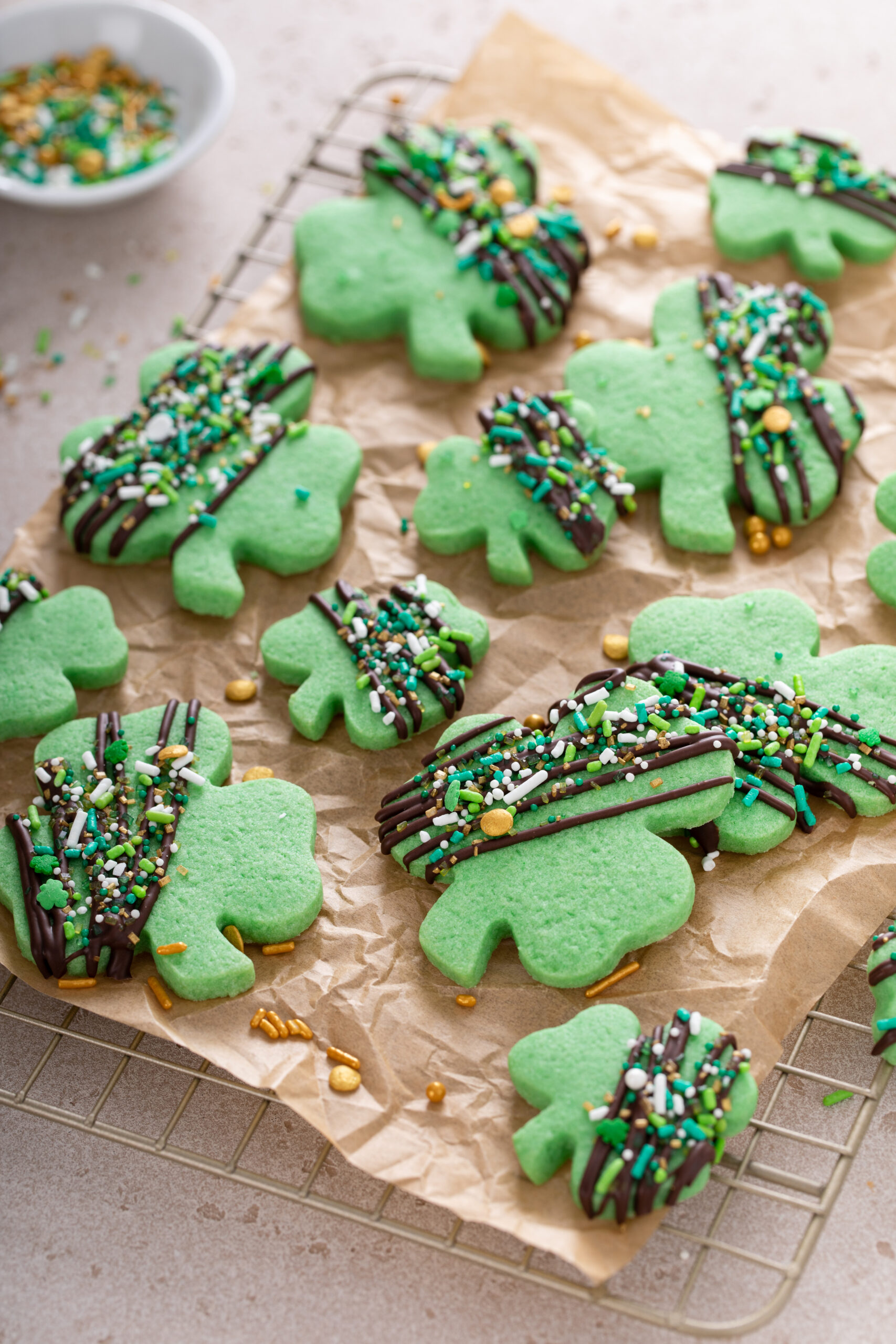 Finishing it off with some green shamrock shortbread cookies drizzled in a chocolate glaze and green festive sprinkles! Don't forget to let the cookies cool before adding the chocolate drizzle... I may have made that mistake the first time!
These are some of the best St. Patrick's Day dessert recipes that you'll find online and should give you plenty of ideas for your next holiday party. Whether you're searching for green desserts, dessert foods, Irish recipes, or green cake recipes, there's a little something for everyone. Enjoy!
More Dessert Recipes:
Until next time,
BEST SELLERS