Top 15 House Exterior Trends for 2023; Here are the predicted trends for home exteriors in 2023!
Hi beauties! Coming at you today talking all about house exterior trends for 2023! Here is what we are going to see more of in the coming year!
The exterior of your home is the first thing people see when they visit. The right color and design can make a huge impact on the curb appeal of any home. But it's not just about looks—it's also about making smart choices that will stand the test of time while saving you money in the long run. And we have good news! There are tons of trends in house exteriors that can help you achieve both goals while still looking chic as heck. Here are 15 top trends for 2023:
House Exterior Trends for 2023
Industrial-style Design
Industrial-style design is a style of architecture that draws influence from industrial buildings. It is often characterized by the use of rough materials, exposed steel, and large open spaces. This style has been popular in urban areas for many years now, but it's also being used in modern homes.
In most cases, industrial-style features are incorporated into a house by placing them on the exterior and by using materials like concrete or wood (especially reclaimed wood). Brick is another popular material to use with this style because it pairs well with both concrete and wood.
Clean Lines
Clean lines are the perfect way to make a statement, add curb appeal, and add value to your home. Clean lines are simple and sleek and we are going to see so much more of this in 2023. They're also a good way for homeowners to avoid having a cluttered look on their exterior. For example, if you have a modern or minimalist design style in mind for your home's exterior, then clean lines are an excellent option for achieving this look without being too busy or overwhelming to look at.
Clean lines can help you create an appealing facade by adding visual interest through color contrast between different areas of the house (e.g., trim). This will make it easy for people who drive by your house at night—when there may not be much else around—to notice you've got something special going on with your property!
Although clean lines alone will not give anyone pause when they walk past any given residence along its street frontage line on foot (unless maybe there's some really nice landscaping involved), they are very useful in creating visual interest during those times when someone else might need something else alongside them besides just "clean" everywhere they look.
Outdoor Living Areas
Outdoor living areas are becoming more popular as a way to extend the home's use into the outdoors. The outdoor living space can be used for entertaining and relaxing, for cooking and dining, or for gardening. In order to create an inviting environment for your family and guests, consider adding fireplaces (electric or wood), outdoor lighting, furniture like benches or chairs, planters with flowers or plants that grow well in your region, small fountains; even an outdoor kitchen if you're so inclined!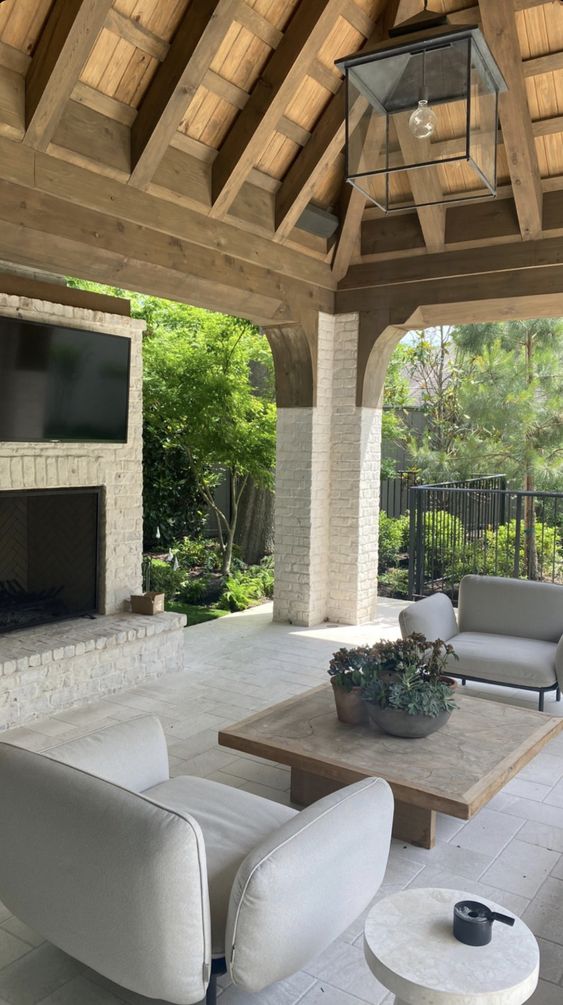 Sustainability
Sustainability is an important factor in all aspects of life, and the same should be true for your house. For example, you can make sure that your energy usage is as low as possible by using solar panels. You might also consider using sustainable landscaping materials like bamboo and cork flooring to reduce waste and improve air quality.
Wraparound Porches
Wraparound porches are a great way to add extra space to your home, especially if you're looking for an outdoor area where you can entertain or relax. They can be used as an extension of the living room, creating an even larger area for entertaining. If you've got some privacy concerns, wraparound porches offer the best solution!
These types of porches will also help create a sense of community by opening up your home's exterior walls and connecting it with those around yours. It's a great way to bring people together while still maintaining privacy—something that will become increasingly important in 2023!
Traditional Curb Appeal
Traditional curb appeal is a classic look that never goes out of style. This style is all about symmetry, balance, and symmetry—and it's a great choice for homeowners who want to make their homes look as if they've been around for decades.
Traditional curb appeal isn't just about the front of your home; it's also an important part of what makes up your entire property. So when you're thinking about traditional curb appeal, take into account everything from your driveway or garage door to the color scheme of your house and even any bushes or trees on your property.
Metal Roofing
Metal roofing is a great option for low-maintenance homes. It's durable, long-lasting and comes in lots of different styles. Metal roofs are also good for coastal areas, because they can withstand moisture and wind damage better than traditional materials like clay tiles or asphalt shingles.
Sustainable Landscaping
Sustainable landscaping requires using native plants, trees and shrubs. Native plants are more resistant to pests and diseases, require less water, fertilizer and pesticides, attract beneficial insects and help the environment by increasing wildlife habitat. Native plants can be found in your area by consulting a local nursery or botanical garden. You can also use the USDA Plants Database to search for specific species.
Extensive Decking
Adding decking to your home is a great way to increase the livability of your outdoor space. Decking can be used as a platform for entertaining, or it can be incorporated into a second story design. You may also choose to use decking as a patio or porch.
Modern Architecture
Modern architecture is a style of architecture that emerged after World War II. Modernism began to take hold in the 1940s, as it became clear that traditional forms were no longer appropriate for the modern world. Modern architecture can be thought of as being influenced by a number of different factors, including:
The International Style, which became popular in early 20th century Europe and North America
Functionalism, an international movement that emphasized function over form and materials over decoration
Bauhaus school design concepts and principles
Terracotta Roof Tiles
Are you planning to replace or repair your roof? You may want to consider using terracotta tiles. They offer several advantages over other types of roofing, including being durable, versatile, and easy to install.
They're also available in a wide range of colors and styles so you can choose a material that complements your home's style. Plus, terracotta tiles can be used on roofs with any pitch (the slant of the roof).
Natural Stone Accents and Finishings
Natural stone accents and finishings are a great way to add value to your home. They're also durable and can last for decades, so you can be confident that they will be around for as long as you need them. Natural stone is often used on the exterior of houses, but it can also be used decoratively on interior walls or flooring.
Natural stone is one of the most popular ideas when it comes to house exteriors because it's durable and adds curb appeal at the same time. Natural stones like granite, limestone, travertine and slate provide homeowners with options for adding texture, color and beauty to their homes without breaking the bank or compromising quality materials by using less expensive alternatives such as brick or cinder block construction techniques (the latter two being some of today's most common building materials).
Timeless Grey Exteriors
If you're looking for a neutral color that will last for years, grey exteriors are the way to go. It's also a great option if you want your home to be timeless. Grey exteriors aren't going anywhere in style and will always look like a contender.
When it comes to maintenance, gray exteriors are extremely easy on your eyes and body—no more harsh cleansers or bleach fumes! You can also use them on any style of house without worrying about offending anyone who thinks one color looks better than another (although this is highly unlikely). And when it comes to roofs, grey doesn't discriminate against flat or pitched roofs either; they work just as well on both!
Decorative Fencing and Railings
In addition to the roof of your house, the front yard is another space that can make or break a home's curb appeal. If you're looking for ways to improve the appearance of your front yard, there are many different types of fencing and railings that can be installed.
For example, fences are a great way to add privacy while also giving your home some much-needed character. You can also use them as an opportunity to work with contrasting colors—this will help make it stand out even more!
There are many different materials available for this purpose: wood, stone or metal all have their own unique look and feel; just be sure that whatever material you choose is sturdy enough so it won't fall apart too easily (especially if children play in your yard regularly).
Black Windows and Door Frames
Black windows and door frames are a popular way to update your home's exterior. While black windows can be expensive, they're worth it! Here are some reasons why:
Black is stylish and in vogue. The color is bold and eye-catching, making it popular among interior designers and homeowners alike.
Black windows are more energy efficient than white ones because they absorb light better than other colors, which helps keep the house cooler in summer months.
Black windows also tend to be more durable than their lighter-colored counterparts because they don't show wear as easily over time due to their dark pigmentation (which means that if you have kids or pets running around outside).
Finally, black is often cheaper than white because it reduces labor costs associated with painting windows every few years—and since most people don't paint their home's exterior often anyway (if ever), this could save you hundreds or thousands of dollars over time!
Trends are changing house exteriors in 2023.
As with every other aspect of design, trends in house exteriors are changing rapidly. The 2020s have been full of experimentation and innovation that will continue to influence the style and function of these homes in the coming years. Here are some key factors driving these changes:
Climate change
Economic shifts
Population growth and migration patterns
Technology advances
These are just 15 of the top trends being seen in house exteriors for the coming year. There are so many other ways that your home can be made to reflect your personality, and we know that some of our readers may have come up with even more ideas for how to make this happen!
I hope you've enjoyed reading about these trends and will keep them in mind as you make decisions about your next building project—whether it's a brand new house or something smaller like a new deck or patio.