Get ready to spook up your decorations with my top 7 Halloween pumpkin decor ideas! From classic carved pumpkins to stunning stacked displays, discover creative ways to achieve a spooky look this season. Get inspired and embrace the Halloween spirit with our guide.
Disclaimer: this post may contain affiliate links, and every purchase made through these links will give me a small commission (at absolutely no extra cost for you!) AS AN AMAZON ASSOCIATE AND REWARDSTYLE MEMBER, I EARN FROM QUALIFYING PURCHASES. See Privacy Policy for additional info.
Hi beauties! Halloween is just around the corner, and what better way to set the eerie mood than with some creative pumpkin decor? Pumpkins are a staple of Halloween celebrations, and they offer endless possibilities for decorating.
While there are many ways to decorate for this haunting holiday, nothing says Halloween quite like a well-decorated pumpkin. From classic carved Jack-o'-lanterns to more unconventional designs, pumpkins provide endless possibilities for creativity and spookiness. In this post, I'll share with you my top 7 Halloween pumpkin decor ideas that will help you achieve a spooky yet stylish look.
Whether you're a seasoned pumpkin decorator or a beginner, these ideas are easy to follow and will surely impress your guests. From simple carved pumpkins to elaborate designs, let's explore some ideas that will make your home the talk of the neighborhood.
Halloween Pumpkin Decor Ideas:
Classic Carved Pumpkins
Carving pumpkins is a time-honored Halloween tradition. Grab a pumpkin, gather some carving tools, and let your creativity flow. You can create traditional Jack-o'-lantern faces or try more intricate designs. Consider using stencils to achieve professional-looking results. Lighting up your carved pumpkins with LED lights will add an extra touch of magic.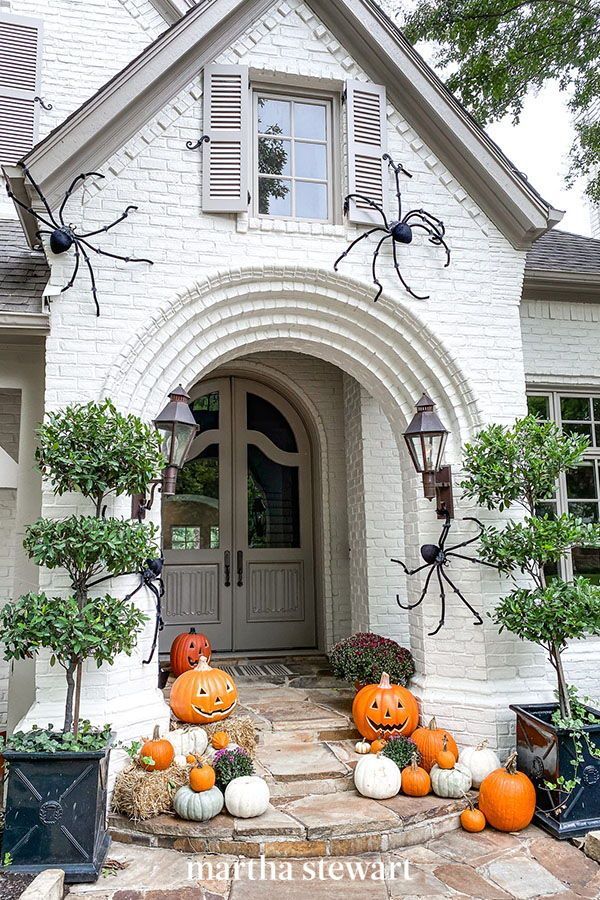 Painted Pumpkins
If you want to avoid the mess of carving, painted pumpkins are an excellent alternative. Get your hands on some acrylic paint and let your imagination run wild. From spooky silhouettes to vibrant patterns, the possibilities are endless. Add some extra flair by embellishing the pumpkins with glitter, rhinestones, or even feathers. Or even try some cute phrases like the ones below!
Pumpkin Candle Holders
When it comes to adding a touch of Halloween charm to your home, pumpkin candle holders are a must-try idea. Not only do they create an eerie and captivating ambiance, but they also serve as functional decor pieces. Remember to always exercise caution when working with candles, and never leave them unattended. Pumpkin candle holders are an easy and budget-friendly way to add a touch of Halloween magic to any room.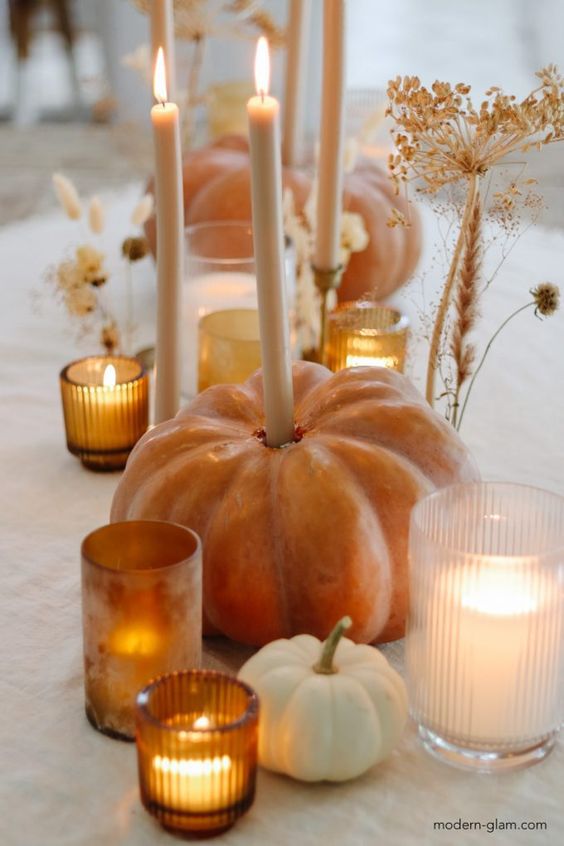 Decoupage Pumpkins
Decoupage is a beautiful technique that involves gluing paper cutouts onto objects. Choose Halloween-themed paper, newspaper clippings, or even old book pages to decoupage your pumpkins. Coat the pumpkin with decoupage glue, apply the paper, and seal it with additional layers of glue. The result will be a unique and eye-catching pumpkin decor piece.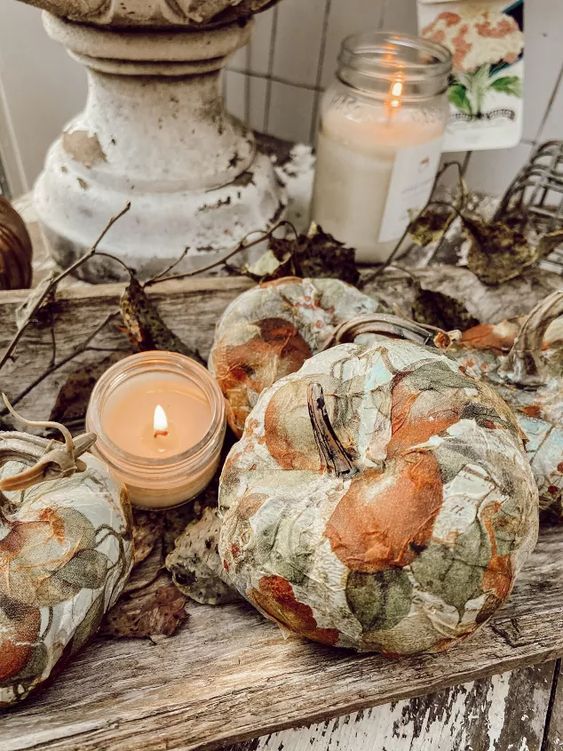 Stacked Pumpkins
Go beyond the traditional standalone pumpkin and create a stacked pumpkin display. Choose three or more pumpkins of varying sizes, and carefully stack them on top of each other. You can place a wooden dowel through the center to hold them in place. For added flair, paint or carve each pumpkin differently, creating a stunning three-dimensional masterpiece.
Pumpkin Planters
Turn your pumpkins into planters by hollowing them out and filling them with your favorite fall flowers or plants. This is a great way to bring some life to your Halloween decor. Opt for brightly colored flowers, such as orange marigolds or purple pansies, to complement the pumpkin's natural hue.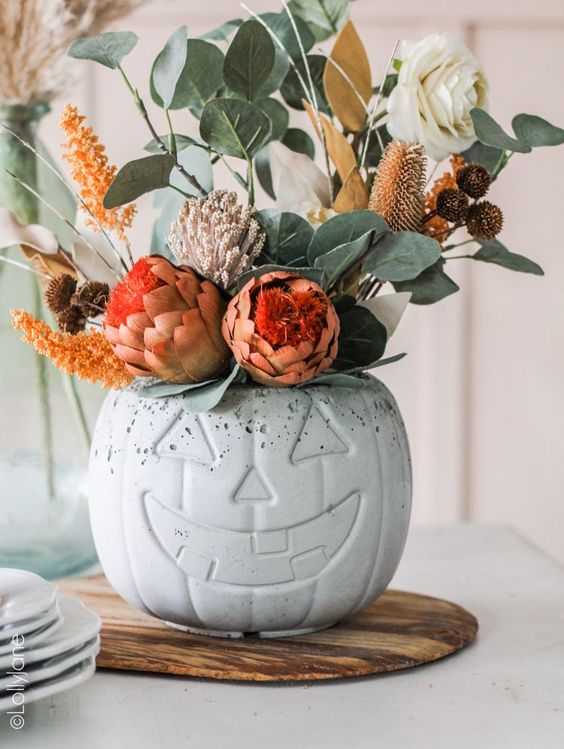 Pumpkin Centerpieces
Create a captivating centerpiece for your Halloween table by arranging a variety of pumpkins in different shapes, sizes, and colors. Add some preserved autumn leaves, pinecones, or spooky decorations to complete the look. Consider placing the centerpiece on a bed of moss or burlap for an added rustic touch.
Remember, the most important thing about Halloween pumpkin decor is to let your creativity shine. Whether you decide to carve, paint, or stack your pumpkins, have fun and embrace the spooky spirit of the season. Don't forget to display your creations proudly, so everyone can appreciate your Halloween spirit.
Happy decorating!
BEST SELLERS