10 Best Southern Living House Plans; here are the most popular house plans southern living produced that you need to see!
Disclaimer: this post may contain affiliate links, and every purchase made through these links will give me a small commission (at absolutely no extra cost for you!) AS AN AMAZON ASSOCIATE AND REWARDSTYLE MEMBER, I EARN FROM QUALIFYING PURCHASES. See Privacy Policy for additional info.
Hi beauties! Today we are talking about Southern House Plans to date! You all loved my post on popular farmhouse plans I did so I thought I'd do one on the best southern living plans! These southern living house plans were featured in the popular southern living houses and home plans guidebook. Finding the right floor plan can be a little bit tricky, especially if you're not sure what to look for. Each of these house plans has something special about them, whether it's the unique layout or spectacular gable design.
Southern Living houses are some of the most diverse house plans that exist. Southern house plans cover a good range of Southern home floor plans and designs, regardless of whether you're looking for a country home, or something more modern and contemporary. You can explore their collection to get inspired by all the different Southern living house plans available.
The Southern Living plans are attractive, combining traditional features with a subtle hint of Southern warmth. You'll love their spacious design and inviting appeal. So let's jump into the best southern house plans to date!
PLEASE NOTE: All these photos belong to Southern Living. Please click links provided to be redirected to the original page.
Best Southern Living House Plans:
Southern Living house plans have been a big hit with house plan buyers in the past few years. The Southern Living style of designs is growing in popularity each day. There are a lot of people out there who are looking for the most popular styles and features when it comes to southern living home plans. I'm here to share some BEAUTIFUL home building plans that you should consider if you're interested in building a new home or just looking for home design inspiration.
Cottage Of The Year
This beautiful cozy cottage house plan has four bedrooms and 3 and a half baths. This New England Colonial Style home has a stunning front porch to welcome your guests or watch the sunset. This house is two-story just over 2700 square feet and has so many thoughtful features making it the perfect average size home for your family! See the plan here: Plan SL-593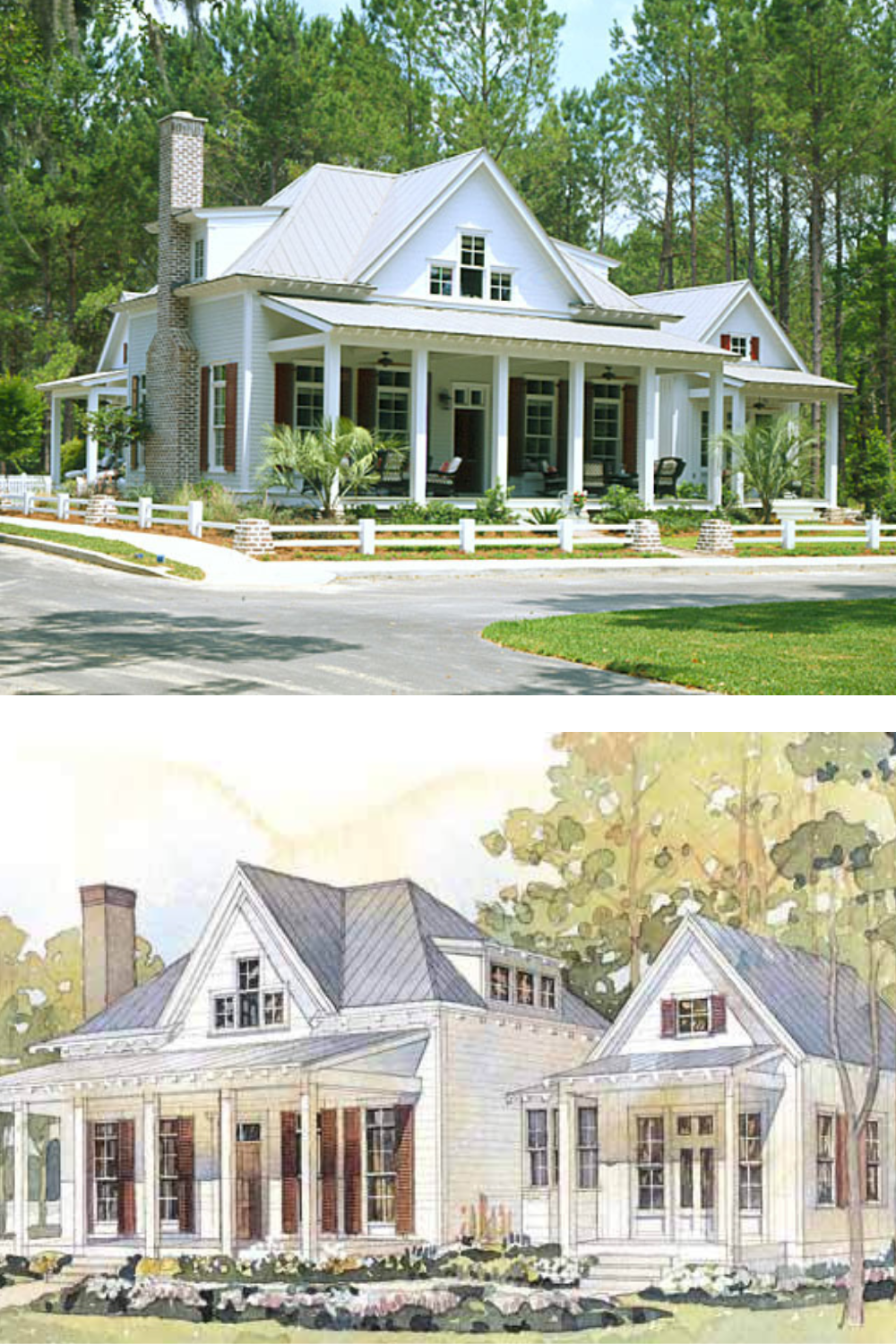 Lowcountry Farmhouse
We all know farmhouses are a huge hit these days, and this one does not disappoint! This house is 2,754 square feet with 3.5 bathrooms. It features a beautiful front porch, large windows for natural light, and a large main level primary bedroom with a walk-in closet! The screened-in back porch makes the perfect place for entertaining or enjoying the comforts of everyday life! See the plan here: Plan SL-2000
Farmhouse Revival
Another farmhouse favorite. This 3,511 square foot home features a stunning wraparound porch for country curb appeal and an open floor plan for so much natural light throughout the main living area. The primary suite is on the main level two more bedrooms upstairs. See Plan Here: Plan SL-1821
River Place Cottage
This home is 2,420 square feet with 3 bedrooms and 2 baths. There are plenty of spaces to host friends and family throughout the main floor, including a screened-in porch with an outdoor fireplace and wet bar, and an expansive kitchen with an island. Plan SL-1959
Sugarberry Cottage
This classic southern-style one-and-a-half-story home makes the most of its 1,679 square feet with 3 bedrooms and 2.5 baths. This bungalow includes a large front porch, a grand living room and dining area, a beautiful entrance, and a welcoming primary suite! Plan SL-1648
Whiteside Farm
This modern farmhouse has vaulted ceilings with exposed beams that add to the stunning family room. The concertina doors open onto a screened porch off the rear that really gives it that Southern charm! It has 4 bedrooms and 4 bathrooms and is just over 3,600 square footage. Plan SL-1979
Four Gables
This 4 bedroom and 3 bath modern farmhouse really has all the curb appeal! The deep front porch and open kitchen make it the ideal house for today's busy families! It is around 2,341 square feet and truly has a beautiful exterior. Plan SL-1832
Aiken Ridge
This two-story cottage is a real charmer. It's full of character, with its deep front porch and adjoining sunroom. The open-concept living spaces provide an easy flow into the kitchen, while additional family rooms are available on both floors. It has 3 bedrooms, 3.5 baths and is around 2,200 square feet! Plan SL-1123
Sand Mountain House
This home has a stone fireplace, soaring ceilings, and classic detailing that give it a warm and inviting feel. It has 3 bedrooms, 3 baths, 2 half and is 2,853 square feet! It has a breakfast nook plus a dining room. The detached garage is in close reach making it ideal for anyone with a lot of space! Plan SL-977
Ellenton Place
The living room's coffered ceiling, the kitchen island, and other details give this plan the perfect update of timeless classical style. With a semi wrap around porch and classic shutters, this house has all the curb appeal you could ever want! Just over 3,200 this home has 3 bedrooms and 3 bathrooms. Plan SL-1493
What Do Southern Houses Look Like?
Southern houses often feature a distinct architectural style that reflects the region's rich history and warm climate. These houses typically have large wrap-around porches with columns or pillars, adding a touch of elegance and providing shade from the sun. The roofs are often steeply pitched and covered in either clay tiles or metal, which helps to both keep the house cool and withstand the occasional harsh weather. The exterior is often clad in a mix of materials such as brick, wood, or sometimes even stucco. Southern houses are known for their vibrant and welcoming colors, with shades of pastel blues, greens, and yellows frequently seen. Overall, southern houses have a timeless charm and an inviting aesthetic that reflects the hospitality and charm of the South!
In Conclusion...
SO just to recap...Southern Living is a home magazine that has been providing real Southern living, with home design and interior decor features, since 1964. They also provide plans for houses to build, many of which are free to download. Their house plans offer practical, affordable, and traditional designs for the Southern lifestyle. Whether you are embarking on a major renovation project or building a new construction home, there is something for everyone.
There's a lot that goes into planning your dream home. The Southern Living House Plans give you an opportunity to create this home, from the foundation of your dream all the way to the deck or patio, and everything in between.
Until next time,
BEST SELLERS