Trending Farmhouse Bedrooms on Pinterest; top clicked farmhouse bedroom photos and rustic master bedrooms!
Hi beauties! Coming at you with another trending on Pinterest post! This time we are looking at farmhouse bedrooms!
If you love the look of farmhouse decor, but aren't able to set up a full-on farmhouse in your home, you're in luck! Pinterest is teeming with beautiful images of farmhouse bedrooms.
If you're looking for farmhouse bedroom inspiration, I've got you covered. These examples show you some of the possibilities when it comes to decorating a farmhouse-style bedroom. You can have a farmhouse bedroom in any style or color. The key is finding pieces that fit into your overall design plan and make sense in your space.
What are Farmhouse Bedrooms?
The perfect farmhouse bedroom is a room that is cozy, warm and inviting. It's full of natural materials like wood, stone and metal. It has plenty of light streaming in through the windows to help you wake up in the morning or relax at night. And most importantly, it has color! The best rooms have vibrant pops of color that add life to an otherwise neutral space--which can be especially helpful when you're trying to get rid of those winter blues (or just want something different than white walls).
The key ingredients for any great farmhouse bedroom are texture and patterned fabrics; these two elements will give your space some much-needed personality! You can also incorporate some personal touches by choosing artwork with sentimental value or adding plants around your bedside table area (or both).
All-White Everything
When it comes to the farmhouse style, white is king. But there are many different ways you can use it in your bedroom and make it stand out from the crowd. I'm talking about all-white everything: walls, furniture and bedding. Or maybe you want a bedroom that's white with just a hint of color? Or maybe you're more into bright whites with pops of bold colors? Whatever your preference might be--and whatever look works best for your home--we've got ideas for making any kind of farmhouse bedroom feel cozy or luxurious (or both)
In the barn
When you think of the farmhouse decorating style, you probably think of the barn. But that doesn't mean your bedroom has to be in one! The barn is a great place to get inspiration for your own space and it's easy enough to use some of those ideas in your own home.
You can create an industrial-style look by adding metal accents and wood finishes throughout the room. Try using a barn door as a divider between living areas and bedrooms if they're not separated by walls or doors already (or even just add one if they are). You could also try adding some reclaimed wood pieces as furniture pieces or picture frames on the wall--they'll give off an authentic farmhouse vibe while still being modern enough for today's tastes.
Dark and cozy
The farmhouse style is all about comfort. So it's no surprise that most farmhouse bedrooms are cozy and welcoming, with warm colors and cozy furniture. Farmhouse bedrooms are meant to be relaxing and comfortable, inviting you into restful bliss after a long day of work or play.
The ideal headboard
To choose a headboard, think about the style of your room and what will look best in it. For example, if you have a modern farmhouse bedroom with lots of white furniture and light wood floors, choose something that echoes those elements--such as this headboard made from reclaimed wood. If your space has more rustic touches like dark woods and deep red fabrics, consider this dramatic piece with distressed details.
Another thing to consider is how long-lasting the piece will be; do not skimp here! You want something sturdy enough that won't fall apart after one season (or even three). It should also fit into both the style of your home as well as its budget; don't spend so much money that it's hard for you or anyone else who may use this room down the road! Finally--and perhaps most importantly--the headboard needs to fit within available space constraints so that no one gets hurt trying tuck themselves into bed every night without hitting their heads against a wall instead!
How to Get the Trending Farmhouse Bedrooms Look:
Start with a headboard. You can find one at any furniture store, or you can use reclaimed wood from a local lumberyard or antique shop. If you want something truly unique, check out Etsy!
A big, comfy bed is key. If there's one thing we take away from these photos, it's that everyone wants a big bed in their farmhouse bedroom. You can't go wrong with an oversized king, but don't be afraid to mix it up! There are tons of cool options available that will make your room feel like yours, no matter the size.
Get cozy with lots of pillows! These bedrooms are always full of soft blankets, fluffy pillows—and maybe even a few stuffed animals for good measure. There's nothing better than snuggling up in a cozy blanket at night… so why not do it in style?
Add some accessories. A simple vase of flowers will do the trick, or you could go for something more ornate like an antique mirror or a chandelier. Just make sure that whatever you choose fits with your overall theme of simplicity and functionality.
Pick up some vintage items from secondhand shops. These can include anything from candle holders to old-fashioned nightstands. You can also find great accessories like blankets and pillows at these stores!
Make space for storage! You don't have to sacrifice style or comfort when it comes to finding space for all your stuff—just look at these photos! There are tons of ways you can make sure your room looks great while also keeping things organized and easy to access whenever you need them (like makeup or books).
Don't forget about lighting! You don't have to go overboard with this one—just make sure that there's plenty of light coming in through your windows so that it doesn't feel dark or gloomy when you wake up in the morning (or even worse: before noon).
Use comfortable furniture. A good mattress is essential when it comes to having a restful night's sleep, but so is the right bed frame. If you have the space, try out a platform bed or a canopy frame!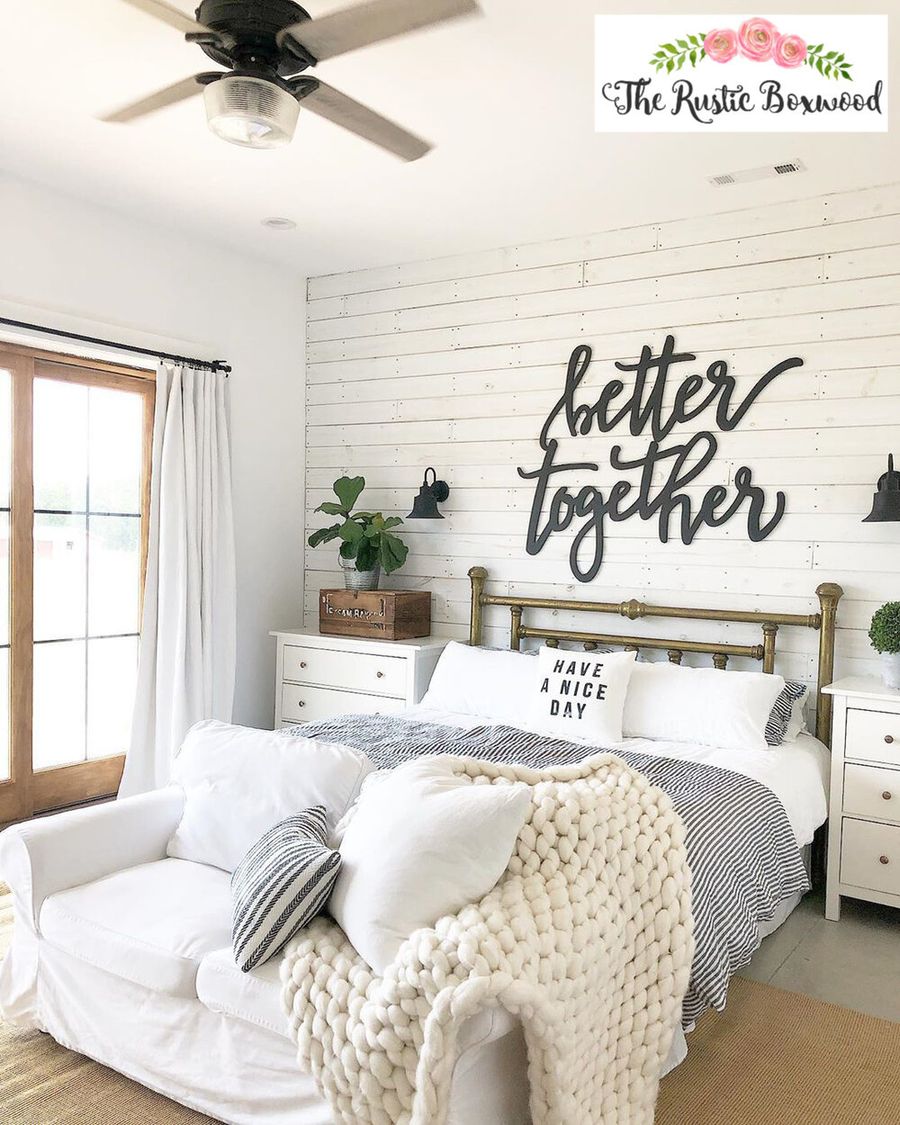 Why You Need a Trending Farmhouse Bedroom
Because they're cozy and rustic and welcoming. They're the perfect place to curl up with a good book or your favorite blanket. They're the ideal spot for relaxing—and getting some serious zzzzzs.
Whether you live in a house or an apartment, your bedroom is where you spend most of your time at home. If it's cozy and inviting, then every time you walk into it after work or school or wherever else has been stressful for you that day, it will feel like coming home—and when you sleep there at night, you'll wake up feeling rested instead of tired!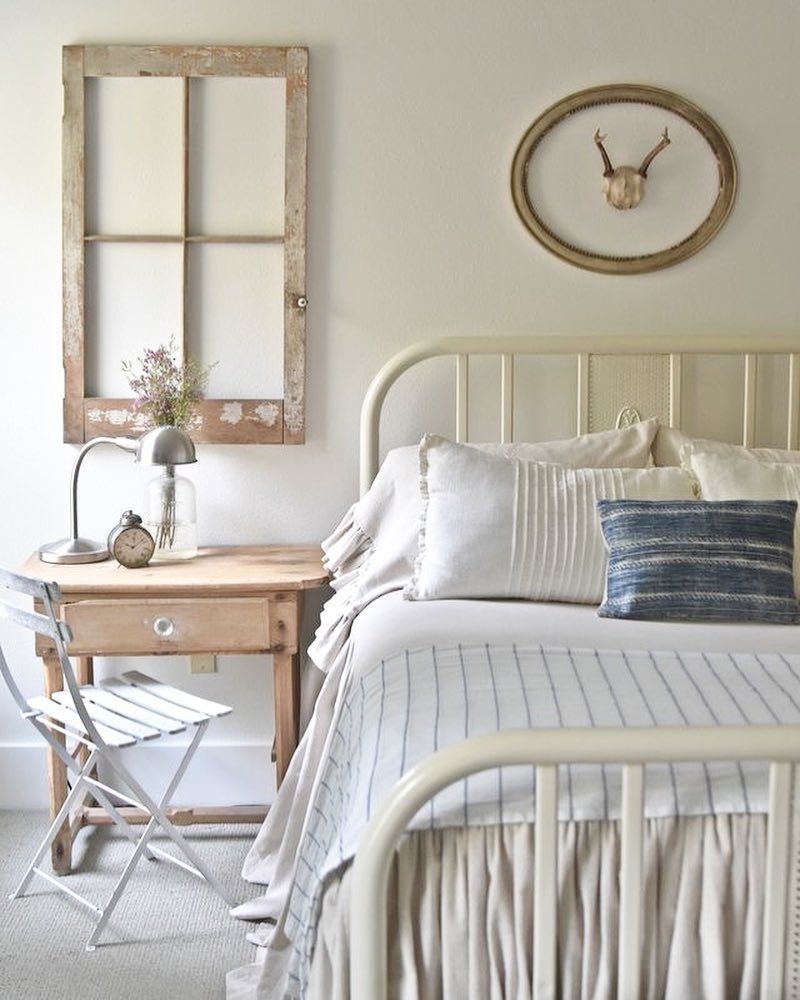 I hope you enjoyed this post all about trending farmhouse bedrooms! There are so many different styles of farmhouse bedrooms, and we hope that you've found some inspiration for your own space. Whether you want to keep it simple and clean or add some color with pops of paint or throw pillows, there are endless ways to approach this trend. The most important thing is finding what works best for you and your home!
More Farmhouse Bedrooms:
Until next time,