Laundry Room Shelving Ideas; here are genius laundry room shelving and organization ideas to help create your dream laundry room!
Hi beauties! Coming at you with a post all about laundry room shelving ideas!
Laundry Rooms can be one of the smallest rooms in the home which means you're limited when it comes to storage. I love these 30 Laundry Room Shelf Ideas because not only are they functional, but they also add character to your room with lots of additional storage and organization!
Regardless of whether it's a small laundry room or large, you can easily make it look…unique by shelving off sections for hanging wet clothes, folding clothes, and drying clothes.
As one of the most used rooms in the home, you really want to make your laundry room a pleasant and productive space. One way to achieve this goal is with organization. If your room isn't organized, it can quickly turn into a cluttered mess of dirty clothes, sloppy laundry baskets and a place where you dread spending time.
When deciding on the type of laundry room organization you go for, keep in mind that there are lots of options available to help you get the job done, so long as you select products that reflect your particular style and personality. With all of these different items it can be confusing to know where to begin so that's why I've chosen my top 30 favorites for you to browse below!
Laundry Room Shelving Ideas
Open and Closed Shelving
Interior designer Whittney Parkinson of Whittney Parkinson Design created a dream laundry room with both open shelving and close cabinets. This is great for hiding those items you don't want seen but also showing off the pretty decor items.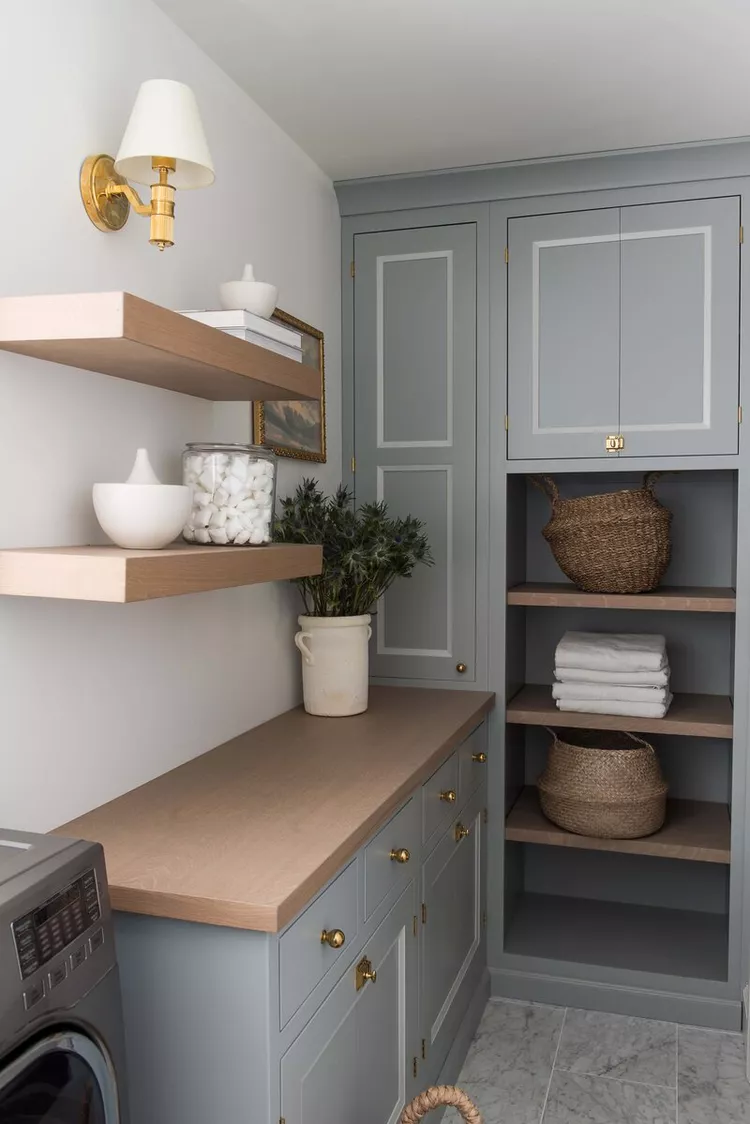 Sliding Barn Door Shelving
Talk about a bright and airy modern farmhouse laundry room! I love how they utilized the sliding barn door to hide some of the shelving. This also allows so much flexibility in terms of hiding items and showcasing others!
Green Laundry Room
Interior designer Kate Marker of Kate Marker Interiors created such a calm and beautiful green grey laundry room design using one main shelf enclosed with cabinets for a centered look. The pendant light above the solo shelf adds such a unique ambience. And that farmhouse sink... BEAUTY!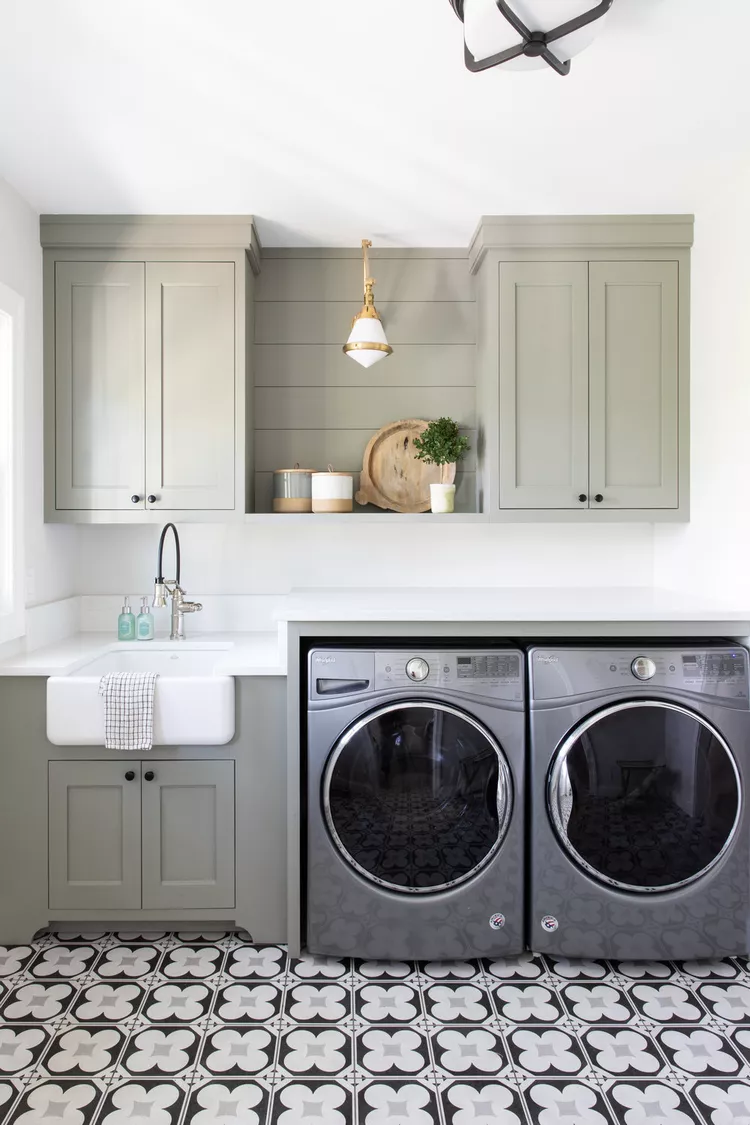 Built in Corner Shelving
Another beautiful design by Whittney Parkinson of Whittney Parkinson Design! The corner shelving really adds the perfect area to store items that you want only partly seen! The mix of natural wood and painted cabinets add the perfect contrast in this wrap around laundry room!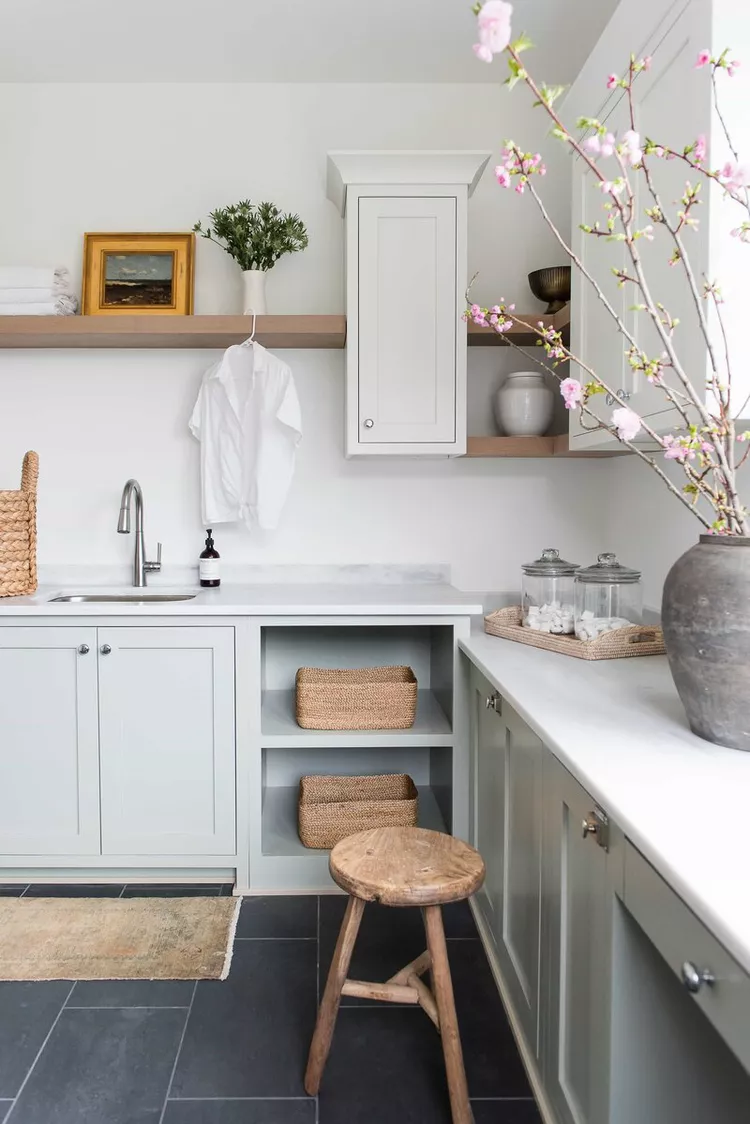 All White Laundry Room
Such a beautiful white on white laundry room by Elsie Larson at A Beautiful Mess! The wicker baskets and plants add warmth and color to this white laundry room with just the right amount! It's clean, it's bright and airy, and it feels like the perfect place to get things done.
Blue Laundry Room
Such a simple little shelf with baskets right about the sink. This is the perfect spot to hide any items that you need to be able to grab quick while doing your laundry!
Only Open Shelving
This unique laundry room design incorporates only open shelving with countertop space. The open shelves display it all, no hiding anything in this laundry space! There may be a lack of laundry room storage here but the bins and jars are a great way to hide all those laundry supplies.
Navy Laundry Room
Dark colors are a great way to add a punch of color to your laundry room, and they can even help you hide stains that might be lingering on your shelves. The appliances really add a polished finish to this laundry room acting as the perfect focal point.
Optimizing Storage Space
The laundry room is a place of organization and efficiency. It's also a place where you can get creative with your storage solutions and thats exactly what I see going on in this room! So much optimal storage space in this laundry room.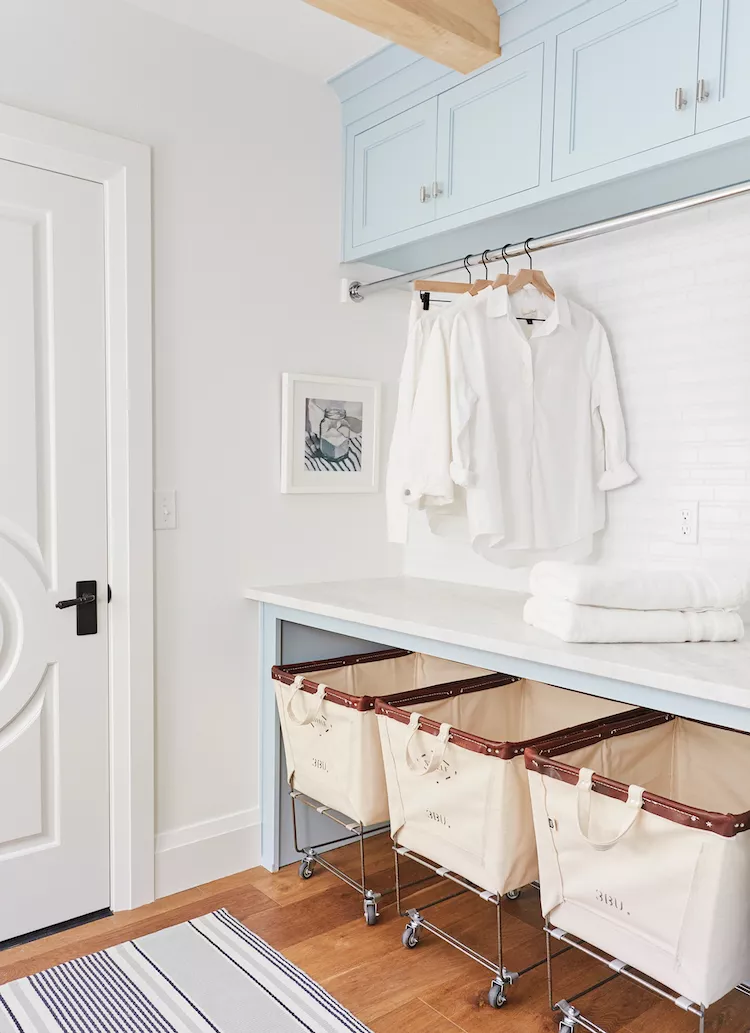 Boho Laundry Room
This boho laundry room has a lot going on—but it's all well-organized! The open shelving is perfect for storing things like detergent and stain remover while also adding some color and style to the space. The basket next to the washer is a great place to store dirty clothes until they can be washed.
Stacked Laundry Room
Interior designer Michelle Berwick of Michelle Berwick Design created a perfect small laundry room that adds so much interest from floor to ceiling! Lots of storage space with cabinetry but adds the rod to hang clothing to dry instead of any shelving in that area!
Open Shelving Above Cabinets
Open shelving above cabinets is a great idea for the laundry room. It's a place that you don't have to worry about keeping too neat, so you can get creative with it. An easy place for extra storage and to hide clutter! Also this wallpaper is perfection!
Shelf On Top of Machines
If you have a laundry room, chances are that you have at least one set of machines in there. If you don't care much about aesthetics or organization and just need a place to hide your dirty clothes, then putting a shelf on top of your washer and dryer might be the perfect solution. You can use it as an extra storage space for cleaning supplies or detergents and also large baskets or jars.
Dreamy Laundry Room
Yet another beautiful laundry room by interior designer Kate Marker of Kate Marker Interiors. This white laundry room is the perfect place to store your laundry supplies. The room has lots of storage space and is very clean and organized. It's not cluttered or messy, but it still has a lot of personality. Also, the floating shelves on the window is amazing. Who wouldn't want to spend hours doing laundry in this room!!
U Shaped Laundry Room
This perfect U shaped laundry room is by Mindy Gayer of Mindy Gayer Design Co! Lots of space to hide all your laundry essentials in these laundry room cabinets with a few shelves. So many neutrals shades with the grey shaker-style cabinetry, white appliances, and white subway tiles.
Modern Farmhouse Style Laundry Room
The farmhouse sink and shelving with shiplap really pull this space together. This bold black and white floor tile adds such an impact in this small space. When there isn't a lot of available space in a laundry room, you need to make use of the floor space you have, just like they did in this laundry room!
Open Shelving Unit
A lot of people don't realize how much space they can save by using open shelving units. Instead of having your detergent bottles on the floor or tucked away behind a door, why not put them out where you can see them? And if you've got some extra space on top of your washing machine, why not use that as well? Hang up some extra hangers and get yourself organized!
Small Floating Shelves
A great way to add storage space in a small laundry room is with floating shelves. These shelves are usually made of wood or metal and are attached to the wall with brackets or screws. The shelves themselves can be any size, but they should be deep enough to hold at least two or three baskets. You can also use them for other items such as towels, laundry detergent, or cleaning supplies.
Block Shelving
Stacked front load washer and dryer and block shelving really utilizes this space well. With a little creativity and a lot of hard work, you can turn an otherwise boring room into a place where you can organize all of your cleaning supplies, dry your clothes and linens, and even store any other items you need to keep close at hand while doing chores around the house.
Pet Laundry Room Shelving Ideas
If you have a dog or cat, or even if you don't, adding a pet area to your laundry room is a great way to make it more functional. You can keep pet food and water bowls in there as well as toys, so your animals can be out of the way but still close by when they need to be.
Laundry Room Accent Wall
If you're looking for a way to make your laundry room feel more like a space you want to hang out in, consider adding an accent wall behind your cabinetry and shelving. This will give the room a more finished look and can serve as a place to put art, photos, and other decorations.
One Shelf Wonder
One of the best ways to store laundry room supplies is with a large shelf. If you have a large, open laundry room, this option is perfect for you. You can use it to store your detergent and fabric softener bottles, as well as some cleaning products like bleach and stain remover. Your shelving unit will also hold all of your laundry essentials, such as dryer sheets, lint brushes, and stain sticks. If you don't want to store all of those items together on one shelf, there are other options available for organizing these items into smaller spaces.
Extra Wood Shelving
If you're looking for a way to store your laundry room items, look no further than extra wood shelves. You can find these in most hardware stores and places that sell home improvement items. They're easy to install and will add a lot of extra storage space to your laundry room. It's also very affordable because you can usually find them at a discount price during the holiday season!
Plain Open Laundry Room Design
The laundry room is a space that can be used for more than just doing the laundry. It's also a great place to store things, such as cleaning supplies and other items. You can create some extra storage space by adding shelving to your laundry room. If you want to make your laundry room look more modern and clean, then consider adding plain open shelves to it. These shelves will help keep your home looking neat and organized while also providing you with extra storage space.
Excessive Cabinetry for Large Families
If you have a large family, then the laundry room is probably one of the most important rooms in your home. It's where you can store all of your dirty clothes, clean clothes, and everything else that comes with being a parent. This laundry room design is stacked for your laundry day! The bench with drawers under hooks also acts as a perfect way to combine a mudroom!
Natural Lighting
One of the best ways to make your laundry room feel more like a home is to add natural lighting. If you don't have windows in your laundry room, you can use floor lamps or wall sconces to bring in more light. Another option is to get a skylight installed—that way, when it's sunny outside, the sun will shine right into your laundry room! Another thing you can do is install skylights over your washer and dryer so that they get plenty of natural light as well!
Long Hallway Laundry Room
If you have a long hallway in your laundry room, you can use it to your advantage. You can install some shelves to hold mops and brooms, or even add a sink if your space allows for it. Another great idea is to install an ironing board along the wall so that it doesn't take up any floor space and can be folded away when not in use.
Grey Laundry Room Shelving Ideas
Grey is a great color choice for the laundry room because it's neutral and can match any decor style. This grey laundry room has lots of cabinet and hanging rod space—and even though it looks like it's jam-packed, there's still plenty of room to spread out when you're doing laundry.
Laundry Basket Shelving
This is the perfect solution for those who want to add some extra storage space in their laundry room, but don't have any extra space available. It's also great if you have limited storage space in your home, or if you just need to maximize the space that's available. The best part about this type of shelving is that it can be installed on almost any wall in your house—even if it's not load-bearing. The only thing you need is a stud finder and some nails or screws (to anchor them down).
Roll Away Baskets Instead of Shelving
These baskets are great because they're easy to store and they're also very affordable. You can find them at any department store or online. They come in all shapes and sizes so it's easy to find the right fit for your laundry room. The only downside with these baskets is that they're not as sturdy as traditional shelves so if you have kids around then this might not be the best option for you because they can easily tip over or fall down if someone leans on them too hard while reaching for something else on top of them (like a shirt).
There you have it folks! 30 Laundry Room Shelving Ideas for your next renovation project!
Until next time,