Beach Themed Christmas Ornaments; A collected list of Beach Christmas Ornaments, Seashell Christmas Ornaments, beach themed christmas tree ornaments, beach christmas, coastal christmas ornaments, seaside Christmas Ornaments, Shell Christmas Ornaments, and more!
Disclaimer: this post may contain affiliate links, and every purchase made through these links will give me a small commission (at absolutely no extra cost for you!) AS AN AMAZON ASSOCIATE AND REWARDSTYLE MEMBER, I EARN FROM QUALIFYING PURCHASES. See Privacy Policy for additional info.
Hi beauties! Coming at you with a fun list of all things beach themed for your Christmas decor!
If you're thinking about adding some cute Christmas ornaments to your Christmas tree, but concerned about holiday over-saturation, I've got just the idea for you. Beach-themed ornaments! If you're a beach nut like me and love looking at pictures of sunsets over the ocean, sandcastles, palm trees, and waves — you're going to love this round-up on 30 pretty Christmas beach ornaments that fall perfectly in line with the season.
These 30 beach themed Christmas ornaments are so pretty and unique. Don't settle for the same ornaments you've hung on your tree every year and that all your neighbors have. These beachy decorations are just as perfect for a cottage Christmas as they are for a tropical Christmas.
Inspiration for Beach Themed Christmas Ornaments:
Beach themed Christmas ornaments are great because they can be used year after year, and they add an element of fun to your holiday decorating. They're also easy to find in stores during the winter months while they're still relevant—just look for any beach themed items like sand buckets, sand filled mugs, seashells, seashell candles, starfish candle holders…the list goes on!
A seahorse is a great choice because it's unique and pretty, but also because it can be used to represent many different things—such as your love for marine life or your desire for a more sustainable holiday season (because we all know how wasteful gift-giving can be).
Starfish are symbols of hope and rebirth, so they make an excellent addition to your Christmas tree this year. The starfish is also a symbol of self-acceptance, which is something we should all think about during this season.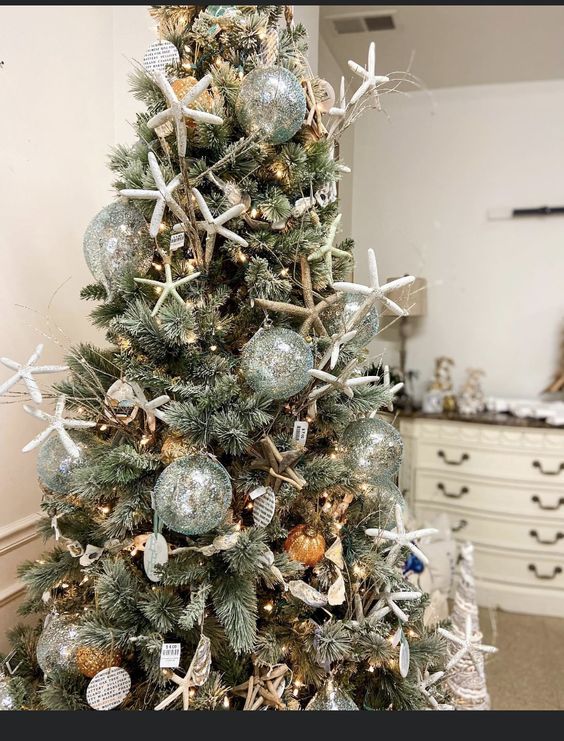 An old-fashioned boat ornament is a great way to give your tree that extra touch of class and elegance. It's also an adorable way to remind yourself of all the fun times you spent sailing over summer vacation, or even just relaxing on a boat when it's too hot outside.
Seashells are a beautiful addition to your beach themed Christmas tree! It reminds me of going to the beach and finding a beautiful shell, and it's even more special when it's a gift from someone else. Seashells are a must for beach Christmas decorations!
Coastal Christmas decorations wouldn't be complete without some blues, turquoise and teal colors! You could even go all out and use blue Christmas trees for a nautical style vibe!
Nautical and coastal touches for your Christmas tree are a must. These are perfect for those who love the ocean and want their home to reflect that love. From starfish ornaments in all different sizes and colors, to seashells and sand dollars.
Coastal Christmas trees can still be traditional in the sense of having golds or other accent colors that really work for your overall Christmas theme. You can stick strictly with the coastal Christmas vibe if you are a true beach lover, or just add some elements into your current Christmas decor.
Coastal Christmas trees come in all shapes and sizes—and they're always more than just a tree! They can be used as a centerpiece or placed next to other decorations on your table or mantle.
Don't forget to add sea turtles, oysters, lobster for your Christmas coastal decorating! These animals are a great way to add some whimsy to your holiday party, and they're also a great way to show your guests that you love the ocean. All three of these animals live in the ocean and are related to each other. So this Christmas season, make sure you have plenty of decorations featuring all three on hand!
Don't forget you can always DIY some cute beachy themed ornaments! Check out this adorable bucket of shells I found on pinterest!
Sea glass is another great choice for adding sparkle to your tree. You can use it as is (great for kids), or paint it in different colors if you want something more colorful than white or clear glass.
Shop Beach Themed Christmas:

The holidays are all about coming together, and what better way to bring everyone together than by decorating your Christmas tree with coastal themed ornaments?
More Christmas Decor Posts:
I hope that you enjoyed this collection of beach themed Christmas ornaments. Make sure you share your photos with me at #nikkisplate so I can see your beautiful creations!
Until next time,
BEST SELLERS