Top 10 DIY Christmas Crackers; Discover the joy of creating personalized festive treats for your dinner party with my top 10 DIY Christmas crackers. Unleash your creativity this holiday season and add a unique, handcrafted touch to your celebrations.
Disclaimer: this post may contain affiliate links, and every purchase made through these links will give me a small commission (at absolutely no extra cost for you!) AS AN AMAZON ASSOCIATE AND REWARDSTYLE MEMBER, I EARN FROM QUALIFYING PURCHASES. See Privacy Policy for additional info.
Hi beauties! Ah, Christmas, a time for merry-making, warm cocoa by the fire, twinkling lights, and, of course, the traditional Christmas crackers! These festive treats add an enchanting dash of British heritage to the holiday season.
However, isn't there something uniquely satisfying about creating your own magic? Which is why we're going to explore the wonderful world of DIY Christmas crackers! In this blog post, I'm excited to share with you my top 10 suggestions to craft personalized DIY Christmas crackers that'll surely add a sparkle to your holiday celebrations. The satisfying pop and delightful surprises - experience all of this in a whole new light when it is meticulously handcrafted by you.
Whether you aspire to create eco-friendly crackers, those filled with personalized gifts, or simple, budget-friendly options, I've got you covered. So, grab your glue gun, summon your festive spirit, and let's dive in!
DIY Christmas Crackers:
Fun Red Christmas Crackers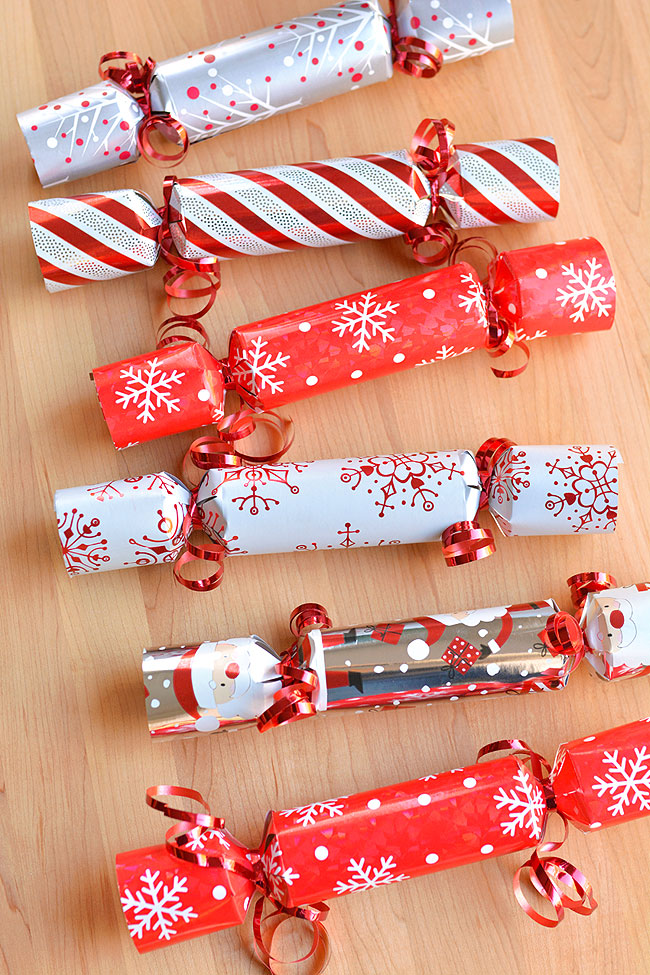 I love these! Debbie from One Little Project offers a fun and practical guide on how to make your own DIY Christmas crackers. She provides a step-by-step process and includes instructional visuals to craft these festive treats, which can serve as celebratory place cards or stocking stuffers.
Reusable Christmas Crackers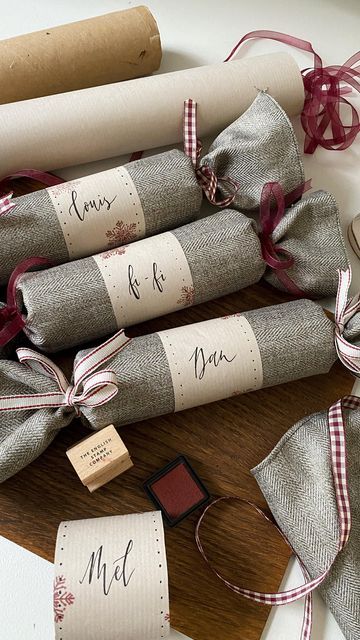 How perfect are these rustic/vintage crackers by @susannahhemmingsstylist !? This sustainable and inexpensive option for a DIY Christmas crackers is perfection. I love how they also can second as a name table setting at the dinner time! She has a video tutorial on her Instagram which makes this an easy DIY to replicate!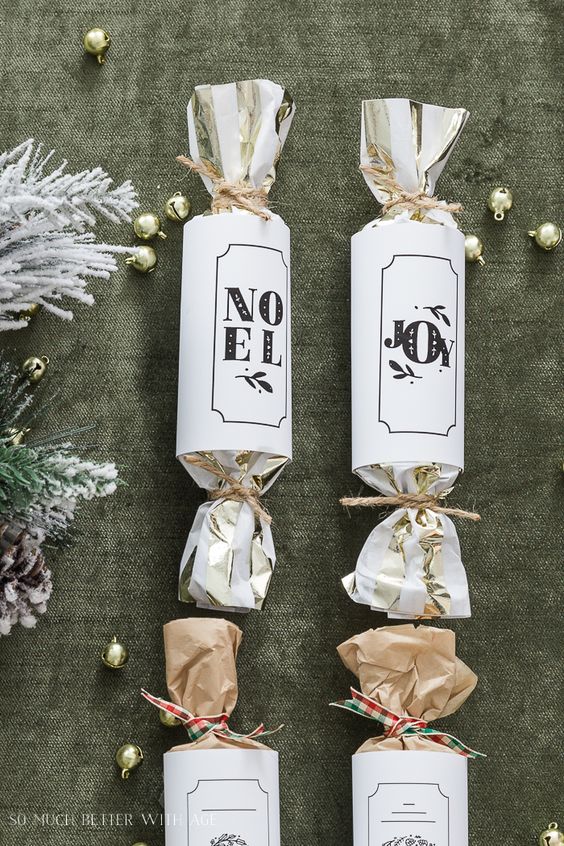 So Much Better With Age presents a straightforward guide on crafting DIY Christmas crackers. With detailed instructions and pictures, the author helps you create personalized and creative Christmas crackers filled with thoughtful treats, a delightful upgrade from the usual store-bought ones with cheap toys. The list of required supplies is manageable and includes everyday items like tissue paper and toilet paper rolls, making this an accessible activity for everyone. This blog post highlights the fun of making your own holiday gifts and how such a DIY project can significantly enhance the festive spirit.
Homemade Christmas Crackers Using a Cricut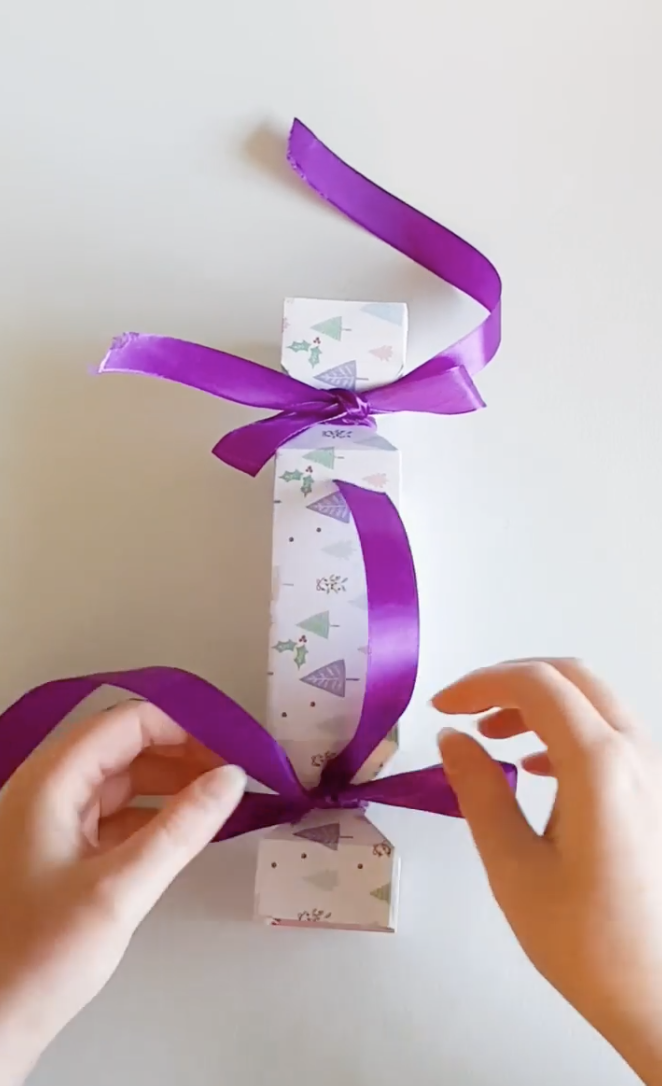 Such a great video tutorial by lucycraftsit on Instagram! She says they opted for these crackers for their dog that doesn't like loud noises... which I thought was such a great alternative! All made with a cricut!
Personalized Calligraphy Christmas Cracker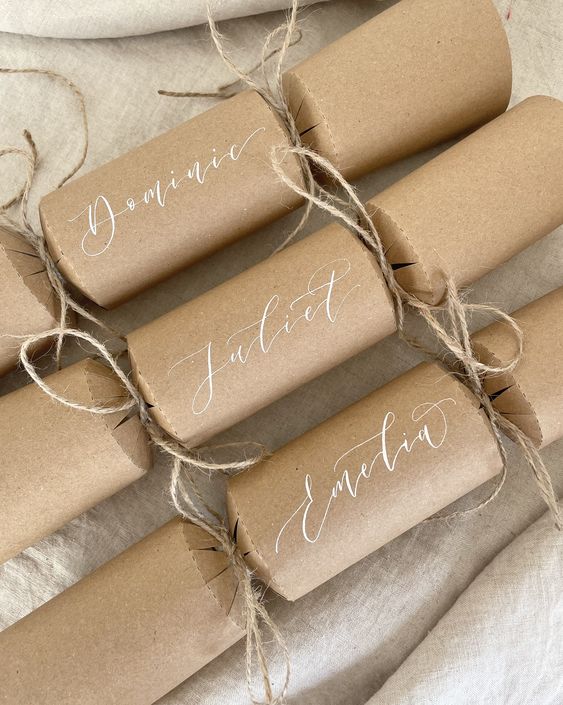 Leigh Calligraphy offers personalized calligraphy Christmas crackers that can elevate the holiday celebrations. These crackers are hand-written in signature calligraphy style in bleedproof white ink and are beautifully personalized. Each cracker comes complete with twine, a hat, a popper, and a printed joke, providing everything you need apart from a small, personal gift to tuck inside. Who wouldn't want one of these cuties at their Christmas table!!
Easy DIY Festive Crackers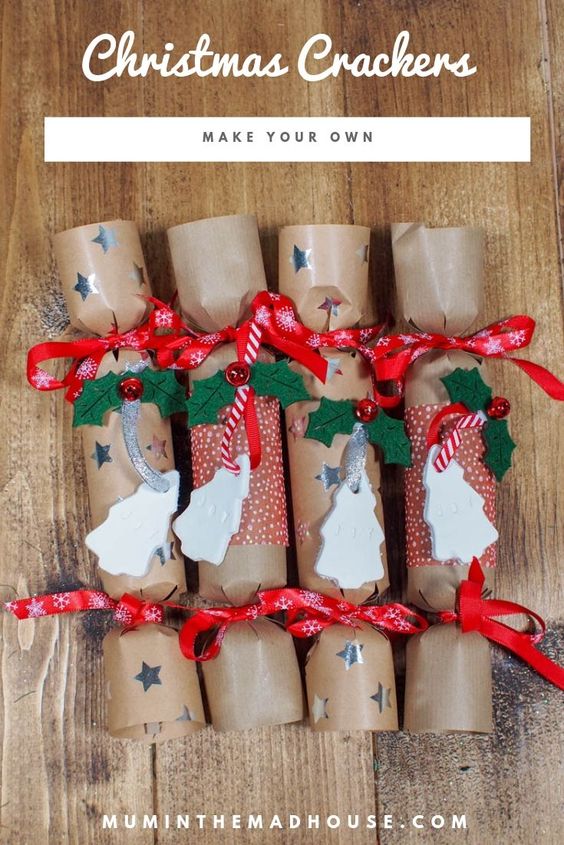 Mum in the Mad House offers a detailed, step-by-step tutorial on creating these homemade festive crackers. Written by Jen Walshaw, the guide demonstrates how making your own crackers can be enjoyable, and cost-effective, and give you the freedom to customize them as per individual preferences and themes!
DIY Christmas Bonbons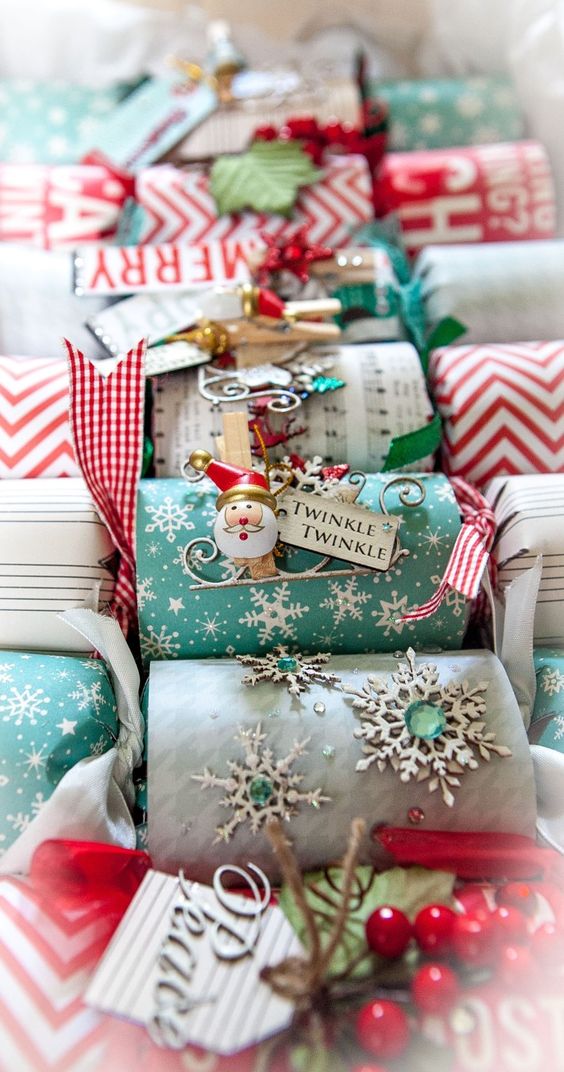 The tutorial on "DIY Christmas Bonbons" from Scrapbook Creations shares a creative process for making homemade Christmas bonbons, also known as Christmas crackers. The author, Jenny Garlick, provides an easy-to-follow guide, including assembling the bonbon bodies from selected papers of different colors and patterns. The post also includes tips on how to fill each bonbon with Christmas riddles and fun Christmas images sourced from the internet. So creative and fun!!
Christmas Crackers With Printable Cracker Jokes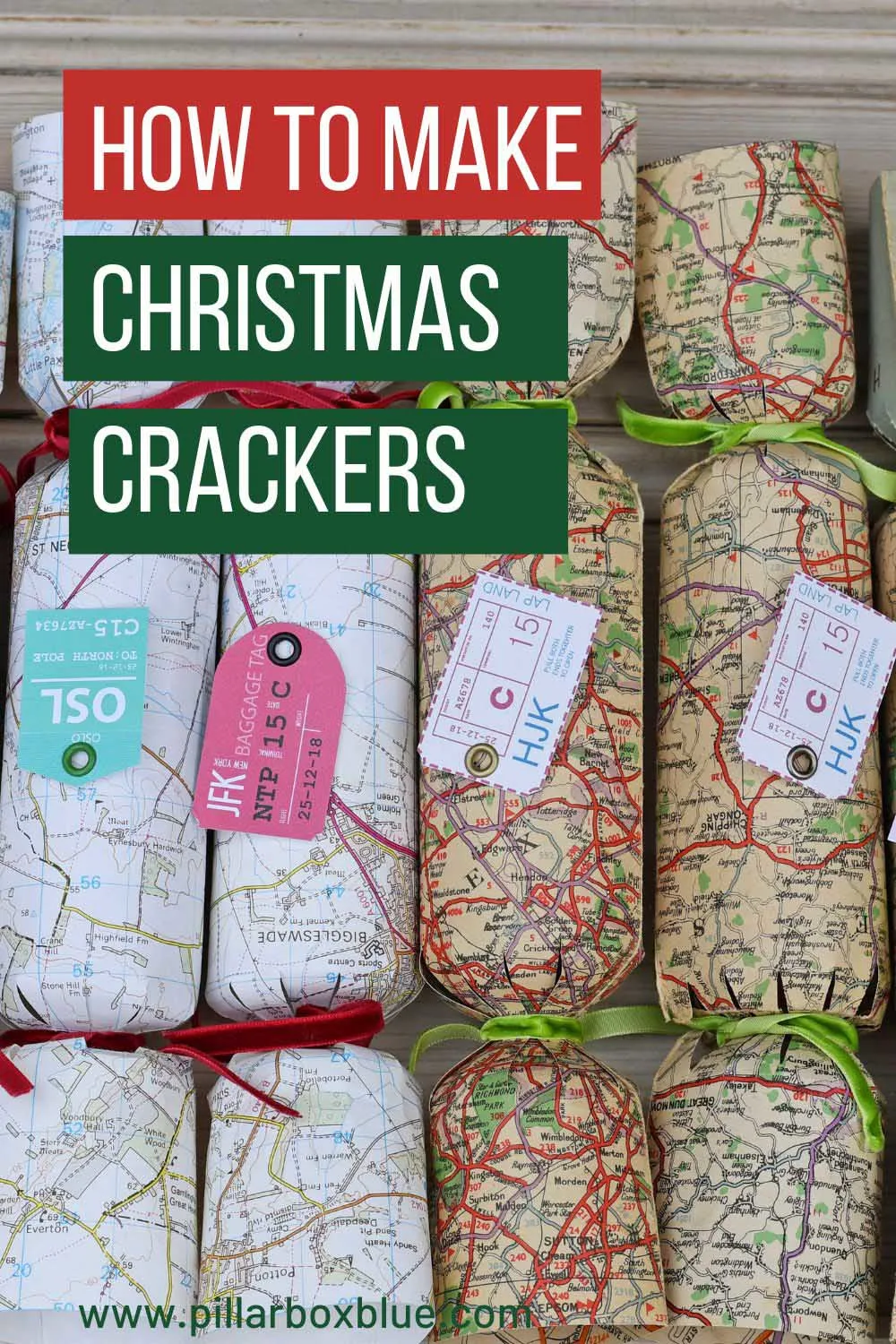 This tutorial on Pillar Box Blue teaches you how to create your own Christmas crackers that are unique and eco-friendly using old maps! Personalizing the crackers with destinations that have special meaning for the people around your holiday table adds a sentimental touch to this festive decoration. The tutorial includes a step-by-step guide on assembling the Christmas crackers and provides a list of 31 family-friendly, cheesy jokes, which are available as free printable sheets for your guests. This DIY allows you to create decorative and customized Christmas crackers, bringing extra warmth and joy to your holiday celebration!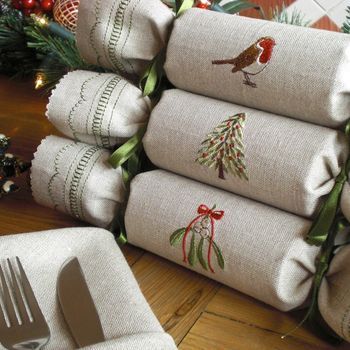 The Woodland Reusable Christmas Crackers tutorial by Kate Sproston Design on Not on The High Street outlines a nature-inspired approach to eco-friendly holiday celebrations. The tutorial shows you how to create reusable holiday crackers that can elevate your Christmas table year after year. These handmade woodland-inspired crackers can be filled with personalized gifts, tickets, vouchers or used as markers at the Christmas dinner table, catering to your unique festive tradition. Resilient and reusable, these cardboard tube crackers are also eco-conscious, embodying the spirit of the season!
Printable Tags for Christmas Crackers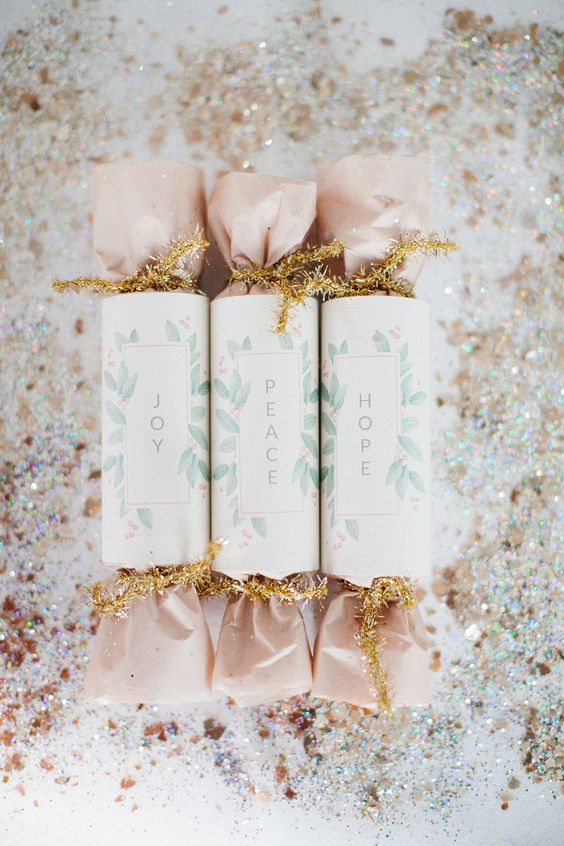 One of my favorite bloggers Monika Hibbs has this awesome tutorial on DIY Christmas Crackers & Tags where you will find a simple and creative guide for crafting personalized Christmas crackers and gift tags! This hands-on, customizable decorative project requires a variety of basic crafting materials and steps. Additionally, the tutorial offers printable templates for various designs of crackers and gift tags, adding a unique and festive touch to your holiday gifts! I love freebies!! With just some pretty paper and a bit of creative spirit, this project can elevate your holiday gift-giving.
Tips for Making DIY Christmas Crackers
Choose Quality Materials: Use good-quality paper or tissue for covering the cracker. The texture and color of the paper can add a lot to the final aesthetics of the crackers.
Personalize Each Cracker: Make every cracker special for the intended recipient. You could include a personal note, their favorite candy, or a small charm that reminds you of them.
Get Creative with Fillers: Don't limit yourself to the traditional paper crown and joke. Think little trinkets, sweets, or even mini beauty products. The contents should ideally be lightweight and fit easily inside the cracker.
Use Safe Cracker Snaps: Practice safety first. Make sure to buy safe and reputable cracker snaps. Keep away from children while assembling and let an adult supervise the popping action during the festivities.
Experiment with Decoration: Use ribbons, stickers, sequins, or anything that adds extra appeal to your decoration, but remember, overdoing might kill the elegance. Balance is key in design.
Recycle and Reuse: Seek out recycled paper or reused materials from your home, contributing to an environmentally friendly Christmas. Plus, thrift shops are a treasure trove of beautiful fabric scraps and embellishments that you can use.
Determine the Right Size: The size of your cracker will depend on your included gifts and audience. Make sure your gifts fit into your cracker neatly and suit your recipient.
Include Fun Elements: You can turn your Christmas cracker into a fun game. For instance, you could include a scavenger hunt clue or a riddle leading to the next cracker.
Practice Before The Final Try: It might take a few tries to get your crackers looking just right, so don't get discouraged if your first few attempts are not perfect. Practice makes perfect.
Make it a Group Activity: Making Christmas crackers is a great family or friends activity. Assemble a team, make it fun, and create beautiful memories while creating your crackers.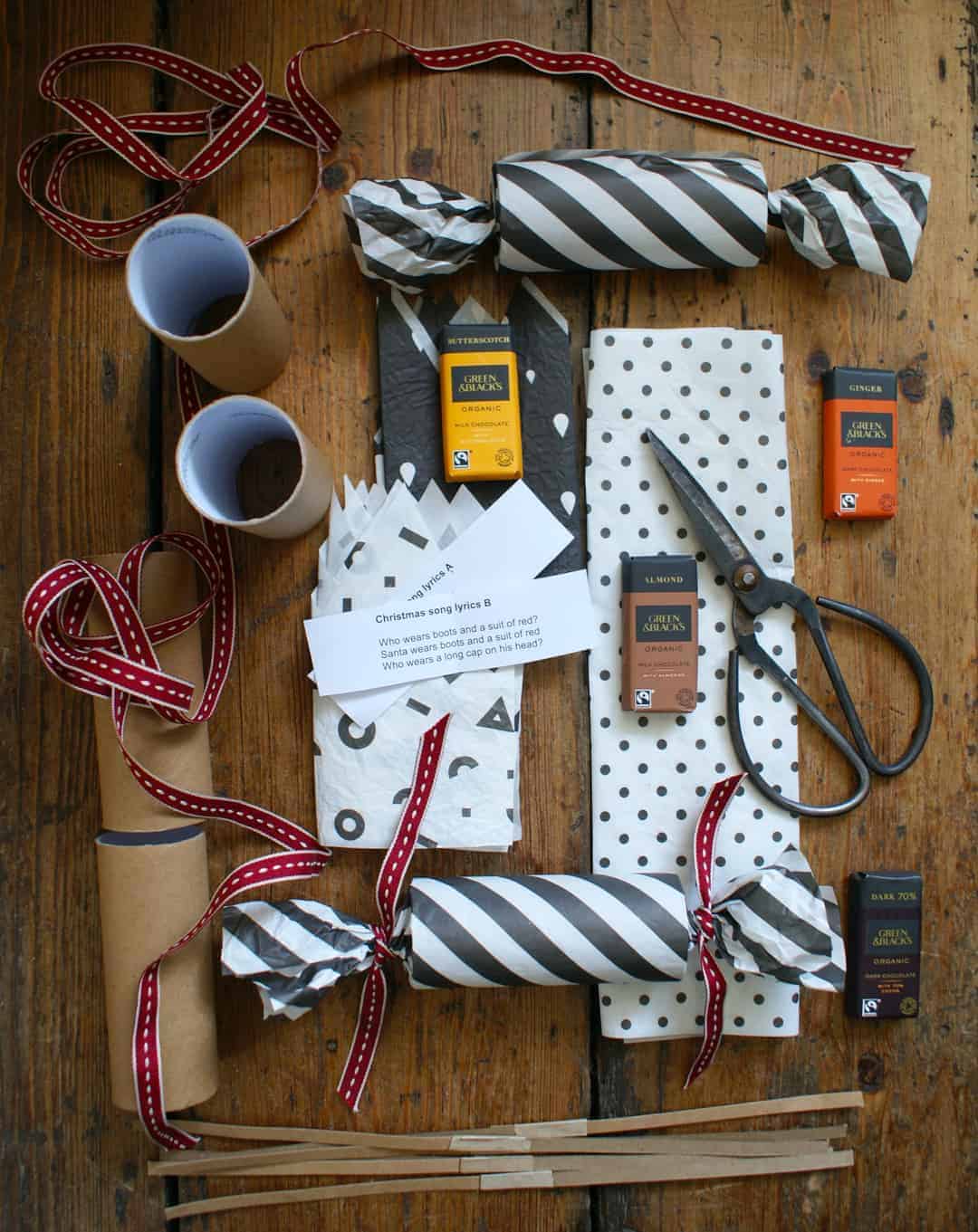 What to Put in A Christmas Cracker:
Here's a list of fun, unexpected, and heartwarming small gift items you can add to your homemade Christmas crackers for a memorable festive surprise! Remember, it's not about how grand the gifts are, but the thought and intention behind every item that truly counts.
Jokes and Riddles: A classic choice! Wholesome, family-friendly jokes or riddles can provide hearty laughs around the table. Remember, the cheesier, the merrier!
Chocolates or Candies: Who doesn't love a sweet treat during the holidays? Mini chocolates, candies, or gourmet jelly beans could be a hit!
Quirky Keychains: Cute, fun, or personalized keychains can make delightful keepsakes.
Mini Beauty or Grooming Items: Think small hand creams, lip balms, or nail files for beauty fans. Miniature grooming tools or beard oils will be appreciated by those who like to stay dapper!
Seeds or Tiny Plant Cuttings: For those with green thumbs, gifting seeds of flowers, veggies, or microgreen can be a delightful surprise.
Crafting Components: Beads, mini embroidery kits, or sewing tools can be a sweet and thoughtful filler for crafty folks.
Fortune Teller Fish: These little nostalgia-inducing toys are fun and can prompt conversations around the table.
Pocket-Sized Games: Mini puzzles, brain teasers, or dice can provide some post-dinner entertainment. Or try this Christmas bingo!
Personalized Vouchers: Handwritten tokens offering a free car wash, foot massage, or the promise of breakfast in bed make personal and heartwarming gifts.
Charms or Pendants: A small charm or pendant has the power to pack so much love and message.
Small Toys: You can find so many cute small toys (like a bouncy ball or bath ducks) at the dollar store to fill those cardboard rolls!
Temporary Tattoos: These removable tattoos are always fun to get in a Christmas cracker!
Wrapping Up the Festive Cracker Fun
There you have it– our carefully curated top 10 DIY Christmas crackers that are sure to make your holiday season truly special. Nothing beats the charm and thoughtfulness of homemade Christmas crackers. Each cracker can capture a memory, a personal touch, or even that hilarious inside joke that always gets a laugh at your festive family gatherings.
Remember, crafting these DIY Christmas crackers is all about injecting fun into your holiday preparations. Whether you decide to opt for a fancy glittery design or even aim for a rustic eco-friendly look, the goal is to create not just Christmas crackers, but delightful holiday experiences filled with joy and laughter.
More Christmas DIY Posts:
So, don't wait another moment. Unleash your creativity and start filling your Christmas table with your incredible, customized DIY Christmas crackers. Let the popping sounds of your crackers resonate with the heartfelt laughter and cheer, encapsulating the very essence of the Christmas spirit.
Merry crafting and a very Merry Christmas to you all!
Until next time,
BEST SELLERS