5 month baby update; Elliott turned 5 months old on March 29th!
Disclaimer: this post may contain affiliate links, and every purchase made through these links will give me a small commission (at absolutely no extra cost for you!) AS AN AMAZON ASSOCIATE AND REWARDSTYLE MEMBER, I EARN FROM QUALIFYING PURCHASES. See Privacy Policy for additional info.
Hi beauties!
I have somewhat missed the boat on these monthly updates, but I guess it is never too late to start! I mostly want to keep these updates for me, so I can look back with our next baby and see what was going on in Elliott's life!
Elliott is our baby girl, born on October 29th, 2019. She is our first baby and the light of our life!
At her 4 month appointment she weighed 14 pounds 3 oz. She is still following her curve in the 50th percentile which is great! She is also 25.5 inches, 85th percentile for height!
This past month was rough because we were all very sick. She got her first cold and spiked a fever (38.3 degrees). We were in and out of the doctors office 3 times this month. We also delayed her vaccines because of her fever.. so she actually got her 4 month vaccines 3 weeks late.
Her cold consisted of a runny nose, cough and the fever. She was also super cuddly and just wanted her mommy to hold her all the time. During her cold, she was getting a lot of nose bleeds too (even with a humidifier running in her room). Eventually they stopped and her nose was less snotty. It took about a week and a half for her to feel better.
Because of this cold, I feel like we avoided the 4 month sleep regression! I don't want to jinx it but she slept really well when she was sick.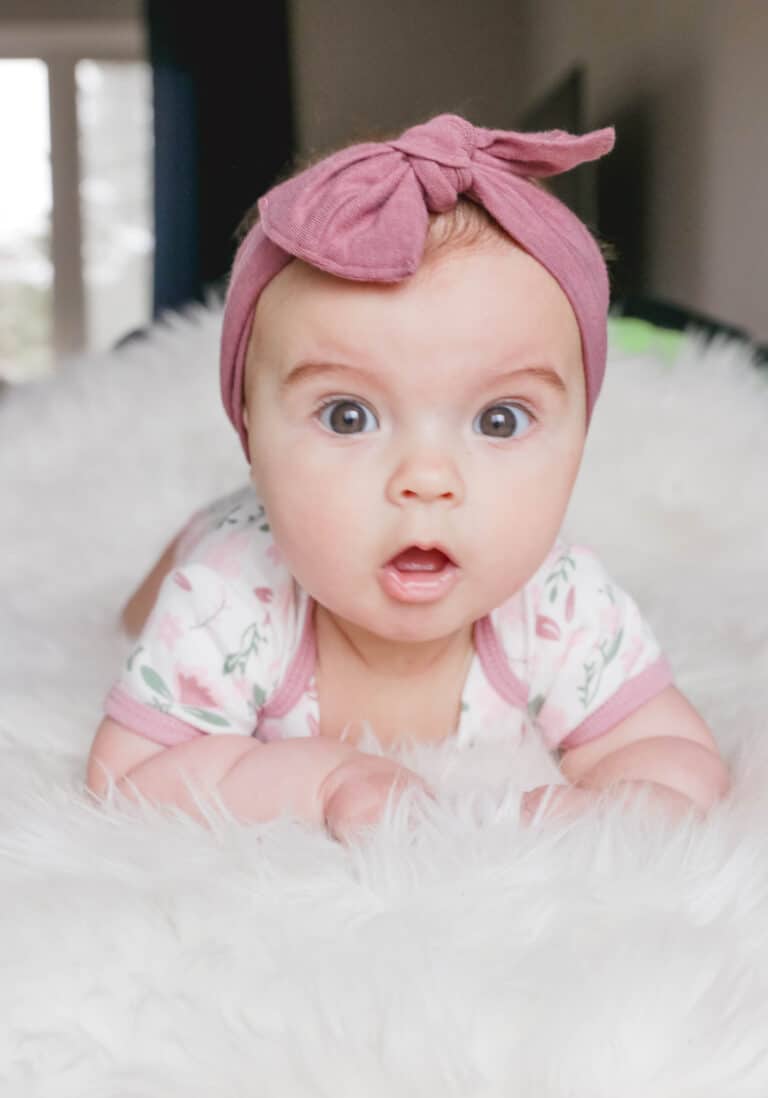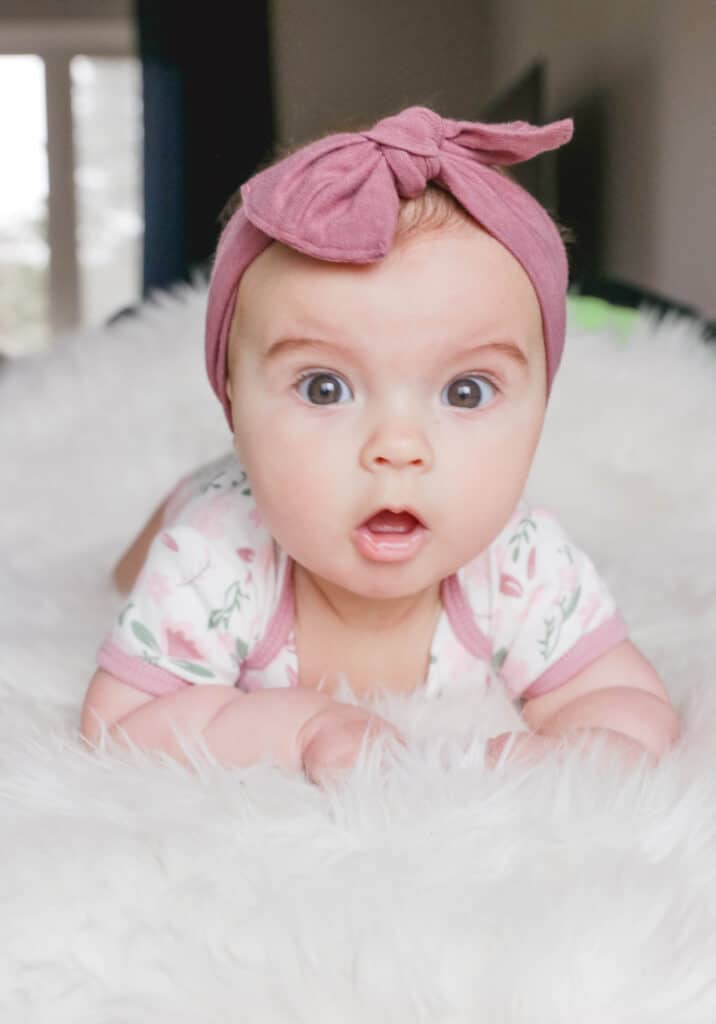 5 Month Baby Update
Breastfeeding
Breastfeeding is still a struggle. I find that once I get in a routine of feeding, she changes it all on me. Right now she is feeding 5 minutes on each side. I started feeding on each side because she is draining me in 5 minutes and then cries when I pull her off. I check by hand expressing and I am unable to get any milk, so I put her on the other side and she is satisfied after another 5 minutes. She is feeding every 2-3 hours depending on her nap schedule.
It is still super painful at times. I have a good latch but I find that she likes to gum feed and I end up with a bruise ring around my nipple. The things we do for our babies!
She is still having TONS of wet diapers and gaining weight.
We are planning to start feeding solids at 6 months.
Sleeping
Sleeping has improved SO MUCH. I will admit, I googled last week "can an infant sleep too much". Maybe she is catching up on all the sleep she missed during the newborn stage!
We put her down to sleep at 7pm and she wakes up for the day at 8/9am. I am still dream feeding at 10pm and then she usually wakes up once through the night for a feed.. but every night is different in terms of timing. Some mornings she wants to sleep till 9am and other mornings she is done at 7am.
She also LOVES sleeping on her belly.. which really worried me at first because of SIDS but she is able to roll onto her stomach herself and has good head control so our doctor said it is fine to let her sleep like that. It was exhausting watching the monitor every night and going into her room to flip her over.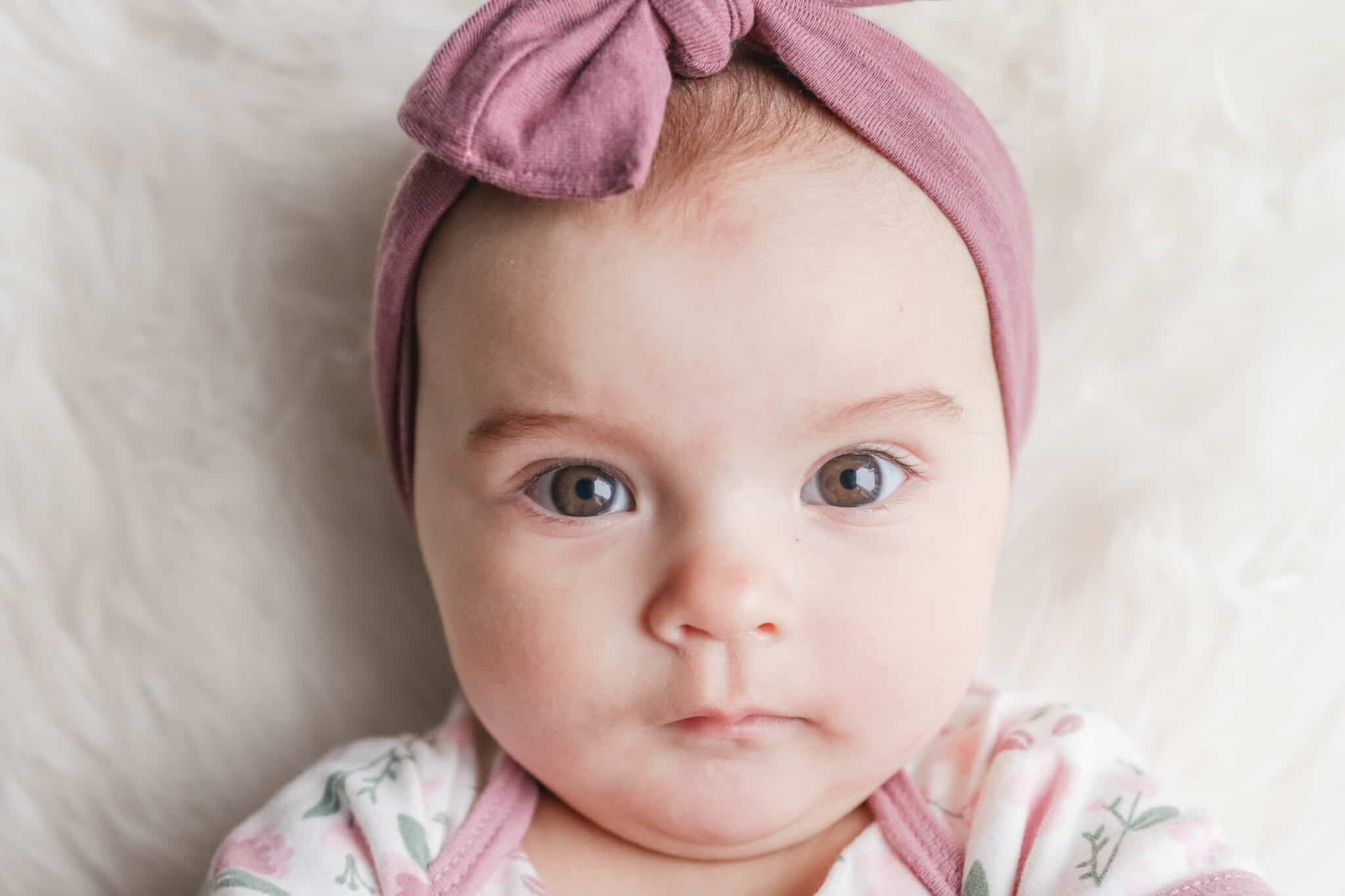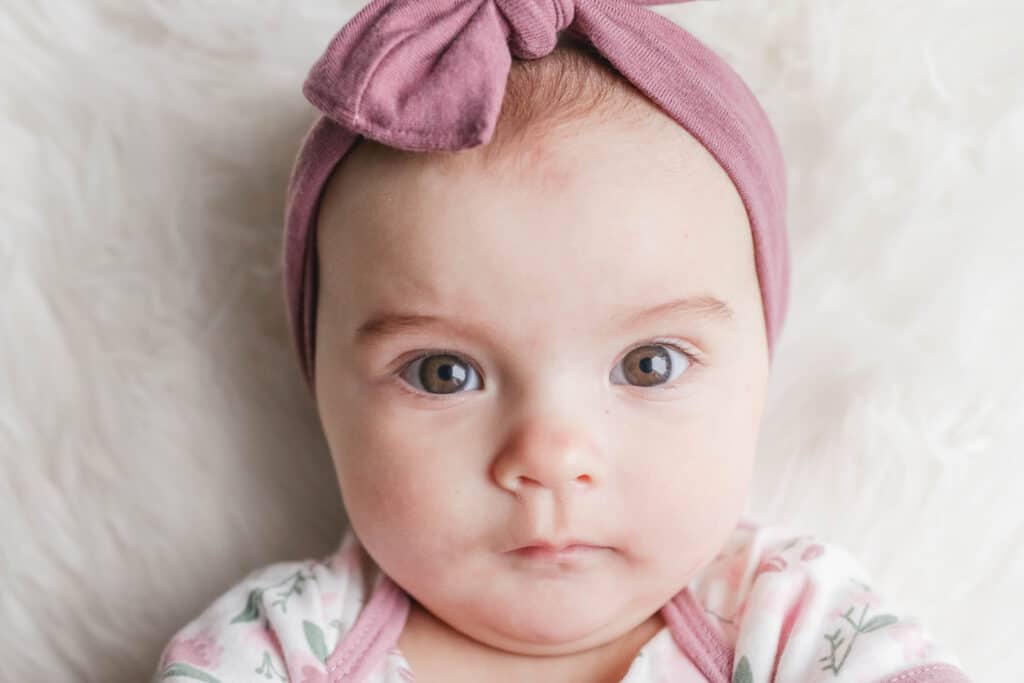 Naps
Naps have been going great. We are currently trying to extend her wake times from 1 hour to 2 hours. Right now she gets super tired after 1 to 1.5 hours of being awake. Apparently 5 month olds should be able to stay awake 2 - 2.5 hours so we are going to work on that.
Right now she has 3 to 4 naps a day. Each nap is 1 - 1.5 hours long. She puts herself right to sleep with her thumb. She literally loves naps. When we wake her up, she is usually cranky and cries until I feed her.. which is why her feeding schedule is dependent on her nap schedule.
Milestones
We are working on her sitting up on her own. She usually just folds in half when I put her in a sitting position on the floor. She can sit up fine if I put her in the middle of my nursing pillow.
She is really good at grabbing things now. She reaches out for objects I put in front of her and she is able to grab them and put them right into her mouth!
She is still rolling onto her belly lots but is unable to roll back on to her back.
This is obviously not a milestone, but something funny worth mentioning.. she started putting her foot in her mouth. She loves bringing them up to her mouth and chewing on her toes!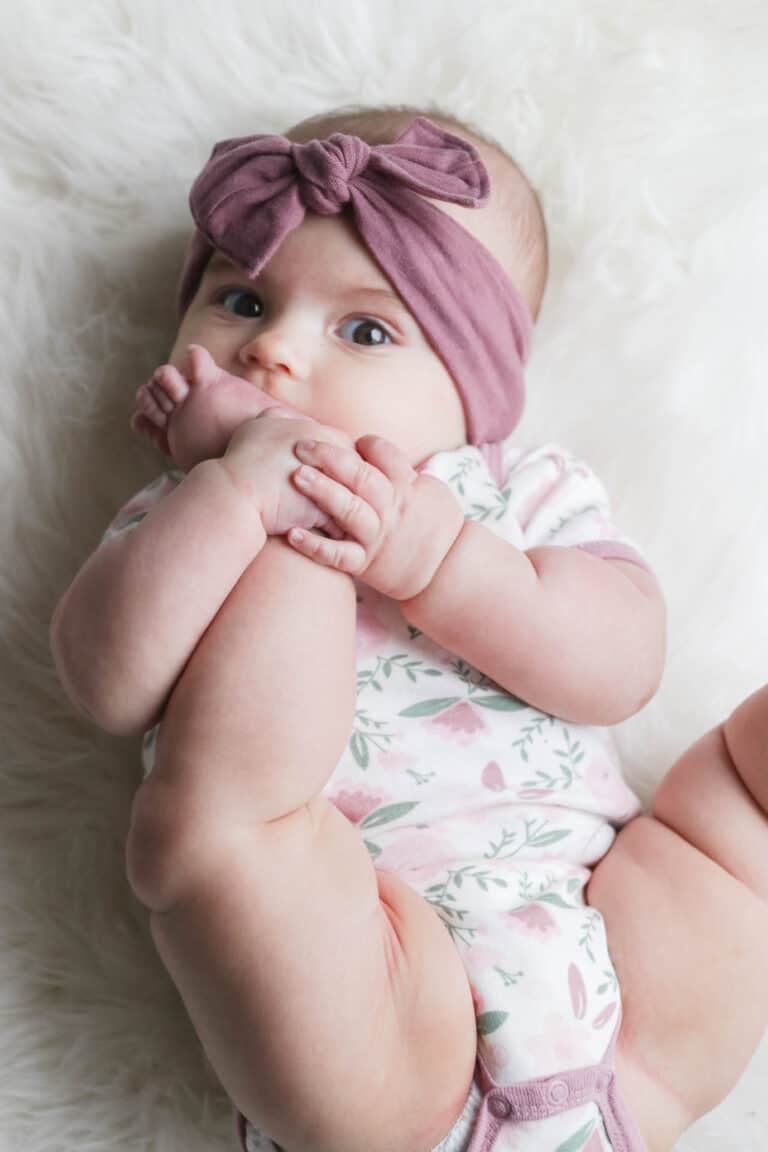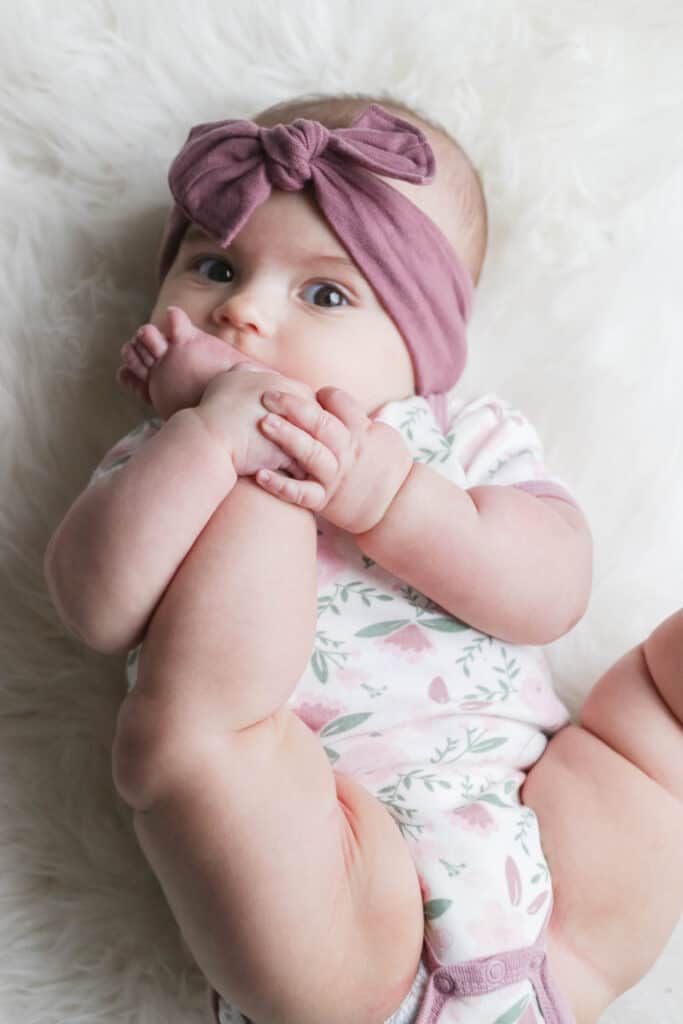 Likes
Jolly Jumper. She LOVES her jolly jumper.. it is the only way to get her to stop crying at times. She would spend an hour jumping in there if we let her.
Bath Time. She has so much fun in the bath still. We are bathing her 5-6 times a week because it is the only thing that will get us through witching hour.. yes she is still witching haha We only wash her hair 1-2 times a week.
Facetime. Due to the pandemic, we have been FaceTiming family a lot and she gets super excited when someone is on my phone.
Mirrors. She loves looking at herself in the mirrors. She smiles every time. It is the cutest thing ever!
Dislikes
Being alone. She doesn't like being left in her activity centre or baby swing.
Teething. Teething has been a struggle for us. She is clearly teething at times but still no tooth! She chews on a lot of frozen toys. I also have a baby pacifier mouth guard that I freeze and she finds comfort in that. We also started freezing wet facecloths. She also drools everywhere and loves to lick/suck her hands.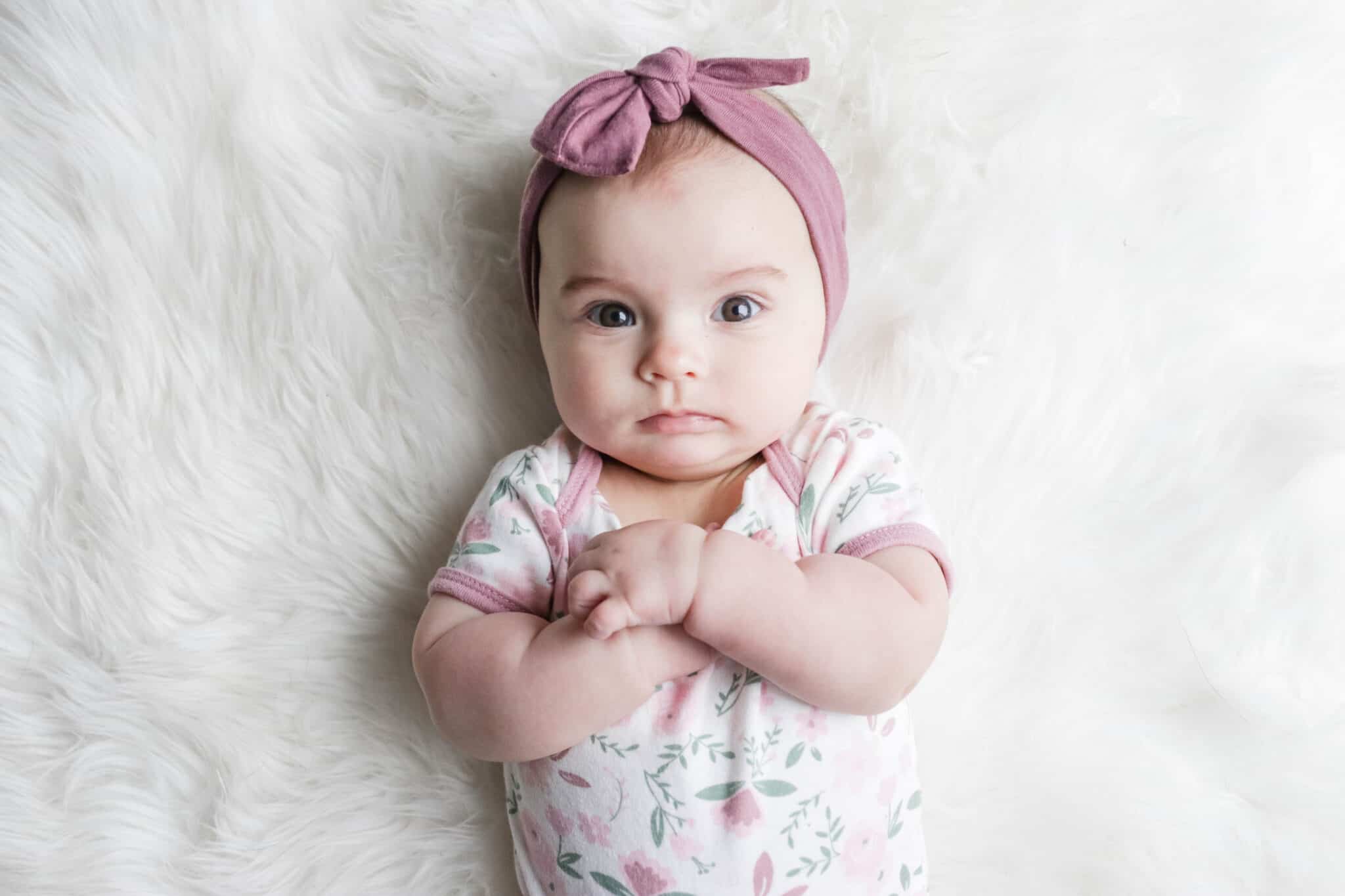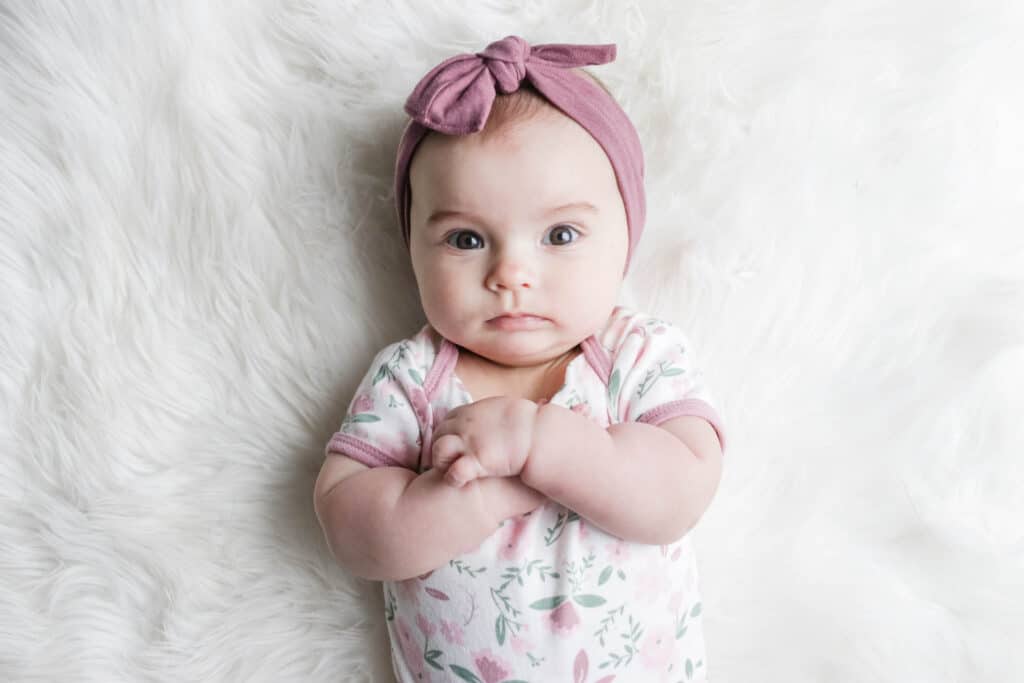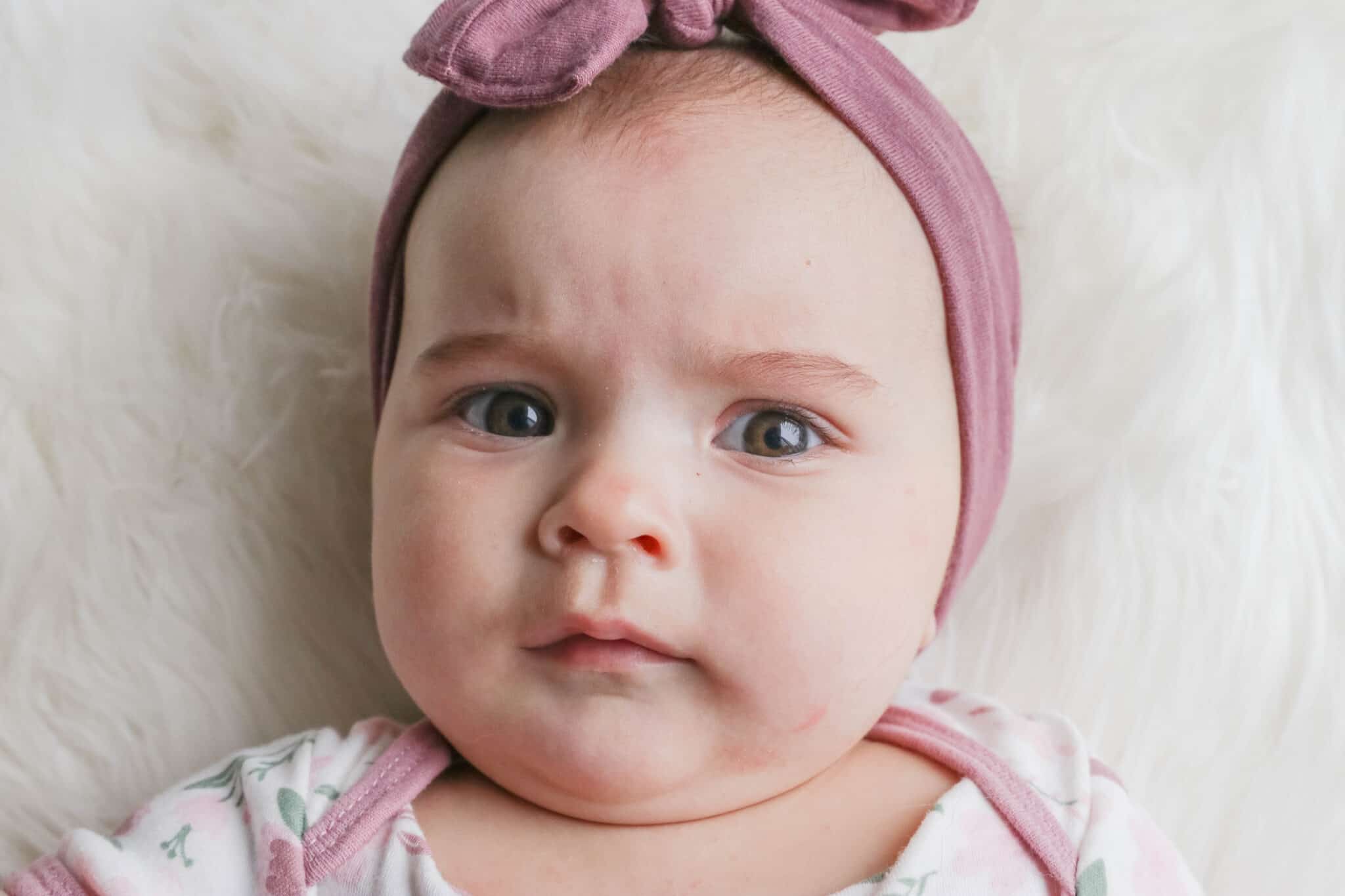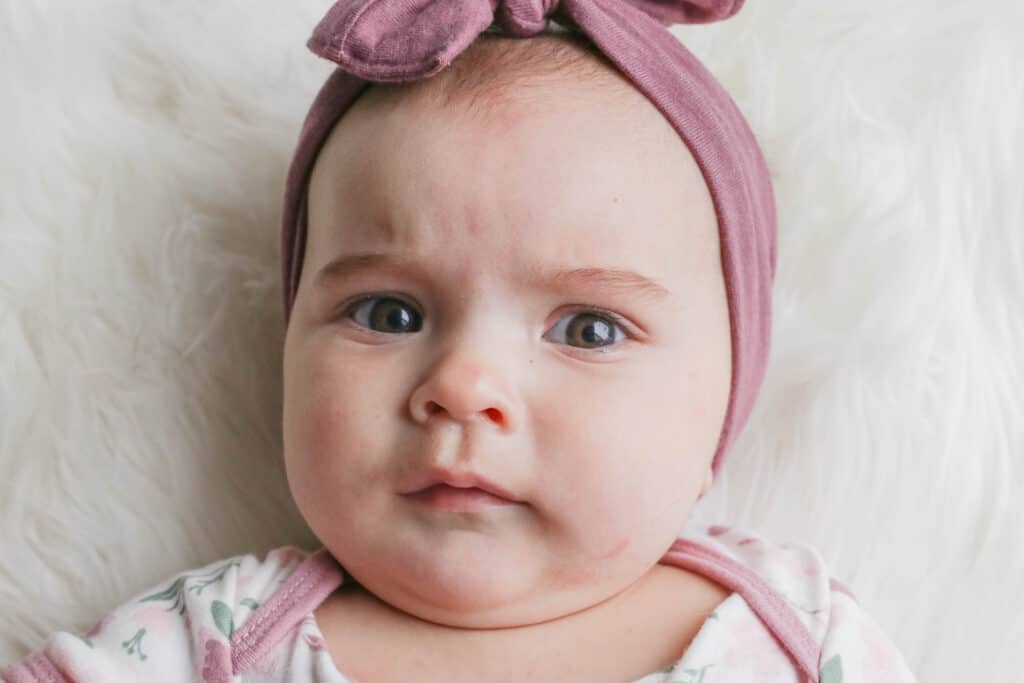 Thats about it for this update! It was a rough last month due to her being so sick.. it was so stressful for me because I worry about everything and am terrified of SIDS so I obsess over everything when it comes to her. I am so thankful she is feeling better!
She is getting quite an attitude too which is hilarious at times. She yells at us when we aren't paying attention or when she wants out of her activity centre. She is full of surprises!
I hope you enjoyed this 5 month baby update!

BEST SELLERS