5 Steps to Set Up a Home Office
Disclaimer: this post may contain affiliate links, and every purchase made through these links will give me a small commission (at absolutely no extra cost for you!) AS AN AMAZON ASSOCIATE AND REWARDSTYLE MEMBER, I EARN FROM QUALIFYING PURCHASES. See Privacy Policy for additional info.
If you are fortunate enough to work from home, you will need to set up a home office where you can be both productive and happy which is essential to make the best of this rare opportunity.
Working from your couch or dining table is not a practical option in the long term. Crouching over your laptop for hours is guaranteed to give you back pain. And getting disturbed every few minutes by kids or housemates is not fun either. Ultimately, you could dread the idea of remote work and wish you had continued with the typical office setup.
This is why you must create an effective home office. Wondering how? In this article, we take you through simple steps to design a workspace you will absolutely love.
How to Set Up a Home Office:
1. Find a Dedicated Space
First things first—you must identify a suitable area in the house you can use as a home office. When determining an appropriate workspace:
Choose a location where you could minimize disturbances from others living with you. Avoid areas where your kids or partner spend time, such as the living room, dining area, or bedroom. Ideally, the space you select should allow you to shut off the rest of the world and create your own peaceful sanctuary so you can fully focus on your work. Of course, if you live on your own, you would not need to worry about this.
Ensure there is plenty of natural light and ventilation. It is not just about saving energy bills. These factors have a direct impact on your mental and physical well-being. Getting enough natural daylight, for instance, can reduce eyestrain by 51%, headaches by 63%, and drowsiness by 56%.
Be practical when deciding on the amount of space you would require. You don't always need a large dedicated room for a home office. However, it should allow you to work effectively without feeling cramped and accommodate essential equipment, including your computer, printer, stationery, and documents.
2. Think About Long-Term Comfort
To enjoy being in your home office, it must provide a comfortable space for you to work in. At first, comfort might mean a plush chair in your favorite color or adding a pillow and throw. But these things will not help you in the long term.
As you sit and work for long hours, you could experience neck and back pain, eyestrain, carpal tunnel syndrome, repetitive strain injury, and various other physical issues if you don't consider ergonomics. To create an ergonomically designed workspace:
Use desk and wall lamps to ensure your workstation is well-lit. Natural lighting is always better. However, turn your desk perpendicular to the window to prevent glaring.
Invest in a chair with lumbar support and adjustable height and armrests.
Position the screen at eye level by using a laptop stand.
Purchase an ergonomic mouse and keyboard for improved comfort.
Consider getting a standing desk to prevent prolonged sitting. A treadmill desk is another option if budgets permit.
Get a footrest if you are unable to keep your feet comfortably on the ground.
3. Declutter and Tidy Up
Once it starts accumulating, clutter can sap the joy out of your work environment. A clean, minimalistic space can help you focus better, minimize accidents, and make your office much more functional. So, identify what you don't need and keep only what is essential. Also,
Store items you decide to keep in a dedicated location based on their usage. For instance, have stationery and your printer close at hand so you would not need to get up each time you need them. Store important documents in a locked drawer to avoid misplacing them and prevent unauthorized access.
Hide unruly wires out of sight.
Avoid storing things under your desk to ensure you have enough legroom to work comfortably.
If you need additional storage space, invest in storage solutions—from shelves and bins to cabinets and drawers on wheels.
4. Add a Personal Touch
Aesthetic features are inarguably important for a delightful work environment. So, make your office space your own with some tasteful touches. Here are a few ideas to get you started:
Decorate with an accent wall in a bold, dark color.
Place family photos by your desk.
Line up the walls with paintings. Use designs or images that make you smile or ones with motivational quotes. They could offer a wonderful visual break while providing inspiration.
Add something that reminds you of your achievements, such as a trophy or a graduation photo.
Cover the windows with chic curtains or blinds.
Get a luxurious rug, decorative chandelier, or a stylish vase with natural flowers.
If you are on a budget, you can easily find decorative pieces at secondhand stores or garage sales. Social media and Craigslist can also lead you to excellent bargains. However, when you are purchasing online from unknown sellers, taking necessary precautions to avoid scams is important. For instance, reverse search the vendor's contact number on Nuwber to learn more about them, read reviews, and check the item in person where possible.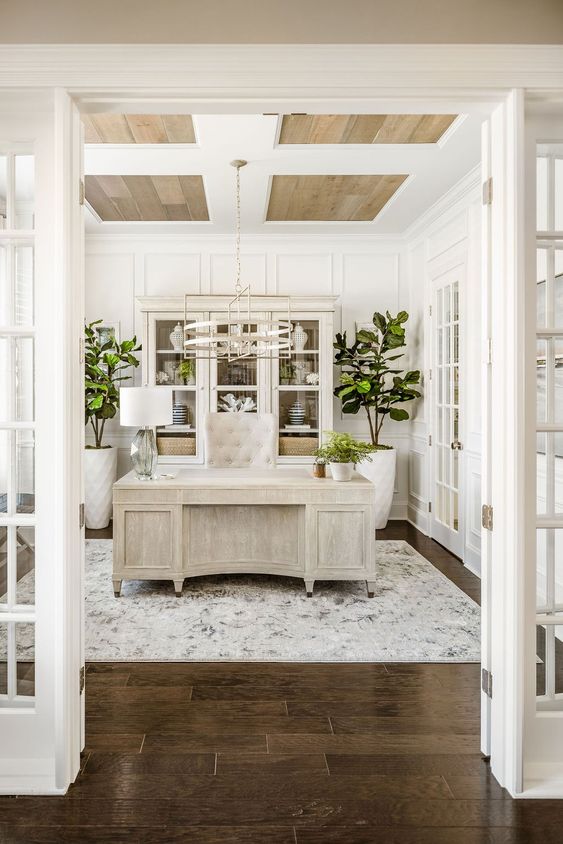 5. Stimulate Your Senses
A calming and peaceful environment can help ease stress, making you want to spend more time in it. To create a Zen office space that stimulates your senses for a productive mindset:
Create a tranquil ambiance with an essential oil diffuser.
Set up a speaker and play light music in the background.
Avoid distractions with noise-canceling headphones.
Decorate the space with soothing colors. Blue and green can be more calming than orange and red hues.
Introduce a few indoor plants. Peace lily, pothos, philodendron, and similar plants can make the air more breathable while also adding a pop of green.
In Conclusion
When you are planning to spend more time working from home, creating an environment you love to be in is essential for making your work fulfilling and productive.
Start by choosing a dedicated space for your home office, and consider your long-term comfort to prevent injury and optimize efficiency. Don't forget to declutter and tidy up, decorate with a personal touch, and create a tranquil space that could stimulate your senses. I hope you found this post useful for ways to set up a home office you will love.
More Ways to Set Up a Home Office Posts:
BEST SELLERS