Discover how to design a home office that is functional yet stylish in this blog post. We cover space selection, furniture, ergonomics, organization, lighting, and decor tips for a productive and visually appealing workspace.
Disclaimer: this post may contain affiliate links, and every purchase made through these links will give me a small commission (at absolutely no extra cost for you!) AS AN AMAZON ASSOCIATE AND REWARDSTYLE MEMBER, I EARN FROM QUALIFYING PURCHASES. See Privacy Policy for additional info.
Hi beauties! future office-makers! If you've been longing to turn that empty corner or spare room into a rocking home office, you're in the right place. Home offices are the "new normal," but that doesn't mean they have to be plain or purely utilitarian. Oh no, I believe in sprucing things up. Blend functionality with those style goals to create a space where ideas blossom and productivity soars.
A functional and stylish home office can have a significant impact on your work productivity and overall quality of life. It's essential to create a dedicated workspace that promotes efficiency, motivation, and creativity. In this blog post, we will discuss how to design a functional and stylish home office by carefully considering several essential elements, such as space, furniture, lighting, and organization.
In this post, I'll walk you through the A to Z of creating a home office that's not only practical for your work needs but also a stunning representation of your unique style. From scouting the best location in your home to finding the coziest chair, organizing those pesky cords, embracing your inner interior decorator, to setting the lighting just right (and so much more), I've got you covered. So, let's roll up our sleeves and embark on this exciting design journey together!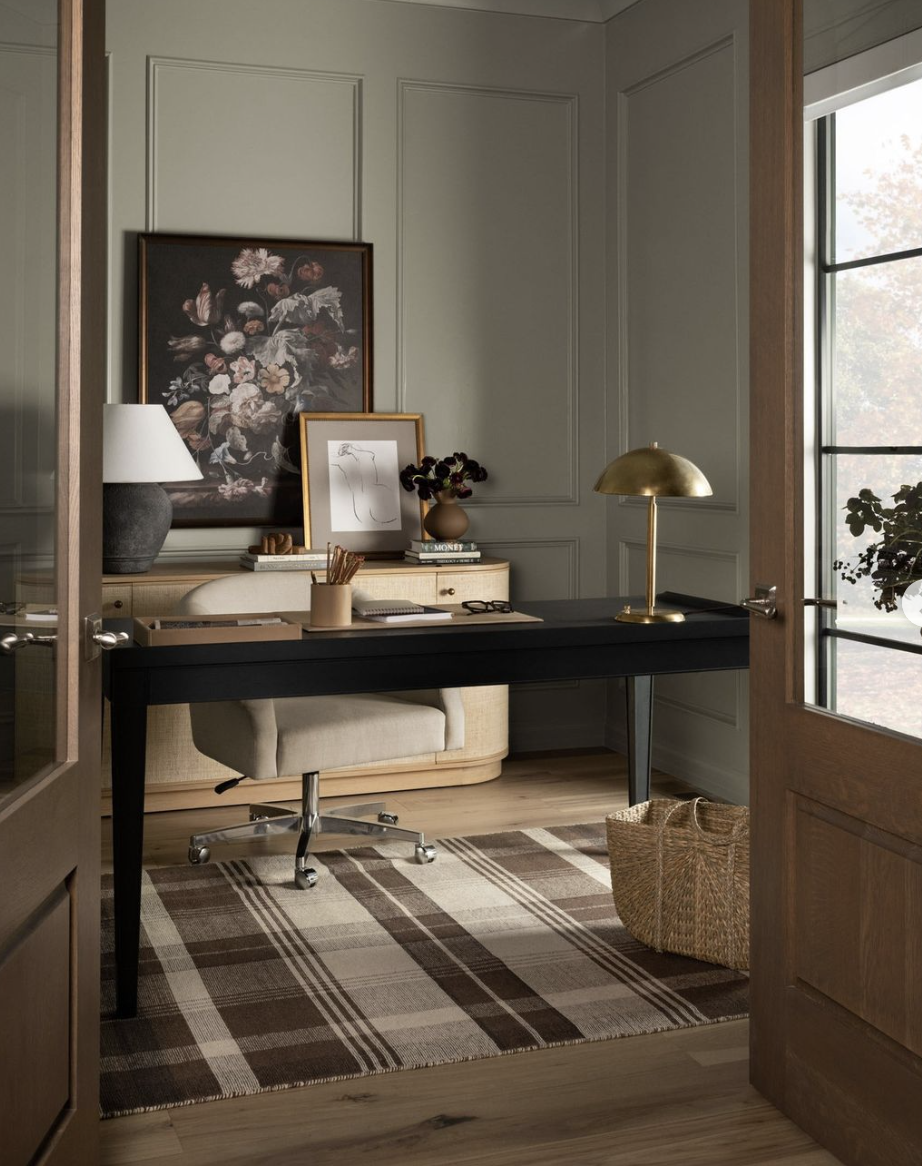 How to Design a Home Office
As working from home becomes the new norm, creating a dedicated and inviting workspace is no longer just a luxury but a necessity. Balancing practicality and design, however, can be quite a challenge. Whether you're starting from scratch or looking to revamp your existing setup, this blog post will guide you through the process of designing a functional and stylish home office. So let's delve in and explore key elements such as selecting the prime location, choosing suitable, ergonomic furniture, organizing the space effectively, incorporating aesthetic elements, optimizing lighting conditions, and more.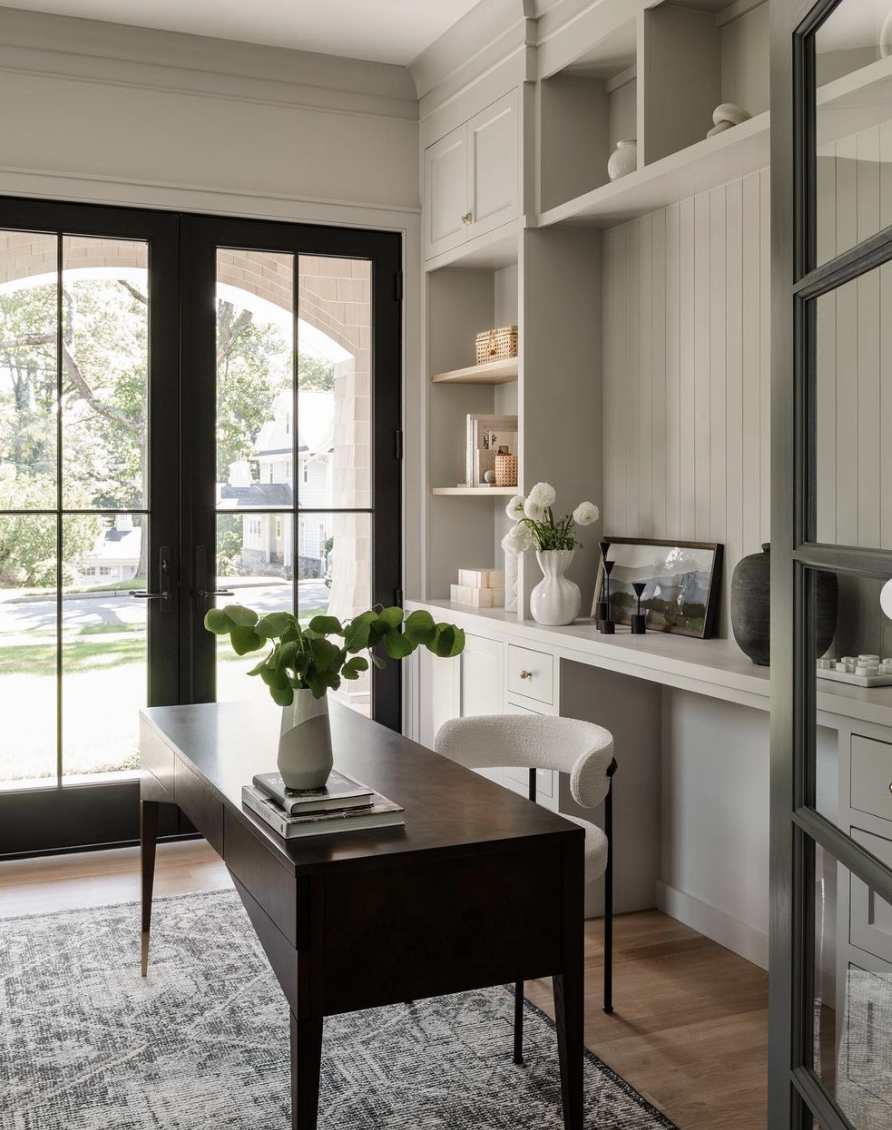 Finding the Perfect Space
Assess your needs: Before starting your search for the perfect home office space, determine your specific requirements. Consider factors such as the size of your desk, the number of electronic devices you'll need, and storage requirements for paperwork or additional office supplies.
Choose a quiet location: Home offices come in all shapes and sizes, but one thing they should all have in common is a certain level of peace and quiet. Ideally, your office should be located away from common living areas, such as the living room or kitchen, to minimize distractions and noise.
Take advantage of natural light: Whenever possible, choose a space with ample natural light to create an inviting and energizing environment. However, remember to consider the position of your desk and computer to avoid glare on your monitor.
Consider your view: If you have the luxury of choosing your office location, consider a room with a pleasant view. A beautiful landscape or a calming environment outside your window can stimulate creativity and make your office more enjoyable.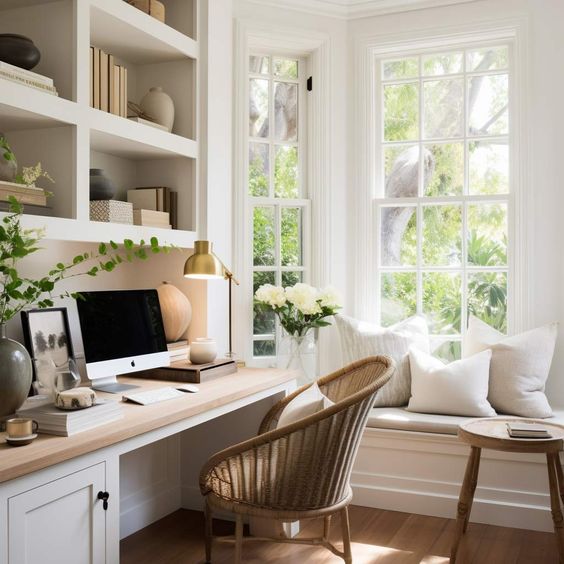 Selecting the Right Furniture
Invest in a quality desk: Your desk is one of the essential elements of your home office. Make sure it's large enough to accommodate your computer, paperwork, and other accessories. Consider a desk with built-in storage, such as drawers or shelves, to keep your workspace clutter-free.
Choose a comfortable chair: Since you'll likely spend hours sitting at your desk, invest in an ergonomically designed office chair that supports proper posture and reduces physical fatigue.
Plan for storage: Depending on the nature of your work, you may need various storage solutions in your home office, including filing cabinets, bookshelves, or storage bins. Plan for your storage needs and consider how they can integrate seamlessly with your office design. If you need to add a daybed to your office make sure it has storage under it!
Don't forget about guest seating: If you frequently hold in-person meetings, invest in stylish and comfortable guest seating that complements your office's design.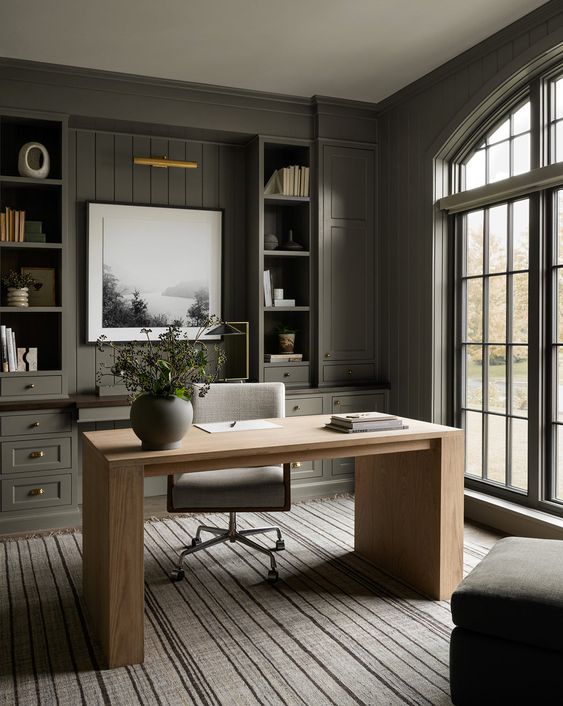 Creating an Ergonomic Workspace
Adjust your chair and desk: Your chair should have proper lumbar support, and your desk's height should allow you to work with your arms resting comfortably at a 90-degree angle.
Ensure proper monitor and keyboard placement: Position your monitor at eye level to prevent neck strain and place your keyboard close enough to avoid overextending your arms.
Use a sit-stand desk: Consider investing in a sit-stand desk which allows you to alternate between sitting and standing throughout your day. This can significantly improve your overall comfort and productivity.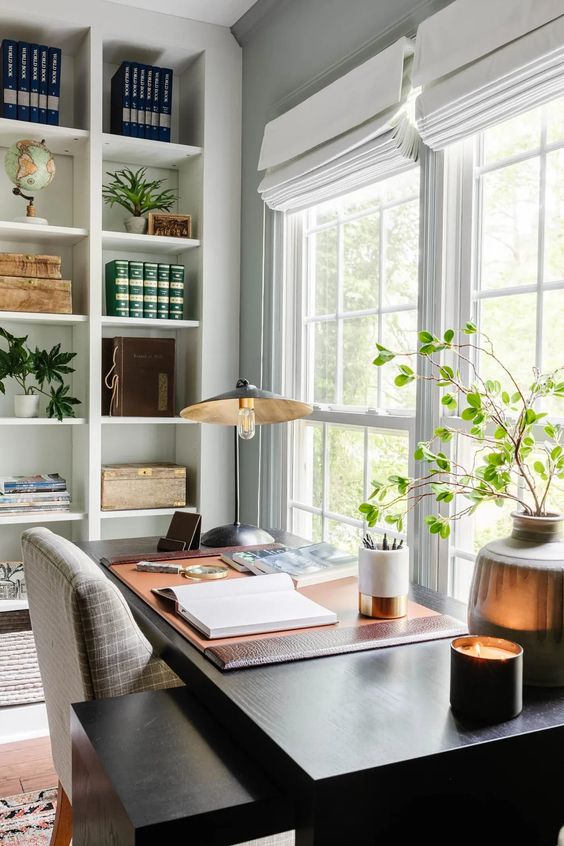 Organizing Your Home Office
Keep your workspace clutter-free: Regularly declutter your desk and work surfaces to create an organized and efficient environment. Use filing systems, desk organizers, and storage solutions to keep essential items within reach and unnecessary items out of sight.
Create a designated space for office supplies: To prevent your home office from looking messy and chaotic, allocate a specific area in your workspace to store your office supplies. A stylish storage solution can be as simple as a drawer organizer or a set of decorative boxes on your bookshelf.
Use color-coding and labeling: Use color-coded folders or labels to categorize your documents and files. This will not only help you stay organized but also add visual interest to your space.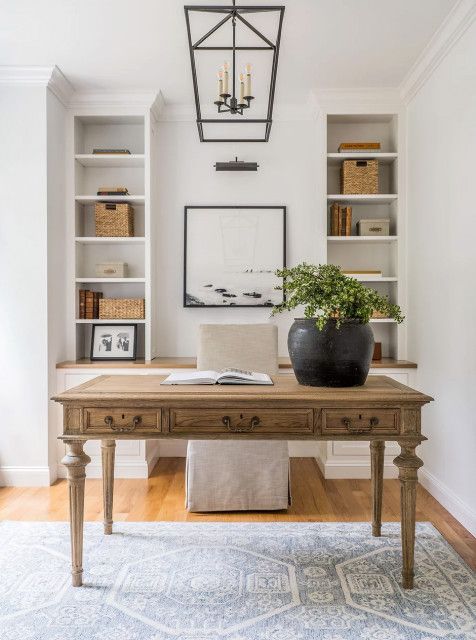 Incorporating Stylish Elements
Choose functional yet visually appealing furniture: Invest in furniture pieces that simultaneously offer functionality and style. For example, consider a sleek modern desk with integrated storage or a distinctive office chair in your favorite color.
Incorporate impactful artwork: Introduce visually stimulating artwork into your home office to efficiently balance productivity and style. Large-scale pieces or a well-curated gallery wall can enhance the overall look and feel of your workspace.
Bring in personal touches: To make your home office truly yours, add decorative items that reflect your personality and style. This can include framed photographs, intriguing sculptures, or unique desk accessories.
Enhancing Your Office with Lighting
Maximize natural light: Ensure that your home office has ample natural light, as this can boost productivity and improve your mood.
Introduce task lighting: Place a desk lamp near your workstation to provide suitable illumination for tasks such as reading and writing.
Consider ambient lighting: Use floor lamps or sconces to add soft, indirect lighting to your office, creating a soothing atmosphere.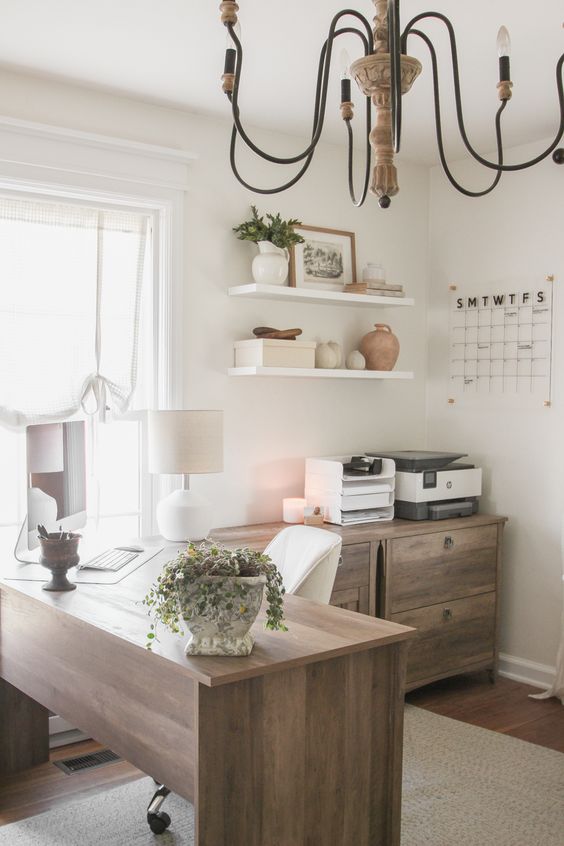 Creating an Inspiring Environment
Choose an uplifting color scheme: Select a color palette that promotes focus and creativity. For example, soft blues and greens can create a calming atmosphere, while vibrant shades like orange or yellow can stimulate energy and innovation.
Incorporate plants and greenery: Introduce plants into your workspace to purify the air, reduce stress, and improve your overall well-being. Plus, greenery can also serve as a stylish decorative element.
Create a designated relaxation zone: If space allows, create a small reading nook, a meditation corner, or an area for short breaks. This can help you zone in and out of work when needed.
Sticking to a Budget
Shop second-hand and vintage: To save money without sacrificing style, explore thrift stores, garage sales, and online marketplaces for unique and affordable pieces.
Mix high and low-end pieces: Combine budget-friendly staples with a few luxurious elements to create a well-balanced, stylish home office.
Repurpose existing furniture: Customize and repurpose furniture you already own. For example, you can paint an old bookshelf or add a new tabletop to modernize a dated desk.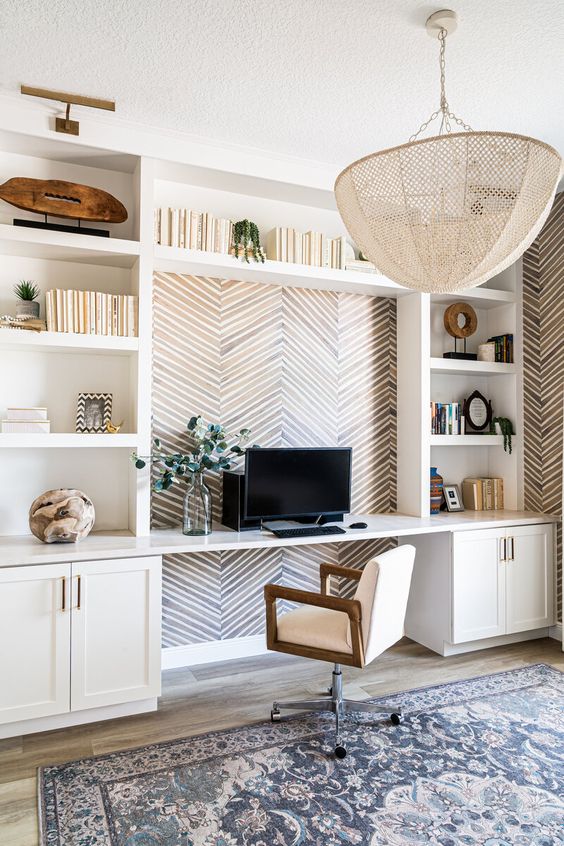 By carefully considering the essential factors and tips provided above, you can create a functional and stylish home office that promotes productivity, creativity, and well-being. Remember, your workspace should be tailored to your unique needs and preferences to help you feel motivated and inspired as you tackle your work and achieve your goals. I hope you enjoyed this post on how to design your home office!!
Until next time,
BEST SELLERS