Autumn Cleaning Checklist with Printable; Put fall cleaning on your schedule with this fall cleaning checklist! House cleaning checklist for fall!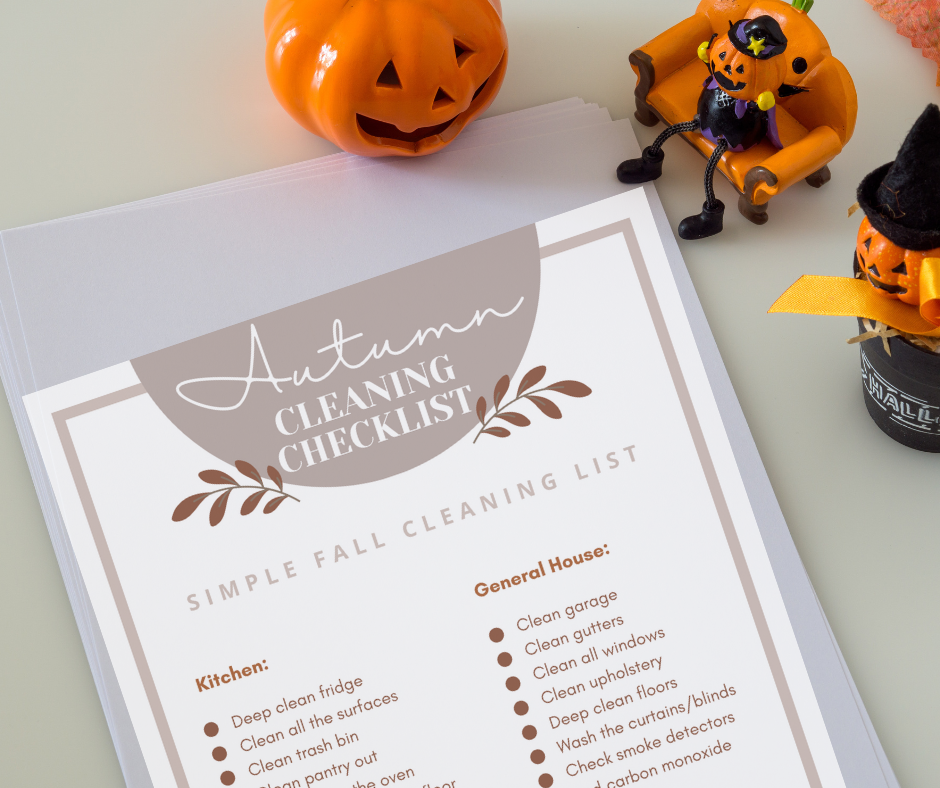 Disclaimer: this post may contain affiliate links, and every purchase made through these links will give me a small commission (at absolutely no extra cost for you!) AS AN AMAZON ASSOCIATE AND REWARDSTYLE MEMBER, I EARN FROM QUALIFYING PURCHASES. See Privacy Policy for additional info.
Everyone always talks about spring cleaning but what about fall cleaning? The leaves are changing colors, the air is becoming fresher, and the weather just seems crisper and cooler. You know exactly what that means? Autumn cleaning checklist time has arrived!
Fall is the busy season of the year. And we can be especially busy when we try to tackle everything at once. So I have put together this list of everything you need to clean in the fall around your house to get ready for the cooler months!
Everyone's house is a little different, but there are some basic steps we can use when it comes to autumn cleaning.
It's great to be an adult during this time of year! But you know what's not great? All that cleaning we need to do in preparation for fall weather. Cleaning out gutters, checking the pipes running through our walls—even clearing out closets—can seem overwhelming when it's just the two of us against the elements! But it doesn't have to be so bad! I've devised this easy-to-follow checklist that'll help even the most household-inept among us get their homes ready for cooler weather.
With that being said, lets jump into this post all about fall cleaning checklist with a printable!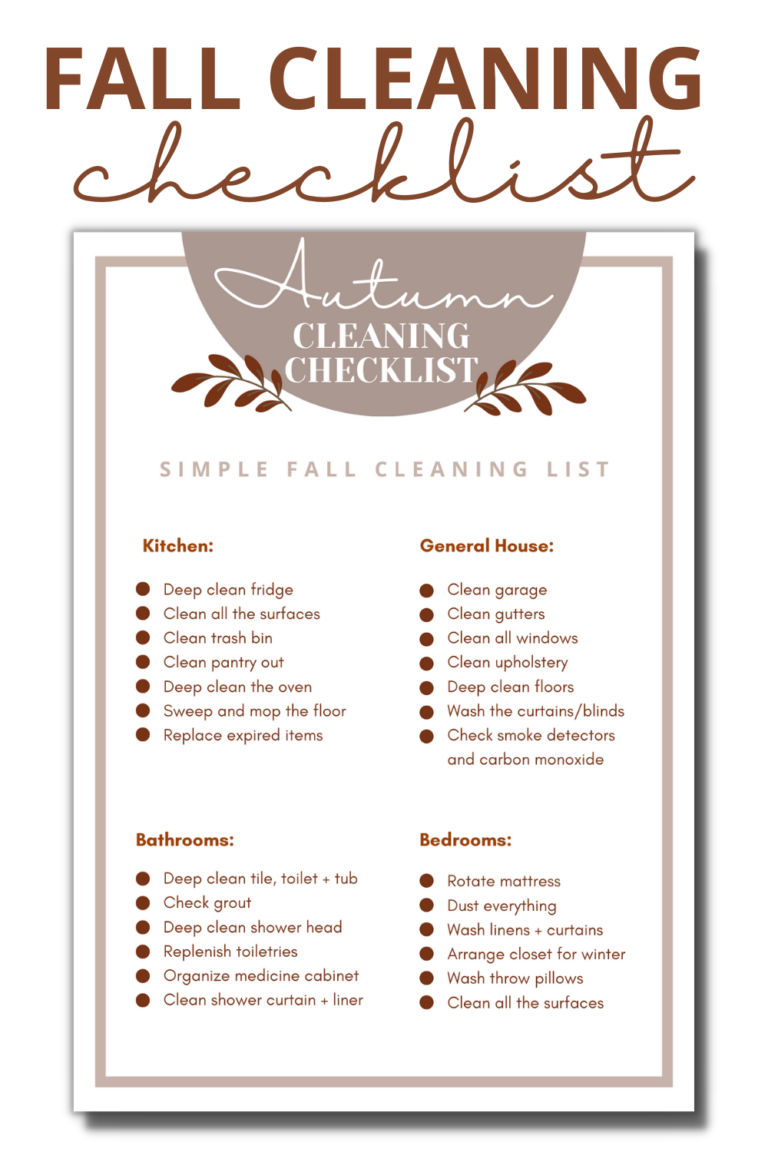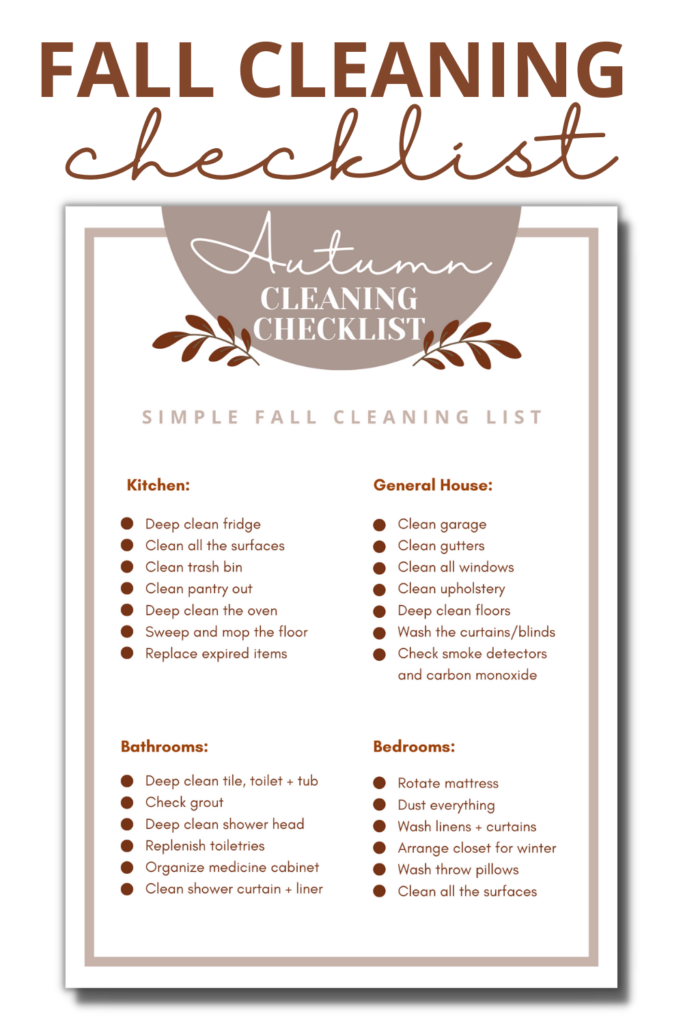 Autumn Cleaning Checklist:
This is a main list of things you need to focus on when autumn cleaning. I will go more into detail on each room in the house in the autumn cleaning checklist printable! So if you are just skimming through this post, focus on these main things for fall cleaning!
Clean the Bedroom
Rotate and vacuum your mattress. You can also flip mattresses if needed!
Wash your bedding while you are doing this (even though you should be washing your sheets once a week!)
Dust furniture, ceiling fans, light fixtures, walls and ceiling.
Clean carpet and floor.
Wash throw pillows (or just the covers)
Dry clean your duvet and comforters.
Organize your closet, more on this later in the post!
Clean the Bathroom
Take down your shower curtain + liners and give it a good wash.
Organize your medicine cabinet. Throw out your expired items and make of list of things you need to replace.
Deep clean your countertops and scrub all the tile.
Deep clean bath tub.
Check grout and fix any issues to avoid water damage.
Make sure items are stocked for any holiday guests.
Clean the Kitchen
Organize pantry. Throw out expired items and make a list of things you need to restock.
Deep clean the refrigerator, freezer and other appliances. Here are 47 insanely handy tips for cleaning your appliances!
Restock your fridge with any expired items.
Clean refrigerator coils. Replace bulbs if needed.
Clean The Garage
Declutter. Take all those summer items and garden tools you wont be using for a while and put them away. Put all the winter items near the front of your garage for easy access.
Clean the floor. Make sure to get down and dirty on your hands and knees, because this will help you see every inch of it.
Clean the walls. If you have a garage door, make sure it's clean from top to bottom as well; even if you don't have a door, be sure to clean around the perimeter with a broom or vacuum so that there is no dirt buildup along walls above ground level.
Clean the ceiling. While you're up there, take care not to miss any corners or edges—you never know what might be lurking!
Clean gutters
Clean out the gutters.
Check for leaks and damage.
Check for corrosion, especially around the downspout, where water will splash over it and cause rusting.
Look at the gutter itself to make sure there's no loose or missing fasteners or screws, which could be a sign of damage from high winds or other issues with the roof structure. Also look for cracks in the plastic parts that may need to be replaced if they're big enough to let water in; you can repair small cracks with duct tape (or another type of waterproof tape) until you get around to replacing them completely later on down the line!
Make sure that your fascia board isn't cracked anywhere near where it meets up with your gutter—if it is cracked here then there's probably some other internal damage happening inside too: check things like window frames/doors/roof vent covers etc., too!
Clean windows and blinds
Clean windows and blinds. Use a squeegee to clean the windows. If you don't have one, buy one at your local home improvement store.
Clean the sills of the windows and window frames. This is not just for aesthetic purposes; it will help prevent water marks on your walls when it rains or snows outside. You can use a rag or paper towel along with some water mixed with vinegar (⅓ vinegar) or diluted bleach (⅓ bleach). Rinse thoroughly when done!
Clean blinds and shades by vacuuming them from a distance if possible so as not to damage them with debris from your vacuum cleaner head as well as dust from cleaning other areas of your home—or even worse, breakage due to mishandling such fragile items!
Clean upholstery
Take cushions off of furniture.
Vacuum upholstery, paying attention to small spaces and crevices.
Wash all the window treatments in the house, wash curtains and blinds as well.
Spray with a fabric-safe upholstery cleaner and let sit for 20 minutes before wiping away any residue with a clean cloth or vacuum attachment. Let dry, if necessary, before putting the cushions back on the furniture.
Steam clean your sofas, love seats and armchairs using an appropriate attachment (if it's not included with your steam cleaning system). If you don't have one available to rent or purchase locally you can use a combination brush/upholstery attachment instead (you can find these at most hardware stores).
Deep clean floors
Sweep or vacuum the floor.
Mop the floor with hot water and a mild detergent solution (1 teaspoon of mild detergent per ½ cup of warm water). To disinfect your floors, mop them with vinegar instead of plain water. Vinegar kills germs and bacteria, including salmonella, staphylococcus aureus and other harmful organisms that cause food poisoning.
Wash floors with a solution of ¼ cup baking soda dissolved in 4 gallons of warm water. This will remove dirt and mineral deposits from tile floors without leaving behind any residue that would prevent them from shining up nicely later on.
Wipe down your hardwood floors with a microfiber cloth dampened with plain water until dry; this will remove dirt without damaging them like soap does (the same goes for laminate wood flooring). If you have stone or ceramic tiles on your floors, sweep or vacuum regularly so they don't get dirty; avoid using harsh chemicals like bleach because they might damage the finish eventually!
Make sure you also clean all your carpet and area rugs!
Organize closets
Organize your closets into zones.
Sort by type of clothing. Sweaters, jeans, and business attire in one area; casual clothing in another; bathing suits and workout gear in yet another.
Sort by color—handy if you have a lot of similar colors that need to be paired together (e.g., if you've been rotating through a few different outfits each day).
Sort by fabric—silk scarves hanging next to cotton blouses makes sense; lace underwear next to denim jeans is not ideal.
Also sort by season: summer clothes near July 4th decorations should go on the same shelf; winter coats near snow globes will make them easier to find when it starts getting cold outside again.
Organizing your closet can take a lot of time! But once it's done properly, all those hours spent cleaning are well worth it because having an organized space makes getting dressed so much easier every day—and leaves plenty of room for new seasonal buys later on down the road!
Change batteries in smoke detectors and carbon monoxide detectors
Change batteries in fire alarms and carbon monoxide detectors. Check the date on the back of the alarm. If it's more than 10 years old, it's time for a new one! Replace them at least once a year.
Change batteries in your smoke alarm regularly—at least once a year, but more often if you have kids or pets who are hard on things. Change batteries in your carbon monoxide detector every six months as well (you can set an alarm to remind you).
Prepare your pipes for winter
Check for leaks. If you're not sure whether or not your pipes are leaking, it's best to assume that they are and get them fixed as soon as possible.
Insulate pipes. If you want your home to stay warm this winter and save money, insulating your pipes is key. There are a variety of products available online and at stores, including pipe wrappers, heating blankets, pipe insulators, sleeve wraps and heat wraps.
Fill in any holes in the wall with caulk or sealant before winter starts so that cold air doesn't leak into the house through these holes during the colder months.
Inspect HVAC system
Inspect the HVAC system:
Check filters. Replace furnace filter.
Check for mold or mildew growth in the ducts.
Check for leaks, which can be identified by moisture on walls and ceilings or discoloration of nearby surfaces like flooring, wallpaper or paint that indicate a leak has occurred at some point.
Check for broken parts inside your air conditioning unit or furnace that may require replacement before spring arrives. These include belts and compressors, among other components of a central air conditioning system; heat exchangers and blower motors in forced-air furnaces; and dampers and valves.
Make sure your unit is operating correctly according to manufacturer specifications to maximize efficiency while reducing energy consumption: The ideal temperature setting should feel comfortable without being too hot or cold while you're sitting still indoors — but it's not recommended to set it more than two degrees higher than what feels comfortable outside during warm weather (in general). The same goes for humidity levels: If you're using an evaporative cooler instead of an air conditioner, keep them close enough together so there aren't big fluctuations between indoor temperatures when it gets hot outside but also so there aren't big fluctuations after hours spent indoors heating up from the sun beating down all day long on those windows!
Fall Cleaning Checklist Printable: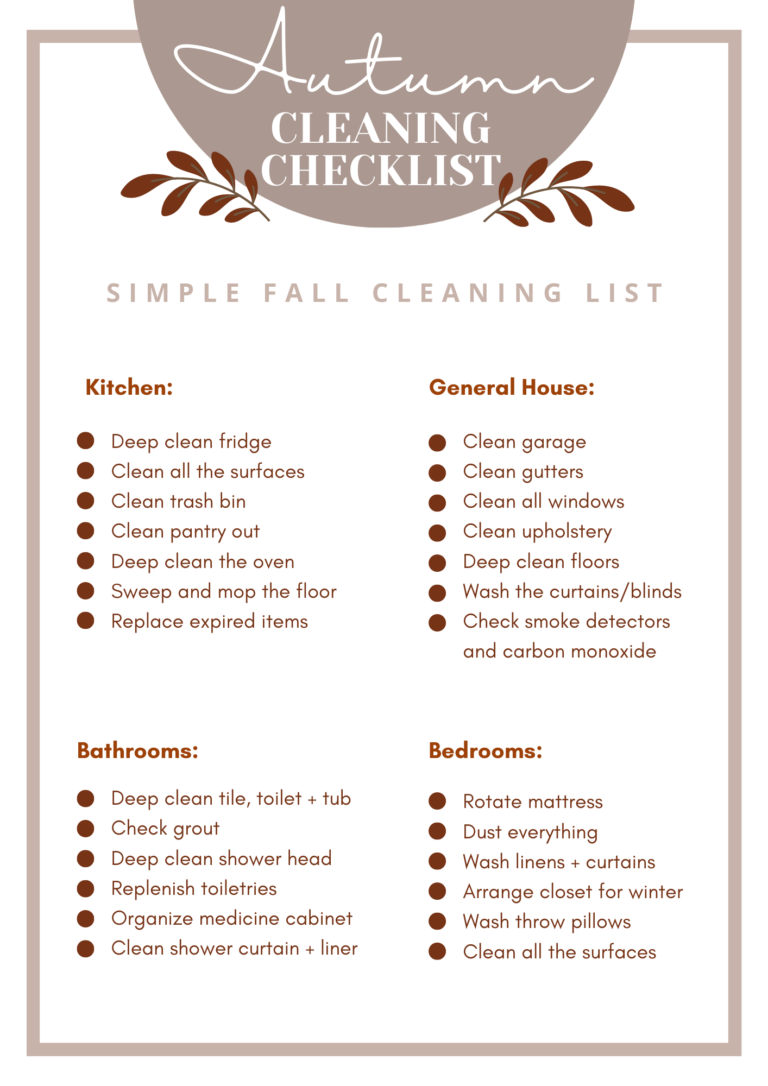 Autumn cleaning is tough but this checklist will help!
Autumn cleaning is a lot of work, but this checklist will help you get started on the right foot. Don't worry if this seems intimidating at first—you can do it! Once you're done, you'll feel so much better knowing your home is ready for winter. And if it's been a while since you've cleaned, here's another tip: keep track of what you have done so that next time around (or whenever inspiration strikes), it will be easier to get back into the swing of things.
Also dont forget to winterize your outdoors! Put away your patio furniture. Make room for all that fall decor!
If you remember to do all of these things you'll have a stress free winter, and your house will look great! It might be worth it to hire some help if you can. Good luck!
Until next time,
More cleaning posts:
Autumn Cleaning Checklist with Printable; Put fall cleaning on your schedule with this fall cleaning checklist! House cleaning checklist for fall!
BEST SELLERS