Basement renovations are under way!
Disclaimer: this post may contain affiliate links, and every purchase made through these links will give me a small commission (at absolutely no extra cost for you!) AS AN AMAZON ASSOCIATE AND REWARDSTYLE MEMBER, I EARN FROM QUALIFYING PURCHASES. See Privacy Policy for additional info.
Our basement was always on our to-do list to renovate. The moment I walked into that basement I could see the potential. The large open concept, grand windows letting in natural light.. had my mind spinning. I mean, my favourite colour is pink but it didn't look so hot as the carpet colour. I am overly excited to be transforming this space, and even more pumped to be bringing you all along for the ride.
Basically long story short.. we had a flood. Our sump-pump backed up last spring and we came home to a swimming pool for a basement - which was oh so lovely, especially when your a broke student, barely making your mortgage payments. We had to rip up that beautiful pink carpet and pull down all the soggy dry wall. And that is how she sat.. until now.
I am officially done paying tuition, and able to work full time. That being said, it is finally time to get working on this basement. Here is a little sketch I did (I know, I'm clearly talented in creating blueprints, hold your applause please), of our basement before any changes: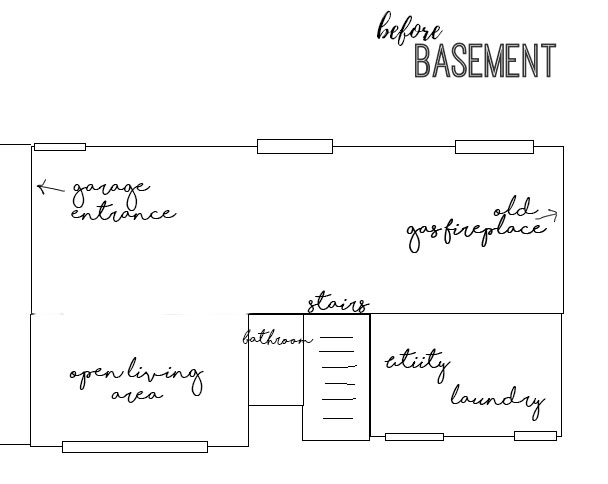 As you can see, it is a large open space. Lots of natural light coming in, and already has a little powder room under the stairs (which will be a whole other project... in time). So curious what we will be doing? Here is my list:
Create an fourth bedroom in the basement. Adding an additional bedroom in the basement will up the value of our house a bit because we can list it as a 4 bedroom home. While we are in the home we will probably just use this room as a workout space and extra storage. Once it is time to sell we will stage it pretty, promise!
Create a mudroom. Our home has zero closet space for winter coats, shoes, hats etc. It's a huge pain in the behind, especially when you live with a carpenter who seems to bring more dirt into the house then the dogs. I need a place for his work boots... It's just a must. I plan to enclose a mudroom Dylan is going to enclose a mudroom near the garage door, and create a large walk in closet.
Rip out the old fireplace and replace it with a pretty one. Maybe build some shelving around for more storage, and a place for our massive TV.
New flooring, paint, ceiling and trim. The basics.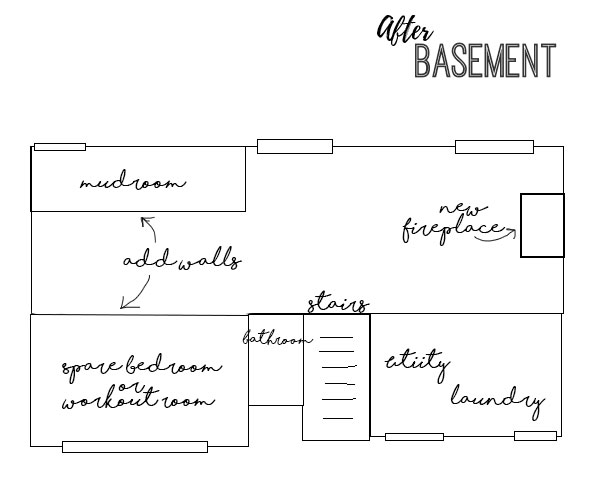 Are you ready to see these before pictures? I have to warn you, they are pretty scary.. Right now our entire basement is a storage unit. Keeping everything we need but don't need. These photos are also after the flood.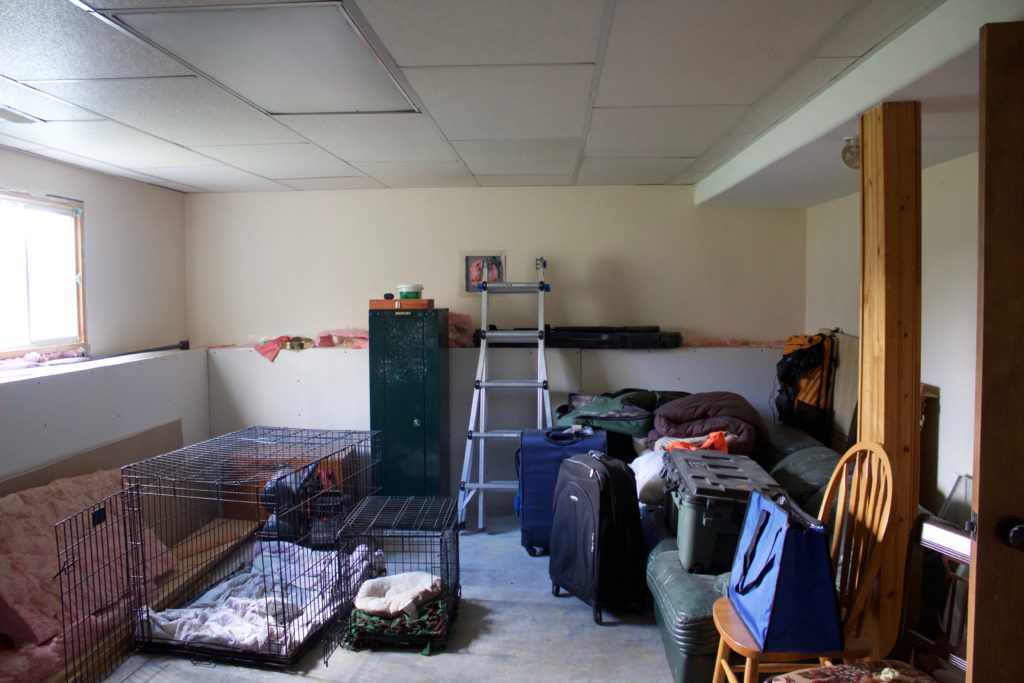 This is were the fireplace will be going. It is going to be the main gathering area of the basement. As you can see on the wall near the ladder, our old fireplace was a gas fireplace. I'm hoping to continue with a new gas fireplace or just convert it all to an electric, not entirely sure what we are going to be doing there.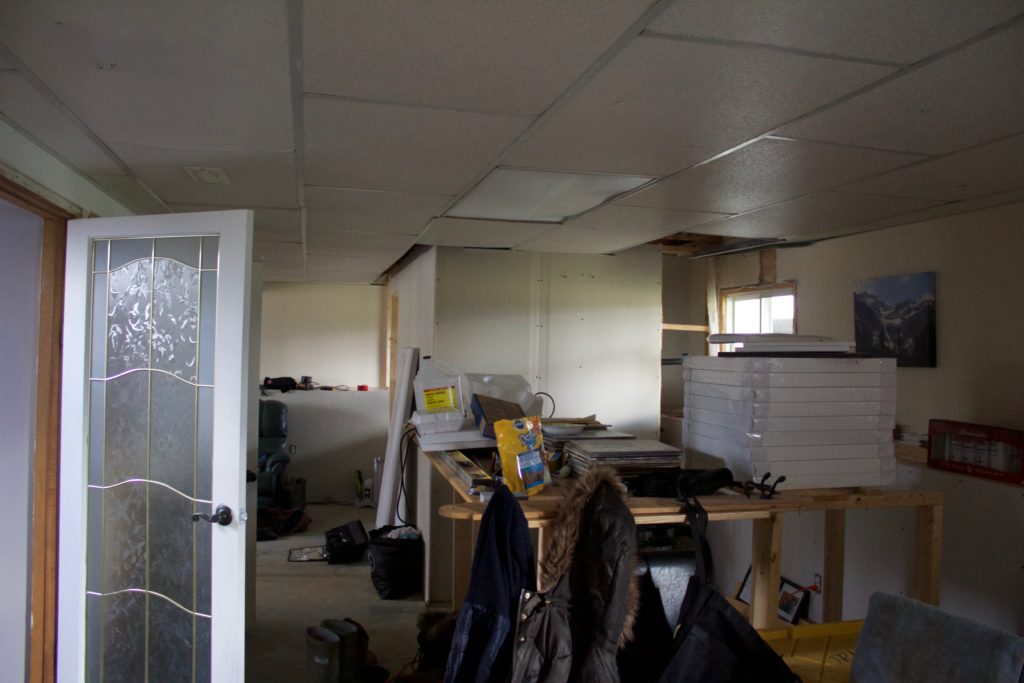 This is facing the other way (from the last photo). The open door on the left is the stairs going up to the main living area. As you can also see we have already started boxing in the mudroom. I was thinking of doing a little wet bar against the mudroom wall.. but not sure yet, we will see!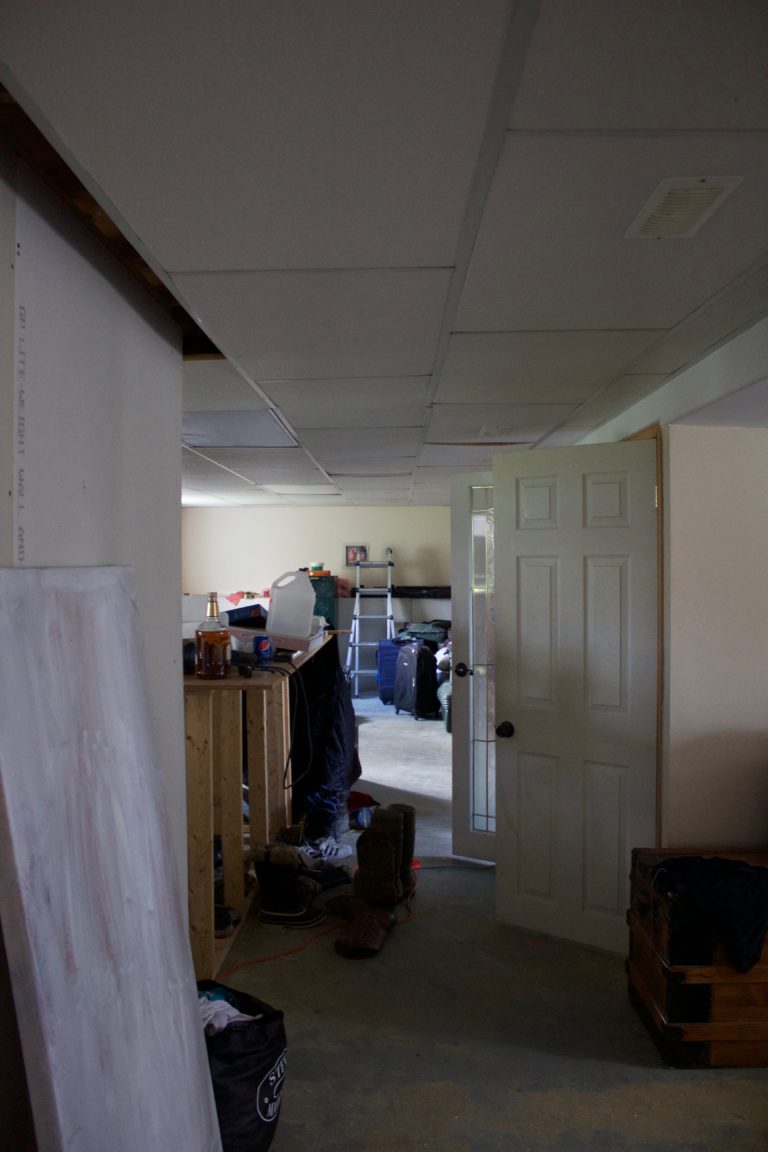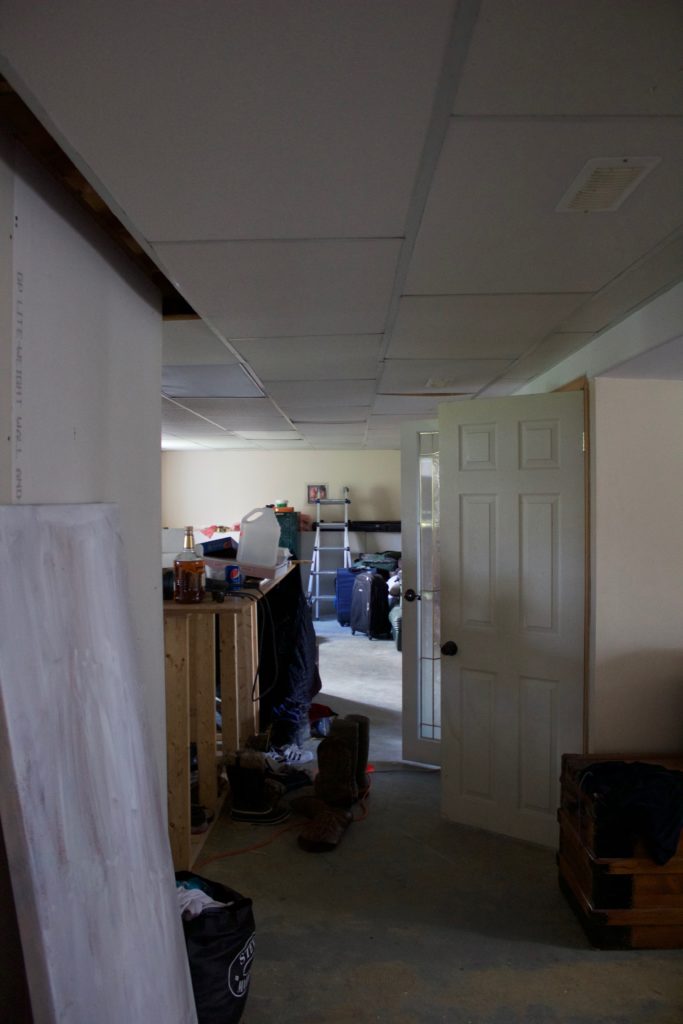 The door to the bathroom is also right beside the entrance to the stairs. This is the long view. When I turn to the right here is where the new bedroom will be: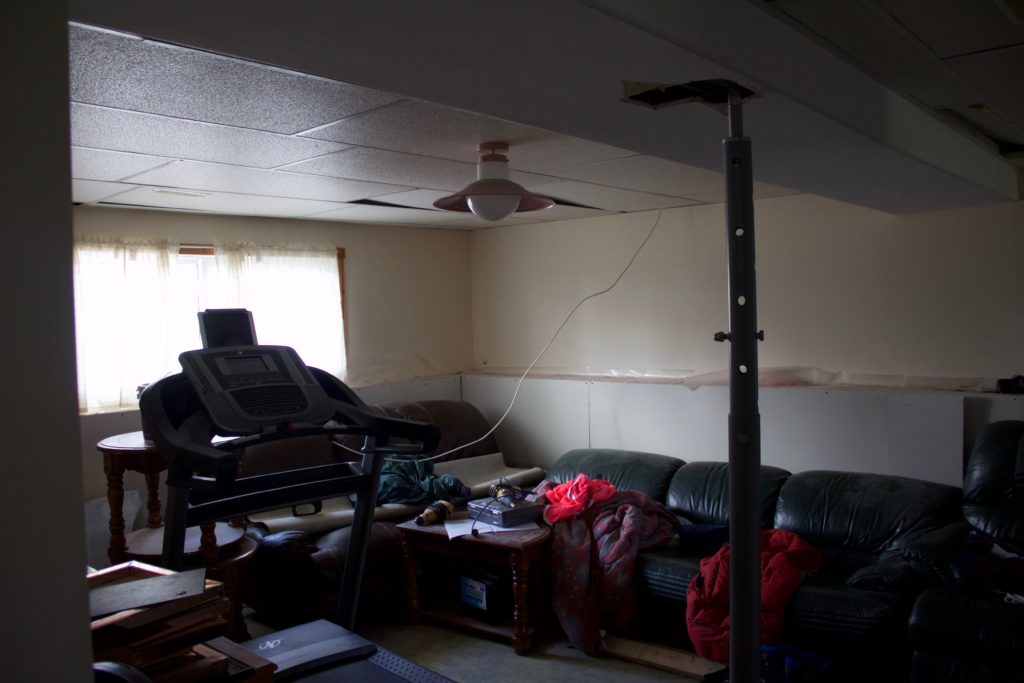 Treadmill is already in place here for our workout room/bedroom. Dylan has already put up new drywall everywhere as well. A new post has been inserted were the wall is going to be too because there was suppose to be one there. The former owners removed a post which started causing a sag in our main level living floor.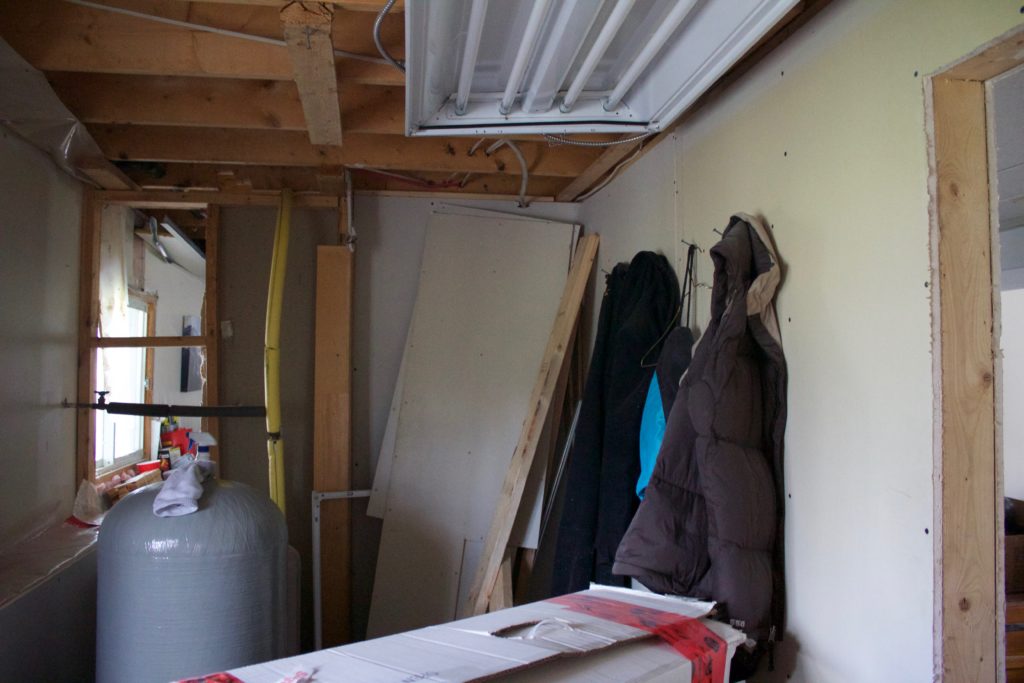 And here is the soon to be mudroom. Unfortunately our water tank is in this area so we will just have to work around it. We can make it work! I can not wait for all this storage!
Those photos are pretty rough...Glad you survived them.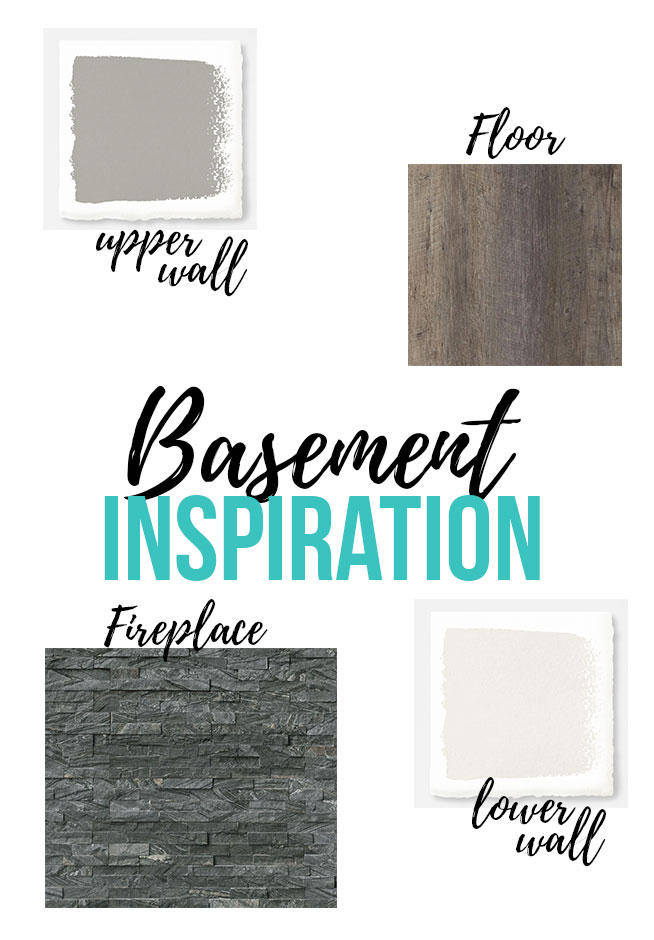 Here is the colour scheme I'm going for. I love warm greys and crisp whites. I also wanted to go with a dark tile for the fireplace because I figured this time of tile would be a pain to clean and might collect some dust. I also want to do one clean wood slab for the mantel. And hoping we can mount the TV above that.
I can not wait for this basement to be finish so we can have more living space in our home. Luckily it is just Dylan and I in the house so its not too packed on one floor.
This basement renovation is about to start, so hold on to your pants ladies and gentlemen, because things are about to get hectic!

BEST SELLERS