Beautiful Farmhouse Front Porches; These country farmhouse front porches are a dream for those who might want to add some charm to their home.
Hi beauties!
A country-style front porch screams comfort to me. Everyone loves a good farmhouse porch. Having a farmhouse front porch design really brings a welcoming and relaxing overall feel to the house. With or without farmhouse decorations, adding that country ambiance really brings to the overall outdoor living space!
I have put together a list of 31 of the prettiest farmhouse style porches for you to browse. These porches are absolutely stunning and truly resemble country chic designs. Check out this round-up of farmhouse-style ideas for your porch!
Browse these inspiration photos of farmhouse front porches to get inspiration for your own home remodels or builds.
This post is all about Beautiful Farmhouse Front Porches!
Beautiful Farmhouse Front Porches:
<< Disclaimer: None of these photos belong to me, please click photos and links provided to be redirected to the owners.>>
Wrap Around Farmhouse Front Porches:
Doesn't show in this photo but this beautiful front porch wraps around to the back of the house. So much coziness with the porch swing, fabrics, pillows, and the double wicker chair.
The furnishings on this farmhouse front porch are a bit more on the modern side but it works so well with this very traditional wrap-around porch. The white really gives all the black decor items and accents a pop. Very beautiful!
This custom home builder always wows everyone with their modern farmhouse designs and this is yet another beautiful show stopper! Gorgeous lines and symmetry in this home. Traditional farmhouse look with that modern flare we love to see! Lots of greenery with this front porch decor, and that twin rocker set is so perfect!
Love the peaks on these dormers. They add a lot of interest to this exterior and brings it up to a more modern farmhouse level. That wrap around porch is everything and is just missing a few rocking chairs!
This is such a classic farmhouse exterior. I have seen this house so many times, so I just HAD to include it in this round up post. The front porch includes a swing and a few rocking chairs with comfy cushions. How perfect!
Ok this is what I picture when we talk about farmhouse front porches. I love everything about this. The traditional farmhouse look with a modern flare. It has curb appeal that all your guests will love. This home screams home!
Although this photo is missing some farmhouse porch decor, it still was needed on this round up list. The dimension of this porch really gives it that farmhouse feel.
Ok wow... This exterior is stunning. Such a farmhouse feel, and that garage has a barn shape that really adds to the over all effect. The double french doors and large windows really makes this a luxurious home.
This is definitely a mix of a farmhouse and lake house. I fell in love with this home because of that beautiful sunset contrasting the white wall perfectly. The black windows look so sharp next to the crisp siding. 10/10 on this one folks!
So much greenery on this front porch and I'm living for it! Wrap around porches truly turn any home into a farmhouse feel. I also like the different roof materials here, adds a lot of interest to the exterior look.
Modern Farmhouse Front Porches:
This beautiful modern farmhouse by Kari Keene is definitely one to remember! such a traditional look yet with a modern flare. The Galvanized metal roof screams farmhouse and I am here for it! Siding Paint Color: Sherwin Williams Pure White.
This moody farmhouse porch may be small but it sure is stunning! The siding color is Sherwin Williams Iron Ore which is growing in popularity! The wooden details and landscaping really bring warmth to this exterior.
Just wow with this one! I really like the iron touches with this exterior. This modern farmhouse porch is stunning, everything about this look adds value with the home's curb appeal!
I am finding that wicker furniture is really making a comeback lately. It really adds to a more southern feel on a lot of homes. Cozy and comfort at its finest!
Ok wow. So bold and dark. I LOVE this. They kept the farmhouse feel but really stepped up the curb appeal with this beautiful dark siding and trim. The completely blacked out the entire home but kept some wood accents included with those porch posts.
Black and white is definitely a trend we are seeing with these farmhouse exteriors. Love the lanterns on the posts even if only one of them is working haha There could also be an improvement with the porch furniture but overall this look is great!
Another extra dark exterior with an extra small porch but it is still STUNNING. I would just hope the dark siding wouldn't fade over the years. Does anyone have any experience with dark siding? Let me know in the comments below!
I love a good planter on the exterior! What a great DIY project that would be to add some serious greenery to the outside of your home or backyard.. A much as I love this home, I am not a huge fan of the layout. Guest would have to walk quite a ways to get from the driveway to the front door. There better be a good welcome mat to make the trek worth it! HA! Ok im just being picky now...
We rarely see new brick homes these days which is why I wanted to include this home in this post. The brick really adds a beautiful texture to this exterior. The porch is stunning with those hanging lamps. All round win here!
This is a high luxury farmhouse. This is definitely taking it up 100 notches. White walls, dormers, cute patio and greenery.. love everything here!
The wood stain here acts as a dramatic rustic feature on this home and I love it! Adds so much contrast to the white siding. Definitely a modern farmhouse look with a beautiful wrap around porch!
Traditional Farmhouse Porches:
A traditional farmhouse porch with rustic accents. I love the natural farmhouse country feel with the beautiful wood doors and rocking chairs. The ceiling fan is also a beautiful comfortable touch! Buy those lights here!
What a lovely porch! This is a before and after transformation you will want to see! Make sure you head over to Lisa's blog to see the before pictures! My favorite part about this porch is the numbers on the post, such a simple yet unique touch! Buy the ceiling fan here! Buy Wall Light here! But the bench here!
Although this farmhouse front porch is very traditional, it really adds a pop of excitement with that beautiful robins egg blue front door! I love the contrast with the neutrals and the black roof, natural wood tones. Great front porch!
White on white on white with cute wicker furniture. This definitely has a coastal feel but still has a lot of farmhouse features. I wonder if this home is on the water somewhere! Loving the screened in porch as well.
Switching it up a bit and showing an up close look at a porch. These posts are stunning. The beautiful outdoor fans and rocking chairs are beautiful, the shiplap ceilings, the greenery and blooms.. I could go on forever about home much I love this porch! Noting this one for our next build.
ITS GREEN! How great is this farmhouse exterior! Talk about rustic chic at its finest! My favourite feature of this exterior is how the window trim blends in perfectly with the siding colour. It makes this exterior so seamless all around.
A perfect traditional farmhouse here. That wrap around porch is breath taking, The steel roof, white vinyl plank siding, chimney.. everything is farmhouse perfection here.
This porch has it all; swing, rocking chairs, greenery.. Even beautiful wreaths on the doors! Everything you would want and need on a farmhouse front porch!!
Again with the beautiful rustic wood stain against the crisp white siding. Also that stone on the chimney is so beautiful. Touches of stone on farmhouses is my favourite!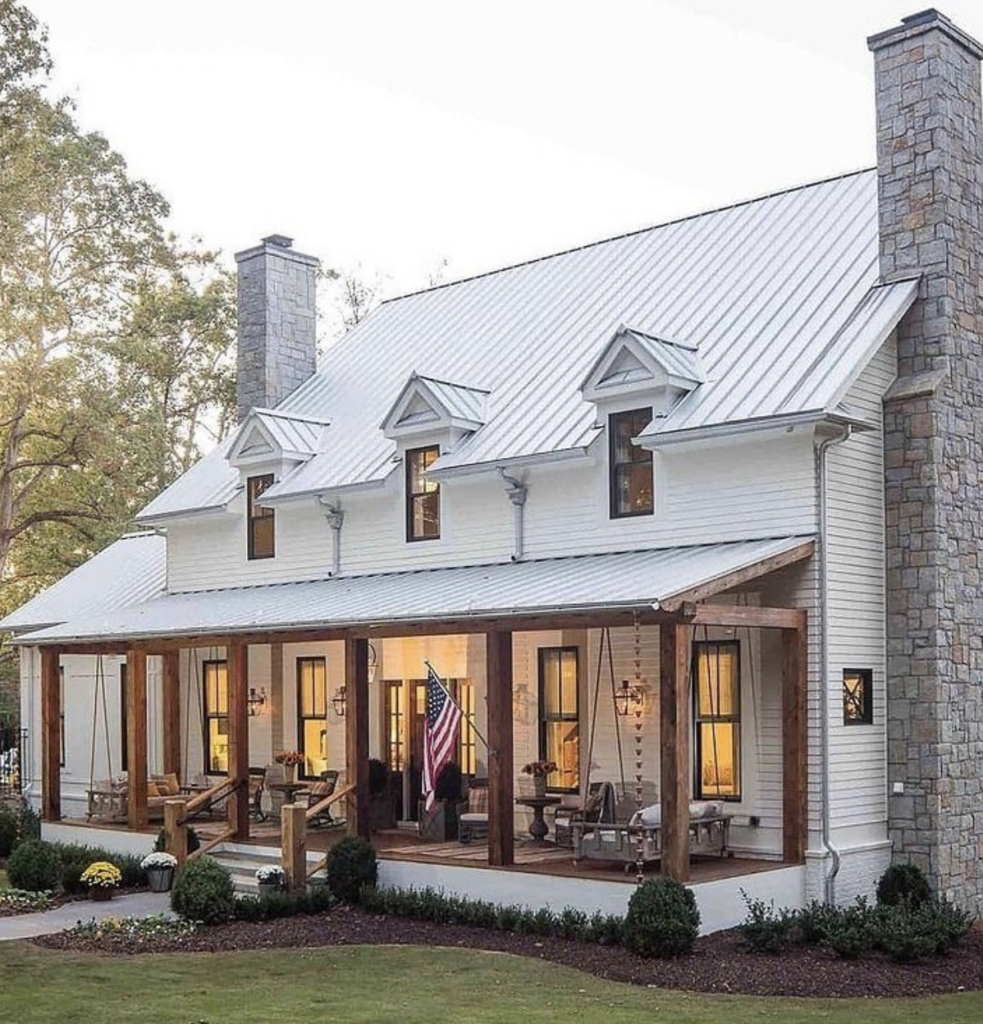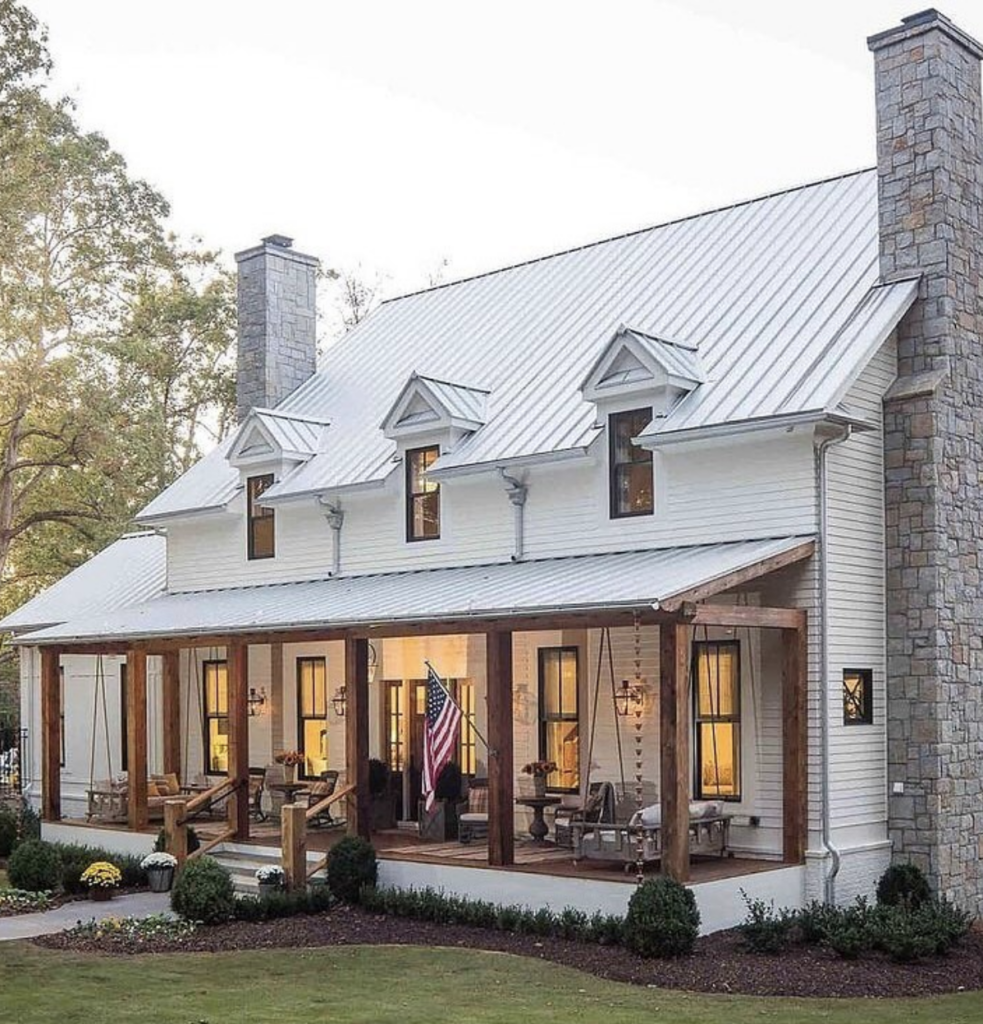 There you have it folks! I hope you enjoyed this post on 31 Beautiful Farmhouse Front Porches!
Until next time,
If you liked this post, check out these too: