Beautiful White Oak Kitchens That Break The White Cabinet Trends; bright and warm kitchens, light wood cabinets
Disclaimer: this post may contain affiliate links, and every purchase made through these links will give me a small commission (at absolutely no extra cost for you!) AS AN AMAZON ASSOCIATE AND REWARDSTYLE MEMBER, I EARN FROM QUALIFYING PURCHASES. See Privacy Policy for additional info.
Hi Beauties!
Coming at you with some new kitchen trends I have been seeing lately and I am absolutely here for it! White oak kitchens that really break the white cabinet trends.
Lets be honest, white kitchens have been a hit for YEARS. And I do love the look of a white kitchen but no one ever talks about how hard it is to keep a white kitchen clean especially when you have little kids at home. I cant even count how many times I have had to scrub peanut butter hand prints off our white cabinets. It is exhausting!!
So I hit the internet to see what trends are on the rise for kitchen cabinets and white oak cabinets or natural matte wood cabinets are a HUGE trend to watch for. I am LOVING these.
These light wood cabinets really add warmth to any kitchen. It also breaks up white walls and/or counter tops. Gives a washed out kitchen a more homey feel for sure!
Why White Oak Cabinets?
Here are some pros in choosing white oak cabinets in your next kitchen remodel:
Beautiful earthy and visible grains, unique to each cabinet
Extremely durable! Oak is one of the most durable woods used for cabinets.
Timeless. Will never go out of style. And if they do, it is easy to refinish this type of wood.
Less expensive than maple and cherry. Overall moderately priced
Here are some cons in choosing white oak cabinets:
Can have uneven staining results if done poorly
Rustic in natural so there is a higher chance of flaws in the appearance of the cabinets.
Dense wood, can be heavy
So with out any more ranting lets jump into the beautiful white oak kitchens you are here to see!
Here are 9 Beautiful White Oak Kitchens: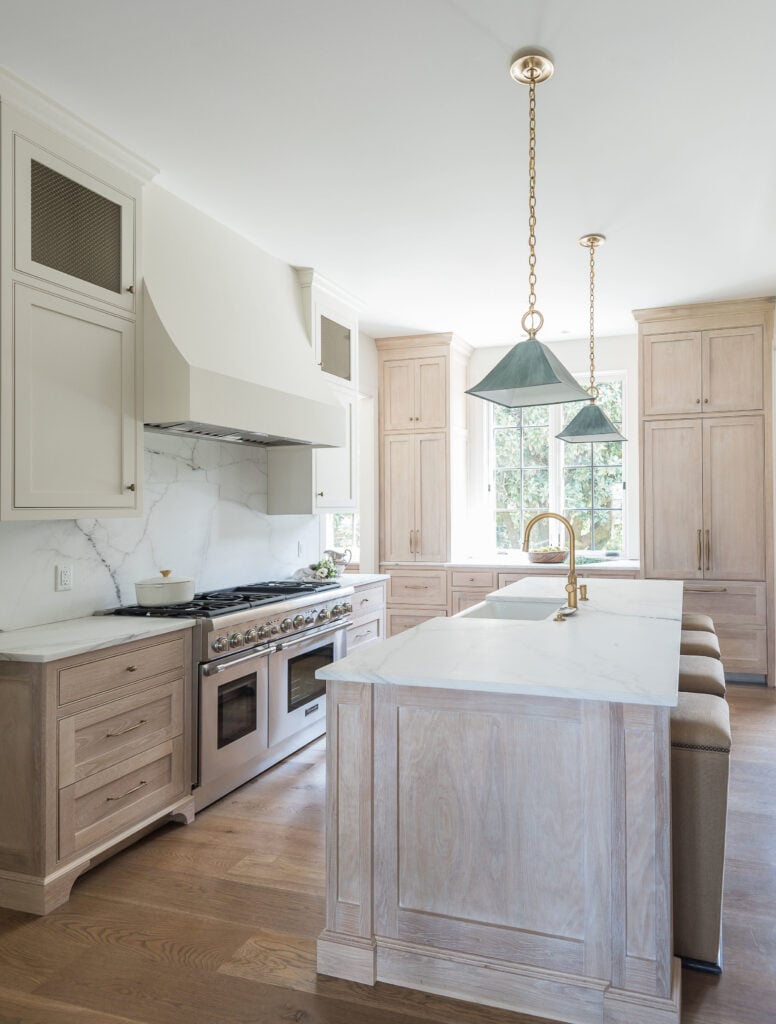 This is stunning white oak cabinetry. The white countertops really provide a beautiful flow in this kitchen. I really think having antique gold brushed cabinet hardware also really compliments the stain on these cabinets as well. Buy similar Drawer Knobs here! Buy similar Drawer Pulls here!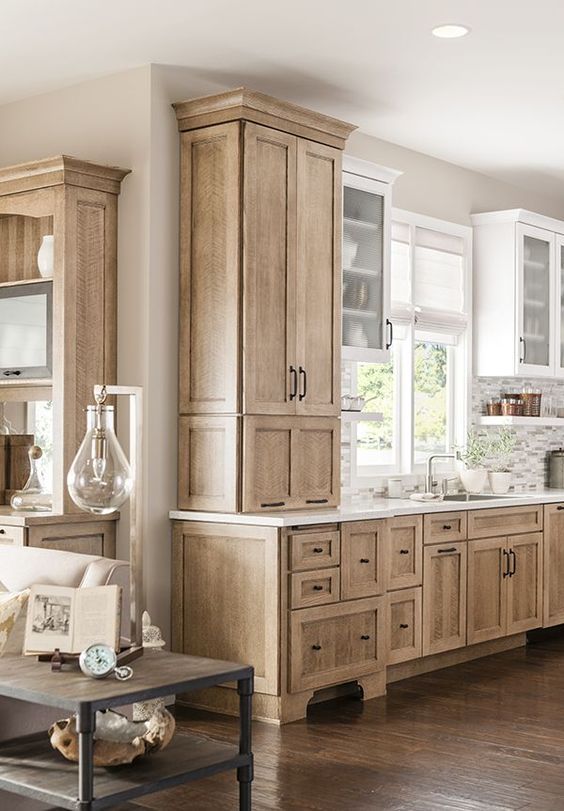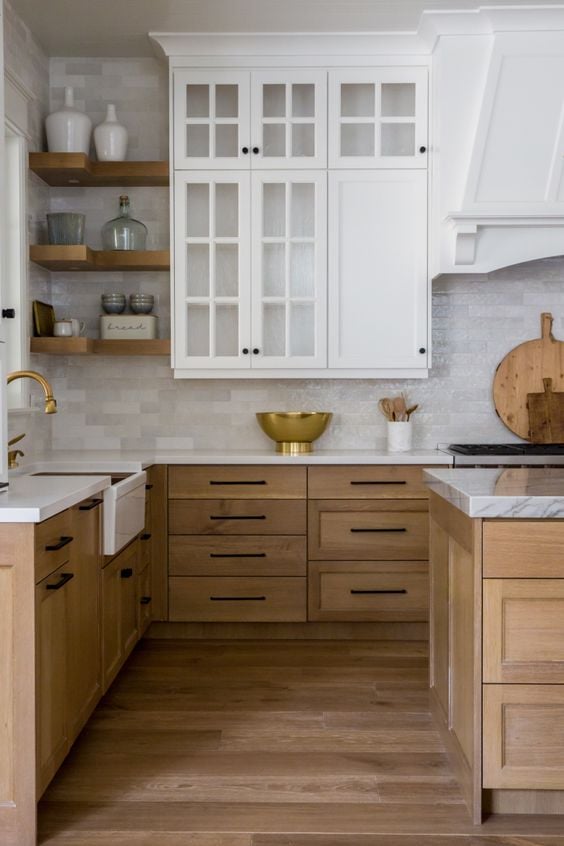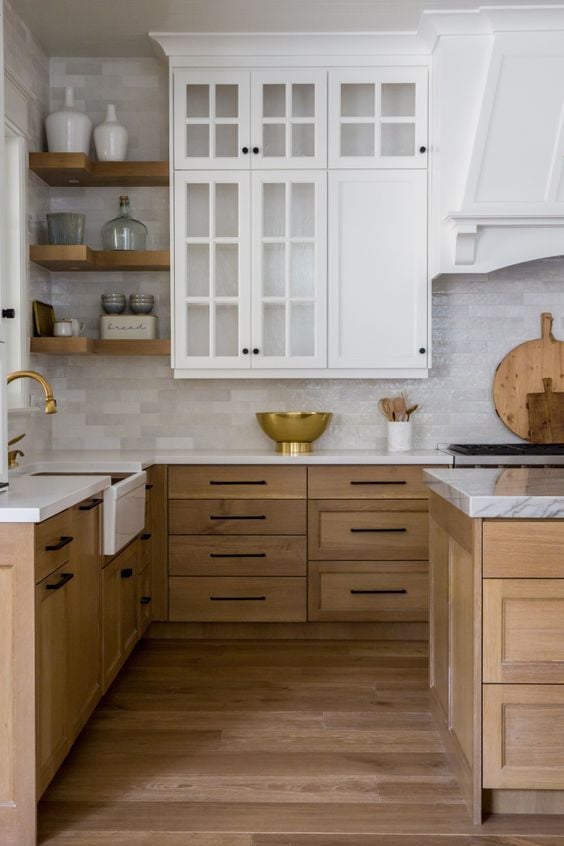 This ceramic backsplash is one of my all time favourites, especially in white kitchens.. but it looks stunning up next to white oak cabinets. These cabinets really blend in well with the flooring.. which in this case is great! You don't want too many wood tones playing off each other so this work well in this kitchen!
Buy similar cabinets knobs here!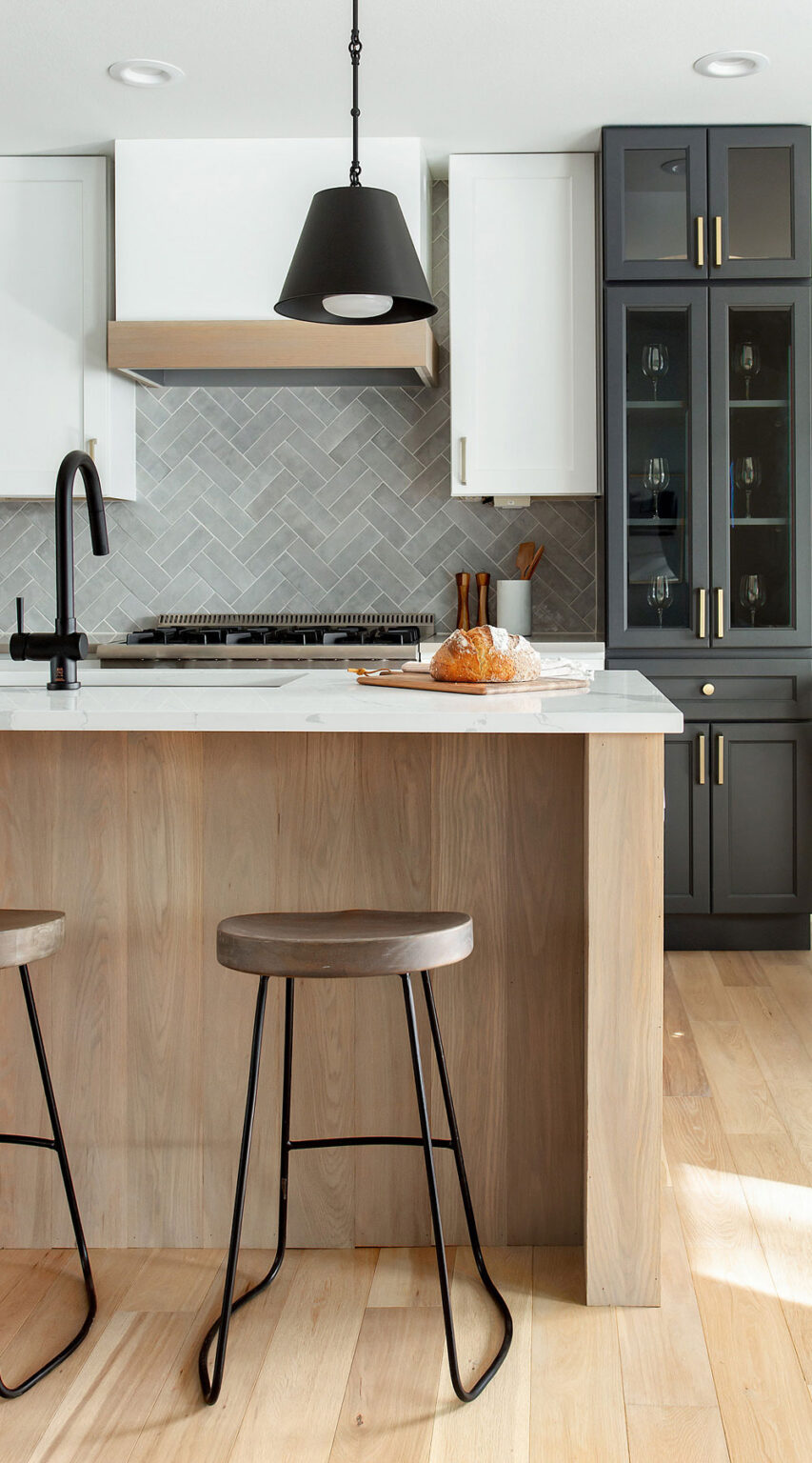 Buy similar Bar Stools HERE!
Related: 15 BEST KITCHENS BY JOANNA GAINES
Buy these Bar Stools HERE!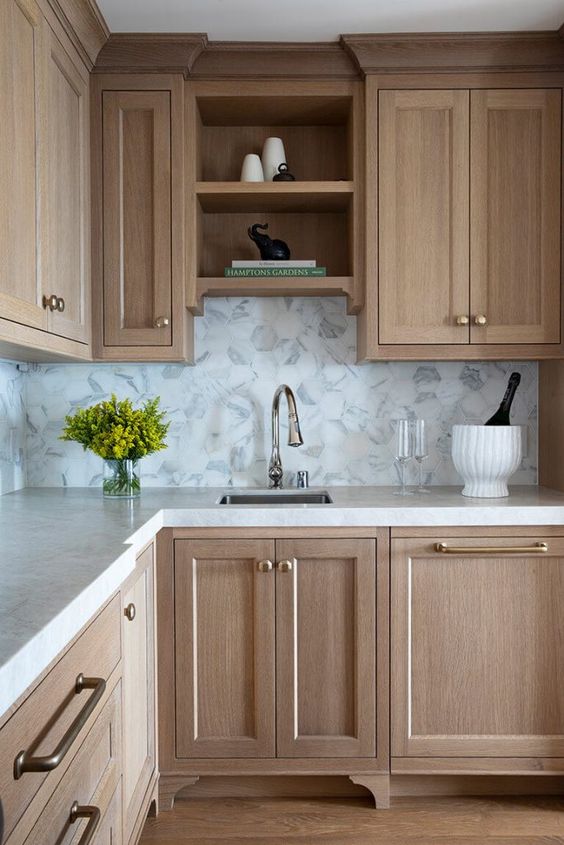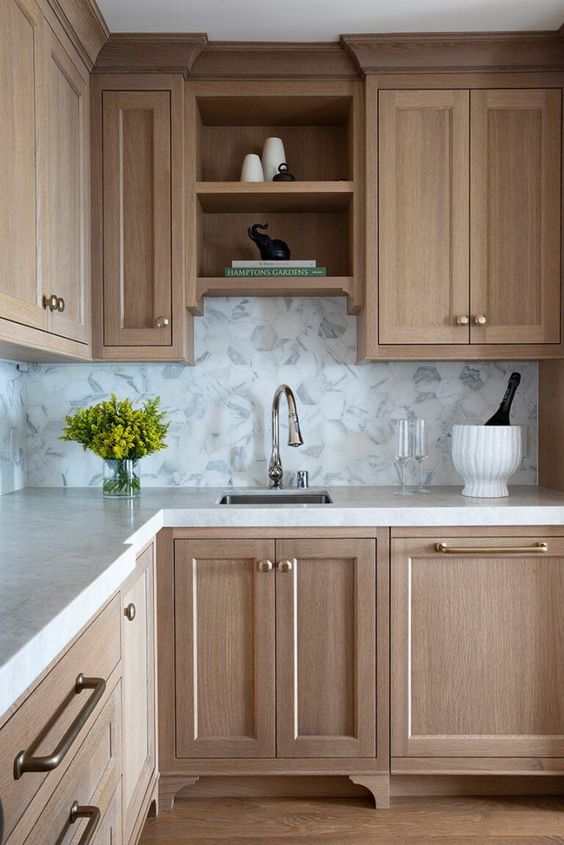 Related: 11 BEST KITCHENS BY STUDIO MCGEE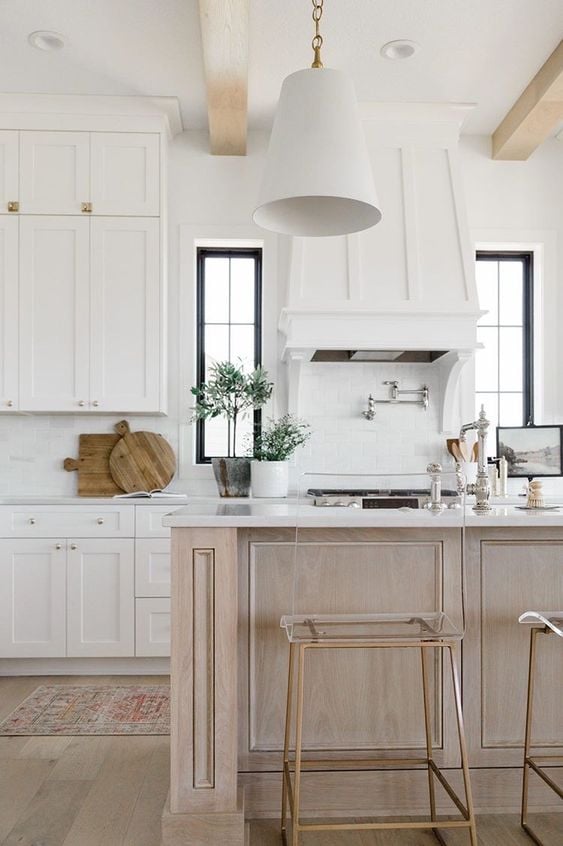 There you have it, what do you think about white oak kitchens?
Could you see yourself having some white oak cabinets in your next kitchen? I definitely could! I am going to hold on to this post to make sure I have some inspiration when designing our next kitchen.
If you already have white oak kitchens I would LOVE to see some photos of them so feel free to tag me in your photos at #nikkisplate or shoot me an email with the photos!
I hope you liked this post!
Until next time,
If you liked this post on kitchen designs, check out these too:
Beautiful White Oak Kitchens That Break The White Cabinet Trends; bright and warm kitchens, light wood cabinets
BEST SELLERS