Tips to Decorate a Mudroom on a Budget; Learn how to transform your mudroom into a warm and inviting space that you will love!
Hi Beauties!
Tired of a disorganized entryway? Want a cute Pinterest worthy mudroom? I got you.
A mudroom, also called an entryway or foyer, is an area that leads to a home's interior. This area helps you kick off your shoes and put your things away, just before entering the home. A mudroom can be the perfect oasis if done right!
A mudroom can be one of the most multipurpose spaces in a house. If you're one of the lucky few who have a dedicated space for set-aside coats and shoes, you may want to decorate it but keep the costs down.
Mudrooms are great places to kick off your shoes, but they can be awkward spaces to decorate. There's usually not much wall or floor space, so it can sometimes feel like decorating a closet. But with the right ideas, you can transform a simple mudroom into a cozy and inviting space that you will love!
Most of us have a mudroom in our homes somewhere. Whether you use it just to get to the garage, or you actually use it as a place to hang out and relax, a mudroom is a great way to get organized. It is also an efficient use of space. If your home doesn't already have one, or if yours needs a little spruce up, here are some easy tips on how to decorate a mudroom on a budget.
Mudrooms serve a real purpose in the home, but decorating them can be expensive. If you are in need of some inspiration on how to decorate a mudroom on a budget, then look no further. Here are some tips for decorating a mudroom on a budget. Learn how to transform your mudroom into a warm and inviting space that you will love!
This post is all about how to decorate a mudroom on a budget!
<<Please note: None of these photos belong to me. Please click photo or link provided to be redirected to owners. Thank you>>
How to Decorate a Mudroom on a Budget:
Have an Overall Vision
This is such an important way to start off any design or decorating project. In order to decorate a mudroom on a budget, you need to start off with an overall vision and outline. Decide what your budget will be and then start coming up with what will fit into that budget.
Do you have enough funds to do millwork and custom cabinets? Or only paint and a new rug? Deciding what you will be doing a head of time gives you more control over the project and also keeps it realistic. No broken hearts allowed!
Decorate with Paint
Adding a fresh coat of paint can make any room look new and updated. It is an easy DIY mudroom decor fix. Choose something bright and airy rather than dark and moody. Maybe even just painting the door! Mudrooms are a home's first impression and you want it to be welcoming and up lifting.
Add a Rug
A rug is definitely a must for any entryway or mudroom. They collect a lot of dirt, mud and rain before carrying it into the house or down a hallway! Make sure you choose a rug or mat that is easy to clean. I like the ruggable rugs because they are machine washable!
Choose the Best Mudroom Lighting
Lighting helps illuminate your entrance. Having a well lit space when you first walk into the house is beneficial for so many reasons. Without proper lighting, your space will look dull and uninviting. It is obviously also easier to find things in a well lit room!
Incorporate Open Shelving
Shelves are a great way to display decor but also super handy to display frequently used items for easy access. Place a little bowl for your car keys on a shelf right by the door, or place your purse on the shelf for a quick grab on your way out the door.
Drawers or Dressers
This may seem odd but having a dresser, sideboard or buffet near your front door adds so much storage and a place to hide things you don't want out.. hence a junk drawer! Obviously having a place to hide junk and clutter isn't always ideal but does come in handy when you need a quick clean for guests coming over!
Closet Space
Having a closet in your mudroom is perfect for hanging your coats and hiding boots/shoes. If you have a small space and can not incorporate a closet, add lots of hooks or racks for your coats! You can find some great affordable coat hanging accessories here!
Baskets for Hiding Things
Baskets are amazing for hiding all your items you don't want to be displayed. You can stash the full baskets under a console table, in a closet or on a shelf. If you have specific lockers for your family, you can organize everyones shoes or gloves/hats in separate baskets to keep it looking organized and clean.
Garbage Storage
This is key for all mudrooms. Having a location for garbage will keep it out of sight from the rest of the house. Have a place for cardboard boxes, plastics and any other recycling so you don't have to keep it in your kitchen. Unless you have a garage to keep these things in, utilize some space in your mudroom for this purpose.
Wall Calendar
Wall calendars are a great idea especially when you and your family have a lot going on. Keep everyone on the same page by hanging a wall calendar for everyone to see. This will also help avoid the question of "when is my next soccer practice" or "what time do we have swimming lessons tomorrow". Every family member will know what is going on!
Water Station to Fill Up
I love the idea of having a water fill up station in a mudroom. Obviously this is hard to incorporate when you are trying to decorate a mudroom on a budget but you can always have a place for water bottles as a reminder. Check out this awesome water drinking station you can add to your mudroom if you are designing from scratch!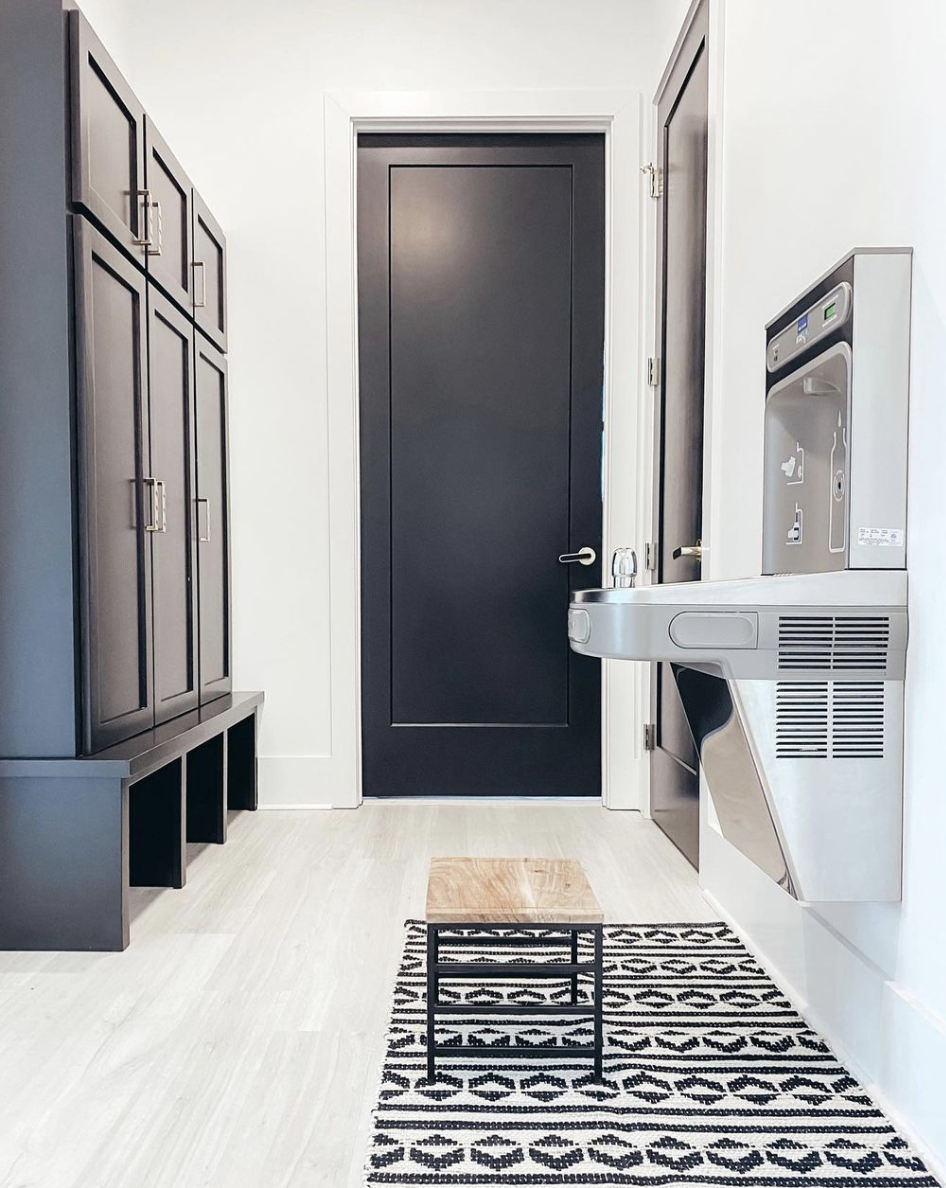 Hooks for Everything
Add hooks everywhere for everything. Hooks for coats, scarves, hooks for your keys, hooks for bags and backpacks. Having hooks keeps everything organized and also off the floor. If you are unsure if you should use hooks in a certain spot, I recommend using a command hook so it doesnt wreck your walls. If you do not have wall space, you can always add coat hooks to the back of your door.
Incorporate Seating
A lot of people don't think about adding in seating when decorating a mudroom, but it is a lot easier to get on those tight shoes when you have a to sit. It could be a single chair or ottoman, or even a mudroom bench along a wall.
Mail Organization
Need a place to throw all those bills and flyers? Consider using your mudroom organization to include a place to store all papers. It could be in a designated drawer, a wall filer or a basket on a shelf.
Mudroom Charging Zone
This is also a fun place to charge things that you can easily grab on your way out the door. Having a designated pace to store laptops, phones, tablets or other electronics in your mudroom opens up space in the rest of the house. It keeps all your wires and gear in one place.
Decorating with Lots of Wall Art
Wall art is the fun part about decorating your mudroom. Add in frames, canvases, and other accents to add a pop of personality to the room. Make it personal and try and choose art that holds a special place in your heart... like a photo of a sunset from your honeymoon or your baby's first smile.
Decorate a Mudroom with Wallpaper
Wallpaper may not be fun to put up in a mudroom, or any room for that matter... but it sure does make a beautiful impact. It can add character and make a space feel elegant and put together. It can make a dull room look bright. And mostly... its fun!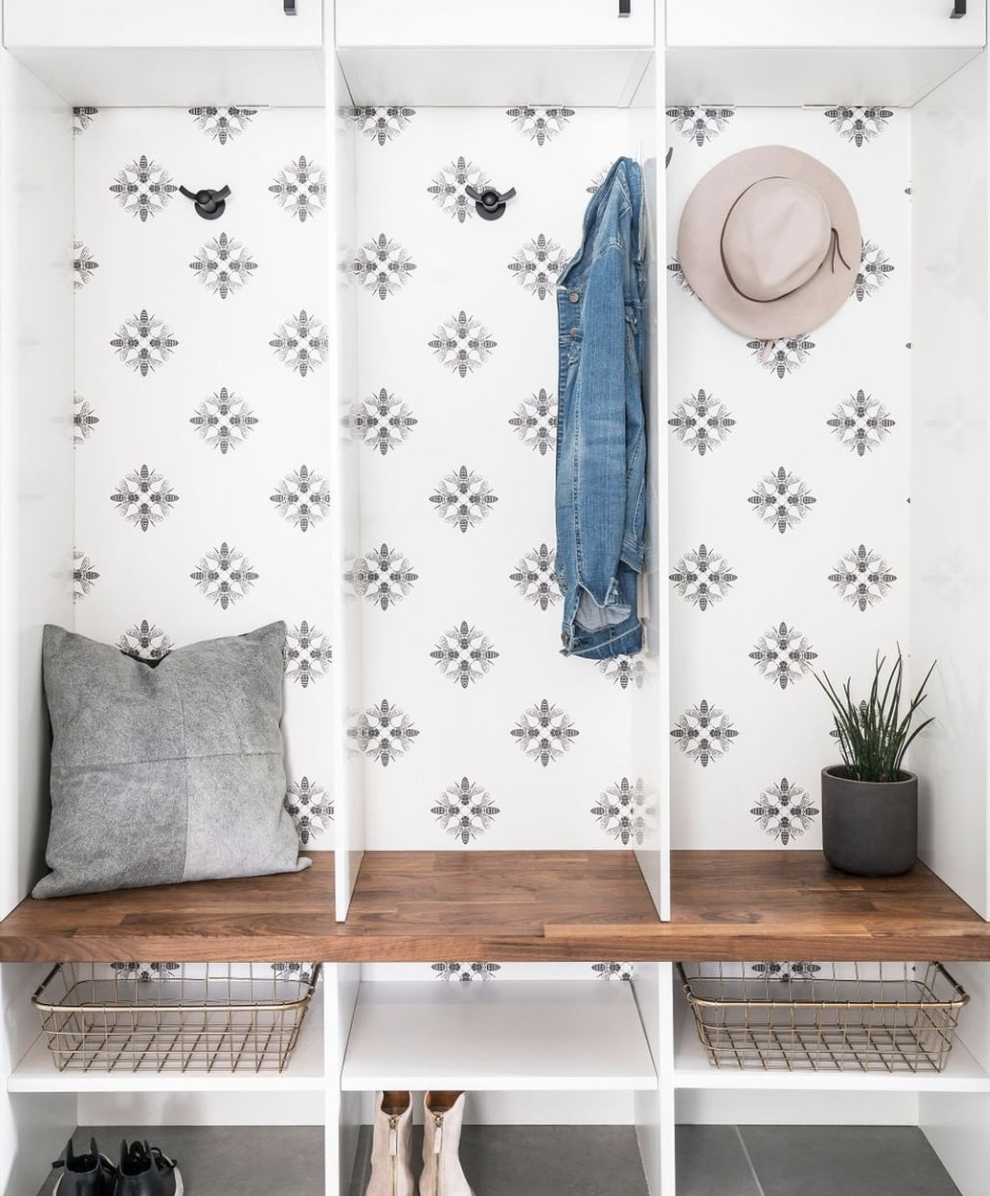 Add on Some Millwork
I have seen so many beautiful mudrooms done with millwork. You can also incorporate in that wallpaper here too. You can choose between board and batten, wainscoting or just wall dressings. There are so many DIY tutorials you can find on Pinterest now too, so check it out!
Framed Photos
This goes hand in hand with wall art. Add in personal photos on the walls, or on shelves to give your mudroom a home feel. Make it evident that this is your house when you walk in that door.
Durable Flooring
Durable flooring is a must when designing a mudroom. Pick a tile, vinyl or hardwood that can put up lots of traffic. You do not want to have to redo it down the road because you cheaped out on floor tiles. The mudroom will frequently be muddy and wet, so choose a durable flooring!
Kid Friendly
Give your kids a fun space too by including some of there things in the mudroom. Add in cubbies for their outdoor toys. I love having a bin in our mudroom for sidewalk chalk and other toys. Gives them a place to grab their things when running out the door.
Include Fabrics
Try and add in some fabrics to give your mudroom some texture. Mudrooms and laundry rooms can feel cold and dreary so try adding in some warmth with fabric baskets, table runners, pillows and curtains.
Shoe Organization
This is such an important part of a mudroom.. shoes can seriously get out of hand! A priority in a mudroom should be your shoes. Choose some storage options that will allow you to see all your shoes and know where they are.
Pet Area
A mudroom is a great place to keep your pet items. Add your pets food/water dish along with food bags in the mudroom. Also have a hook for your pet's leash, maybe keep your kitty litter in there too! Whatever your animals need, a mudroom is a great place to hide these items.
Family Oriented Space
A mudroom is a hot spot for your family. It will be one of the most frequently used spaces. Try making it family oriented by adding hooks lower so your toddler can hang her own coat. Give your children a designated nook for their personal things.
Personal Lockers
Personal lockers is the ideal mudroom storage! Adding in lockers or cabinetry can be super helpful when you need to keep everyones outwear, shoes, and items separate. If you can afford them I highly recommend working them into your mudroom design!
Built-in Storage
Add in some built in cabinets or storage along the walls or in a closet to keep organized and hide any mess you don't need to see everyday. You can also try adding racks to the ceiling to hide totes and bins.
Hidden Closet or Cabinets
Having hidden storage is just the best thing ever. Have a little hidden closet to store seasonal outerwear in, turn the door into a bookcase or mirror. This is a fun way to utilize the space!
Pillows for Decor and Comfort
I know you are probably thinking, why the heck do we need pillows in your mudroom.. but sometimes when adding a pillow it can add warmth and comfort to a space.. try adding in a cushion and pillows to the bench you use to put your shoes on. Gives a farmhouse feel I love!
Drying Station
You will get wet outside on occasion.. that is a given. Try making a space for trying boots, mittens, towels etc on. You can also have a place to put a wet umbrella. You an actually get specific boot drying racks now!
Word Art
Word art has been a trend for the last several years for all interiors. It gives a farmhouse feel but also adds some cute decor. So try adding in some of beautiful and meaning words to your mudroom decor!
Add in Bins
Bins and totes are great to use if you are struggling with space in your mudroom. Use bins to hide away any winter gear during the summer (and other way around) this will give you a feel or organization like no other! This is key if you have a mini mudroom!
Storage Jars
Storage jars are so fun to include on shelves or on top of dresser/buffet in your mudroom. Have a jar for loose change or your keys. Or just have a decorative jar of rocks or popery!
Sink
If you are designing your mudroom, consider adding in a sink. Especially if you have a mudroom laundry combo. Having a sink is so key for many things such as gardening/plants or washing really really dirty items.
Names and Labels
When decorating your mudroom, try including some labels on bins and baskets. This will help you stay super organized and also looks cute! Keep everything in place and you will feel like your life is together!
Mirror
A mirror is a must for when you are running out the door. Add this decor piece to make sure you brushed your hair this morning when you are leaving the house late again haha. Either opt for a small mirror or a body sized mirror. Whatever your space you have for a mirror, utilize it!
Pegboard
Pegboards are such a fun trend lately. They give you so much organization and options for storage. You can literally include everything on a pegboard... shelves, hooks, plants, artwork and photos.
Chalkboard Wall
Chalkboard walls are so so fun! Add one if you have the space in your mudroom. Leave your family fun notes or reminders on the wall or just draw some pretty designs! Such a fun way to decorate a mudroom!
Matching Hardware
Matching hardware can really bring a space together. Either match it with the rest of your home or have matching hardware in your mudroom alone.
There you have it folks! I hope you enjoyed this post all about how to decorate your mudroom on a budget and found some awesome mudroom ideas. If you want to see more posts like this, let me know in the comments below!
Until next time,
If you linked this post on tips to decorate a mudroom, check out these too: