Design Elements Everyone Should Avoid in the Master Bathroom; Here are several crucial master bathroom design tips when creating your spa oasis.
Disclaimer: this post may contain affiliate links, and every purchase made through these links will give me a small commission (at absolutely no extra cost for you!) AS AN AMAZON ASSOCIATE AND REWARDSTYLE MEMBER, I EARN FROM QUALIFYING PURCHASES. See Privacy Policy for additional info.
Designing a master bathroom is a lot of fun, but it's also a big responsibility. A master bathroom is the place where you can indulge all your design fantasies, but it's also one of the most important rooms in your home.
When we're not at work or doing something else that requires us to be somewhere else, we spend most of our time in our homes. That's why having an amazing master bathroom is so important: It makes life much more enjoyable!
But there are some elements that could ruin your experience if they're not taken into consideration during the planning phase of designing your new home or remodeling an existing one. Here are some things you should avoid at all costs when planning out your new master bathroom:
Design Elements Everyone Should Avoid in the Master Bathroom
Cement walls
Cement is not the most attractive or durable choice for your bathroom. You can choose a cement surface that is painted or tiled, but in some cases, you may have to work with what's behind the drywall. If that's the case, choose wisely: The last thing you want is an ugly cement wall hiding behind your beautiful new marble mosaic tile!
Glass shower doors are great additions to any master bathroom because they make it look more luxurious and modern—but only if they open and close easily! Avoid glass doors that don't have hardware installed on each side of them so that when you open them up (or someone else does), they don't break off their hinges and crash onto the floor with a loud smash!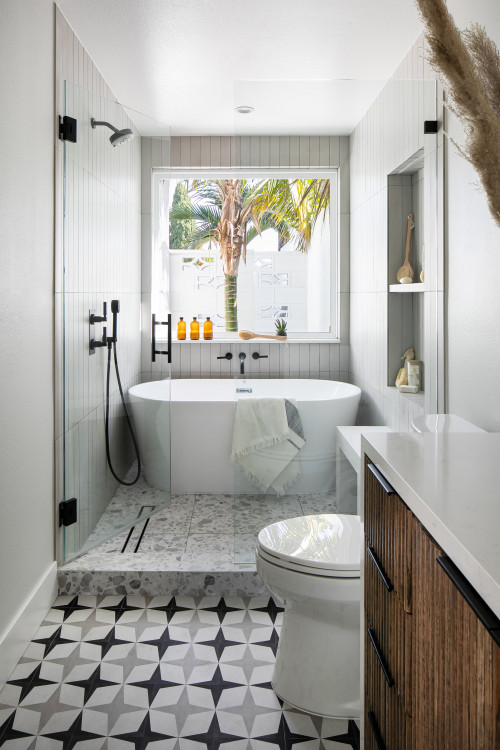 Tiny glass blocks in the shower.
Glass block is a popular choice for shower walls and tub surrounds. There are many reasons why you may want to go with glass block. For one thing, it's a beautiful alternative to more traditional tile or stone options, and it comes in an endless number of styles and colors that can be customized to fit any bathroom design theme.
However, there are some significant downsides to glass block that you should consider before choosing them for your master bathroom:
They're hard to clean. Because of their open design and small size, it's nearly impossible to get into every nook and cranny with a sponge or scrub brush (much less soap). If you've got hard water stains build up on your blocks after only a few weeks' use, think about how much worse they might look after six months!
They can crack or break easily if dropped accidentally onto the floor—or even if someone just bumps directly into them while getting out of the shower stall! It also goes without saying that this could lead to serious injury as well as costly repairs if broken pieces were left behind inside their openings after removal work was done improperly by an inexperienced contractor who failed miseriously at following proper safety protocols during installation procedures...
Shower doors that are very difficult to clean between the glass panes
One of the most important things to consider when thinking about your master bathroom design is how easy it will be to clean. Your master bathroom can be one of the most used rooms in your home, so you want to make sure that it's as efficient as possible. One great way to do this is by choosing materials and styles that are easily maintained over time.
For example, if you choose a shower door with glass panes instead of sliding glass doors (which can be difficult to clean), you could have a lot more trouble maintaining mold-free surfaces between those panes than if they were made out of more porous material like acrylic plastic or fiberglass—especially if you live in an area where there's hard water or high levels of soap scum buildup (like me!).
No shower door at all.
A shower door can help keep your bathroom safe, clean and organized. A shower door in the master bath is a must-have. It not only keeps water from escaping the tub or stall, but it also keeps moisture from seeping into your walls and floors.
In addition to keeping your bathroom dry, a shower door can help keep it clean by keeping dirt out of the rest of your home via your clothes (and other items) that might fall out of reach when you're getting dressed in there! Finally, if you have kids or pets who enjoy playing around in their showers (or even if you just feel like splashing around with some soap), a nice glass enclosure will make sure that no one slips into an unexpected bath while taking care of business.
No floor drain in a home without a bathtub
If you don't have a bathtub, you should really consider installing one before you start building your bathroom! The benefits of having a tub in the master bathroom are too many to count, and there are many reasons why it is an essential part of any home:
Floor Drain: Since floors tend to be cold and hard (not like the warm and soft bed that we sleep on), they can get pretty dirty if not cleaned regularly. A floor drain helps with this issue by collecting all the water so it doesn't drip into your floorboards or onto other surfaces that need protecting from moisture damage like wood floors or carpeting. This also makes it easier for you when cleaning up after taking showers because all the water will go directly down into where it needs to go rather than being left behind on top of everything else where it may cause problems later on down the line such as mold growth due to excess humidity which could lead back again towards those pesky diseases mentioned earlier!
Health issues related both inside/outside environment quality standards imposed by local government agencies responsible for enforcement actions against violators involved with these types of violations including fines up $10k per day (which could cost millions annually depending how long violation continues) plus administrative costs associated with fighting cases like these - usually involving attorneys fees as well so expect upwards hundreds thousands dollars minimum between fines/costs associated with hiring attorney just fight charges alone even before considering potential jail time if convicted (especially since most people fear going prison period regardless crime committed).
A toilet with its own room, and no access to natural light or other ventilation.
A toilet with its own room, and no access to natural light or other ventilation.
While this is not a common practice in the United States, it's quite common in parts of Europe and Asia. The rationale behind it is that having a toilet that has its own room creates private space for the user. However, there are several disadvantages to this layout:
It limits how you can use your bathroom design because you have to accommodate the toilet's footprint. You may have to sacrifice wall space for a larger bathroom or place it next to another important feature like the sink or tub—which could make it difficult for someone using a wheelchair to get into the shower afterward.
Toilets should be easily accessible from all sides so that anyone who uses them can pull up their pants without having any difficulty getting around them; if they're placed against a wall on one side only, people will have trouble reaching around them when finished using them without stepping on any part of their body (or hitting their head!). Also keep in mind that children may need help wiping so they don't miss anything!
A very small or cramped bathroom.
A very small or cramped bathroom is an opportunity to be creative. It's a luxury you can't afford! Small master bathrooms can work, but they don't have to be small. If you're going to live in a tiny space, it should have features that make it feel bigger than it actually is—like built-in storage and ample lighting.
Excessive use of mirrors
There are many ways to make your master bathroom look bigger and more luxurious, but using multiple full-length mirrors is not one of them. Mirrors can be dangerous when wet and can make a small space feel even smaller. They're also often used to increase the size of a room or to reflect natural light into a room. If you love mirrors, try using some strategically placed wall-mounted ones so as not to lose sight of yourself in all that reflection!
Wall-mounted sinks in bathrooms
Wall-mounted sinks in bathrooms without cabinets underneath, as this is not enough storage space for most people who use bathrooms regularly. You may be thinking to yourself that this does not seem like a bad problem to have. After all, you're getting two sinks for the price of one. In reality, though, it's a much bigger issue than it seems at first glance.
Sinks are used for more than just washing hands—and if you don't have enough storage space underneath your sink, then those extra features won't be available when you need them! Here are some things people use their bathroom sink for:
storing toiletries and other bathroom items (soap dispensers, toothbrushes/toothpaste tubes)
hand washing dishes
washing hands before meals (or after)
These elements can ruin your master bathroom!
As you're designing your master bathroom, make sure you avoid the following elements.
A tub that's too small. This can be one of the most important features in a master bathroom because it's what you use for taking baths and showers. When designing your tub, keep in mind that it should be big enough for two people to completely relax in it at once. Don't forget about children or other family members when making this decision!
A showerhead that sprays water everywhere but where it needs to go: on you! While there are different types of showerheads available on the market today, some are better than others when it comes to directing water where it belongs—and some aren't so great at all (you know who you are).
Glass doors—or any kind of door—on your shower or bathtub enclosure (yes, even if they look cool). These types of doors do more harm than good: they limit airflow while also trapping steam inside so it doesn't dissipate quickly enough before someone gets hurt by accidentally bumping into them while getting out after using hot water too long without knowing why their skin was burning off right away without thinking anything bad would happen unless someone warned them beforehand...
If you're looking to renovate your master bathroom, start by taking stock of the features you love and don't want to lose. Then, see if there are ways to improve on them while keeping them in place. For example, if your shower has a glass door with a small gap between panes that makes cleaning difficult—or even impossible—you can replace it with an opaque door or curtain instead!
Remember that bathroom design is all about balance: making sure there is enough storage space for both everyday items like toothbrushes and towels and larger pieces like extra toilet paper rolls; keeping water usage low by using smart fixtures like dual-flush toilets or pressure-sensitive faucets; and ensuring that there are no dangerous elements such as slippery surfaces or electrical hazards nearby when wet feet might come into contact with them
More Bathroom Design Posts:
Until Next time,
Design Elements Everyone Should Avoid in the Master Bathroom; Here are several crucial master bathroom design tips when creating your spa oasis.
BEST SELLERS