DIY Pumpkin Spice Sugar Scrub; This pumpkin sugar scrub is perfect for fall weather. Keeps your skin feeling soft and fresh with only a few natural ingredients! Easy homemade body product!
Disclaimer: this post may contain affiliate links, and every purchase made through these links will give me a small commission (at absolutely no extra cost for you!) AS AN AMAZON ASSOCIATE AND REWARDSTYLE MEMBER, I EARN FROM QUALIFYING PURCHASES. See Privacy Policy for additional info.
Its time for another homemade beauty product! This time I am sharing my DIY Pumpkin Spice Sugar Scrub recipe! I can not wait for you to try this one. This pumpkin spice body scrub is the perfect way to kick off your fall season! The smell is amazing and it's so simple to make.
I love pumpkin. I love it in my coffee, in my pie, and especially as a natural skin care product. This DIY Pumpkin Spice Sugar Scrub recipe is not only super easy to make, but it smells great too!
If you are a fan of homemade spa products, then you need to also try my DIY cinnamon and pear fask mask recipe. It is also one of my favourites! If you are also looking for basic recipes, you can check out my post on three simple DIY natural beauty products as well!
So obviously this recipe has taken my pumpkin spice obsession to a new level but hear me out, it is worth the try! You wont regret it.
Lets jump into all the details you need for this DIY Pumpkin Spice Sugar Scrub recipe!
DIY Pumpkin Spice Sugar Scrub Recipe Details:
What Body Scrubs Do For Your Skin
Body scrubs remove dead skin cells that build up on your body throughout the day. This allows the skin below to be exposed, allowing it to breathe and stay healthy. Body scrubs also help exfoliate your skin—that means they remove all of those little pieces of dirt that get trapped in your pores and make them look clogged up with bacteria (ew).
When you use a body scrub regularly, your skin will feel softer and more supple than ever before. You'll also notice fewer blemishes and less roughness on your elbows or knees—the areas where we tend to build up dead skin cells faster than anywhere else. Lets recap here:
Exfoliate Dead Skin Cells: Dead skin cells, dirt and other impurities can clog your pores. When the skin is not able to release these impurities, they can build up and cause acne. A body scrub will help keep your skin clear by removing dead skin cells that are blocking pores. This allows new healthy cells to come through so that you have beautiful soft smooth skin all over your body every single day!
Improve Circulation: Exfoliating also helps improve circulation which means more oxygen gets into your blood stream helping cleanse toxins in our bodies faster! I recommend using a body scrub once a week as part of my self care routine because it makes me feel like I am giving myself a little treat since it only takes 5 minutes!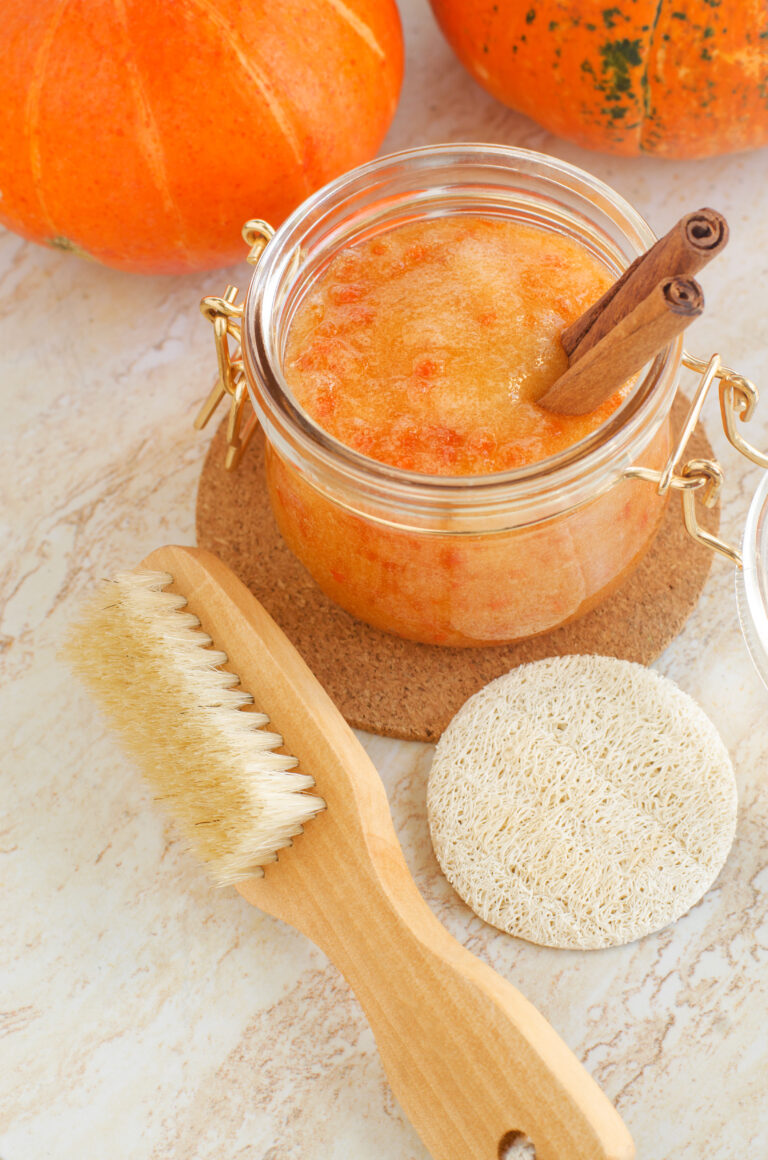 Pumpkin is Great for Skin
Pumpkin is a natural source of vitamin A, which is great for skin health. Vitamin A helps maintain the structural integrity of skin cells and plays a role in healthy collagen production.
Pumpkin is also rich in vitamin C, which helps with collagen production and keeps your skin hydrated by promoting cell turnover. It's important to note that there's no need to worry about getting too much vitamin C—your body can only absorb so much at once. You can get more than enough from eating whole foods like pumpkin or drinking green tea! Finally, pumpkin has beta-carotene that promotes healthy cell regeneration and protects against UV damage.
How To Make This Pumpkin Spice Scrub Recipe
This DIY Pumpkin Spice Sugar Scrub recipe is perfect for the fall season. Once you make it, keep in mind that you can use this scrub in so many ways! You can use it as a scrub for your face and body, as a foot scrub to slough away dry skin, or even as a hand wash (if you're into that).
You'll need the following ingredients:
Combine all these ingredients in a medium size mixing bowl. Transfer to your airtight jars and enjoy! Keep in fridge for long lasting goodness.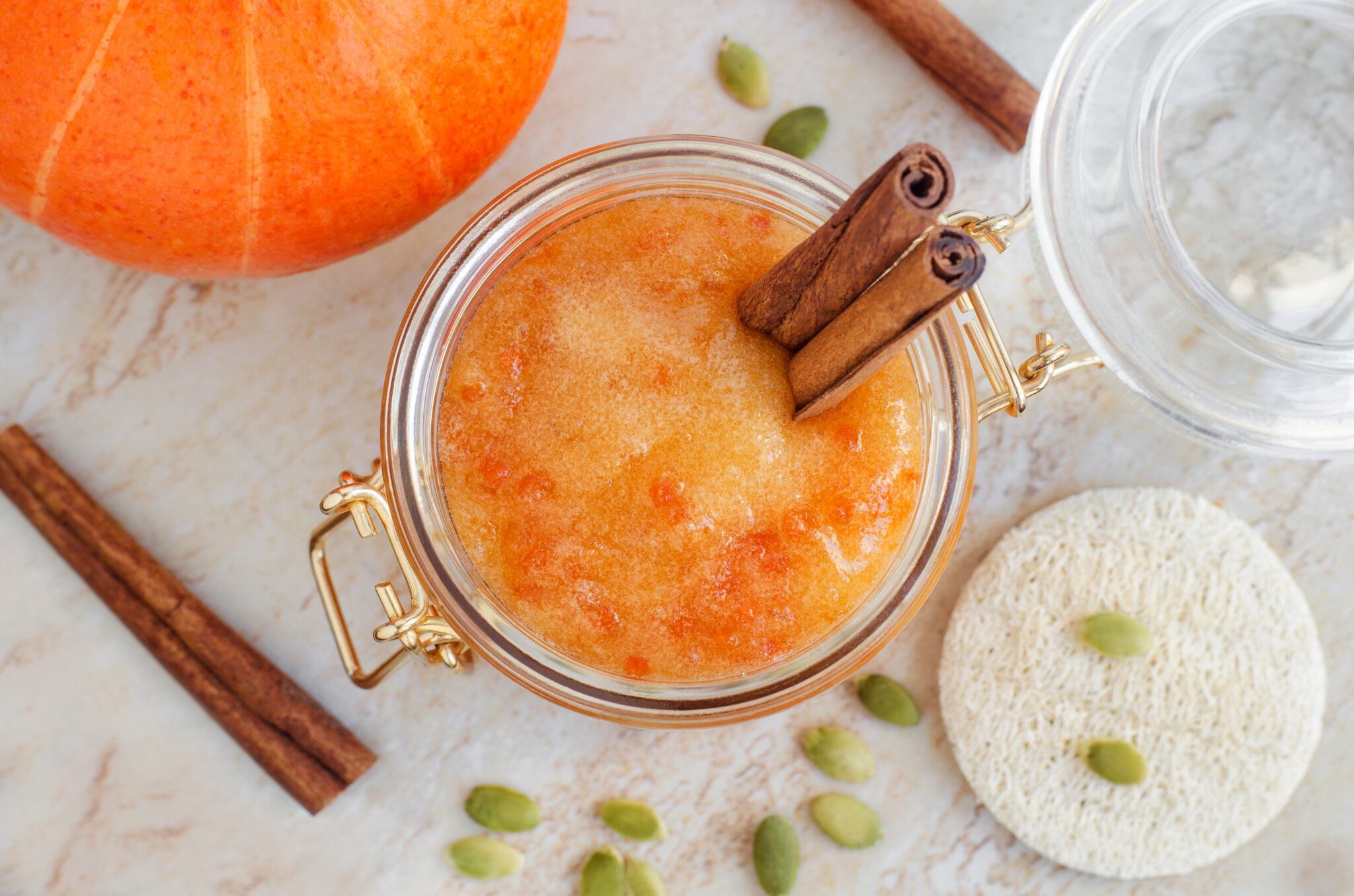 How To Use This Homemade Body Scrub
Body scrubs are all the rage these days, and for good reason. They're an easy way to exfoliate and get rid of dead skin cells, which can lead to a smoother, healthier-looking surface.
The first step is to apply the scrub onto wet skin, massaging it in circular motions to help loosen up the dead cells on the surface of your skin. Next comes rinsing off with warm water—this helps flush away any extra product that might be left behind and leaves you feeling clean and refreshed. Finally, pat yourself dry with a towel or allow your skin to air-dry before getting dressed again (or putting on makeup).
Homemade Scrubs are Great Gifts
This homemade scrub is easy to make, inexpensive, and makes a great gift. It's also very easy to give — just fill up a small mason jar or other container with your homemade scrub and attach the label! You can use these scrubs for many different purposes:
For dry skin try using brown sugar instead of white sugar.
Use this scrub in the shower after shaving your legs for exfoliation before rinsing.
As you're getting out of the shower apply this to your face as well as any other areas that tend towards dryness (like knees). This will help lock in moisture while giving you smoother skin overall!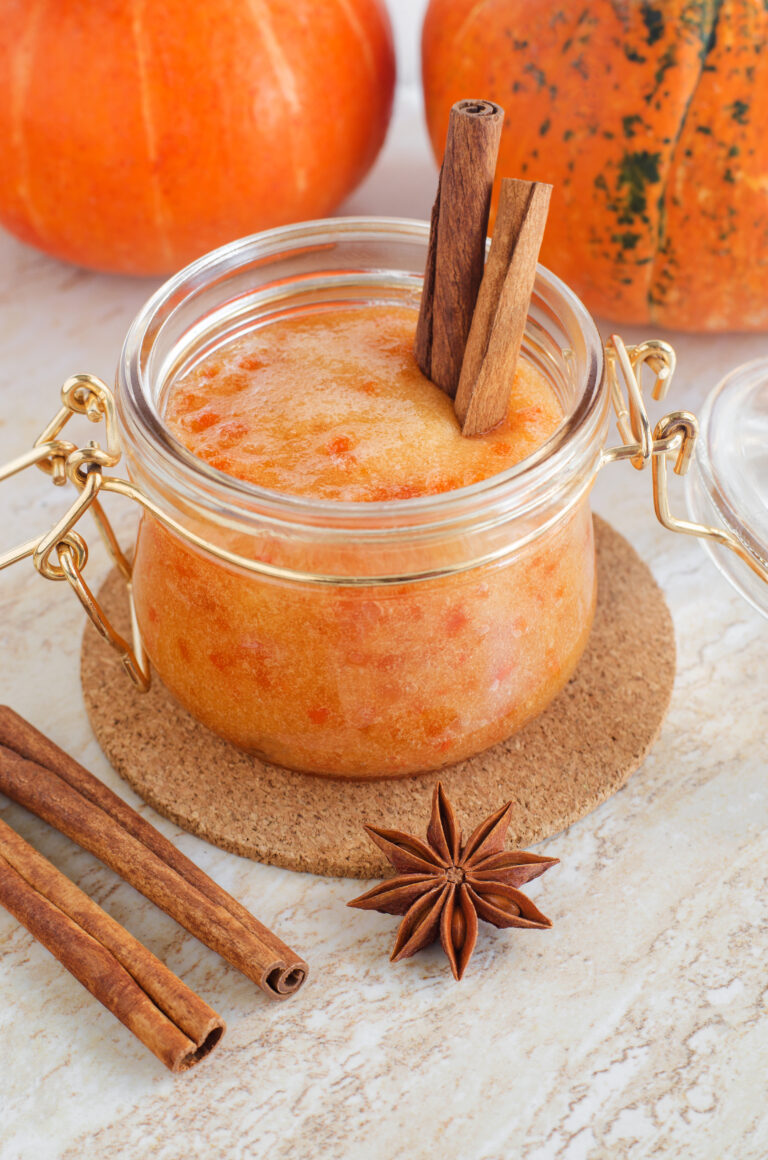 The best part about this DIY pumpkin spice sugar scrub is that it's simple to make, so you won't have to spend a lot of time in the kitchen. It also makes a great gift for anyone on your list who loves pumpkin spice and cares about their skin, so try it out!
Thats all folks! I hope you enjoy this DIY pumpkin spice sugar scrub recipe!
DIY Pumpkin Spice Sugar Scrub; This pumpkin sugar scrub is perfect for fall weather. Keeps your skin feeling soft and fresh with only a few natural ingredients! Easy homemade body product!
BEST SELLERS