DIY Cinnamon and Pear Face Mask Recipe; a simple and easy way to pamper your skin with natural ingredients, and homemade!
Disclaimer: this post may contain affiliate links, and every purchase made through these links will give me a small commission (at absolutely no extra cost for you!) AS AN AMAZON ASSOCIATE AND REWARDSTYLE MEMBER, I EARN FROM QUALIFYING PURCHASES. See Privacy Policy for additional info.
Hi beauties!
Coming at you with one of my favorite homemade face mask recipes! This cinnamon and Pear face mask recipe is an easy way to make your skin look healthy, look refreshed and feel great. And the best part is that its all ingredients you probably already have at home!
It only takes 3 ingredients, and it's a great way to give yourself a little pampering before bed or first thing in the morning! Take your skin care game to the next level with this DIY Cinnamon and Pear Face Mask!
It's the perfect way to brighten up your skin during the cold season months but also works great to give your skin a radiant glow in the summer months too! This Cinnamon and Pear Face Mask Recipe is one you need to try! So lets jump into the recipe.
DIY Cinnamon and Pear Face Mask Recipe Ingredients:
This DIY Cinnamon and Pear Face Mask Recipe is easy to make, fun to use, and will leave your skin feeling baby soft. One of the best things about home beauty is that you can really customize your own products, and this DIY Cinnamon and Pear Face Mask recipe is no exception.
It's super easy to make, and you'll use ingredients you probably already have in your kitchen. This mask is great for dry skin, but it can also help with acne, redness, and even blackheads! Here is what you need to make this recipe...
½ Pear (cored and peeled)
1 teaspoon cinnamon powder
1 tablespoon honey
How to Make This Homemade Face Mask:
This recipe is super easy to make, you just combine all ingredients into a blender and blend on low until full combined. Place in the fridge for 30 minutes so it is nice and cool. Apply in a thick layer to your face for 30 minutes then rinse off. It is just that simple!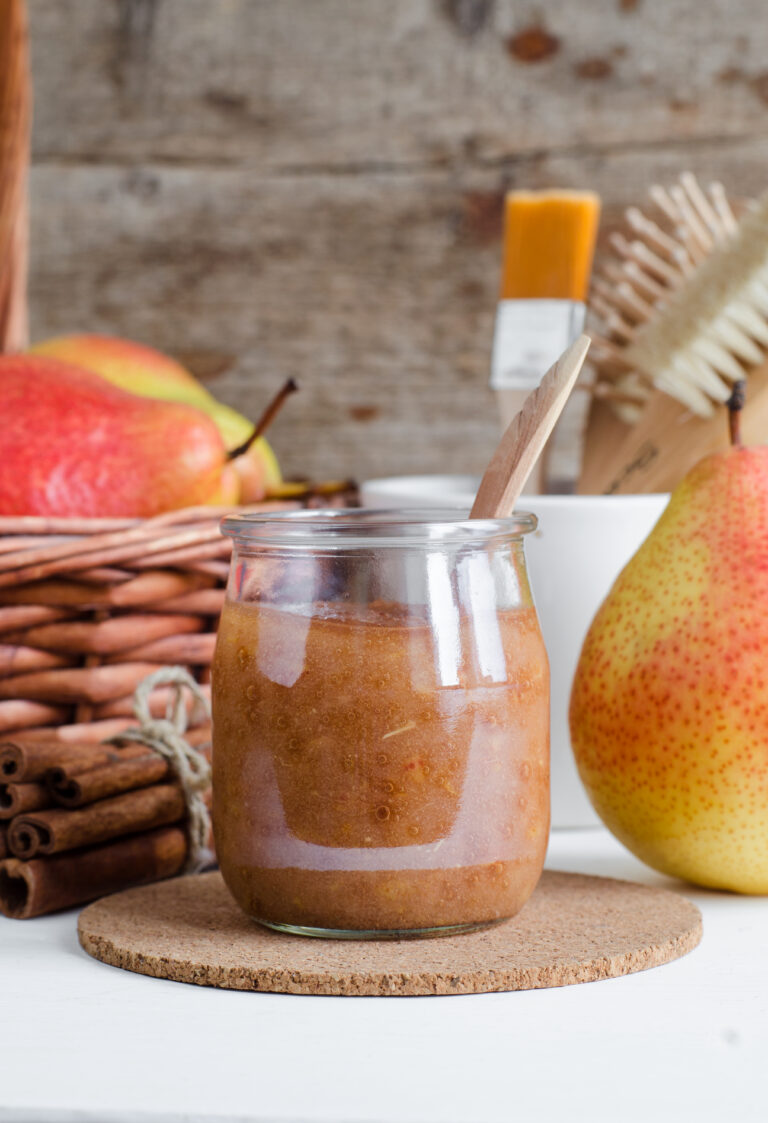 Benefits of Pear Face Masks:
Pear face masks are known for their ability to brighten and tighten skin, making you look younger. They are also great for treating acne, helping with acne scars, and reducing inflammation.
Pear masks can help to reduce acne and inflammation in the skin, which can be caused by a number of different factors. Pear masks also have anti-aging properties, which means that it can help to reduce wrinkles and fine lines on your face.
Pear masks are also rich in antioxidants, which means that it will help to fight free radicals, which are damaging molecules that can cause damage to cells in your body. The mask may also help you with oily skin problems, because it will dry out excess oil on your face.
Helps to moisturize your skin
Reduces the appearance of fine lines and wrinkles
Hydrates your skin
Pear face masks contain alpha-hydroxy acids, which work as an exfoliator for the skin. They remove dead skin cells, unblock pores and allow new skin to grow from below the surface of the skin. The alpha-hydroxy acids in pear face masks also help reduce inflammation in the skin. This can help with redness caused by pimples and other blemishes on your face.
What Cinnamon Does in a Face Mask:
Cinnamon, a spice commonly used in delicious cinnamon rolls and apple pies, is also a powerful ingredient when it comes to your skin. Cinnamon can help with acne, eczema, and psoriasis. It helps to soothe irritated skin and reduce inflammation.
Cinnamon is a great ingredient for a face mask because it has antifungal and antibacterial properties, which can help combat acne. It also helps reduce inflammation and redness, which means less redness around breakouts, so your skin will look a little less angry as you heal from the infection.
Cinnamon also helps to reduce redness, which makes it an effective treatment for rosacea. It can also help keep the skin moisturized. It's important to note that you should never ingest cinnamon in large quantities or use it directly on your skin without diluting it first.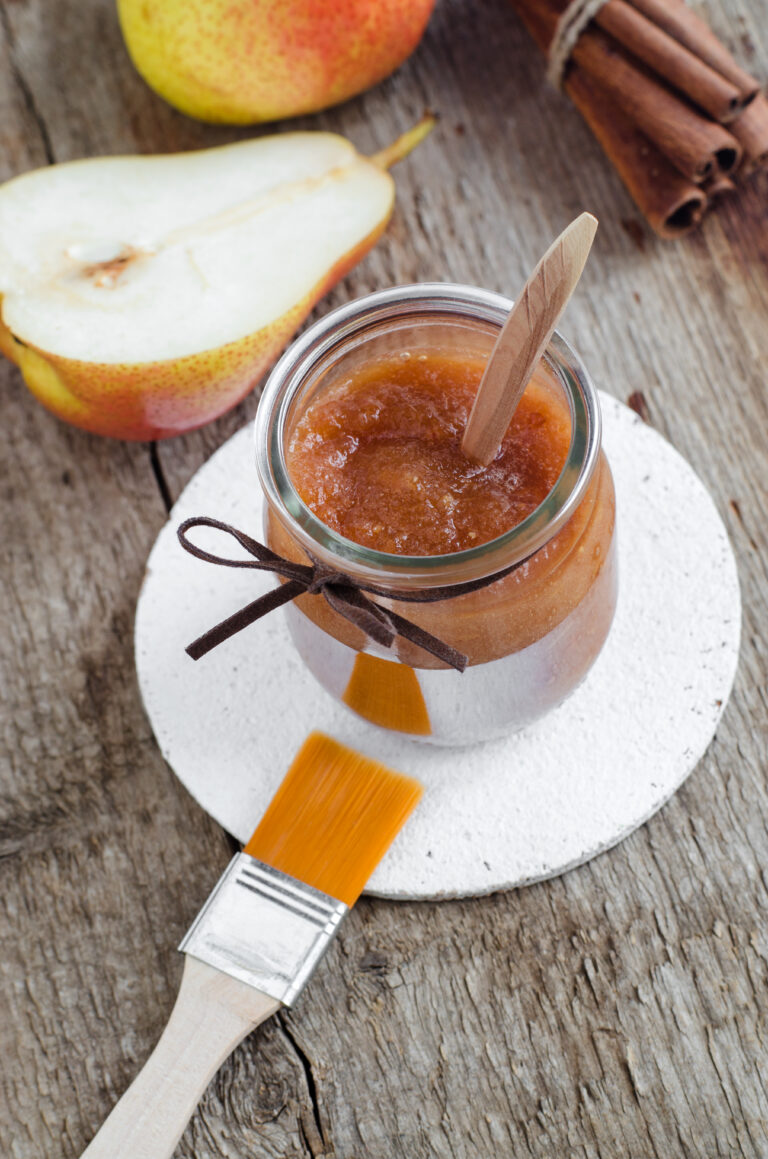 More Homemade Skin Product Recipes:
This mask is great for all skin types, but especially those of us who have dry skin or are experiencing the winter blues. The pear juice provides an extra dose of moisture, while the cinnamon helps to fight bacteria.
If you have any questions about this recipe, leave it in the comment section below and I'll make sure to get back to you on it!
If you make any of my recipes please tag your photos with #nikkisplate so I can see your beautiful creations! Any feedback in the comments below is greatly appreciated. I hope you have fun!
Share this face mask recipe with the rest of Pinterest world! Also make sure to follow my account to see when I post new recipes or home inspired content at Nikki's Plate.
BEST SELLERS