Easy gluten and dairy-free Belgian waffles.. really the most perfect breakfast.
This year, I have already been planning out what I am going to get everyone for Christmas. I know you're probably thinking REALLY ALREADY?! But hear me out, every year I leave it to the very last minute and get stressed out.. which never ends well for anyone living with me at the time.
My all-time favourite gifts to give are personalized gifts that I made myself like this
barn board picture sign
, or this
coconut sugar scrub
! I just think it is more meaningful. DIY gifts are also a great idea if your on a budget or a broke student like I was!
Let's jump into these easy gluten and dairy free Belgian waffles now shall we? I absolutely love waffles. So much so that my husband actually bought me this AMAZING
waffle maker
for Christmas last year! It's actually amazing. All you have to do is turn it on, spray it with some
coconut oil
, then pour your baking mix in and close the top.
It's a great way to make breakfast when you are in a rush because you can get it up, leave it, go put your makeup on so you look less dead, then it beeps loud at you when it's done! You don't need to sit there watching it and flipping it. It's just easy! I love this
homemade waffle recipe
for a quick single serve option or you can try this Belgian waffle recipe below!
And there are so many amazing waffle recipes out there now that you will never get bored! You can literally add in any ingredients to these waffles or top them with some fun ingredients.
Fun toppings to add to your Belgian Waffles:
Blueberries
Cinnamon and Apples
Pecans or Walnuts
Maple Syrup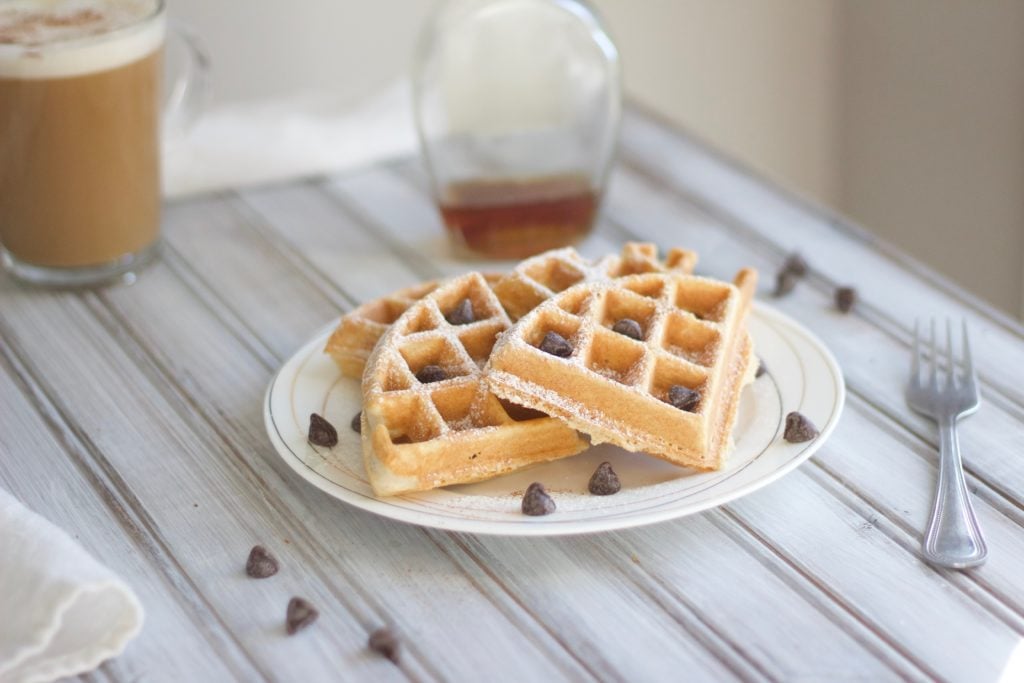 These waffles are loaded with gluten-free and dairy-free goodness! I made them the other morning in my waffle maker.
I topped them with these delicious
vegan chocolate chips
and sprinkled some (not so healthy but justifiable)
powdered sugar
to make them look pretty.. solely for the purpose of these photos of course and not my love for sweet.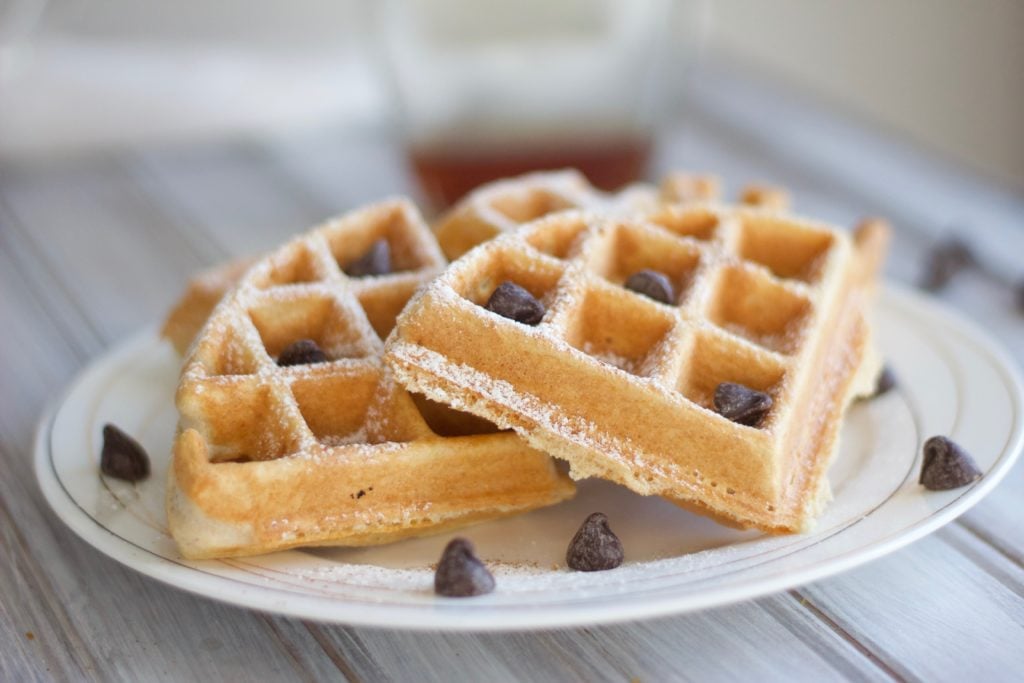 And then, of course, you NEED maple syrup. You can go ahead and claim that I am obsessed with maple syrup because I am Canadian.. go on take your stab.
BUT GUYS. Maple syrup is life. #sorrynotsorry Especially when it is made right in my own backyard... Yep, beat that Martha Stewart!
Too far?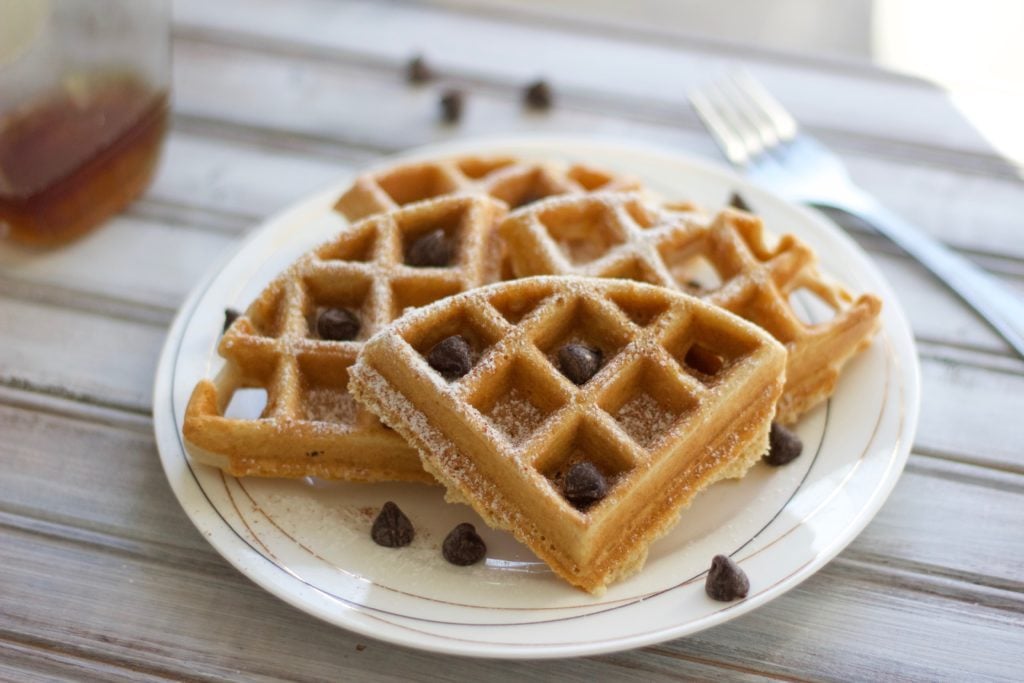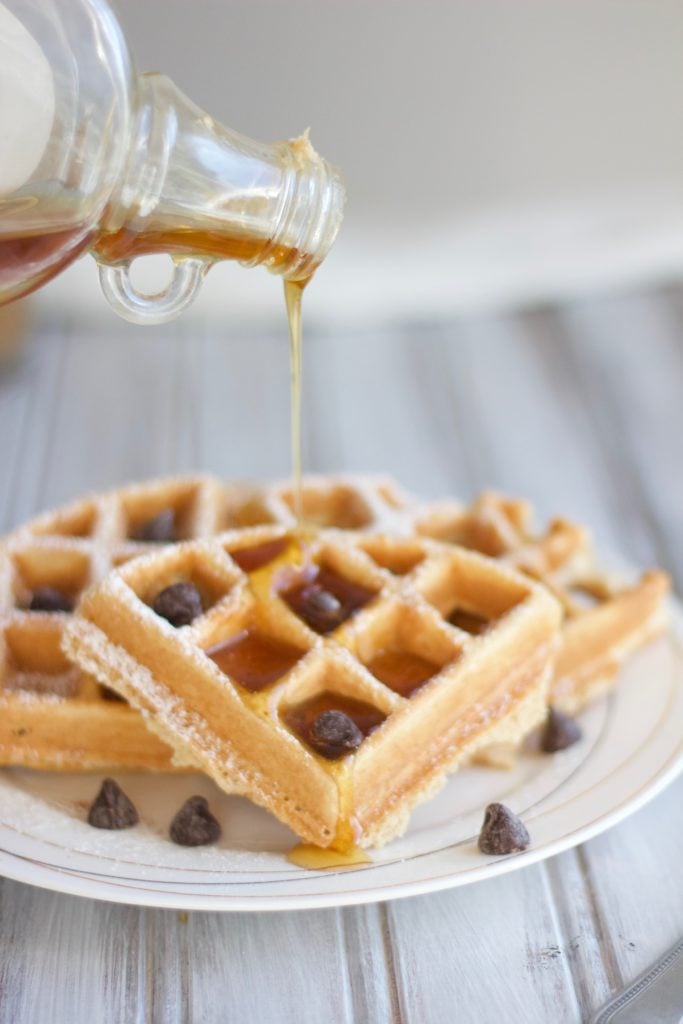 Drizzle that maple syrup goodness all over and then you are ready to inhale all these easy gluten and dairy free Belgian waffles!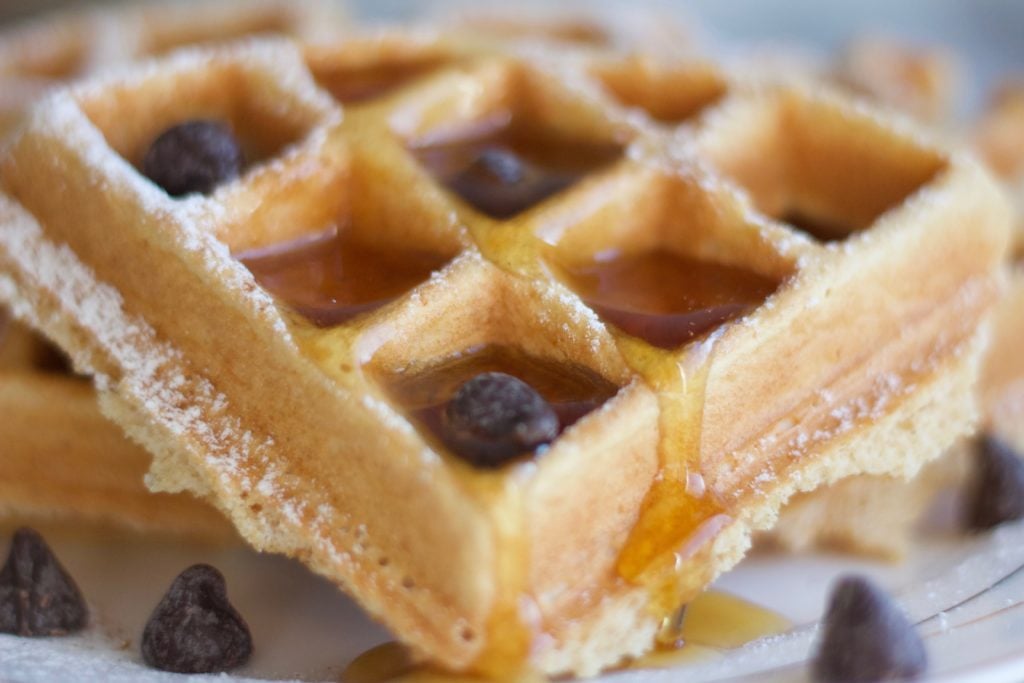 I hope you enjoy these easy gluten and Dairy free Belgian waffles!

Print Out This Belgian Waffles Recipe Card Below!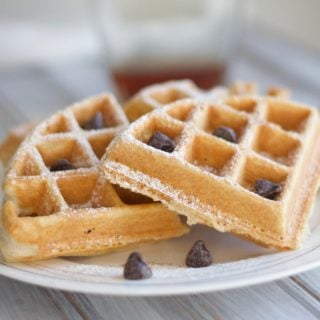 Easy Gluten and Dairy Free Belgian Waffles
These soft and fluffy Belgian waffles are gluten-free and dairy-free! Top these delicious, healthy waffles with your favorite toppings and enjoy a yummy breakfast!
Ingredients
Ingredients

½

cup

gluten free oat flour

1

teaspoon

of stevia

¼

teaspoon

of baking powder

¼

cup

unsweetened almond milk

4

egg whites

⅔ cup of liquid egg whites

1

teaspoon

coconut oil

1

tablespoon

unsweetened applesauce

Maple Syrup to top!
Instructions
Turn on your waffle maker to give it time to heat up/

Mix all ingredients (except maple syrup) in a large mixing bowl or blend in a blender. Combine fully. Spray waffle maker with a non stick spray (I love coconut oil cooking spray best).

Pour batter into waffle maker and cook according to your waffle maker!

Smoother in maple syrup and enjoy!
Notes
Optional toppings to make your dairy-free waffles even better:
1. Vegan Chocolate chips
2. Cinnamon
3. Fruit
4. Nuts
Disclaimer: this post may contain affiliate links, and every purchase made through these links will give me a small commission (at absolutely no extra cost for you!) AS AN AMAZON ASSOCIATE AND REWARDSTYLE MEMBER, I EARN FROM QUALIFYING PURCHASES. See Privacy Policy for additional info.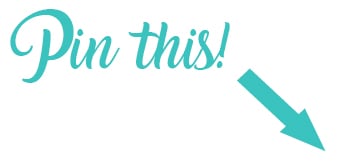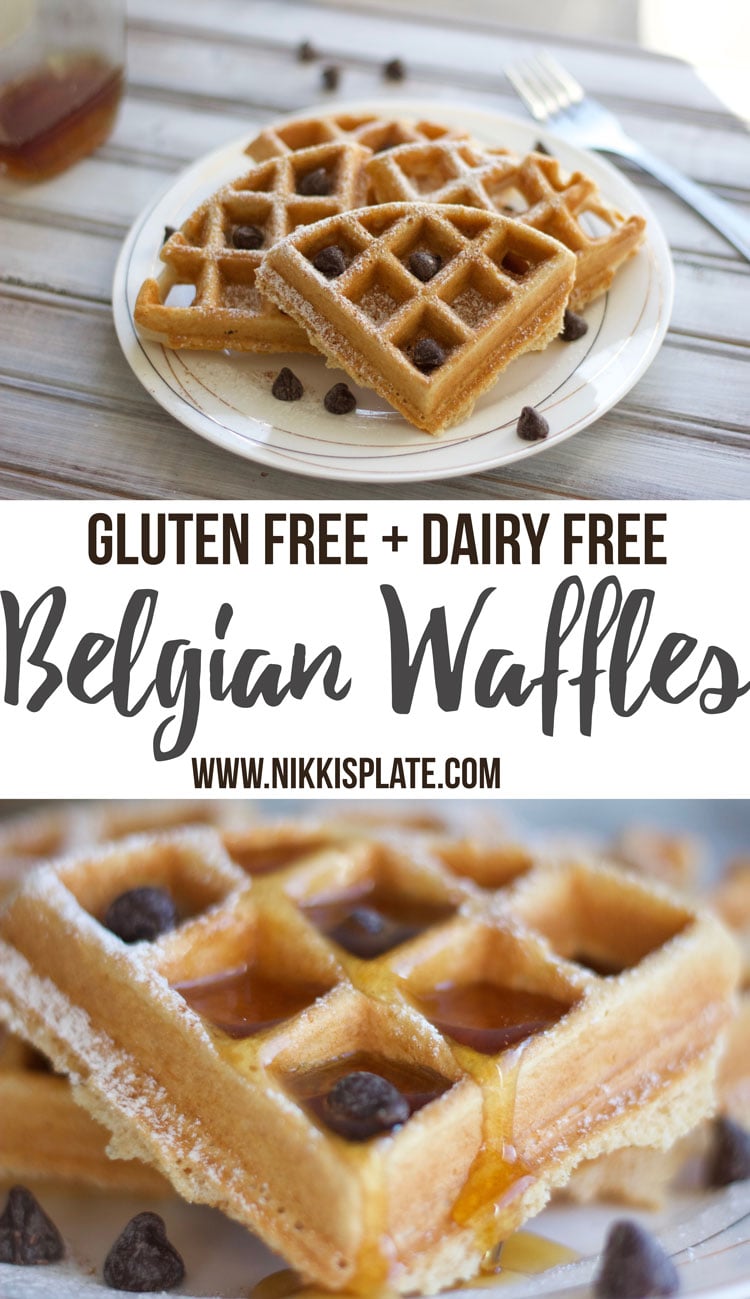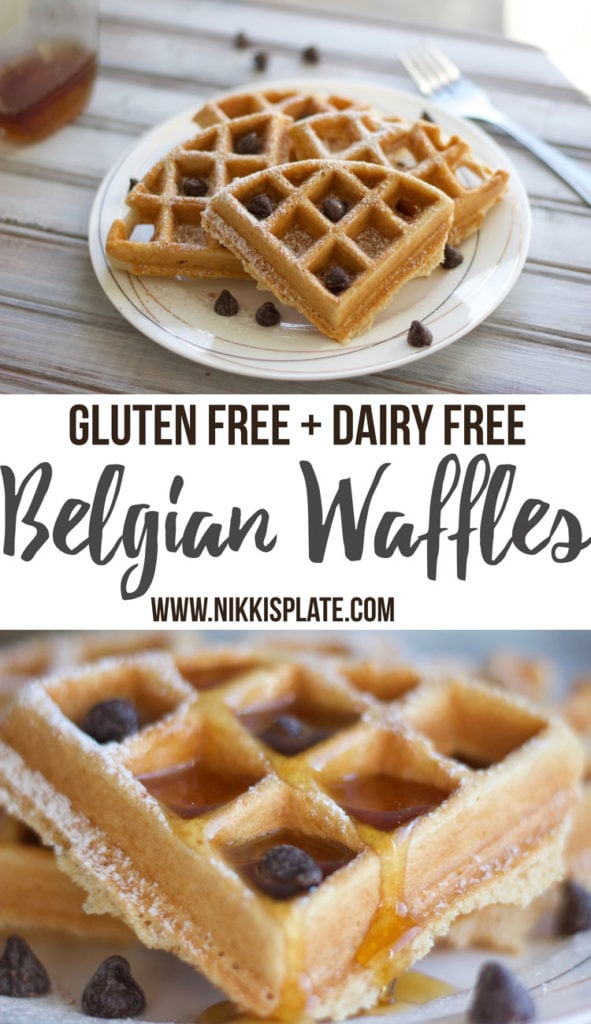 BEST SELLERS