Easy oven baked s'mores dip recipe; This easy oven baked s'mores dip recipe is perfect for summer BBQs, potlucks and parties. Made with marshmallows, chocolate chips and graham crackers! Crowd pleasing dessert dip!
Disclaimer: this post may contain affiliate links, and every purchase made through these links will give me a small commission (at absolutely no extra cost for you!) AS AN AMAZON ASSOCIATE AND REWARDSTYLE MEMBER, I EARN FROM QUALIFYING PURCHASES. See Privacy Policy for additional info.
Hi Beauties!
Coming at you with an easy oven baked s'mores dip recipe that is oh do delicious!
This easy oven baked s'mores dip recipe is the ultimate dessert for your summer parties! It is so gooey and packed full with creamy melted milk chocolate, and marshmallows. So easy to throw into the oven or even onto the campfire! Completely toasted to absolutely perfection.
If you are like me, you love a good S'more in the summer while camping.. but why wait until the campfire to eat this delicious sweet treat! This oven baked s'more dip recipe is definitely one you need to try!
So during your next party, BBQ or potluck, why not bring something like this! It is such a crowd pleaser that everyone will love! My favorite part of this s'mores dip recipe is not just the sweet delicious flavors but that you can bring all the ingredients to your party/gathering and make it in 10 minutes right there! Super easy and convenient.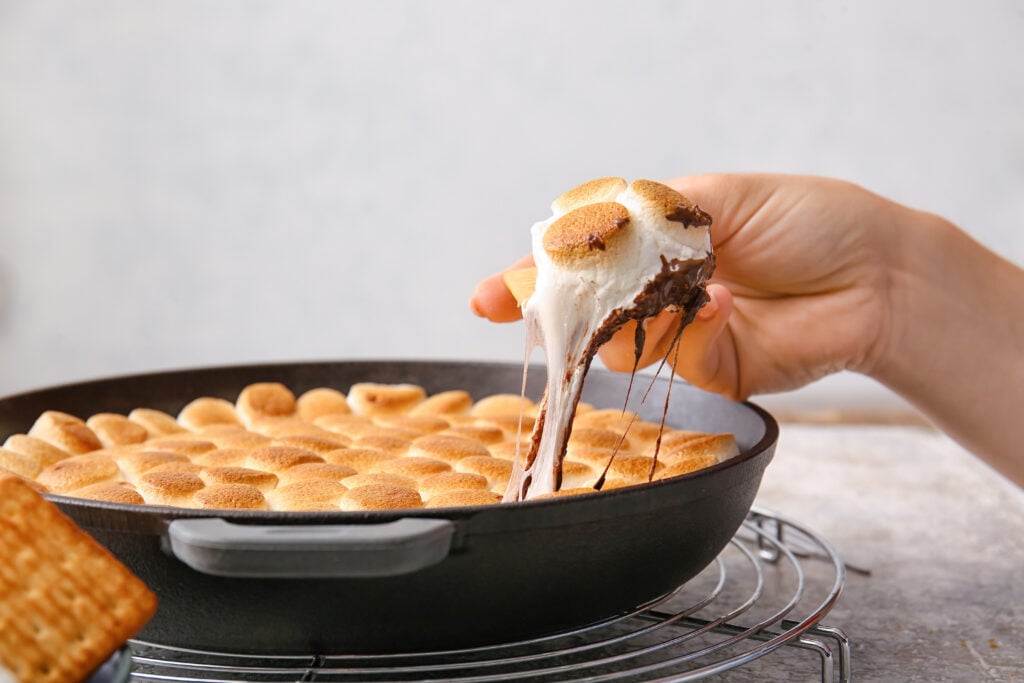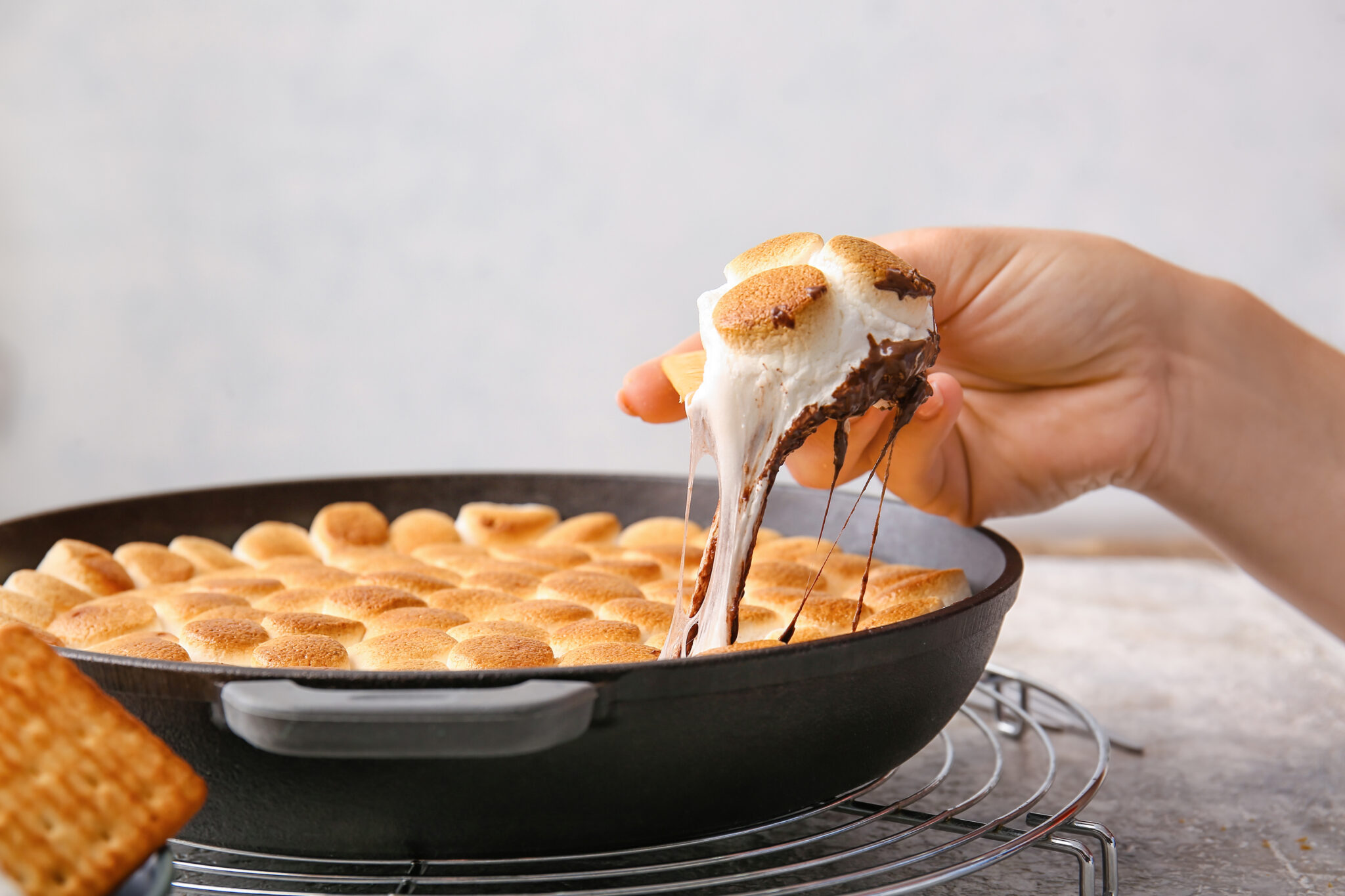 How to Make Easy Oven Baked S'mores Dip Recipe:
I mean this is probably one of the easiest recipes you will find on the blog.. Makes me wonder if we even really need a recipe for this one! But hear me out, I will make this a quick post so you can get on enjoying your s'mores dip!
The first thing you are going to want to do is grab a cast iron skillet or baking dish or pan. I recommend the skillet for dramatic effect (and its just pretty). You do not need to pre-grease the dish/skillet here because we are not removing the dip, you eat it straight outa it.
You are going to spread your chocolate chips or chocolate wafer melts along the bottom of the skillet. Make sure it is fully covering the bottom of the skillet. You can add more or less depend on how much chocolate you want in the s'mores dip.
When it comes to choosing the right chocolate for this recipe, it's really just a preference game. If you like dark chocolate, use semi-sweet or dark chocolate chips. If you like milk chocolate chips use whatever milk chocolate you can get your hands on. You do you friend!
Next step is to melt the chocolate in the oven. Once you have the even layer of chocolate on the skillet, put it in the oven at 350 degrees for about 5 minutes. Make sure you watch it closely, no one likes burnt chocolate.
Once the chocolate is melted and you can visibly see it melting, remove it from the oven. The next thing you are going to do is layer marshmallows. P.s you do not need to stir the melted chocolate chips, just leave them as is.
You can use regular marshmallows or mini marshmallows for this recipe. If you want to get crazy you can even used multi-colored marshmallows. I would just recommend not using marshmallow fluff or marshmallow creme because it tends to burn more then the regular marshmallows for this smores dip.
Place the skillet back into the oven and bake for another 2-3 minutes. Watch them carefully, they will turn golden brown on top. Once you can see that the toasted marshmallows are done, remove the skillet from the oven.
You can serve this immediately just be CAREFUL, the skillet will be hot. You can place a hot handle protector on the handle if you are worried about kids touching that part. You will want to eat it right away because the marshmallows may start to harden over time.
What to Serve with S'mores Dip:
The options are endless when it comes to choosing things to serve with your oven baked s'more dip recipe. I recommend trying it with these:
Graham Crackers (a must!)
Cookies
Pretzels
Strawberries
Vanilla Wafers
Dippers
Potato Chips
Ritz Crackers
Apple Slices
Oreos
Gingersnaps
Shortbread Cookies
Just a spoon hehe
FAQ About S'mores Dip Recipes:
Can you make Smores Dip in a glass pan? Absolutely! You do not even need to pre-grease the glass pan before making the dip, just throw the chocolate chips in and go. The only difference would be that the cooking times may vary so just keep a close eye on it while it's in the oven.
Can you add in other ingredients to the S'mores Dip? Definitely! I recommend adding in some pecans and peanut butter. YUM.
Why are my marshmallows not melting? Every own is different. Yours may need to be in a little bit longer than others or you could have potentially over crowded the pan which may extend the melting time, but the marshmallows will not completely melt, they will just turn golden and gooey.
How do you make S'mores Dip on the camp fire? Same exact way as in this oven recipe but you will also need to cloak it with some tin foil to make sure the heat is staying in the skillet in order for it to cook and melt properly.
Can you reheat the S'mores dip? Yes! Just place the skillet back in the oven at 350 degrees for 5 minutes. Just watch carefully to avoid any burning. Although you definitely can reheat it, I think it is best when fresh! So don't wait, just eat it!
Can I make this recipe in the microwave? I mean I guess you could but it would be WAY better in the oven. I would recommend avoiding a microwave.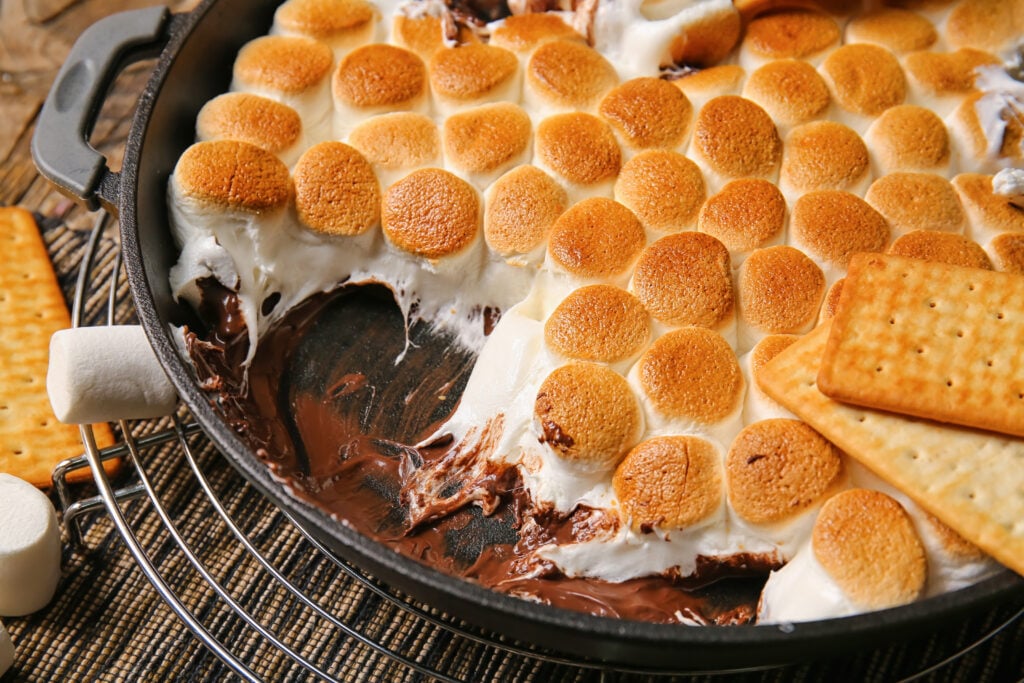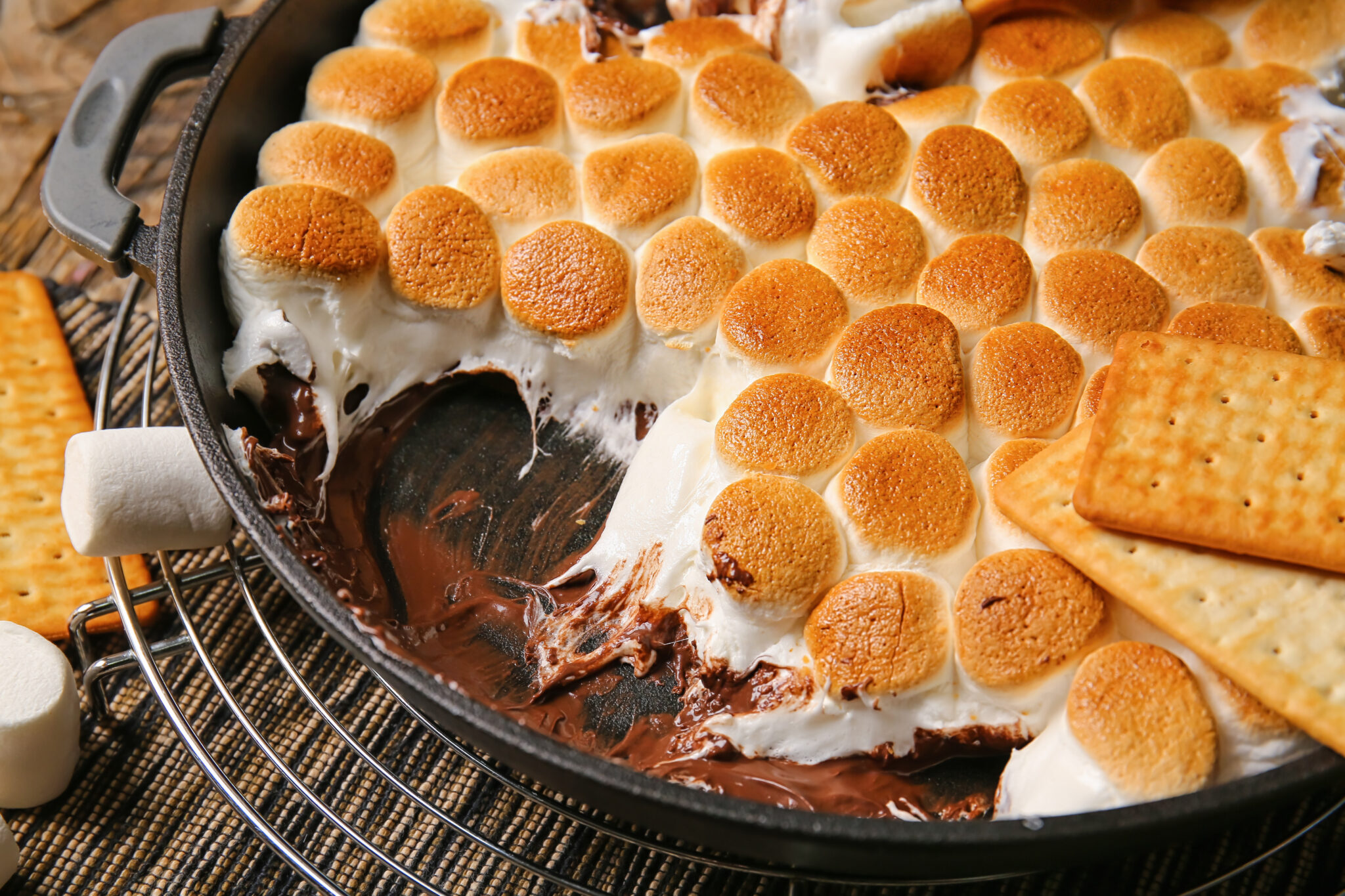 If you have any questions about this recipe, leave it in the comment section below and I'll make sure to get back to you on it!
If you make any of my recipes please tag your photos with #nikkisplate so I can see your beautiful creations! Any feedback in the comments below is greatly appreciated. I hope you have fun!
Share this delicious recipe with the rest of Pinterest, Instagram and Facebook world! Also make sure to follow my account to see when I post new recipes or home inspired content at Nikki's Plate.
Until next time,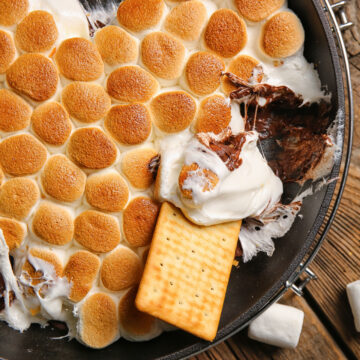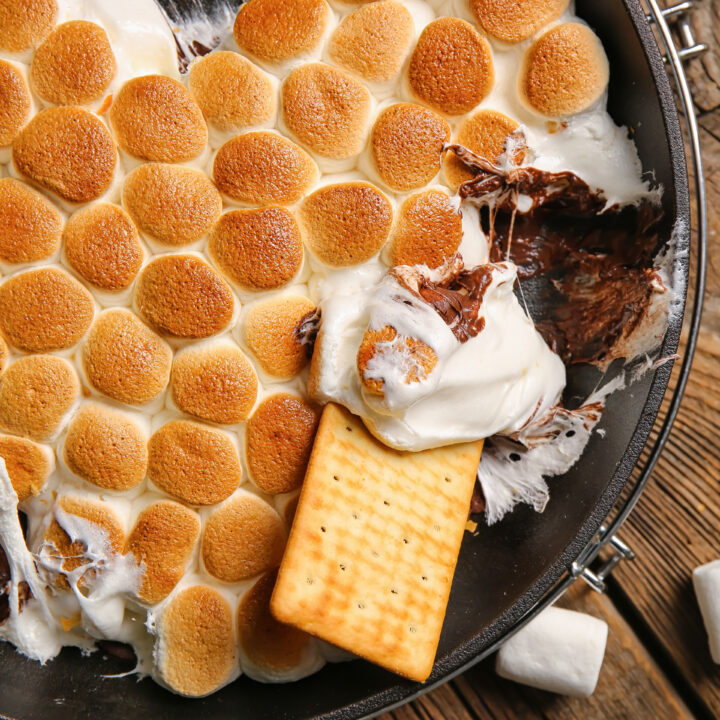 Easy Oven Baked S'mores Dip Recipe
This easy oven baked s'mores dip recipe is perfect for summer BBQs, potlucks and parties. Made with marshmallows, chocolate chips and graham crackers! Crowd pleasing dessert dip!
Ingredients
1

Bag

Milk Chocolate Chips or Wafers

1

Bag

Large Marshmallows

Graham Crackers, Fruit or Cookies

for serving
Instructions
Preheat oven to 350 degrees F.

Line the bottom a medium skillet with chocolate chips. Place in oven for 5 minutes until melts. Watch carefully! Once melted, remove from oven.

Layer marshmallows on top of the melted chocolate chips. Put back into the oven for 2-3 minutes or until marshmallows are golden brown on top.

Serve immediately with Graham Crackers, Fruit or Cookies
BEST SELLERS