The Ultimate Guide to Finding the Perfect Dining Room Table; A guide to choosing the right dining room table for any home.
Disclaimer: this post may contain affiliate links, and every purchase made through these links will give me a small commission (at absolutely no extra cost for you!) AS AN AMAZON ASSOCIATE AND REWARDSTYLE MEMBER, I EARN FROM QUALIFYING PURCHASES. See Privacy Policy for additional info.
Hi beauties!
Your dining room table is where you spend the most time with your family and friends, so it's important to get one that is both functional and beautiful. Before shopping for a new piece of furniture and hosting your first dinner party, think about your personal habits, the people who use it most often, and how much space you have in your living room. Then find a table that fits all those needs with this ultimate guide to finding the perfect dining room table!
The Ultimate Guide to Finding the Perfect Dining Room Table
Know your room size and shape
Know the dimensions of your room. Before you can buy a table that fits, you'll need to know how much space you have available. Look at the dimensions of the room, decide on an exact placement for the table, and measure it out. There are a few different ways you can do this:
Use tape measures and pencils to mark out where everything will go (and make sure you don't forget about any obstacles like fireplaces or windows).
Use a virtual measuring tool on an app like Measuring Tape . You need to get an idea of how big things will look in your house before buying them. If there are major changes required for fitting something into your space, then make those changes before purchasing anything new!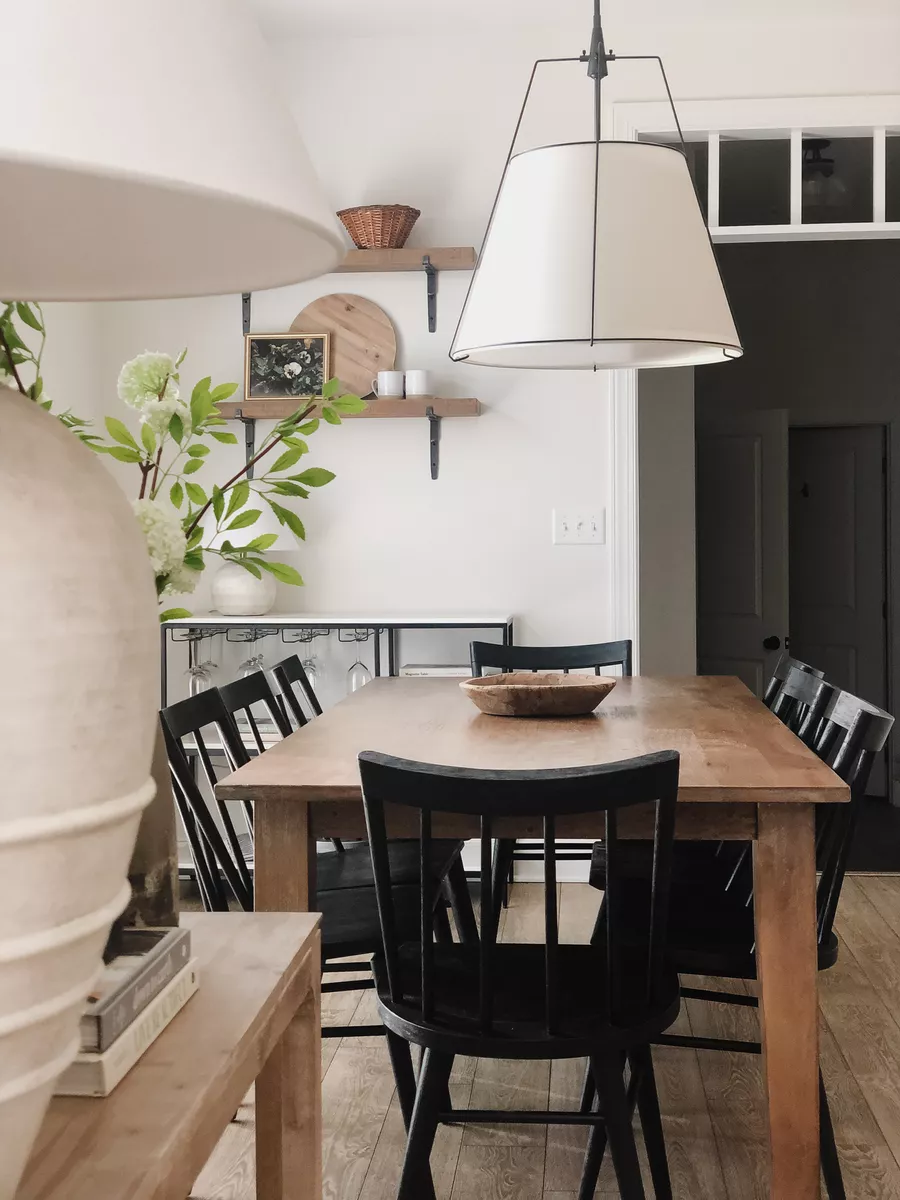 Look for something that fits your style
When you're shopping for a dining table, it's important to think about what kind of style you want. There are so many different options out there, from modern and sleek to retro and eclectic. Once you've decided on the look that works for your home, make sure the table is the right size and shape to fit your space.
If you have an open concept kitchen-living area or small dining room, consider getting a round or oval table instead of one with sharp corners that might block sight lines around the room.
If possible, try out some sample chairs in person before buying them online—you'll want something comfortable but also sturdy enough not to fall apart after three meals sitting at it! Also keep in mind how much traffic passes through this room; if everyone else spends most days kicking back on couches watching Netflix while trying not to spill their gin & tonics all over themselves while texting/typing away on their smartphones (guilty!), then maybe take advantage of those cushy stools from IKEA rather than chairs with backs that will only get in everyone's way when moving around during mealtime?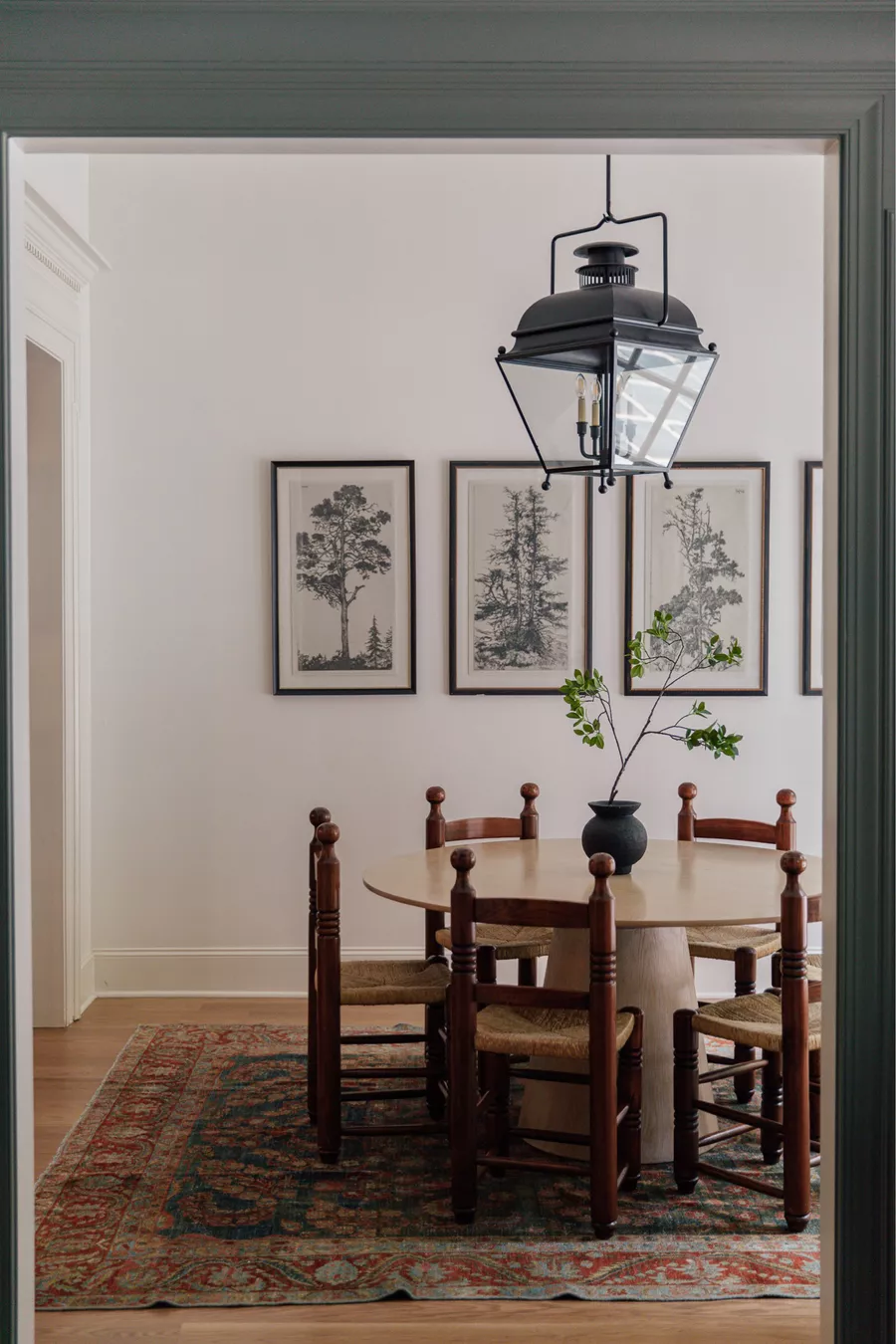 Think about your personal habits
When considering the perfect dining table, it's important to think about your personal habits as well. Are you someone who eats at the table often? If so, you may want a larger surface area and fewer chairs. Do you spend most of your time sitting alone or with others? If it's mainly alone and you do not entertain often, then perhaps a smaller table would be ideal.
What kind of person are you? Do people tend to gather around your home for meals or do they usually just stop in for quick bites on their way out the door? A small round kitchen table might work perfectly if space is limited but if there are kids running around then maybe something more substantial is required such as an eight-legged piece that can withstand years' worth of spills and crumbs without looking worn out. How much time will people spend there each day/weekend/month? This will help determine what level of comfort should be included within its design -- whether it involves padded cushions on seats or ergonomic chairs with adjustable backs (or both).
Related: 25 BEST MODERN FARMHOUSE LIVING ROOM DECOR IDEAS
Consider the people who use your table most often
If you have kids, consider their ages. With younger children, you might want a lower table or less formal one that they can use with booster seats and slide-out trays. If you have pets, make sure they are allowed on the furniture—many tables are too fragile for dog claws to scratch up! If there is a large family in your future, consider whether everyone can fit around the table at once without having to strain their necks looking up at one end.
The more people that will be using the dining room table, the more important it is to get something comfortable and sturdy enough for constant use over time. If possible, invest in something that looks elegant enough for guests but still feels inviting as part of an everyday household environment (and don't forget budget!).
Pay attention to the details
It's true, you should never judge a book by its cover. However, when it comes to dining room tables, we're willing to make an exception. (We won't tell anyone.)
The quality of the details will tell you a lot about how well-made the table is and whether or not it'll stand up to your family's daily use for years to come. Look for things like wood finishes that are even and consistent across the top of the table; legs that are sturdy but not too short; armrests that don't look flimsy or cheap; and drawers that open smoothly on clean-looking tracks. You'll also want to check for any signs of glue stains along joints where pieces meet—these could indicate poorly applied veneer or poor craftsmanship overall.
Seat as many people as possible comfortably
The table should be big enough to seat all the people who will be eating at it. Ideally, each side should have enough space for two people to sit comfortably—no one likes sitting right up against their neighbor! Try placing a chair on each end and see if it feels like there's enough room to pull out and push in your chair easily. If not, move them around until they're in a better position.
Dining table height is important for comfort.
The height of your dining table is important, but it's also a matter of personal preference. Some people like to have their knees higher than their elbows when seated and vice versa; some prefer that the tabletop be just above or below eye level. The most important thing to consider when choosing the height for your dining table is comfort.
Generally speaking, there are two general heights that work well for dining tables: 30 inches from the floor (ideal for most average-sized Americans) or 36 inches from the floor (ideal for taller people). The best way to determine which option will work best in your home is to sit down at the proposed table height and see how it feels. If you feel uncomfortable getting up out of your seat or having someone else sit down opposite you, then chances are good that this won't work out very well!
Related: 15 BEST EUROPEAN FARMHOUSE LIVING ROOM DESIGN IDEAS
Dining Room Table Shapes
Round Dining Tables
If you have a small, square room and want to feel like it's larger than it actually is, round dining tables are your best choice. Round tables help create the illusion of more space by breaking up straight lines in the room. Round tables can also be used to create an intimate setting for smaller groups—a square table would make them feel more separated from one another and less connected. So if you are working with small spaces, go for the round table!
Rectangle Dining Tables
If you have a narrow room, rectangle tables are definitely your best bet. Rectangular tables are more versatile than round ones because they can be used in long and narrow spaces. This makes them ideal for people with small apartments or homes with multiple rooms separated by hallways.
For example, if you have a large dining area that's also adjacent to another space, such as an open-concept kitchen or living room, consider buying one large rectangular table that spans both areas. This will give guests the feeling that the two rooms belong together and make it easier for them to move about without bumping into each other or having to squeeze through doorways when passing from one room to another.
Pedestal Dining Tables
Growing in popularity is the pedestal dining tables. Pedestal tables can be easily moved in and out of the center of the room to create more space. This is ideal for smaller homes with less space, as you can put it up against a wall or in storage when you don't need it and then move it right into the center of your dining room when guests arrive. Just remove the pedestal base and store. With this type of table, there are no legs or feet to get in your way as you move, just the pedestal bases.
Choosing a Dining Table Material
The best way to choose a dining table material is by imagining how much you will use it and making your decision based on that. You need something that will be durable for your lifestyle.
If you're going to be eating dinner at the table every night, a table that's easy to clean is crucial.
If you have kids and pets, consider a material that can withstand their messes and won't scratch easily.
You don't want your dining room looking like a mess all the time, so look for something that can be easily cleaned up or covered with a tablecloth (or some sort of covering).
Whether you are going for wood veneer, pine, maple, walnut, oak, glass or marble table .. you need to do your research on each before deciding on the right dining table. The best way to do this ask the manufactures, they know their material best!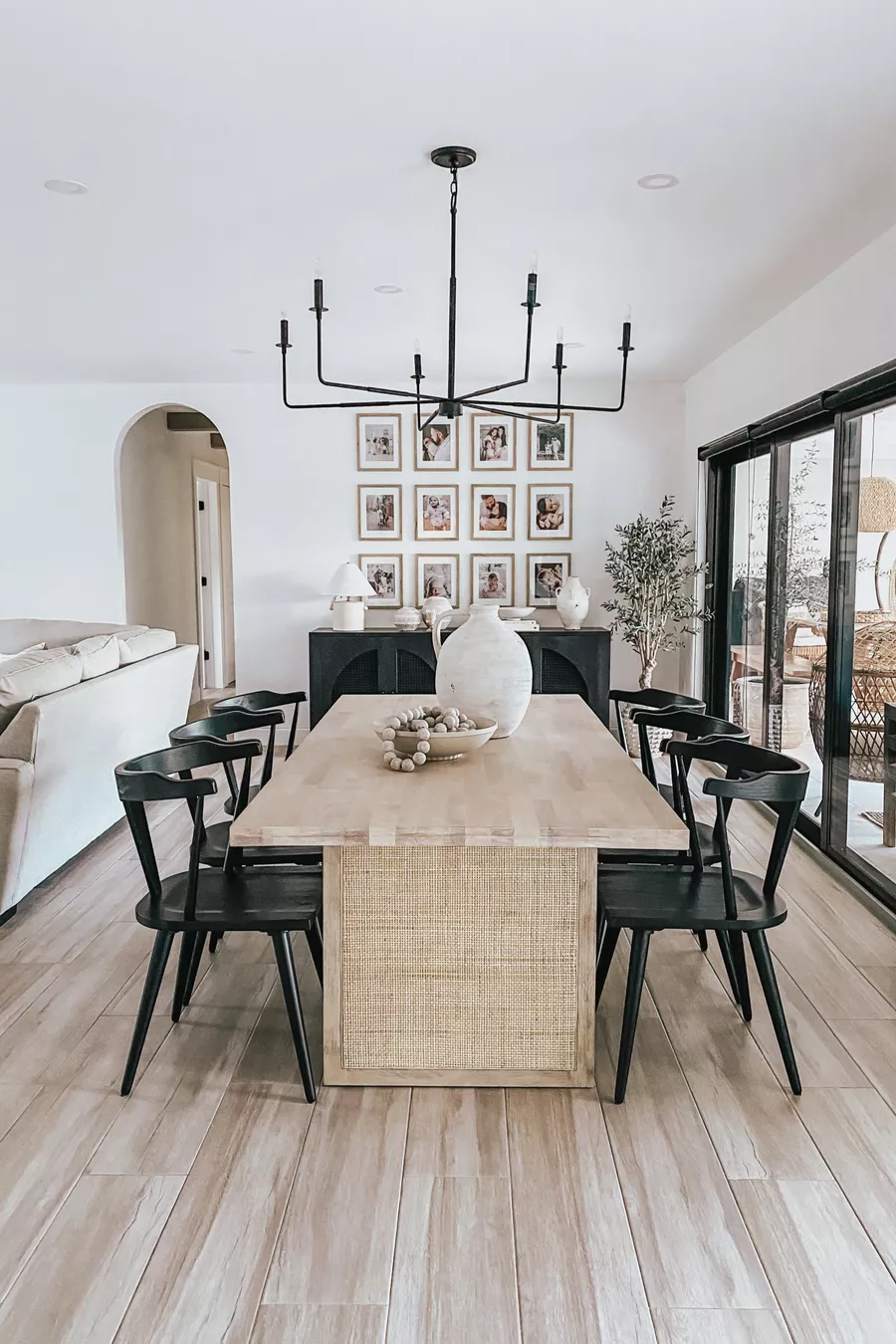 Choosing the Right Dining Seating
When you're choosing the right seating at a dining table, it's important to consider your needs. Are you hosting a large family gathering? Or maybe you just want to be able to sit comfortably with a small group of friends. How often do you entertain?
If your answers to these questions are "a lot" or "all the time," then it's probably best to invest in some high-quality, sturdy chairs or bench that can hold up under heavy use. If on the other hand, this is something that happens once every few years, then you may want to consider something more affordable and less durable.
It also helps to think about what kind of look and feel you want in your home when choosing dining room furniture. If you're trying to create an elegant space where guests will feel welcome, then wood and leather are probably good choices for seating options. On the other hand if you're looking for something more rustic or casual, metal might be a better option because it tends to match well with wood accents.
Related: 11 TIPS FOR DESIGNING SMALL COTTAGE ROOMS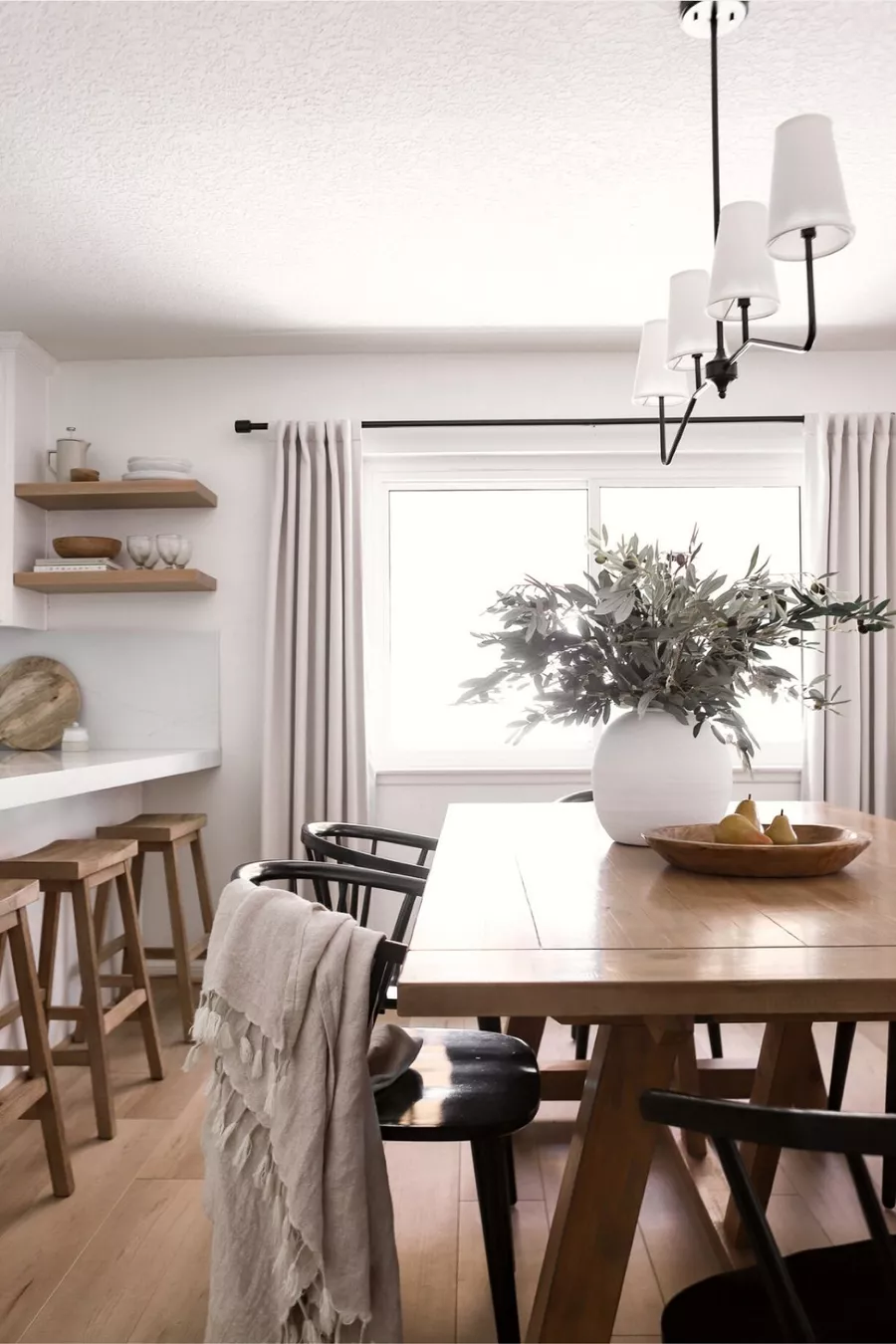 Choose high quality design objects to get the most out of your dining room table.
The importance of choosing high quality design objects. Choosing the right dining room table can be tough, but it's also fun. You have to think about style and function, but you also want to add a few personal touches that make your home feel like a reflection of who you are.
For example, if you're into antique furniture and old-fashioned homes, then a vintage French bistro table might be perfect for your space. If modern industrial chic is more up your alley, then consider a simple steel Dining table with sleek lines that will look great in any modern dining room design.
The impact of choosing high quality design objects on a dining room table. A good piece of furniture is worth its weight in gold (or at least should last through several generations). In order to get the most out of your dining room table with minimal effort (and money), take some time before purchasing to find out exactly what type of furniture works best for your family's needs—and more importantly, how those needs will change over time! It is crucial to consider dining chairs when purchasing the table to complete the interior design and dining space.
Knowing what to expect when shopping for a dining room table will help you find one that best fits your needs and style
Welcome to the dining room! It's the place where you and your family and friends gather around to enjoy one another's company. This is a room that should be comfortable, inviting and fun—and it's also one of the most important rooms in your house.
When choosing a dining table, there are a few things to consider: The size and shape of your room. If it's small, choose something smaller than if you have lots of floor space. Make sure it doesn't take up too much room by leaving enough space around all sides for chairs and people walking by (especially if it has extensions). Look at both width and depth.
If you don't have an exact idea of what size table would look best in your home because you haven't been able to see them together yet (if they're still being built or haven't arrived yet), try looking at photos online for inspiration!
The dining room table is the center piece of any dining room, so it's important to do your research before buying one. The best way to decide on a table is by considering your personal taste in styles and shapes as well as how much use the table will get. If you're looking for something that looks great with minimal effort, consider choosing one made from reclaimed wood or steel!
Related: TOP 25 SCANDINAVIAN LIVING ROOM DESIGNS AND IDEAS
I hope you enjoyed this ultimate guide to finding the perfect dining table!
Until next time,
BEST SELLERS