Healthy Coconut Pumpkin Smoothie Recipe; made with pumpkin puree, oats, frozen banana, nut butter, coconut milk and topped with coconut yogurt! A delicious healthy breakfast or snack
Disclaimer: this post may contain affiliate links, and every purchase made through these links will give me a small commission (at absolutely no extra cost for you!) AS AN AMAZON ASSOCIATE AND REWARDSTYLE MEMBER, I EARN FROM QUALIFYING PURCHASES. See Privacy Policy for additional info.
Hi beauties! Coming at you with my Healthy Coconut Pumpkin Smoothie Recipe!
Pumpkin season has arrived, and we're so excited to share our latest smoothie recipe with you. It's made with pumpkin puree, oats, frozen banana, nut butter, coconut milk and topped with coconut yogurt! This delicious healthy breakfast or snack will keep you full all morning long.
This Healthy Coconut Pumpkin Smoothie Recipe is the perfect way to start your day! Top it with coconut yogurt and you'll be ready to take on the day. You're going to want to drink this fall smoothie every day (and all day).
Pumpkin and coconut are a match made in heaven, and you can taste how good they are together in this Healthy Coconut Pumpkin Smoothie Recipe.
So lets jump into the recipe now shall we!?
Healthy Coconut Pumpkin Smoothie Recipe Ingredients:
1 frozen banana
¼ cup oats (some extra for sprinkling top at end)
1 cup plain coconut yogurt
½ cup pumpkin puree (not pie filling!)
½ cup unsweetened coconut milk
1 tablespoon nut butter of choice
1 teaspoon vanilla extract
½ teaspoon ground cinnamon
pinch each of nutmeg
How to Make This Healthy Pumpkin Smoothie:
If you make smoothies often, you know that they are one of the most easiest recipes to make! You literally throw everything into a high speed blender and then enjoy! The only difference with this recipe is that you will only use ½ cup of the coconut yogurt and use the other ½ cup to top your smoothie at the end. Sprinkle your oats on top to make it look extra pretty and enjoy!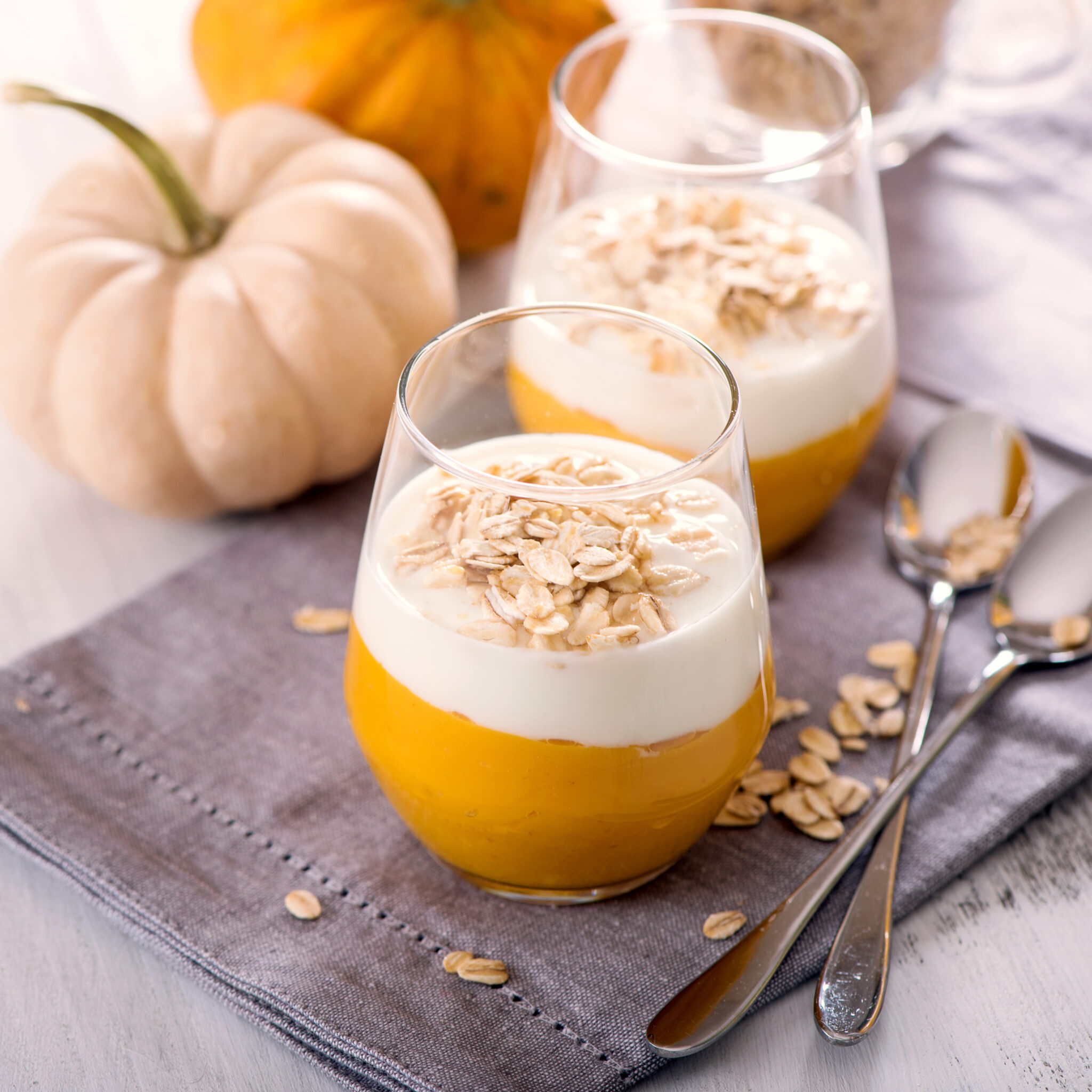 Tips for Making This Pumpkin Smoothie Recipe:
The perfect smoothie recipe is a personal thing. Some people like their smoothies thick and creamy; others prefer theirs light and watery. So what's the secret to making your perfect smoothie? Here are some tips:
Frozen bananas work best for this healthy coconut pumpkin smoothie recipe. It will make the smoothie extra cold, creamy and smooth. I always recommend frozen banana over ice because ice doesn't always blend smooth. So always opt for a frozen banana instead!
Add the liquids first, then add the solid ingredients. This will help ensure that the solid ingredients are blended well being at the bottom.
If you're going for a thinner smoothie, use more liquid than solids; if you want it thicker, use less liquid than solids. Add more of the coconut milk if you are looking for less thick.
Add protein! The best source of protein for smoothies is whey protein powder (egg white powder works too). Give it an extra boost and it will also keep you fuller longer. I recommend a vanilla flavour or an unflavoured one.
Start your blender on a slow speed and then increase once everything is blended.
You can use pumpkin pie spice in place of the cinnamon, and nutmeg. It is a personal preference and also what you have on hand decision!
Pumpkin Smoothie Nutrition Info:
Pumpkin puree is packed with vitamins A and C, making it a great choice for boosting your immune system and keeping you healthy during cold and flu season. The vitamin A found in pumpkin helps heal wounds and boost your vision, while the vitamin C boosts your immune system to protect you from illness.
Frozen bananas make this smoothie extra creamy since they are so rich in potassium, magnesium, fiber and antioxidants that help prevent cancer. Bananas are also high in fiber which helps keep your digestive system functioning properly and lowers cholesterol levels which means less plaque buildup on the heart walls reducing risk of heart disease and stroke.
Coconut milk contains healthy fats that support weight loss by increasing satiety levels between meals allowing you to eat less overall calories without feeling hungry as often throughout the day leading to positive changes in body composition over time such as losing fat while gaining muscle tone! It's also high in potassium which helps lower blood pressure while increasing energy levels preventing fatigue during workouts so you can push harder during those sweaty workouts!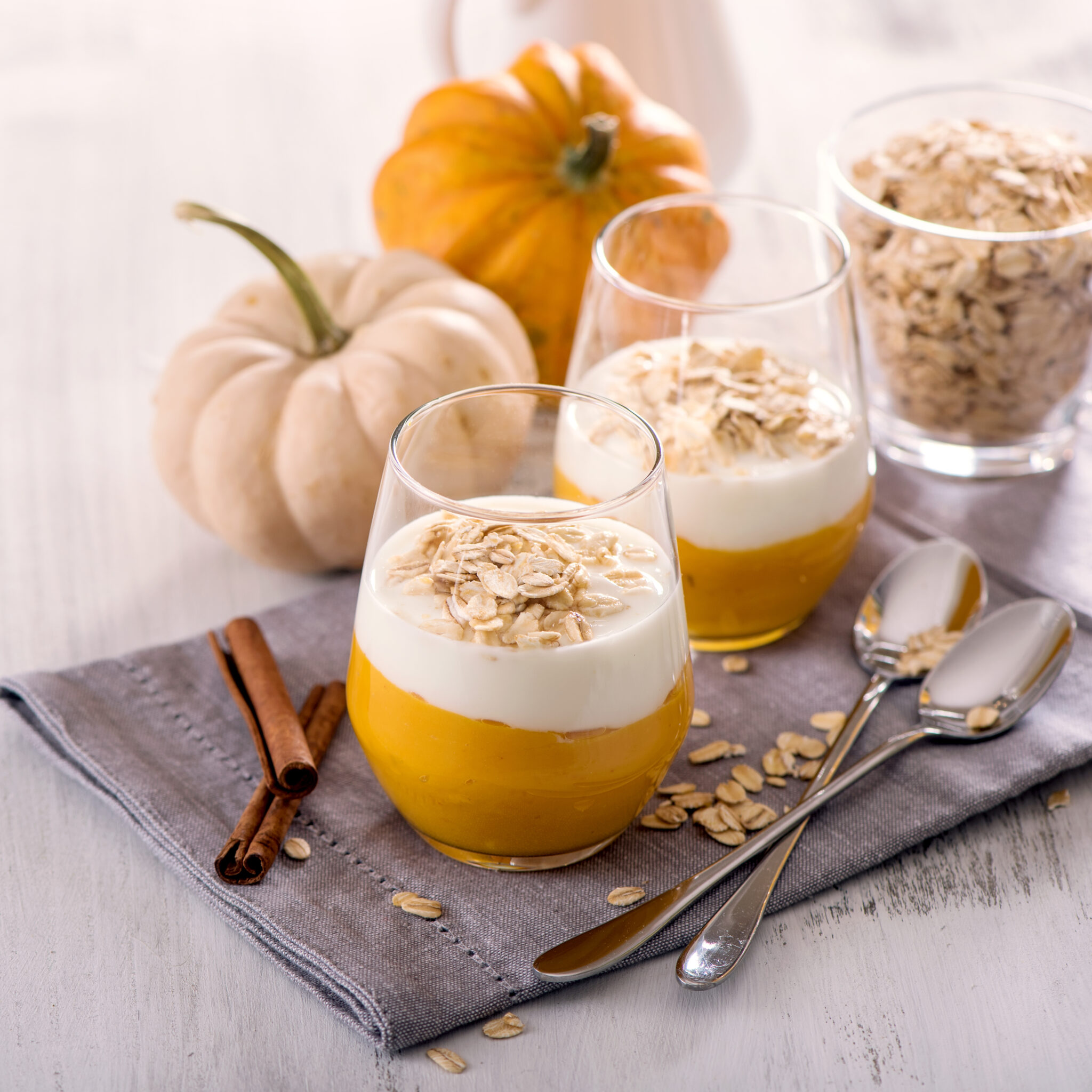 More Pumpkin Recipes to Try:
If you have any questions about this Healthy Coconut Pumpkin Smoothie Recipe, leave it in the comment section below and I'll make sure to get back to you on it!
If you make any of my recipes please tag your photos with #nikkisplate so I can see your beautiful creations! Any feedback in the comments below is greatly appreciated. I hope you have fun!
Share this delicious recipe with the rest of Pinterest world! Also make sure to follow my account to see when I post new recipes or home inspired content at Nikki's Plate.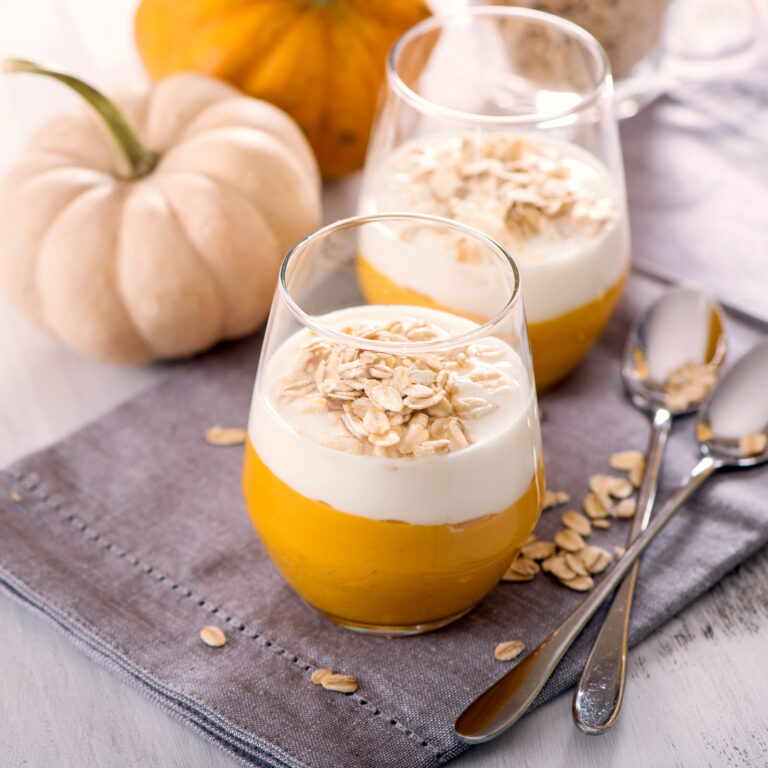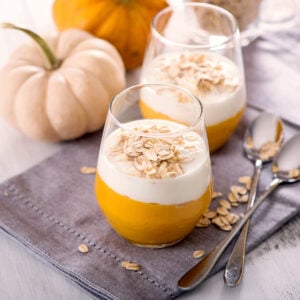 Healthy Coconut Pumpkin Smoothie Recipe
A creamy smoothie made with pumpkin puree, oats, frozen banana, nut butter, coconut milk and topped with coconut yogurt! A delicious healthy breakfast or snack
Ingredients
1

frozen banana

¼

cup

oats

(optional: extra to sprinkle on top)

1

cup

coconut yogurt

(divided in two)

½

cup

pumpkin puree

(not pie filling)

½

cup

unsweetened coconut milk

1

tablespoon

nut butter of choice

(I used almond butter)

1

teaspoon

vanilla extract

½

teaspoon

ground cinnamon

pinch of

nutmeg
Instructions
Blend all ingredients in a blender but leave ½ cup of coconut yogurt to top at then end. Sprinkle with oats
BEST SELLERS