How To Lose Weight After Having A Baby: Everything I Did to Lose 40 Pounds Postpartum; Tips and easy ways to lose baby gains!
Disclaimer: this post may contain affiliate links, and every purchase made through these links will give me a small commission (at absolutely no extra cost for you!) AS AN AMAZON ASSOCIATE AND REWARDSTYLE MEMBER, I EARN FROM QUALIFYING PURCHASES. See Privacy Policy for additional info.
Hi Beauties,
This post is a little delayed, especially considering I am not 6 months pregnant again.. but I wanted to write this post for everyone that had been asking me. I am not a weight loss expert in any means, but I wanted to share what worked for me and what didn't.
I gained a total of 45 pounds when pregnant with my daughter... ouch I know. I ballooned, it hurt, I suffered. The entire pregnancy I had so many feelings of shame and guilt about my body.. even though I knew I should be enjoying the journey and thanking my body for creating a beautiful new life to bring into this world.
It was hard having these mixed feelings but I knew that once I had my daughter, I was going to work my butt off to get my body back to somewhat itself. I knew I could do it if I stayed determined and really put my heart into it.. but I also didn't want to put too much pressure on myself because becoming a new mom is stressful enough!
When Did I Start: I started really focusing on loosing the weight around 6 weeks postpartum because that is when I was allowed to start working out again. I gave myself the first 6 weeks to really adjust to newborn life, and develop a mommy and me routine that suited us before I added in the additional pressure of losing weight.
With that being said, I DID lose about 15 pounds once my daughter was born. You will lose some weight from the baby (obviously), extra fluid gains, and placenta etc. So right off the bat you are starting off great!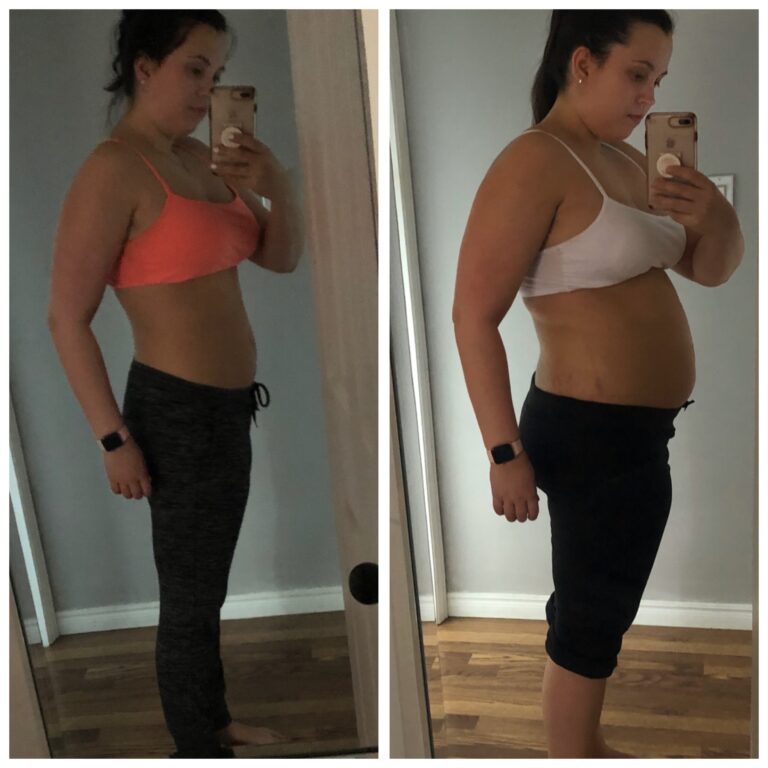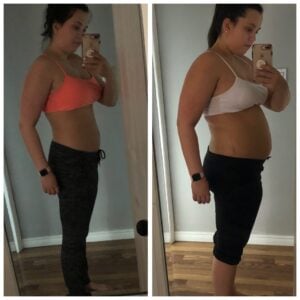 How to Lose Weight After Having A Baby:
SO here are the things that really worked for me. Do not get discouraged if these tips don't work for you, find what does or take these tips and adapt them into your lifestyle. So let's jump into how to lose weight after having a baby!
Breastfeeding
I know this isn't an option for a lot of moms out there but I do believe that this really helped me lose some of the weight. They say breastfeeding can help you lose weight. Breastfeeding moms burn up to 500 extra calories a day by just feeding your baby. This being said, a lot of moms find they are more hungry while breastfeeding so you have to be cautious of this if you are trying to lose weight while feeding your baby.
I found that weight fell off me a lot faster and I do believe it was because I was breastfeeding. On the weeks I would not focus on my clean eating and exercise I was still managing to lose a pound or two. This really did motivate me to continue my journey both breastfeeding and losing weight!
Healthy Foods (no diet)
I made sure not to put myself on a diet, but to opt for healthier foods. I didn't have a perfect clean diet. I had "cheat" meals all the time. I wanted to make sure I wasn't stressing my body out too much because I was already dealing with a lot of stress being a new mom. I didn't want to add that additional pressure onto myself.
I spoke with a dietitian who told me I needed to eat around 1800 calories to maintain my current weight while breastfeeding. So I tried to make my calorie intake 1300-1500 a day. I only tracked one week (using myFitnessPal app) to get an idea of what that meant. Once I had an idea of what 1500 calories looked like, I stopped tracking. I did not want to obsess over numbers and did not want to head down that road.
A typical day looked like this for me:
Breakfast: Overnight oats made with protein powder, blueberries and chia seeds
Lunch: Brown rice/Whole Wheat Pasta, Chicken/Tuna/Ground Turkey, and a green veggie
Snack: Fruit or Avocado Toast or Veggie sticks with Hummus or Rice Cakes or RX Bar
Dinner: Chicken Breast/Turkey Burger, sweet potato, green veggies
Sweet Treat: Coconut Ice Cream or Dates with peanut butter or Dark Chocolate
I ate what I enjoyed but in moderation. I should also mention, I ate dairy and gluten free. I find my body thrives off eating this way. I have so much more energy and I can just feel my body reacting the way I want it to. I stayed away from: Alcohol (especially casual drinking), white pastas or breads, additional salt
Meal Prep
Meal Prepping is SO KEY if you want to lose weight. Why? Because when you have been up all night with your newborn the last thing you want to do is make a healthy meal, you want something easy and fast.
If you meal prep you will always have healthy options in your fridge and you will be less likely to grab something easy and unhealthy. I would meal prep 5 days in advance. Mostly breakfast and lunch. I usual enjoyed cooking dinner at night with my husband so I kept that in our routine.
Another great option is to use the slow cooker. I found I had more energy at times mid morning. If I threw something into the slow cooker for that night, I was more likely to eat healthy.
Hydration
Taking hydration is boring I know.. but it is so important, especially if you are breastfeeding! And when I say hydration, I don't mean sugary drinks or alcohol. Stay far away from those evil liquids. Drinking water helps flush out additional waste/salt from your body, suppresses appetite and is necessary to burn fat cells. So bring on the water!
I also made sure to have my 1L water bottle with me at all times. This helped me stay on track and achieve my daily intake goal. My goal was to drink 2-3L a day.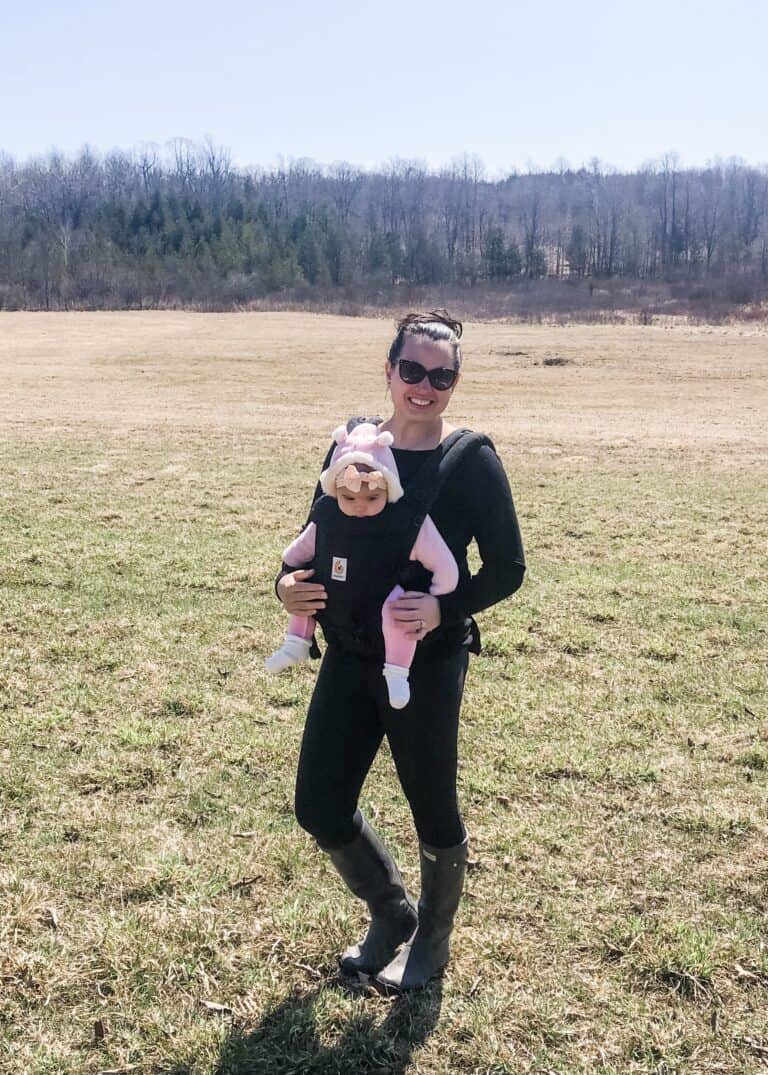 Exercise
Exercise was a HUGE part of my weight loss journey. It really helped me stay motivated because I saw such great results from exercising. Here is exactly what I did...
Losing The First 10 Pounds: I started off small. For the first month, I went on three 45 minute walks a day (while pushing a stroller of course). I had to wear my belly bandit at the beginning because my stomach still felt so boggy. During these walks I would listen to music or podcasts. I found them to be enjoyable and I looked forward to them. It was also so nice to get fresh air. My daughter would almost always nap during these walks so it was peaceful and comforting! The first 10 pounds fell off while doing this. In 4 weeks I had lost my first 10 pounds.
Losing The Second 10 Pounds: I started stepping up my cardio game at this point because I was feeling stronger. I started doing mini runs (I enjoyed running before having my baby). I started off small by doing interval runs. So for example 1 minute of jogging and 1 minute of walking for a total of 30 minutes. I slowly started increasing the run time, so 5 minutes of jogging then 1 min of walking. It was hard but I loved watching my body get stronger and fitter with each cardio session. I running 3 times a week at this point and lost another 10 pounds in a month.
Losing the Last 10 Pounds: After doing only cardio for 8 weeks, I started to see my body adjusting to it. My weight loss had slowed down and I was starting to feel a little bored with my routine. This is when I stepped it up a notch and started doing HIIT workouts 5 days a week while my daughter napped. My HIIT workouts lasted 30-45 minutes depending how I was feeling and how I slept the night before. This really was the turning point for me. I felt SO GOOD and really saw positive changes in my body and mental health.
Working out is hard. You really have to push yourself to get them done. The key for me was to not give myself a choice. I had to do the workouts while my daughter napped so without thinking about it I would put her down, grab my workout gear and hit the basement. Don't let yourself talk yourself out of doing it. Don't have excuses. If you are tired, reduce the length of the workout or the intensity but DONT SKIP IT.
Once you develop an exercise routine, it is easier to keep to it because you don't want to let your body down or go backwards in your progress. Have fun with it, make it something you look forward to. If you are getting bored, switch it up for something new.
If you start to get bored, try doing something more social. Get a friend to walk with or try some exercise classes. I did a 'Mommy & Me Yoga' class for 6 weeks and loved it!
I hope you enjoyed this post on how to lose weight after having a baby and found something useful in it! Make sure you follow along with my journey on my instagram for more mom advice!
Until Next Time,

If you liked this post on postpartum, you will love these too!
- MY NATURAL LABOUR AND DELIVERY STORY
- AN HONEST REVIEW OF TAKING CARA BABIES SLEEP PROGRAM
- 6 MONTH OLD SCHEDULE: A DAY IN THE LIFE WITH A BABY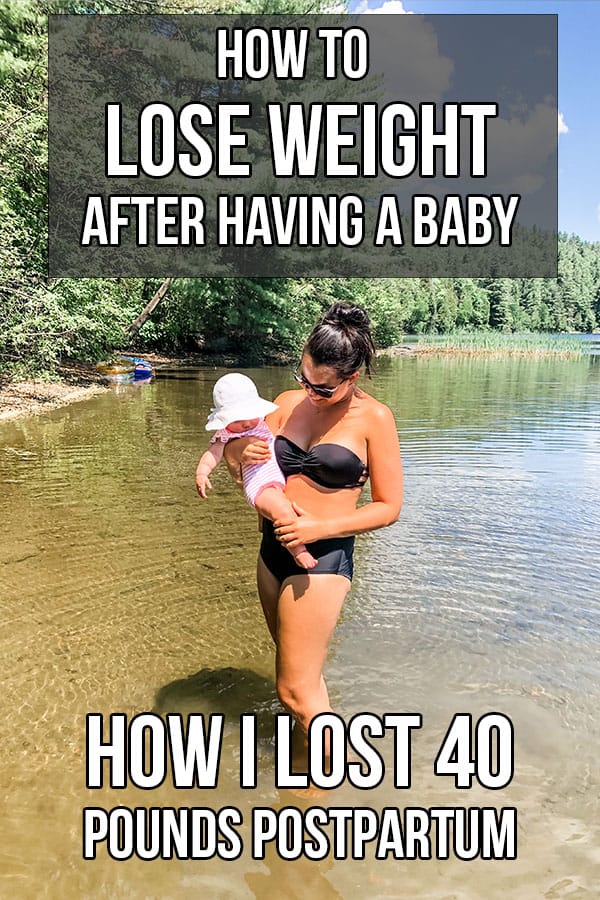 BEST SELLERS