Overnight Cinnamon Cold Brew Coffee; Easy cold coffee beverage, packed with cinnamon flavours, vegan and gluten free. No machines required!
Disclaimer: this post may contain affiliate links, and every purchase made through these links will give me a small commission (at absolutely no extra cost for you!) AS AN AMAZON ASSOCIATE AND REWARDSTYLE MEMBER, I EARN FROM QUALIFYING PURCHASES. See Privacy Policy for additional info.
Hi Beauties!
Hope everyone is staying safe and healthy during this time. Thinking about all my frontline coworkers. Part of me is thankful for being on maternity leave during this pandemic but another part of me wishes I was able to help.
But I try not to talk to much about the pandemic on my blog or on my social media because I want people to be able to turn to these posts as a form of escape. A place you can get lost in and forget for a small moment about the scary real world. As an influencer.. sometimes that is just my job.
Anyways, back to this coffee now.. because that is why you are all here!
I am a huge coffee junkie. I love coffee in the morning. When I was pregnant.. it was a huge struggle. I avoided coffee like a good mommy to be but oh boy did it ever hurt. I found it extremely difficult. I got headaches every morning for the first two weeks of cutting it out.. I eventually added back in one cup of coffee a morning after the first trimester.
This overnight cinnamon cold brew coffee is my go to in the summer time. Especially when you don't have access to a coffee machine. It is so easy and you are going to LOVE IT.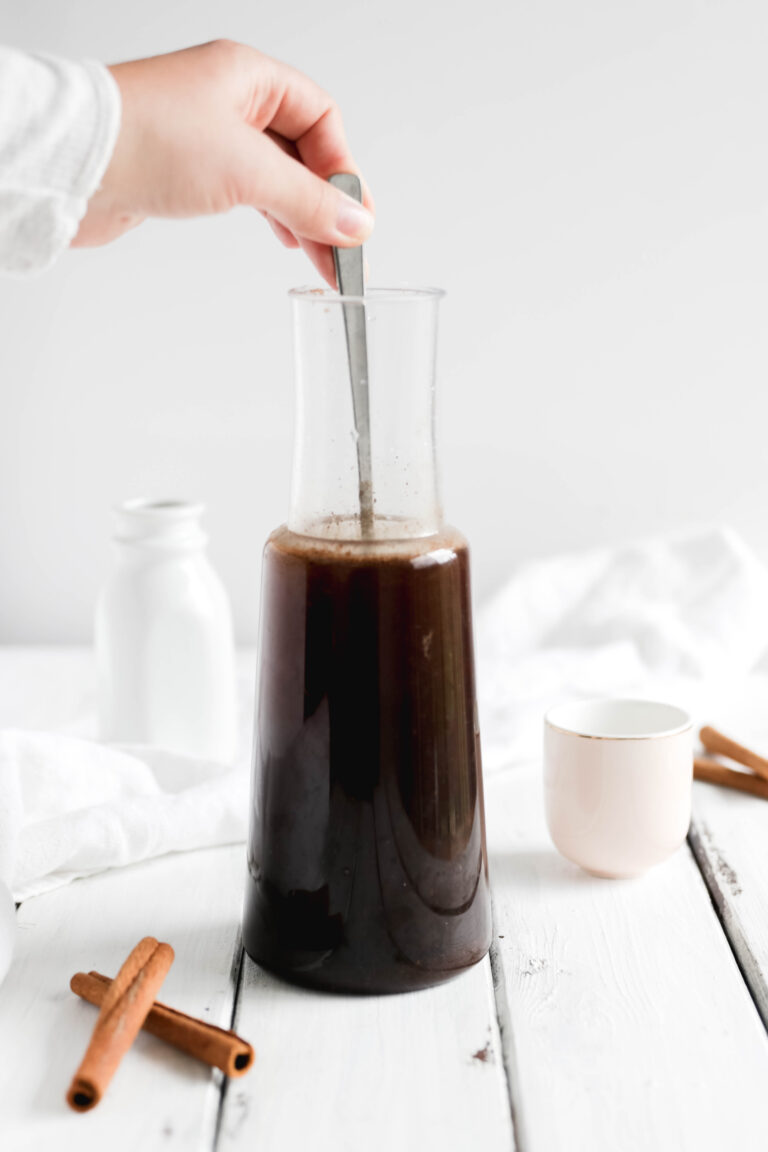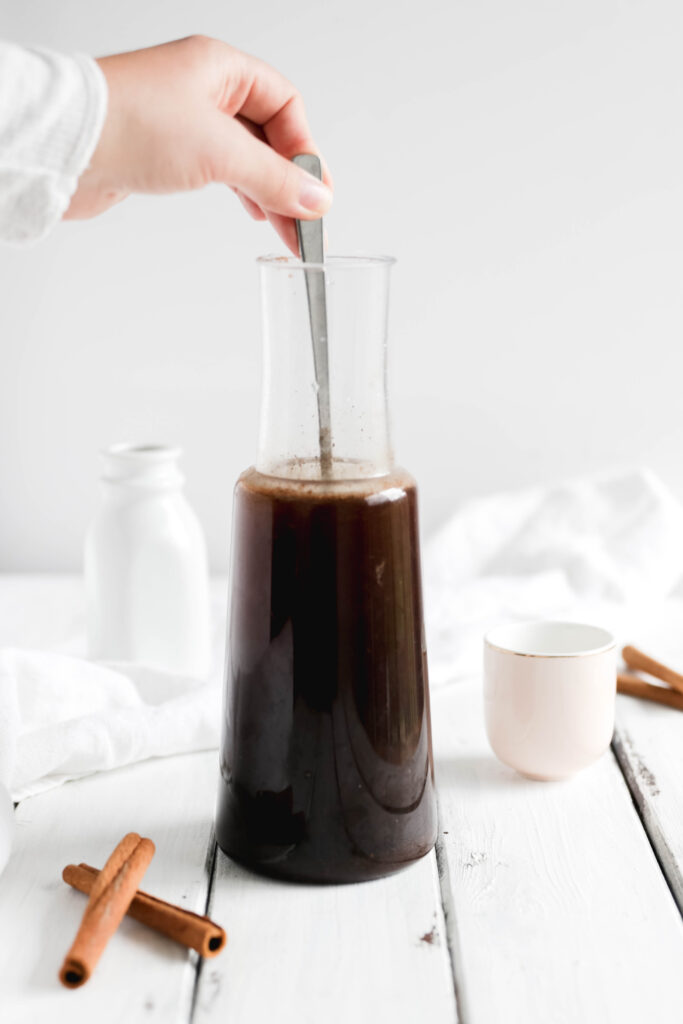 Overnight Cinnamon Cold Brew Coffee Ingredients:
Pretty easy ingredients. And these ingredients are things that you most likely have in your kitchen pantry already, so no need to go start the car now..
You will also need a coffee filter as well! So make sure you have one handy the morning you are going to pour yourself a glass of this overnight cinnamon cold brew coffee.
How To Make This Ice Cold Coffee Drink:
It is simple! Mix your cinnamon, coffee grounds and water into a large jug and leave overnight in your fridge. In the morning, grab your glass (I used a mason jar), cover it with a coffee filter, and then pour the mixture into the glass..
Make sure you hold onto the coffee filter or it may fall into the glass and make a huge mess.. yes I speak from experience here folks!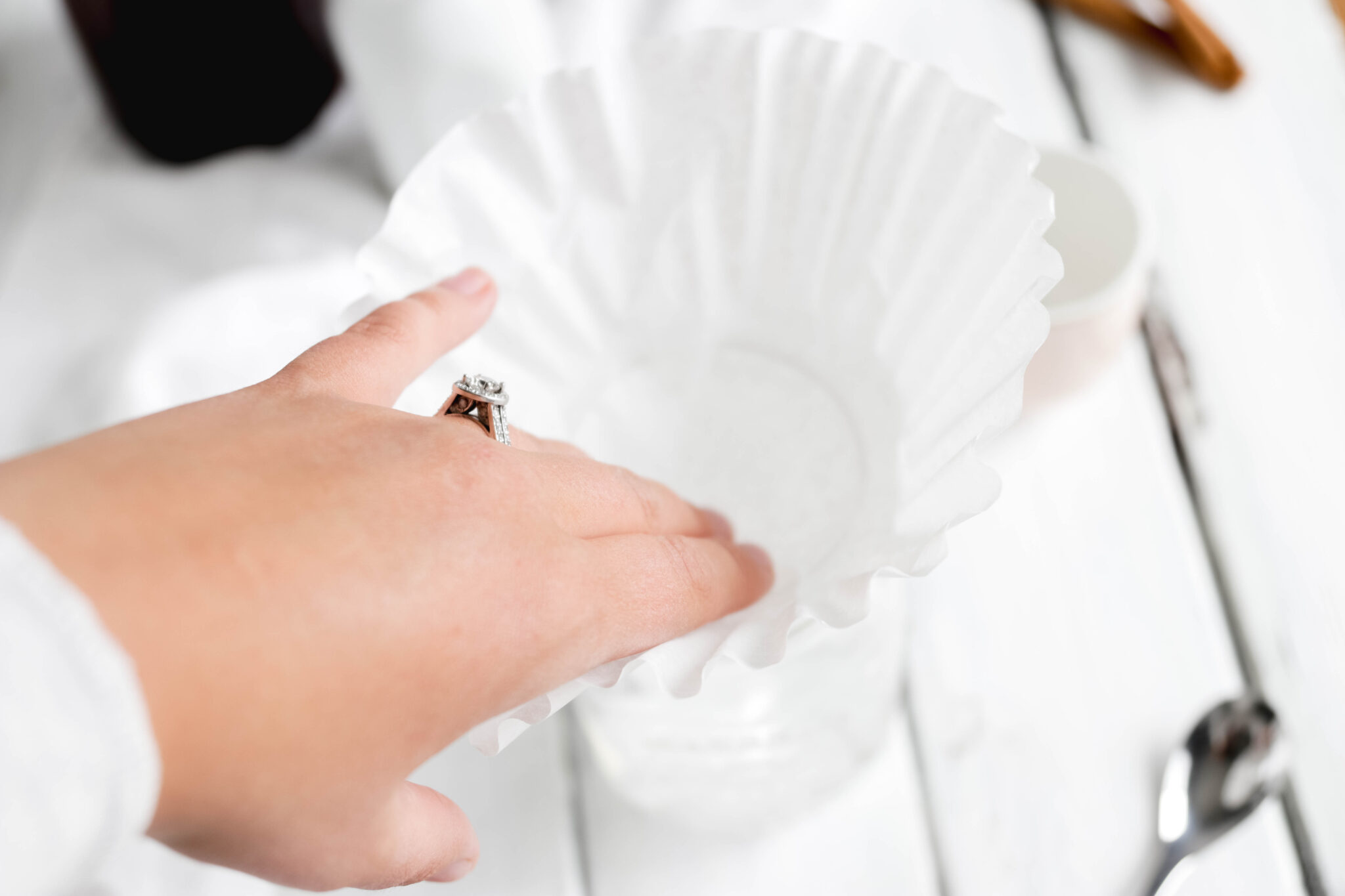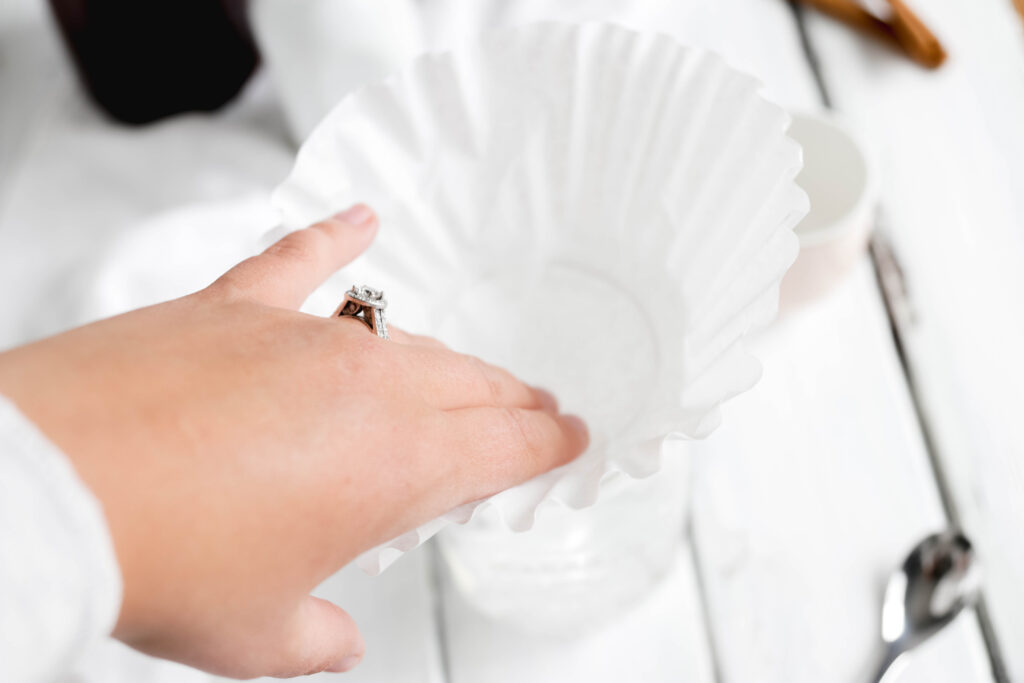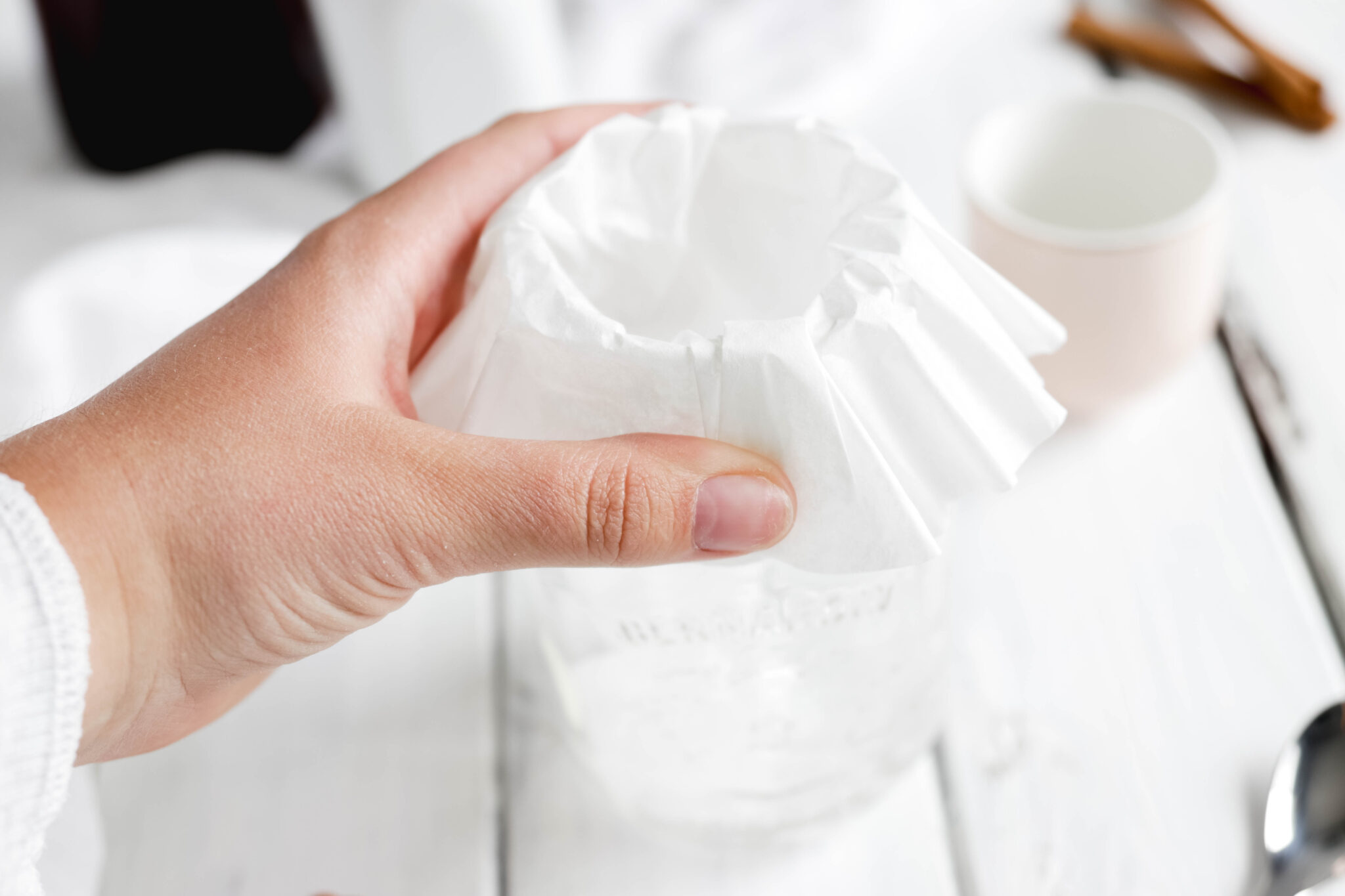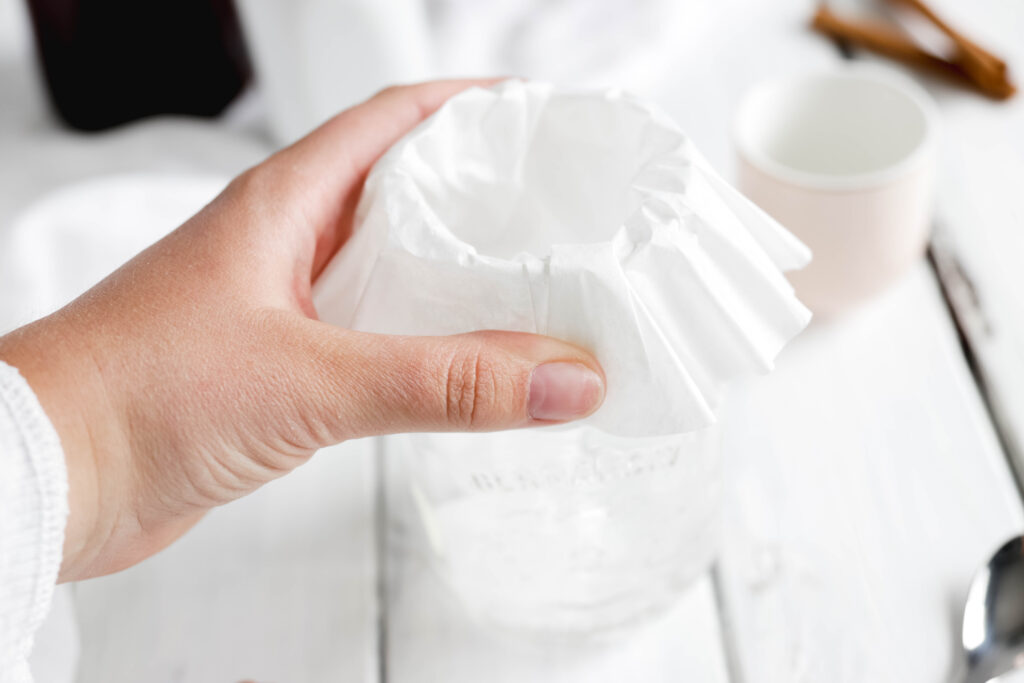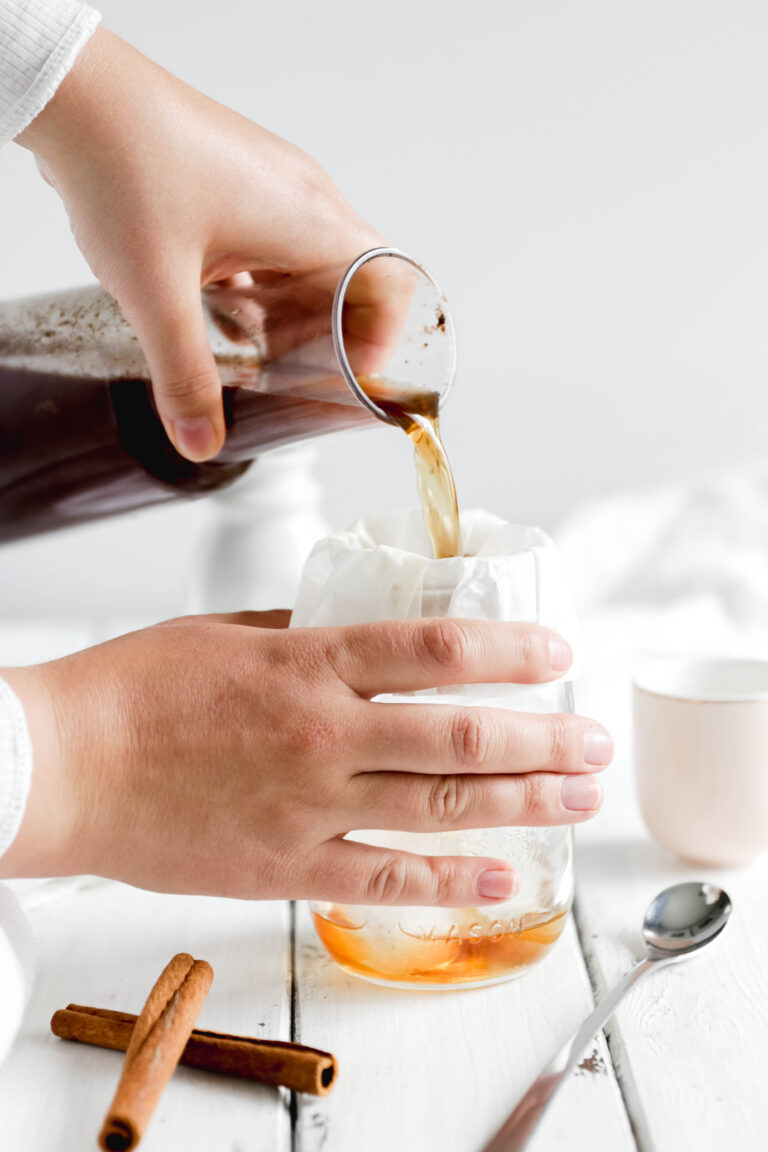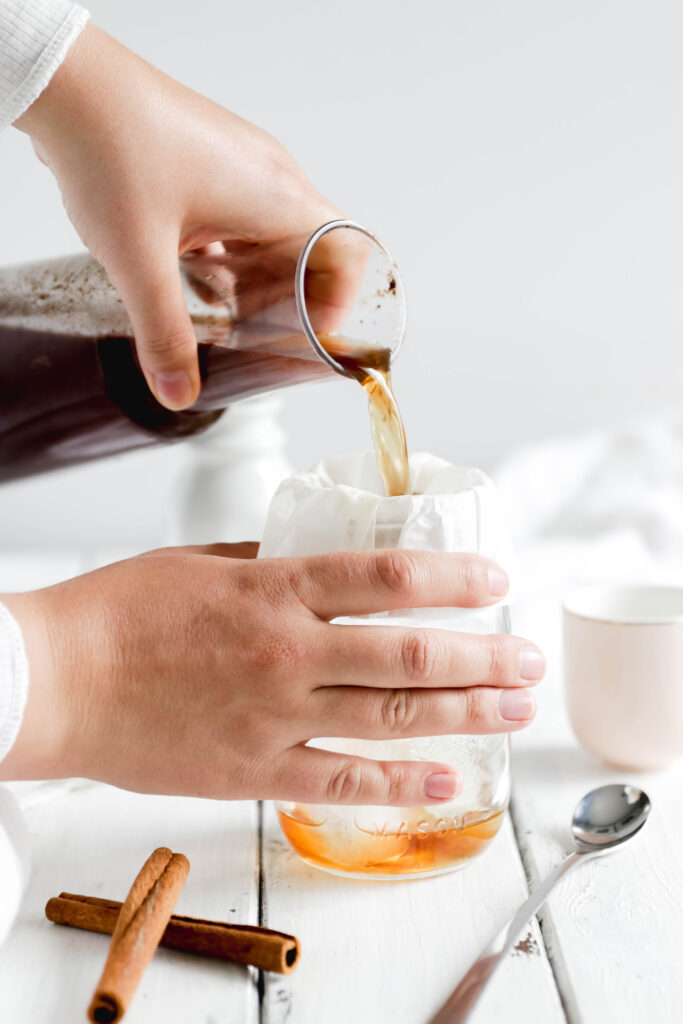 Once you have poured the coffee into the coffee filter, you may need to leave it for a little bit because it takes a while for the liquid to filter through. I do not need to hold the filter in place, it sticks to the sides at this point.
I am sure you could also use a strainer to hold the coffee filter in place, but for me, this was easier for now.
Once the coffee has strained through the coffee filter, fold up the coffee filter and give it a gentle squeeze to get the rest of the liquid out. Throw out the filter when you are done!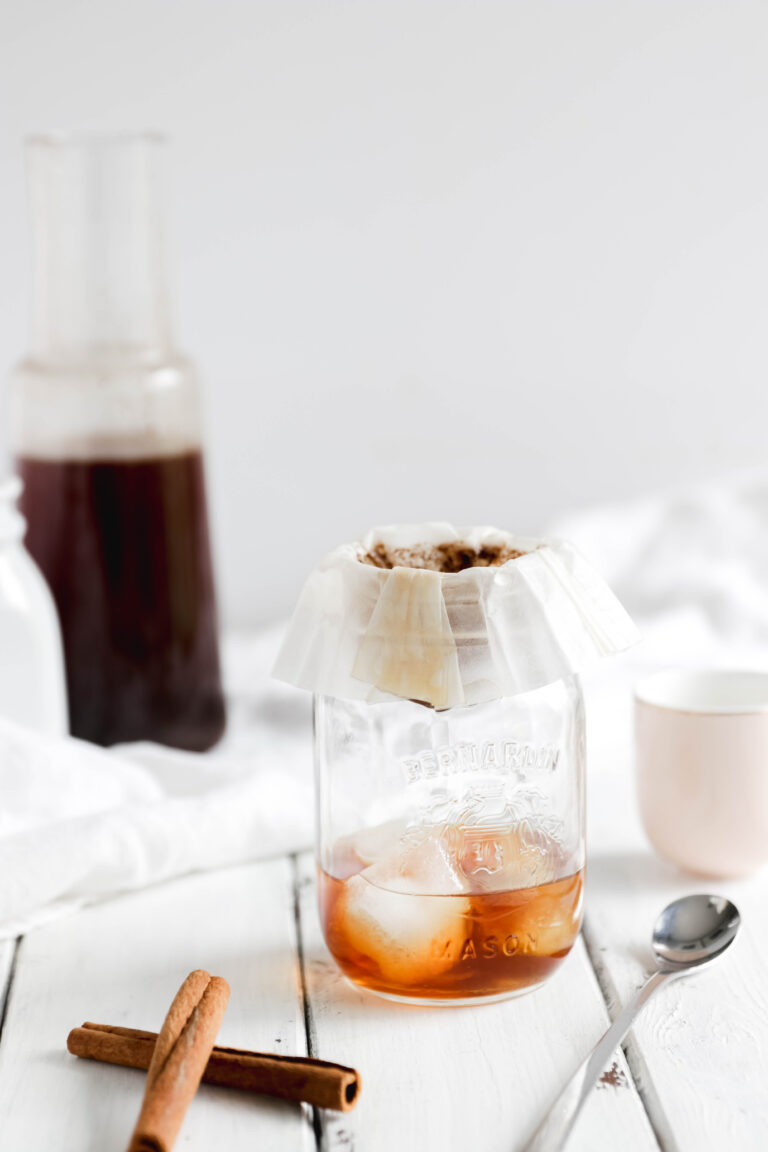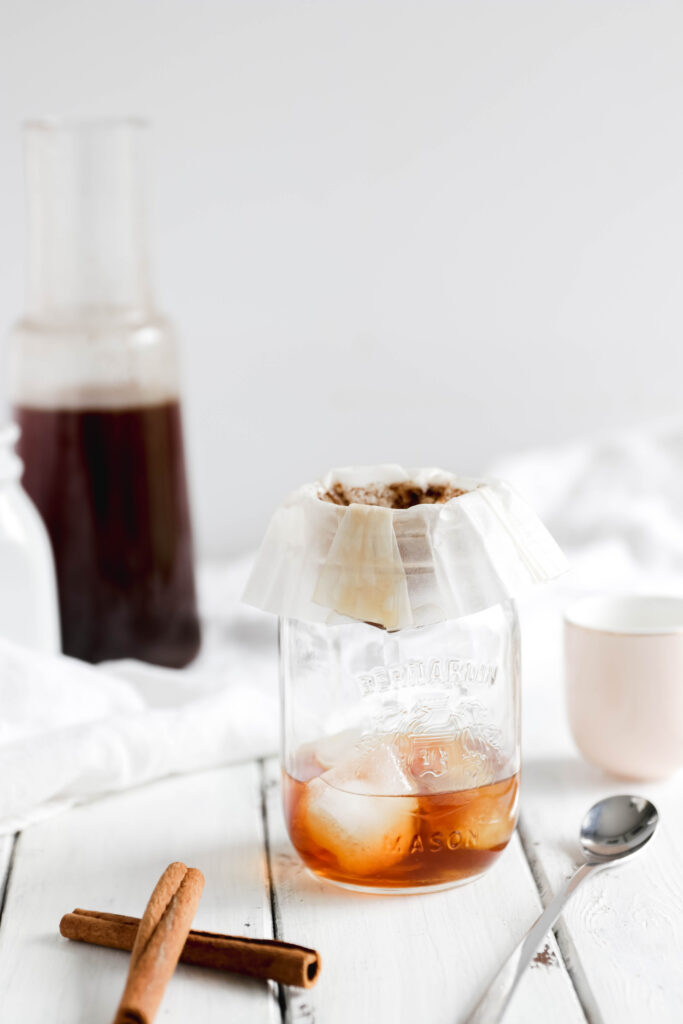 And that is basically it! Once you have your filtered coffee, add whatever else you like in your coffee. I added some frothed almond milk. I use unsweetened plain almond milk. You can use any non-dairy milk of choice for vegan option or use regular milk/cream if you prefer that.
I added in a bit of stevia as a sweetener, as well as one shot of sugar free cinnamon syrup as a treat. I don't usually use syrup in my coffee but figured this one would taste extra delicious with a hint of coffee syrup.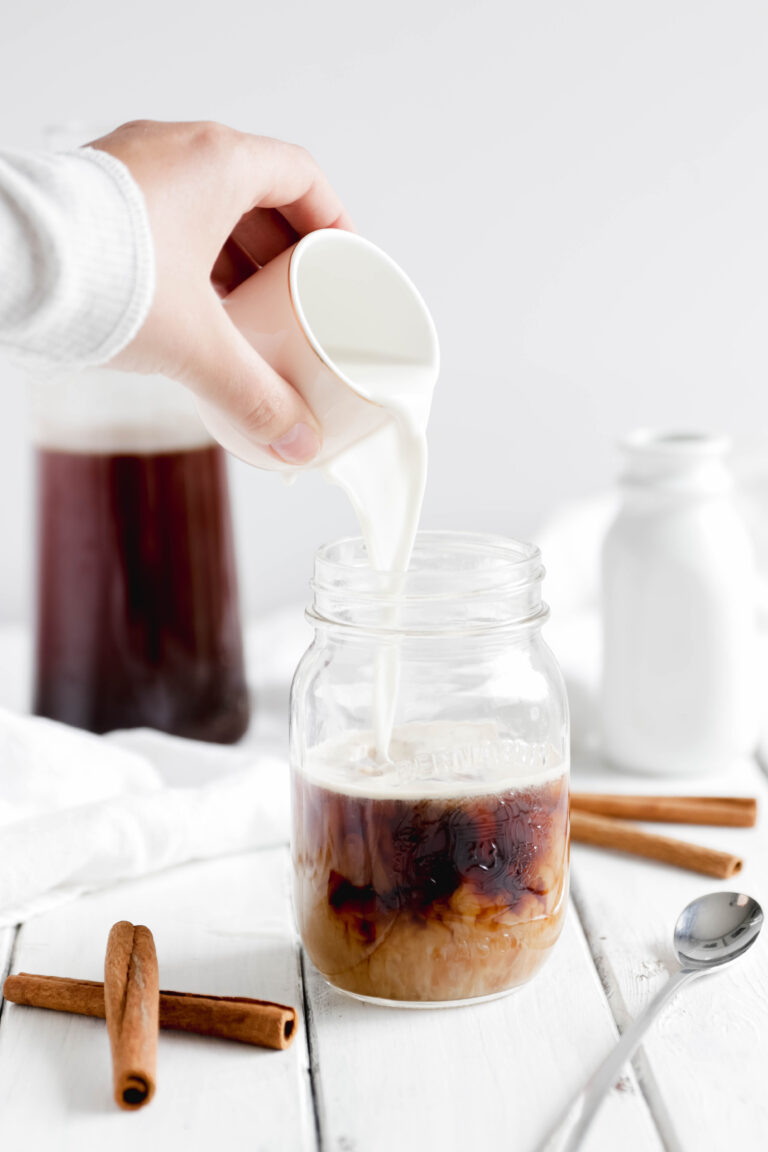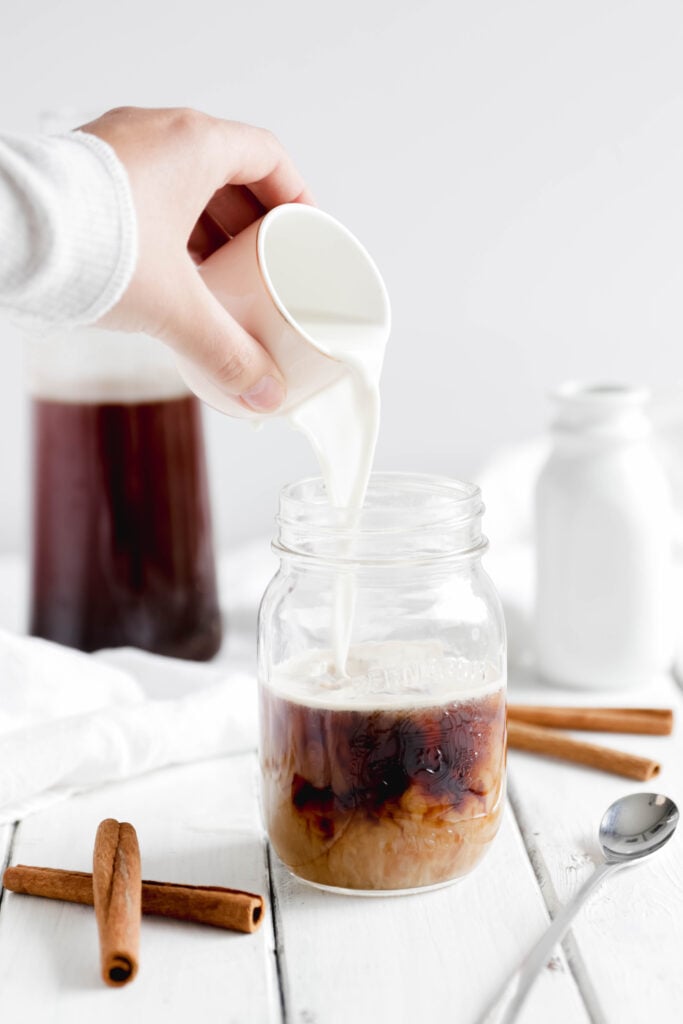 Yes slight mess in that last photo but at least it looks delicious haha!
I should also mention that you will want to serve this right away after filtering especially considering the ice will melt and water it down if you don't!
The cinnamon sticks in my photos are just for show by the way.. I don't ground my own cinnamon haha even though I bet it would be delicious! But I don't have time for that haha
Once your coffee is all mixed and good to go, add a fun stainless steel straw and serve!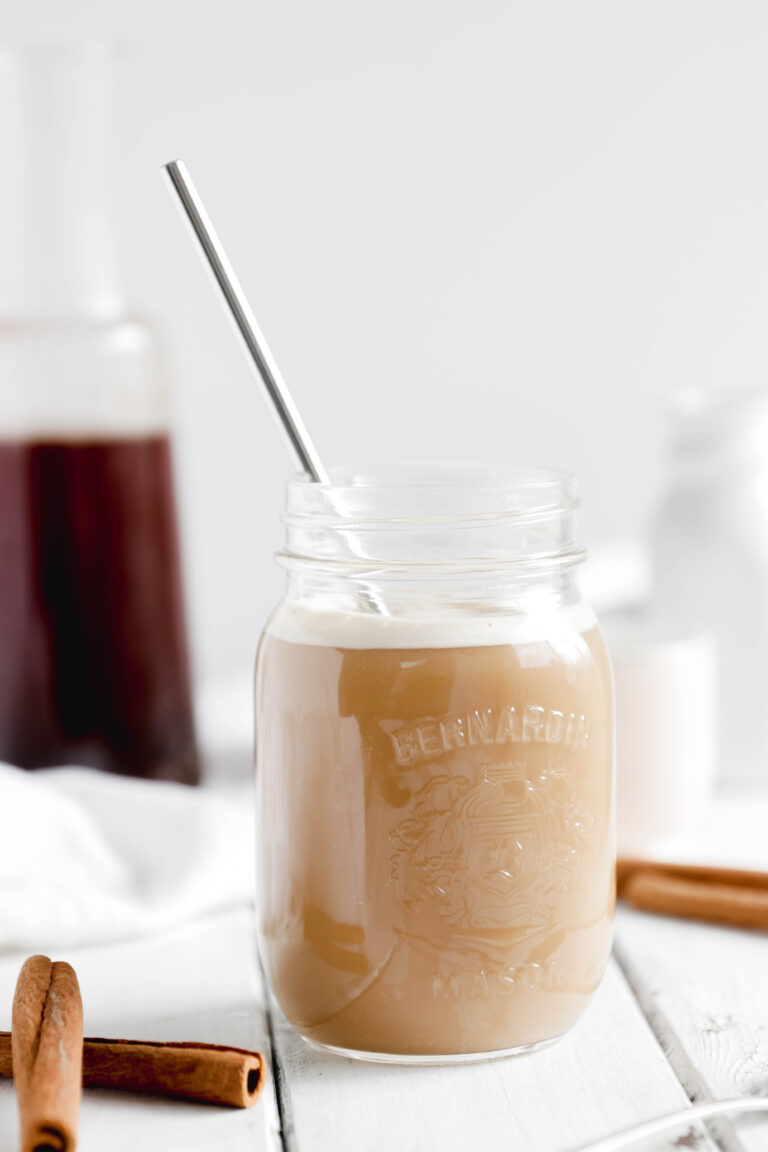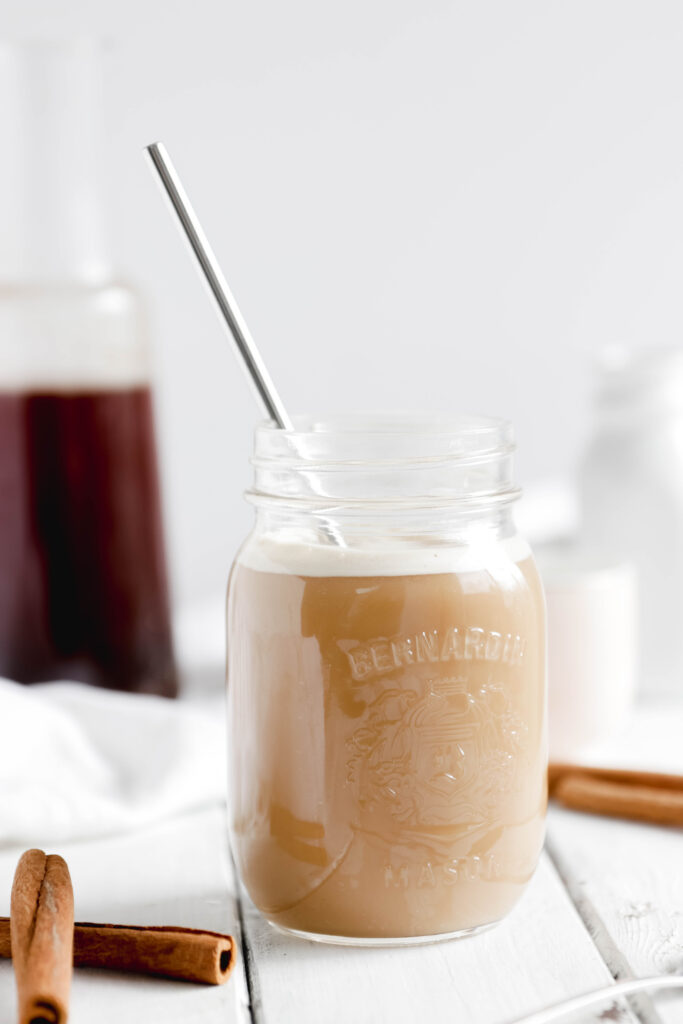 And that is it folks!
I hope you enjoy this overnight cinnamon cold brew coffee.
If you liked this post you will also love my Maple Iced Coffee with "Creamer" and my Peanut Butter Coffee recipes!
If you make this recipe, make sure you tag me in your pictures at #nikkisplate .. I love to see your creations and hear feedback on how my recipes turned out for you! Really appreciate it!
Until next time,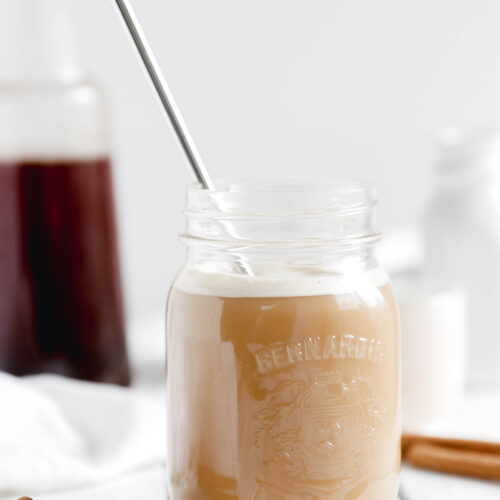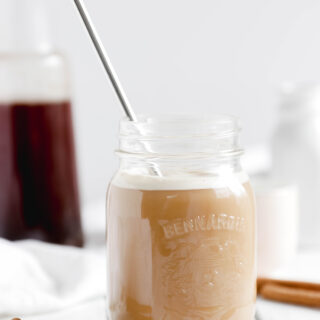 Overnight Cinnamon Cold Brew Coffee
Creamy Ice cold coffee, morning beverage, with cinnamon flavours. Easy to make, no coffee machine required!
Instructions
Place coffee grounds into a jug or juice jar with the cinnamon.

Pour water into jug. Stir with large spoon.

Cover and place in fridge for 8-24 hours.

Filter out coffee grounds using a small strainer, coffee filter or Cheese cloth.

Pour over ice. Add in optional add ins. Serve immediately.
Notes
Store in fridge for one week.
Use more or less milk as preference, as well as amount of coffee grounds. If you like strong coffee, add more coffee grounds and less water.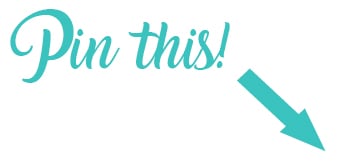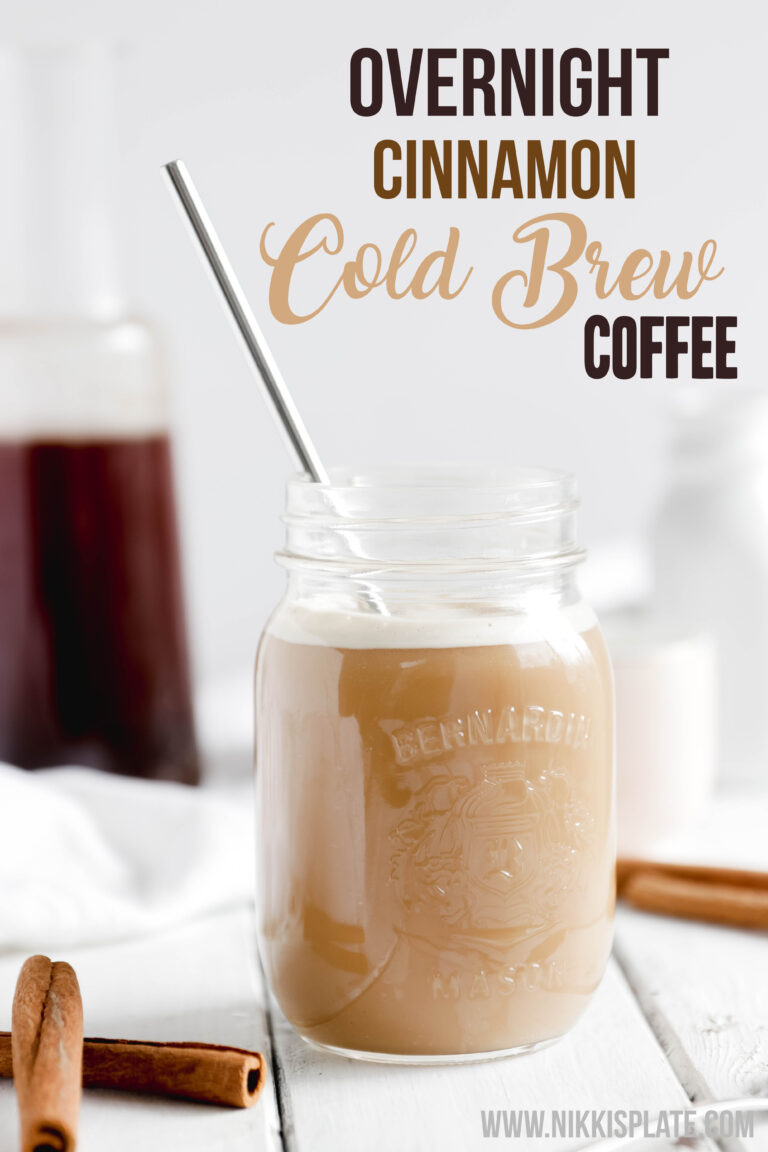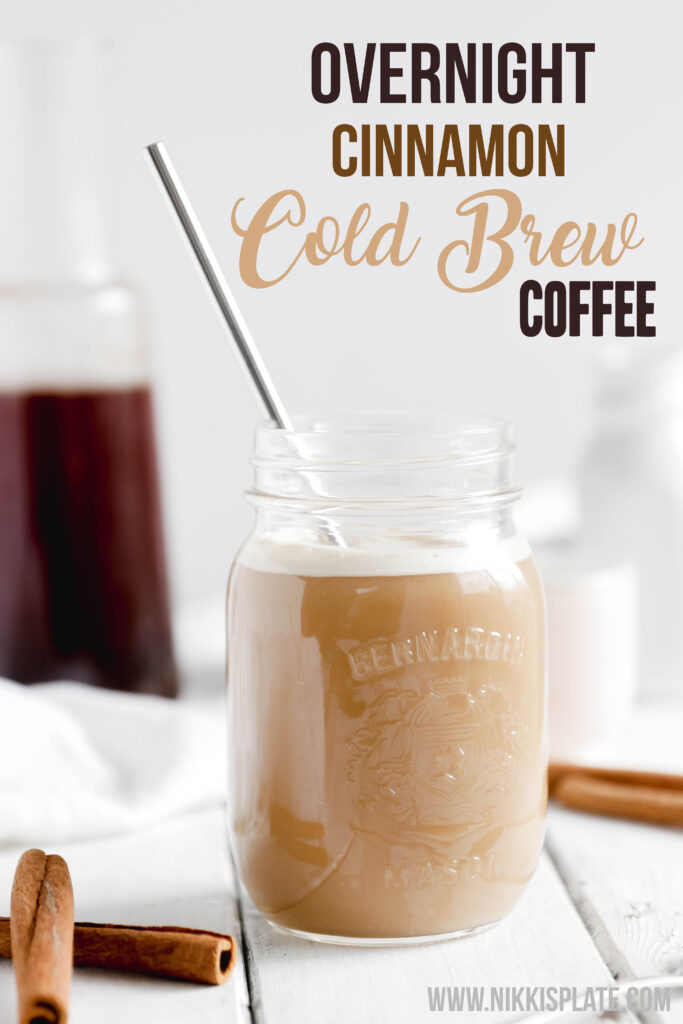 BEST SELLERS