Peanut Butter & Pumpkin Dog Treats; The pumpkin season wouldn't be complete without giving homemade pumpkin dog treat to your pup! Your furry friends will love these healthy treats!
Disclaimer: this post may contain affiliate links, and every purchase made through these links will give me a small commission (at absolutely no extra cost for you!) AS AN AMAZON ASSOCIATE AND REWARDSTYLE MEMBER, I EARN FROM QUALIFYING PURCHASES. See Privacy Policy for additional info.
Hi beauties!
Coming at you with a delicious treat that your furry friends will love! This might be a surprising recipe to find here on my blog, but I needed to use up some left over pumpkin puree in my fridge and had this great idea to make treats for our puppies! Skip the dog bone and make these homemade pumpkin dog treats for your puppy!
Pumpkin is one of my favourite things to use in my baking. I love fall time because it gives me that excuse to open up SEVERAL cans of pumpkin puree and start creating some delicious recipes with it!
I make everything from gluten free pumpkin cookies to pumpkin soup! Everything I make seems to be bursting with pumpkin (and pumpkin spice) come the fall time!
Did you know that pumpkin is actually super healthy for dogs? It helps settle their stomachs if they are sick. It has tons of fiber, vitamin A and Potassium. My mom used to put pureed pumpkin in with our dog's food if they were having trouble eating, or were sick with upset tummies and diarrhea/constipation. I remember it working really well, especially for those stomach issues!
P.s NOT pumpkin pie mix! There is a huge difference, I want to make it clear to use puree pumpkin and not the pumpkin pie filling mix for your pumpkin dog treats recipe!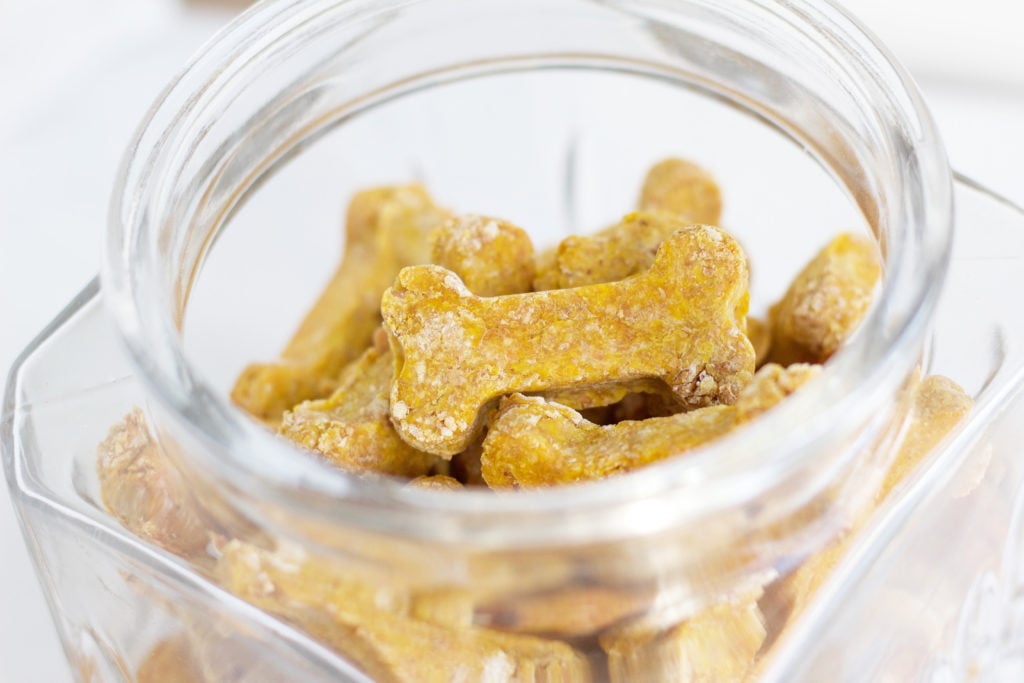 And I totally forgot about that trick until I was picking up some dog food for our pups the other day and came across an entire shelf of canned pureed pumpkin for dogs!
So right away this sparked my inner baker and I decided that my next pumpkin treat would be for my little fur babies! I grabbed that canned pumpkin and began working.
I knew I needed dog treat recipes that were approved by my vet so I looked at some common ingredients on the back of dog bags in the store. They seemed to all have similar ingredients but also a bunch of random additives I knew I would be skipping.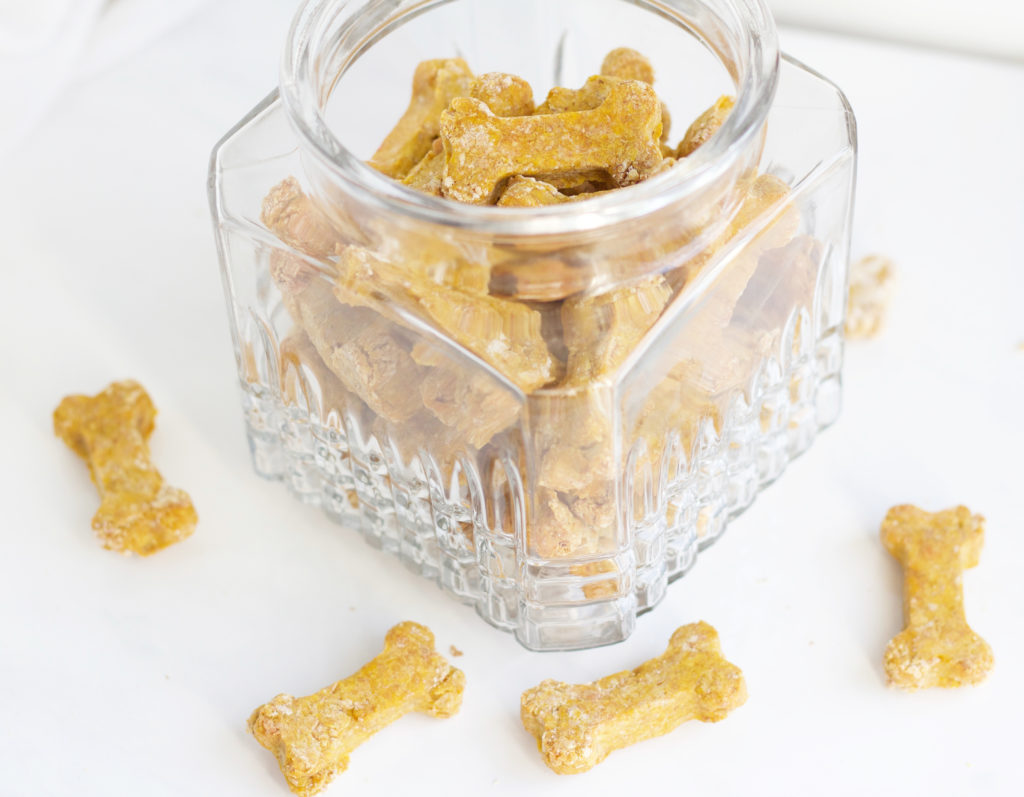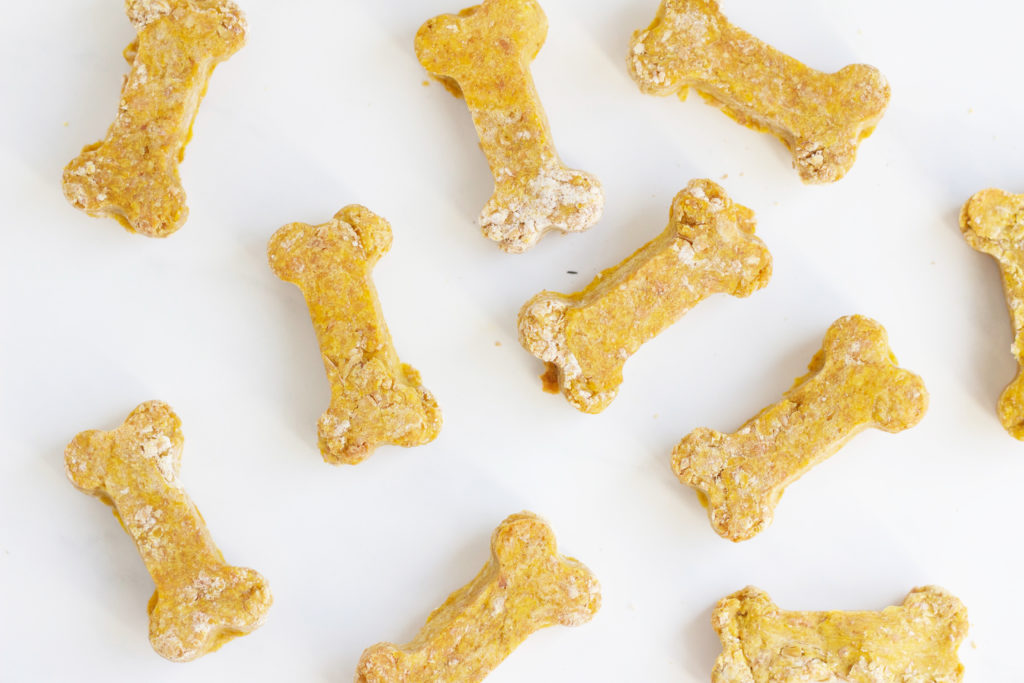 I also had these cute dog treat silicone molds that I picked up last year at Christmas time. They are similar to cookie cutters in the sense that you get perfectly shaped biscuits every time. I like these better then cookie cutters though because they are easier to just pop out of the molds once they are baked. No worrying about them sticking to anything, no baking sheet needed!
I made cute holiday dog treats for all my favourite dogs! I love giving gifts to my favourite fur friends. It was too much fun to handle, to be honest... So this fall, I pulled them out again to work on some pumpkin puppy loving!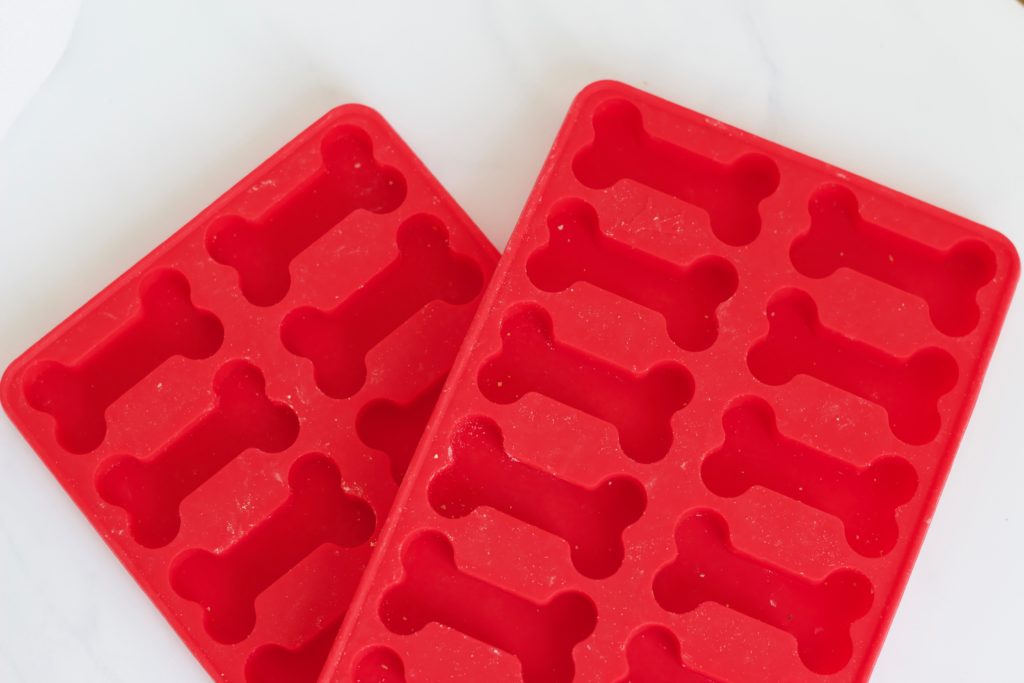 And the best part of this recipe, it was SUPER easy to make. Legit made two entire jars full of treats with minimal effort and ingredients.
Ingredients for Peanut Butter and Pumpkin Dog Treats:
You can add a pinch of cinnamon if you think your dog would like it, or whatever other dog safe spices you have in your pantry. I have also seen some recipes that have a pinch of salt, but I opted to leave that out. They still turned out great!
Short and sweet right!? Simple ingredients that you probably already have sitting in your fridge or pantry! So why not use that left over pumpkin puree on for your dogs this season!
How to make These Peanut Butter Pumpkin Dog Treats:
Preheat oven to 350 degrees
Combine all ingredients in a large bowl
Press dough into silicone molds or create bone shapes and line treats out on a baking pan (you may need to roll out the dough on a floured surface if not mixing well)
Bake for 30 minutes (or until hard)
Cool at room temperature and store in cute puppy treat jars!
Keep these treats in an airtight container or ziplock bag in the refrigerator for up to one week, or freeze them in batches. I made triple batches, froze my extras, and pull them out when our stock in the fridge is getting low! Super handy to have ready to go in the freezer!
Yep that is it! Simple and easy! Now time to hit your kitchen and get baking these delicious treats for your pups!
If you have any questions about this recipe, leave it in the comment section below and I'll make sure to get back to you on it!
If you make any of my recipes please tag your photos with #nikkisplate so I can see your beautiful creations! Any feedback in the comments below is greatly appreciated. I hope you have fun!
Don't forget to pin this image below! Share this delicious recipe with the rest of Pinterest world! Also make sure to follow my account to see when I post new recipes or home inspired content at Nikki's Plate. Also on Facebook and Instagram!!
I hope your fur babies love this dog biscuit recipe as much as mine did!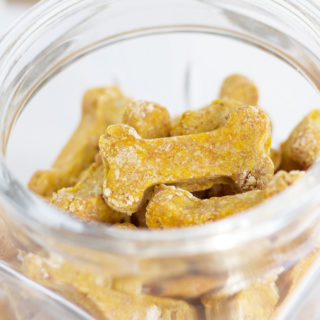 Peanut Butter and Pumpkin Dog Treats
These delicious all-natural, homemade dog treats are perfect for our furry friends!
Ingredients
2

cups

whole wheat flour

2

eggs

½

cup

pumpkin puree

3

tablespoon

Peanut Butter
Instructions
Preheat oven to 350 degrees

Combine all ingredients in a large mixing bowl

Press mixture into silicone molds or create bone shapes and line treats out on a baking pan

Bake for 30 minutes (or until hard)

Cool and store in cute puppy treat jars!
Craving more pumpkin? Its your lucky day, I have you covered!


BEST SELLERS