Ultimate Guide to Modern Farmhouse Landscaping: implementing modern farmhouse landscape design into your yard
Disclaimer: this post may contain affiliate links, and every purchase made through these links will give me a small commission (at absolutely no extra cost for you!) AS AN AMAZON ASSOCIATE AND REWARDSTYLE MEMBER, I EARN FROM QUALIFYING PURCHASES. See Privacy Policy for additional info.
One of the most popular design style trends in the last decade has been farmhouse landscaping. This is due to the popularity of rustic, modern, and cottage living. The idea of using natural materials such as wood and stone in your landscapes has become commonplace with landscape enthusiasts.
When it comes to home landscaping, most people typically think first about the appealing trees, shrubs, and flowers that give their yard style and personality. However, there are many more elements to have in mind when landscaping a home, including the fact that modern farmhouse style has become a popular trend in landscape design, making it a worthy consideration for all homeowners.
With some of the clean lines and elements of farmhouse modern design, mixed in with a more rustic feel., my goal is to provide you with everything you need to know about this beautiful design style, as well as some great examples and photos that will help you put this style into action!
Modern Farmhouse Landscaping:
Modern farmhouse landscaping design is becoming increasingly popular among homeowners. This design style blends natural materials, rustic features, and minimalism to create a charming and inviting outdoor space. In this article, we will explore the key elements of modern farmhouse landscaping design, the best plants to use, hardscaping and outdoor features, and maintenance and care tips.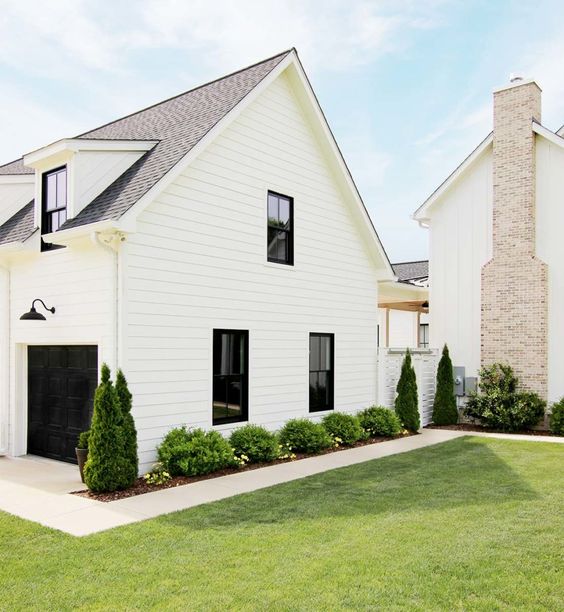 Key Elements of Modern Farmhouse Landscaping Design
To create a modern farmhouse landscaping design, it's important to incorporate natural materials, rustic features, and minimalism. Natural materials like wood, stone, and brick can be used for walkways, patios, and other outdoor features. Rustic features like barn doors, metal accents, and vintage decor can add charm and character to the design. Minimalism involves keeping the design simple and uncluttered.
The key elements of this style include:
A wide range of textures, from rough and rustic to smooth and polished
A variety of materials, including natural stone, brick, wood, and concrete
A neutral palette with pops of color in flowers or other outdoor decors
Plant Selection
First things first: plant selection should be based on the location of your home, which will determine how much sun or shade it gets. Then, think about the texture and color scheme of your house (more on color later). Finally, think about how much maintenance each plant requires. Once you've figured these things out, you can start shopping for plants!
When choosing plants for modern farmhouse landscaping design, it's important to select those that complement the natural and rustic elements of the design. Wildflowers, succulents, and ornamental grasses work well in this design style. It's also important to consider the color palette and how the plants will be arranged.
In general, when it comes to selecting plants for your modern farmhouse, there are two things you want to keep in mind:
The size of your space. Are you working with a large yard or a small one? What kind of budget do you have?
Your climate. Are you in an area that gets a lot of rain or snow? Do you have hot summers or milder ones?
You need to consider both of these factors when choosing plants for your yard, but especially if you're working with a smaller space or if you live in an area where the weather isn't as predictable as other parts of the country (or world).
Modern Farmhouse Landscaping Hardscaping and Outdoor Features
Hardscaping materials like stone, brick, and concrete can be used to create walkways, patios, and other outdoor features. Fire pits, outdoor seating areas, and pergolas can also be incorporated into the design. It's important to choose materials and features that complement the natural and rustic elements of the design.
Hardscaping is an important part of modern farmhouse landscaping. Hardscapes are what give your yard its character and make it unique. They can also be functional—for example, using pavers instead of grass for a patio or driveway will save you money on maintenance costs over time. Hardscapes are also easy to change up as your tastes change over time.
Outdoor features like fire pits and benches are another great way to add character to your yard while making it functional at the same time. Fire pits are perfect for those cool nights when you want to sit outside with friends or family and enjoy some drinks or snacks around the campfire; benches provide seating areas where there would otherwise be none—and they're aesthetically pleasing as well!
Landscaping Maintenance and Care
To keep your modern farmhouse landscaping design looking its best, you'll need to take care of it year-round. This includes watering, pruning, and pest control. It's important to choose plants that are well-suited for your climate and to follow proper maintenance techniques.
It's easy to get caught up in the beauty of modern farmhouse landscaping, but don't forget about maintenance! If you want your landscaping to last, you need to make sure it gets the care it needs. That means checking up on it on a regular basis and making sure everything is in good working order.
Here are some tips for keeping your landscaping in tip-top shape:
Prune trees and shrubs regularly
Clean up any fallen leaves as soon as possible so they don't get moldy and cause damage to your lawn or plants
Use mulch around plants to help them retain moisture and keep weeds from growing
Water regularly but not too much. If you water too much, the roots will be unable to absorb enough nutrients and the plant will die. If you don't water enough, it will dry out and die. Be sure to check your soil in between watering sessions to see if it's time for another round of watering.
Keep plants away from each other; they need space for their roots to grow as well as room for air circulation between them so that diseases aren't able to spread easily from one plant to another!
Make sure all weeds are removed from the area so they won't spread into other parts of the yard where they could potentially become an issue later on down the road! This can also help prevent them from growing back again later on down the road which would cost even more money in terms of maintenance fees if left untreated!
There's no denying it: farmhouse design is the hottest thing in home decor right now. Its classic, rustic charm has made its way into every corner of the house, from the kitchen to the bathroom to the living room. And when it comes to outdoor spaces, nothing is more on-trend than a modern farmhouse landscape.
The idea behind this style is simple—take traditional elements from a farm and apply them to your home's exterior. But don't worry! You don't have to spend hours digging up crops and planting them in your front yard (though if you want to do that, we're not going to stop you). Instead, focus on key elements like fencing, lighting options, and plantings—and let them do all of the heavy lifting for you.
In conclusion, modern farmhouse landscaping design is a charming and inviting style that can transform your outdoor space. By incorporating natural materials, rustic features, and minimalism, you can create a design that is both functional and beautiful.
Remember to choose plants, hardscaping materials, and outdoor features that complement the design, and to take proper care of your design year-round. We hope this article has provided you with some inspiration and ideas for your own modern farmhouse landscaping design. Don't forget to share your own ideas in the comments section!
Until next time,
BEST SELLERS